Funny Comparison Pictures
We spend our lives comparing things, but sometimes, we don't realize that these differences make our world much more special. We might have the tallest friends in the world or might have seen the most spectacular views of the same place, not knowing that it's all magical. So, take a look at the following images to see what they teach you about life and humor. Let's discover them!
CATS WILL BE CATS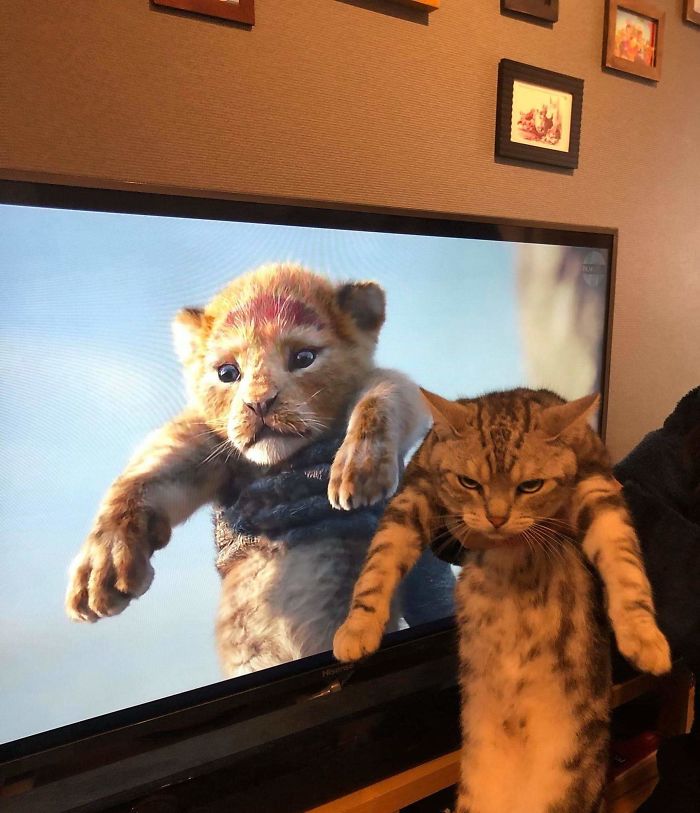 Of course, we can all laugh at the hilarity of the image. Obviously, the real cat was not amused by this move, although we suspect that all house cats have had to endure their owners doing it. However, the image gives us a chance to see the amazing special effects of the live-action version of Disney's 'The Lion King' and how far technology has come.
WHAT THE OCEAN CAN DO TO A HOUSE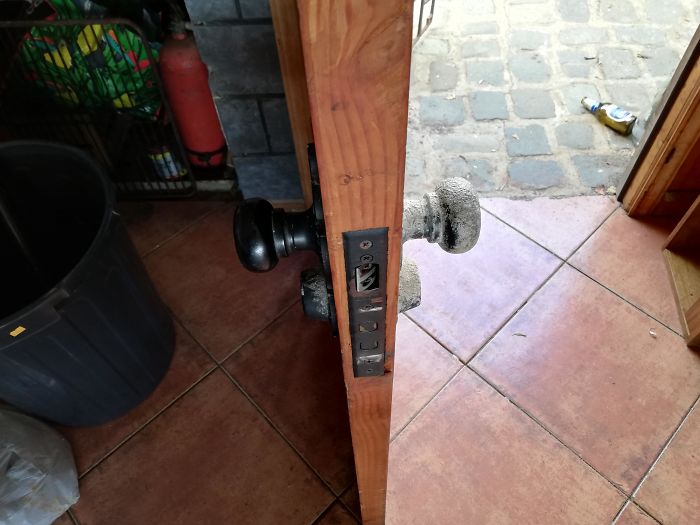 This image was posted by a user on Reddit, who explained that their house is really close to the ocean. This is the transformation between the inside doorknob and the outside one. Isn't it amazing? Obviously, there's something wonderful about ocean breeze that makes us crave, but clearly it affects objects differently.
THE ODDEST PHOTO OF FATHER AND SON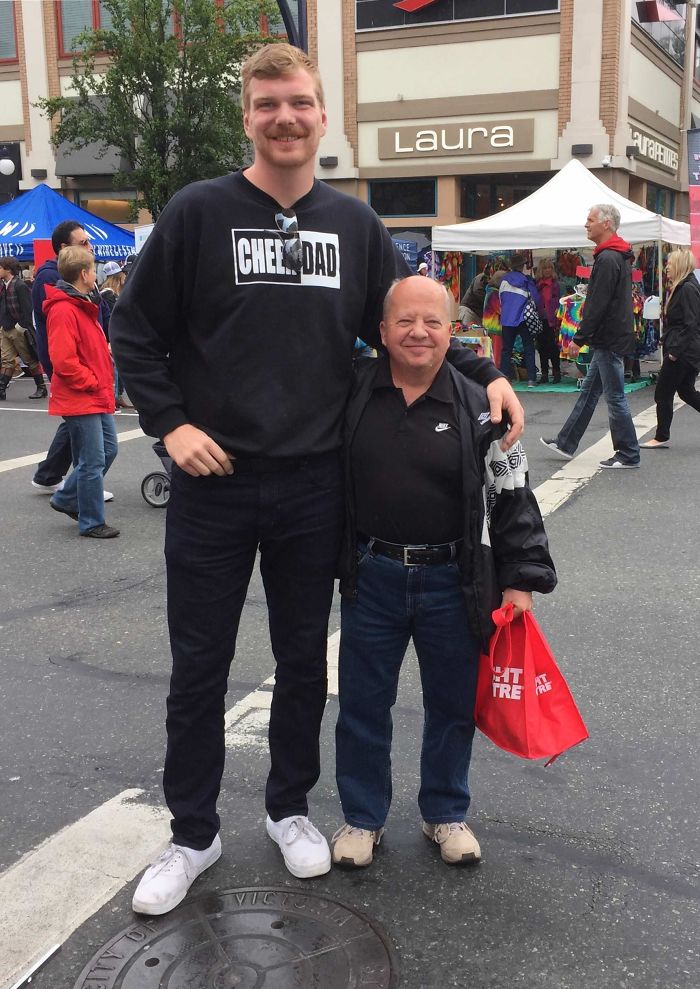 You might be surprised to learn that the two men in the picture are father and son. It's an unbelievable image, but it also reminds us that genetics has a way of acting up. Some people end up inheriting things from ancestors of long ago, while average folks will probably look just like their parents. Having kids is a gamble, and it's beautiful.
CENTURIES OF USING IT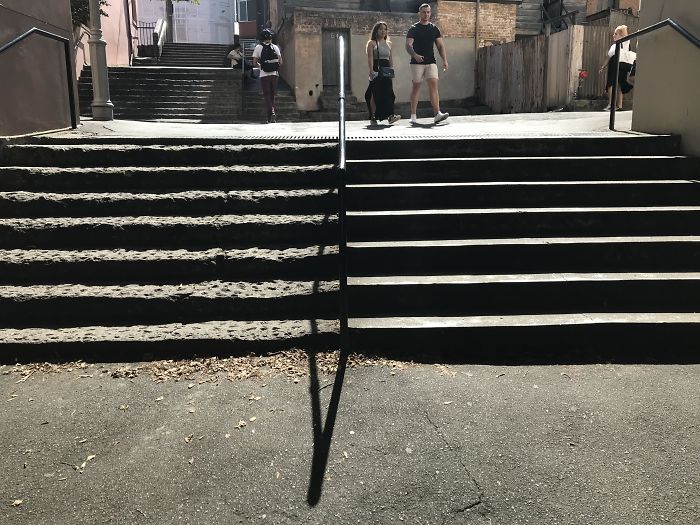 This is an amazing shot of the difference between the two pairs of stairs. The ones on the left were constructed in 1829, and the ones on the right were built in 2005. Can you imagine everything the left stairs have seen? They are almost two centuries old. How many people have walked down them? You can also tell that they are older and more experienced, similar to people.
HUSBAND AND WIFE JEANS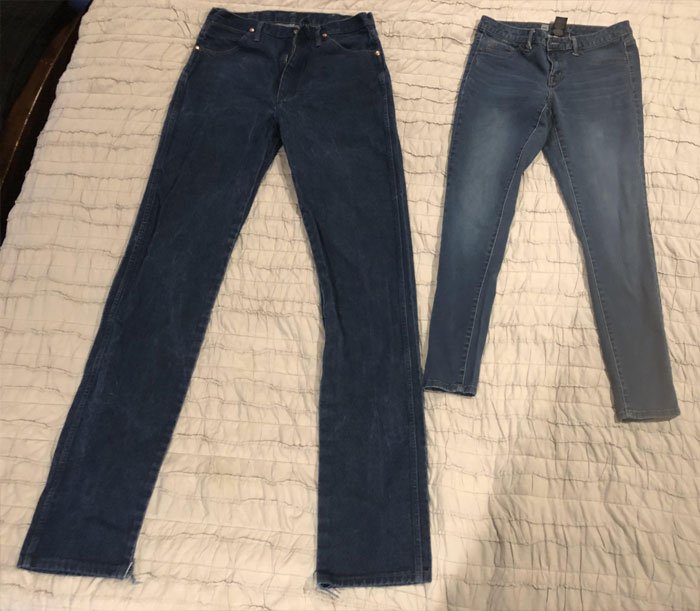 This is an interesting comparison that many couples have probably done before. However, in this case, the husband is 6'3", while the wife is just 5'2". Obviously, his legs are just about twice as big as his wife's, and he is much bigger. Luckily, size doesn't matter when it comes to being in love, but we still find this remarkable.
THE ATHLETES VERSUS THE CHEERLEADERS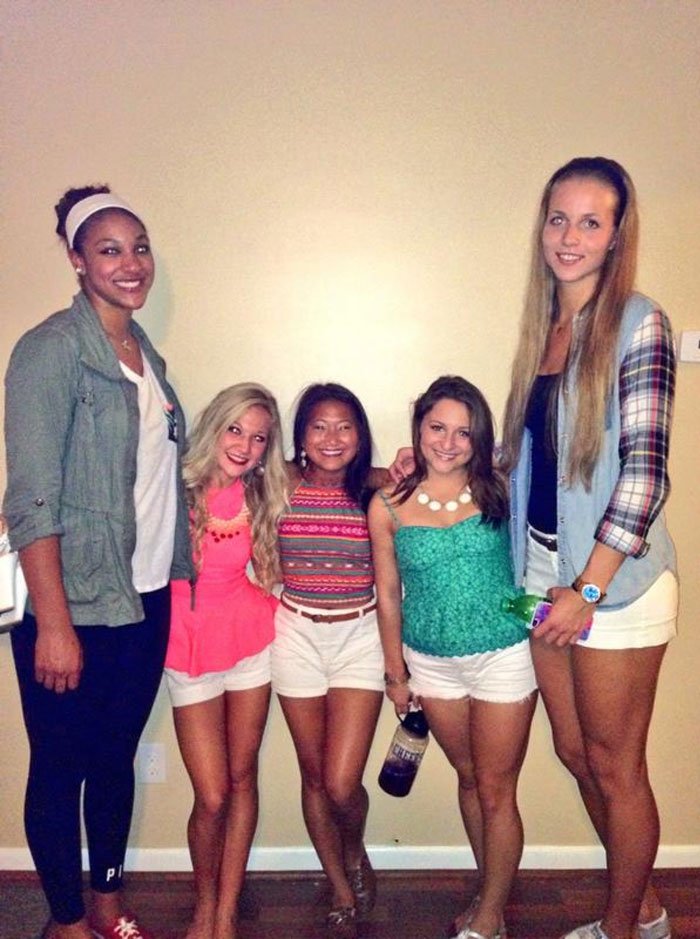 Now, we all know that most basketball players are insanely tall. Great examples of this are Shaquille O'Neal and Karim Abdul-Jabar, but that also applies to girls. This picture shows the differences between female basketball players and their cheerleaders. It's wonderfully hilarious but also touching. Additionally, there's something about women cheering for women that we adore.
THE EXCITEMENT OF THE SAME DAY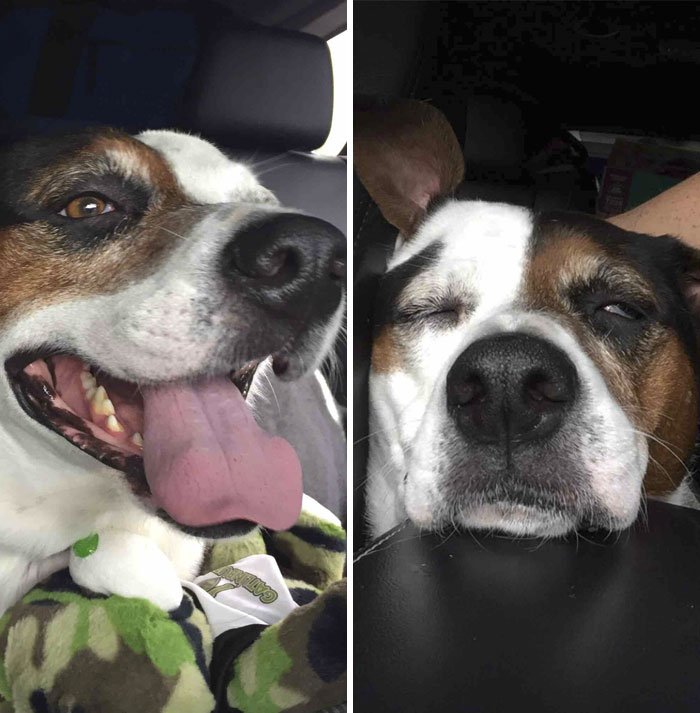 This is a picture of a cute dog with the best expressions ever. One is the "before" image, as the family is on their way to the lake. The other is the "after" shot when the puppy was so tired from that exciting day that it just wanted to sleep. We have all felt something similar after making the best memories of our lives.
THE DIFFERENCE OF NATURAL DISASTERS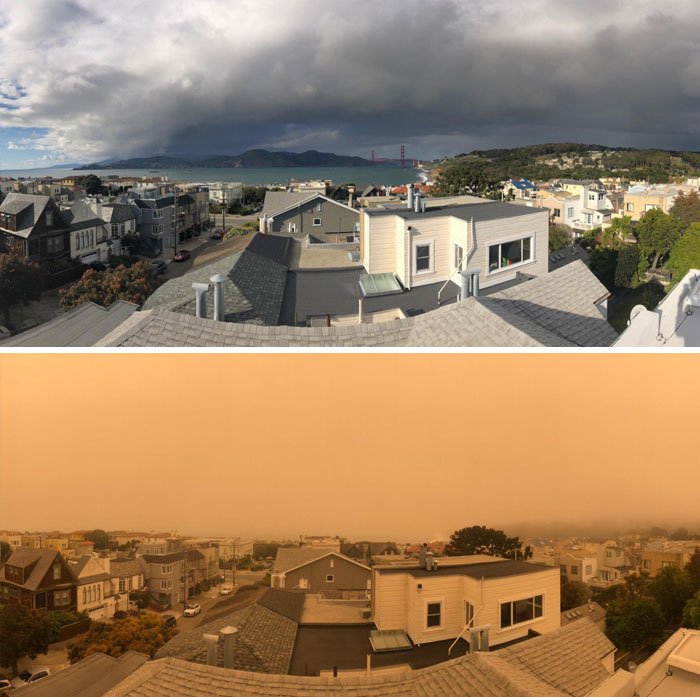 The California fires and other disasters that the world saw in the past year were devastating, and this picture shows the difference in the skyline without being graphic at all. You might think that the one below has some sort of filter, but that's how the camera captured the moment. It truly makes you question the way we live our lives.
A FEW HOURS LATER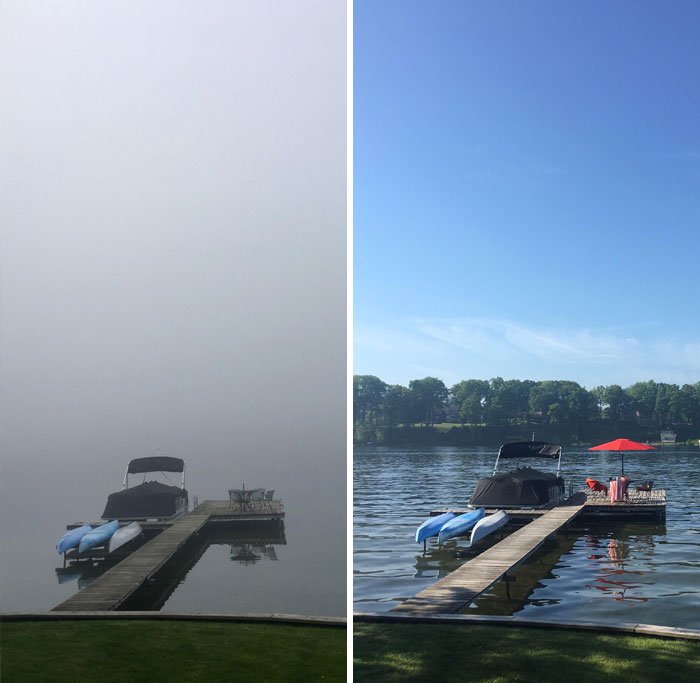 This is another comparison of the same place at two different times. Luckily, this one is much cheerier than the one with the California fires. This comparison just shows a dock in Michigan. The foggy version was taken at 9 a.m., while the sunny one was taken at 11 a.m. What a difference a few hours make! Have you experienced something similar in your town?
MORE DATA IS A SMALLER PLACE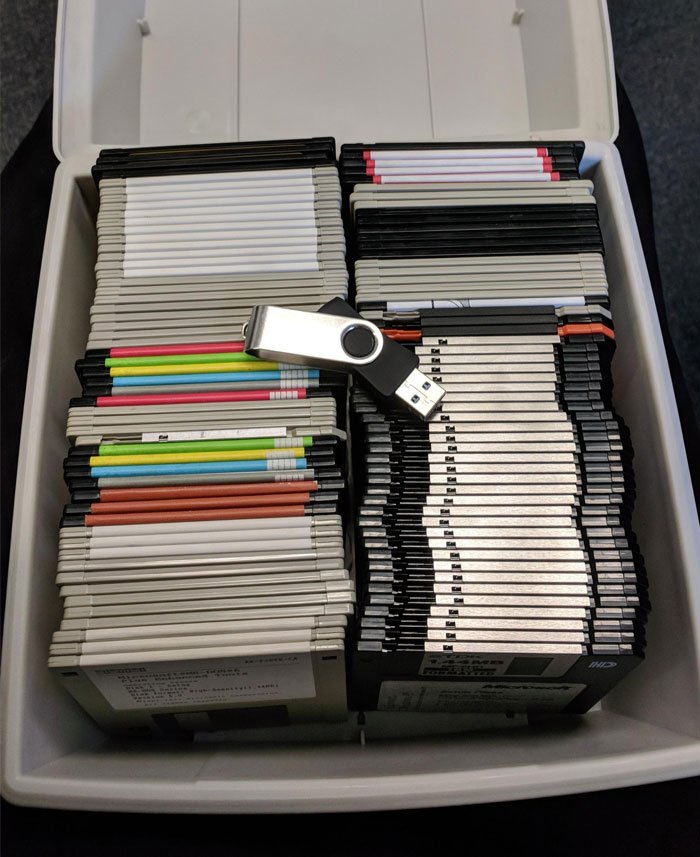 Speaking of advancements in technology, we all know that things have changed a lot since the first PCs. However, some Millennials probably remember using a floppy disk. The ones in the image are probably the last ones ever made. They're from 1995 and have 138.24 MB of storage combined. That's nothing nowadays. Meanwhile, the USB is from 2018 and holds 128 GB of storage.
NO ONE LIKES CLEANING UP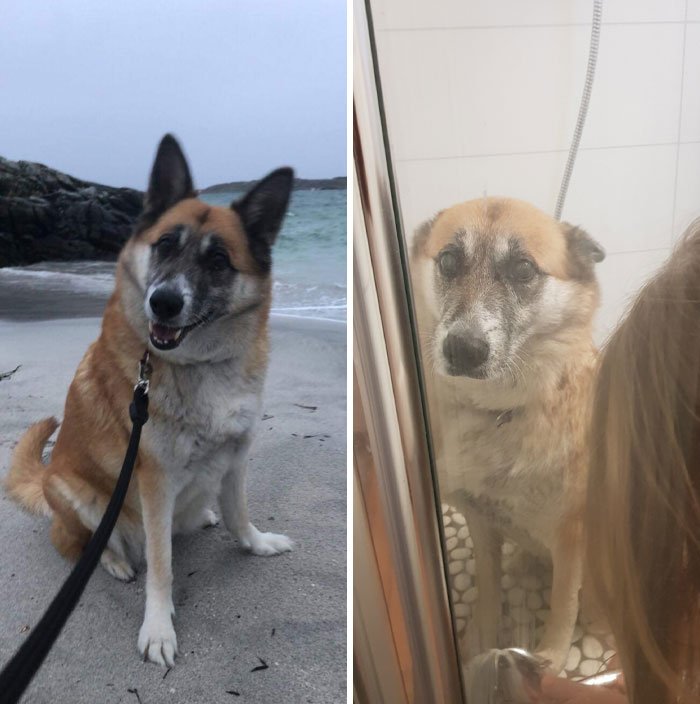 While we all love the beach, there's a real downside: the sand. We have to clean up right away, otherwise, we might get sand in the car or the house. It might be even worse if you take your dog because they just roll around and have fun. Obviously, this little pup was having the time of his life at the beach but does not enjoy showers that much.
TWO DAYS APART IN MINNESOTA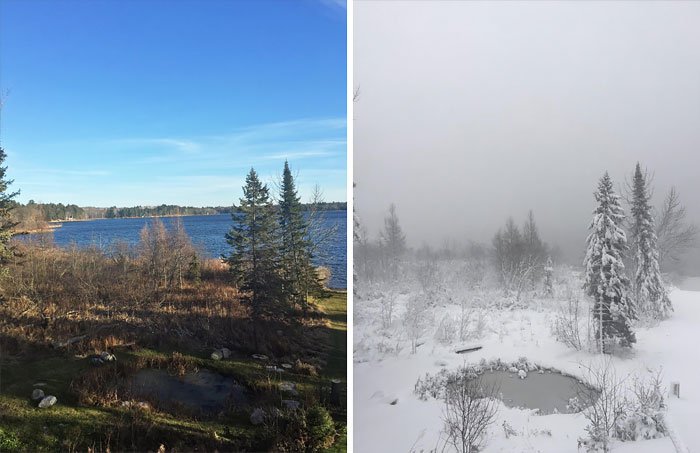 Here is another landscape comparison. It's amazingly cool to see two different seasons in the same spot, but this happened after just two days. There was apparently no transition, which is even funnier. You can go from a beautiful sunny day to a winter wonderland in just 48 hours. That's the bright side of nature!
PARKING IS HARD EVERYWHERE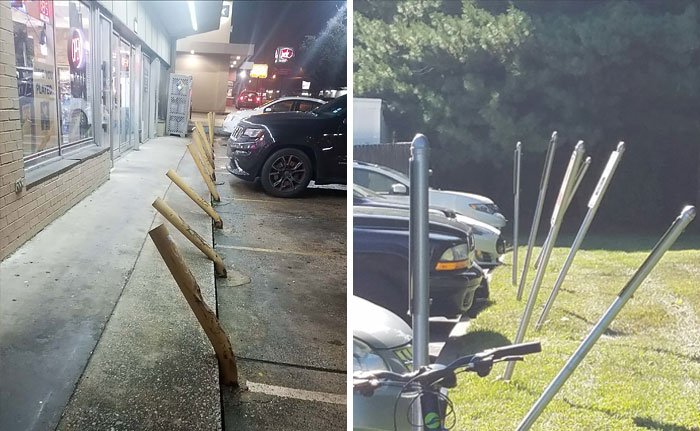 It seems that no matter the kind of post, people have a hard time measuring the distance and will inevitably damage something. One image was taken in front of a convenience store, while the other is near an eye surgery office. That's a bit ironic! However, it seems that even with good eyesight, people have trouble staying in the line.
THE ONE BIG AND THE LITTLE ONE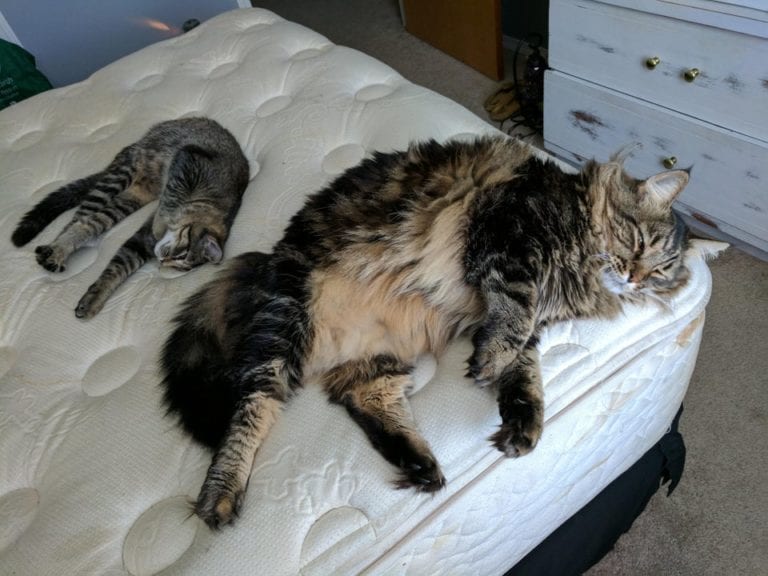 People with two pets always compare them to each other, but this one is particularly interesting. It shows what a regular housecat looks like next to a different kind of feline. The little one is an American Shorthair cat, while the big one is a Maine Coon. At first, we also thought it was a picture of a mother with her cub, but both are adults.
YOUR DOG WILL ALWAYS MISS YOU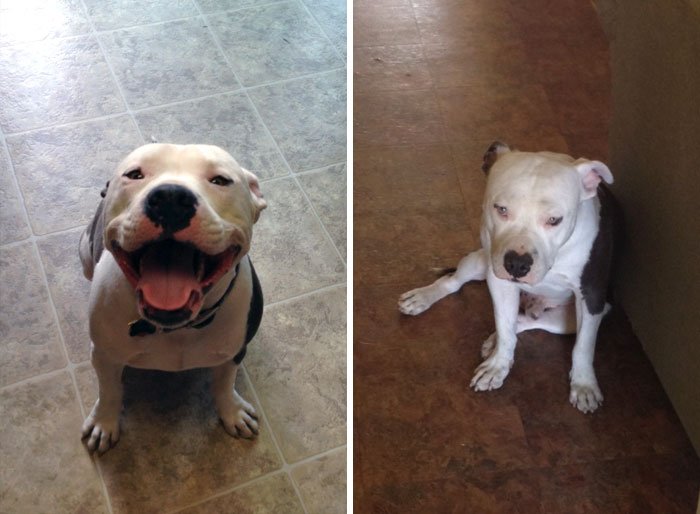 Unfortunately, this picture is adorable but also a little sad. It's the difference between coming home and leaving home from the point of view of your dog. Our pets are always unhappy to see us gone for the day. But, we always return! Make sure to hug and kiss your furry animals because they truly love us no matter what.
Some comparisons are funny, while others bring a new perspective on life. Let us know which one was the most meaningful for you. If you liked this article, share it with your friends who like seeing things from different viewpoints. See you next time!
Source: Wacko Jaco, Bored Panda, Demilked