Big Dogs That Think They Are Small Puppies
While some people prefer small dogs, others think big dogs are better. However, some of these big pets don't understand exactly how huge they are, and they want to exactly the same as when they were puppies. Have you ever seen a dog that can't fit on a couch? What about one that was taller than a woman? Let's find out more!
TIME TO WAKE UP, HUMAN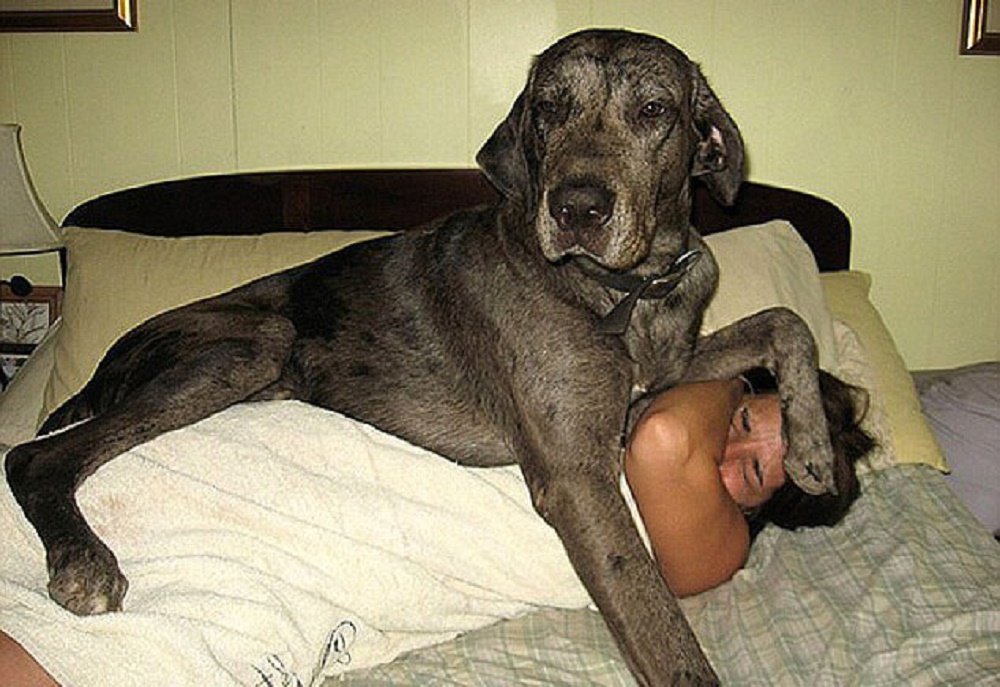 There are some animals that eventually turn into an alarm clock because they need to be fed or walked. This might happen even more often when the pet sleeps to you in bed. However, it looks like the owners of this huge dog might need to invest in a bigger bed. The pup might be cute, but it's too heavy to lay like that.
GUESS I'LL USE THE SMALL BED
Well, this moment is definitely not what the owner expected when he purchased two beds for their dogs. this might have happened more often than you think. Many big dogs are mellow, and the small dog might become the alpha in the house. The one in charge gets the bigger bed!
BIGGER THAN THE OWNER
It looks like this lady has found the perfect dancing partner. This dog is a Great Dane, one of the biggest breeds in the world. They come in different colors, but this one is all black and probably insanely adorable. We have seen ones that let the little dogs boss them around. Most are not scary at all.
TIME TO CHANGE THE BIKE FOR A CAR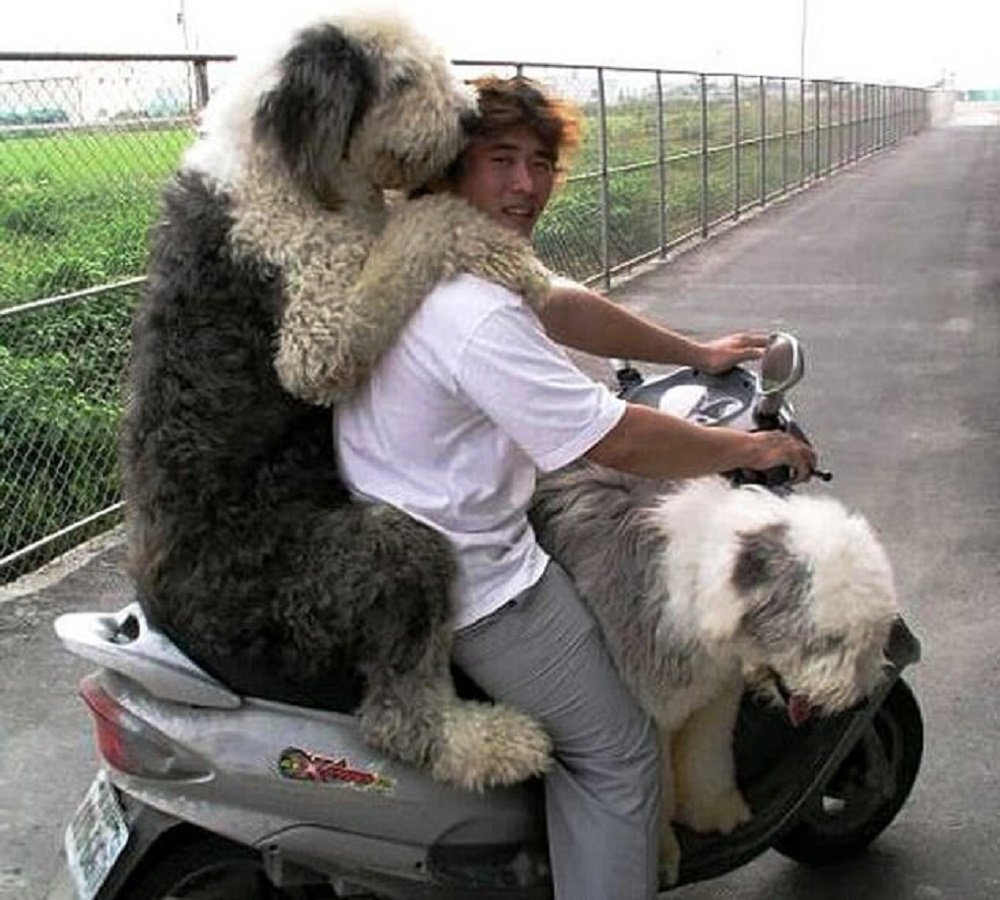 You might have seen a bunch of pictures and videos of people taking their dogs for a spin on their bikes. The whole thing is adorable, but it looks like these two pups have outgrown that scooter. It cannot be safe to be driving them around like that, even if they are well-behaved. It's time to change to a car!
FETCHING AND RESTING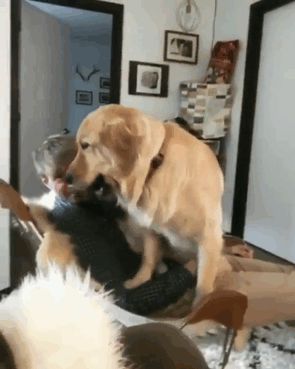 This boy was clearly sent to fetch his ball, but when he brought it back, it was time to lay down a bit. What better place to lay down than on your human? It's warm and comfy. Plus, you also get some good cuddles. Honestly, it must be super comfortable for the dog. The human is another matter.
THE LAP DOG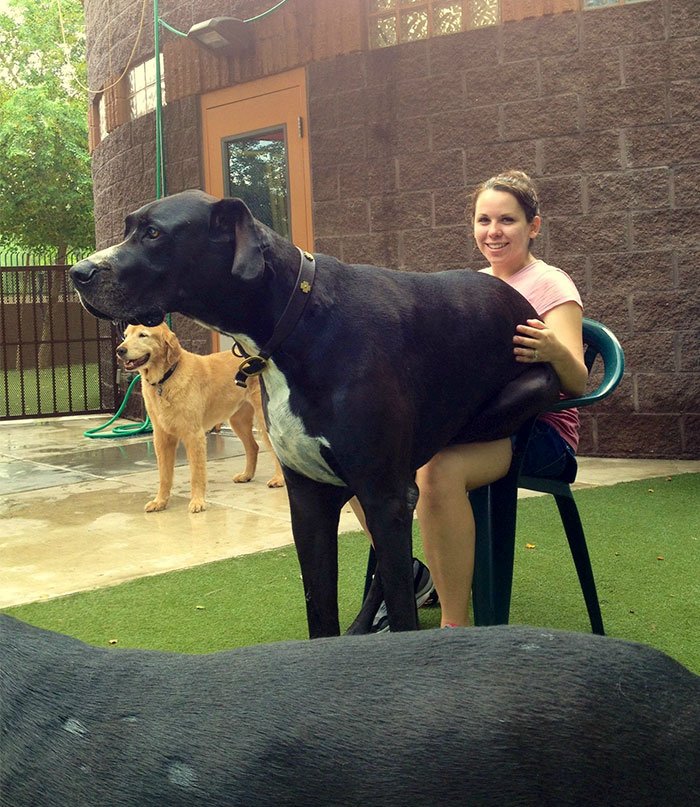 We have already seen that many of these dogs believe that they are lap dogs, and this one is no exception. It seems that Great Dane is perfectly comfortable while just plunking their butts. However, it's like he is only half-sitting. The problem is that it probably got used to being a lap dog as a puppy.
GET OFF MY COUCH!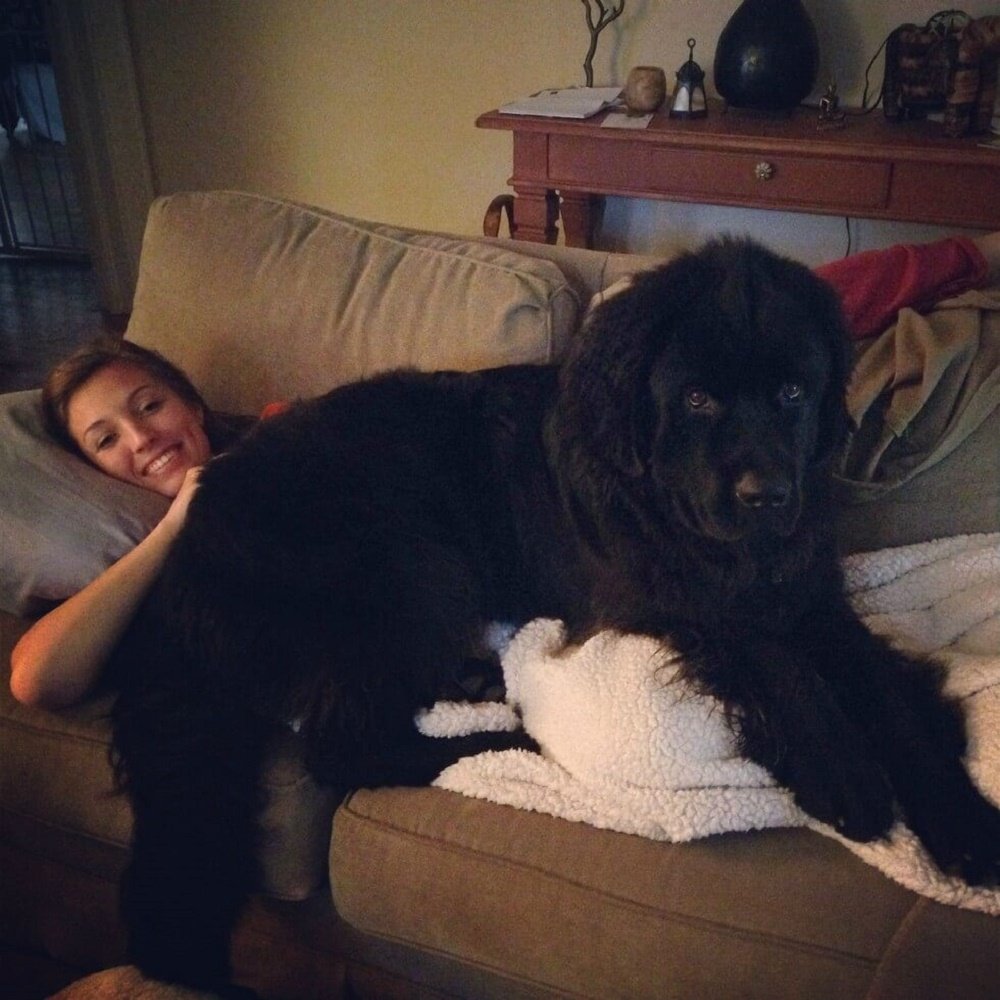 As mentioned before, once a dog has claimed a certain spot in the house, you might have a hard time convincing it to get down. This couch is not exactly big enough to fit a person and that cutie pie, but owners have to learn to accommodate. At some point, you just get used to the huge weight on top of you.
JUMPING ON THE COUCH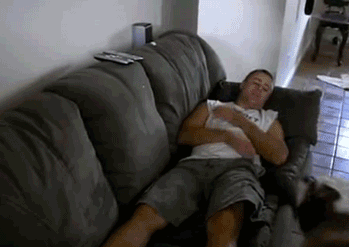 If there's something our dogs love is jumping with us to relax a little and watch some Netflix. However, they often don't realize how huge they are or know how strong they can be. A lot of our readers might have faced this problem with their big dogs, but we love them. It's the best cuddle ever!
THOR, THE PUPPY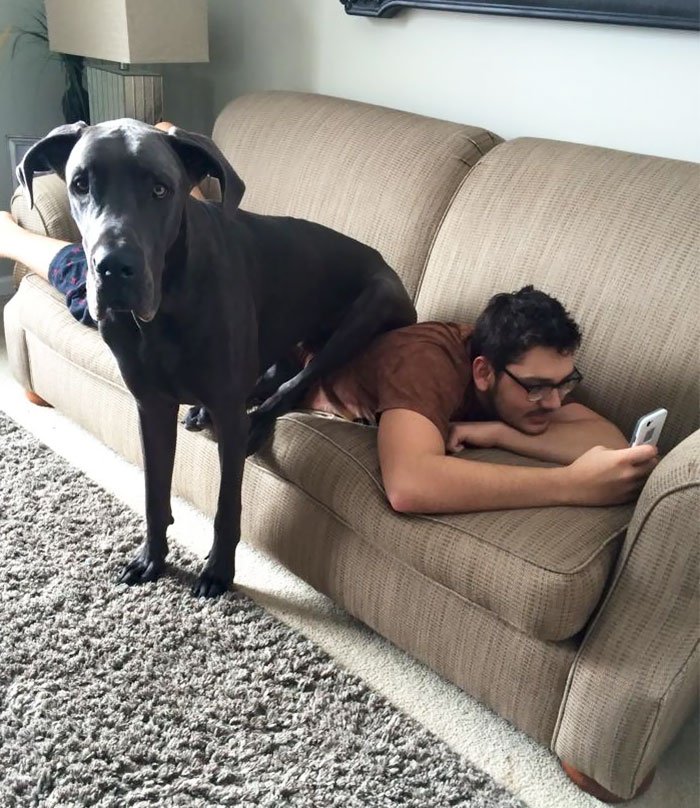 An online user posted this awesome picture of her dog, Thor, when he was 1 year and 4 months old. It's another example of how Great Danes love to half-sit on the couch. We can't imagine that the position is comfortable for either of them, but at least, they are together and laughing about it.
WHY AM I SO BIG?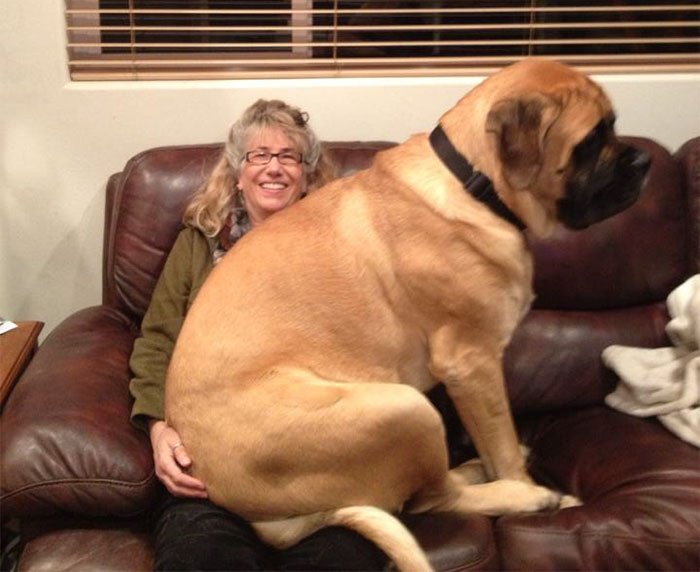 This smushy face looks a little sad about the fact that he is bigger than his human. An online user posted this image explaining that his friend's parents had a massive dog, and wow. That's an English Mastiff. Some of them can grow to be 30 inches tall and weigh 250 pounds. That's a lot of weight on her legs!
NEEDS A BIGGER BED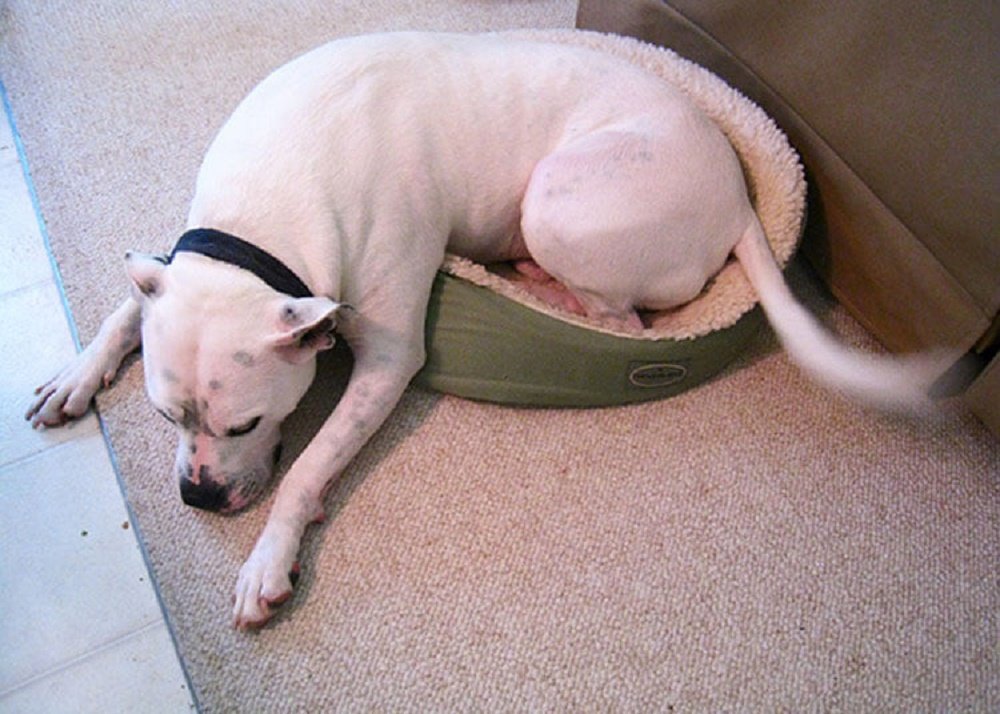 toys for your puppy, but you also have to remember that they might outgrow some other things. Perhaps, these owners what kind of breed their dog was, and they just bought him a random bed. This was a mistake because the pet got used to that bed, and it might not even like a new one.
ANOTHER HUGE GREAT DANE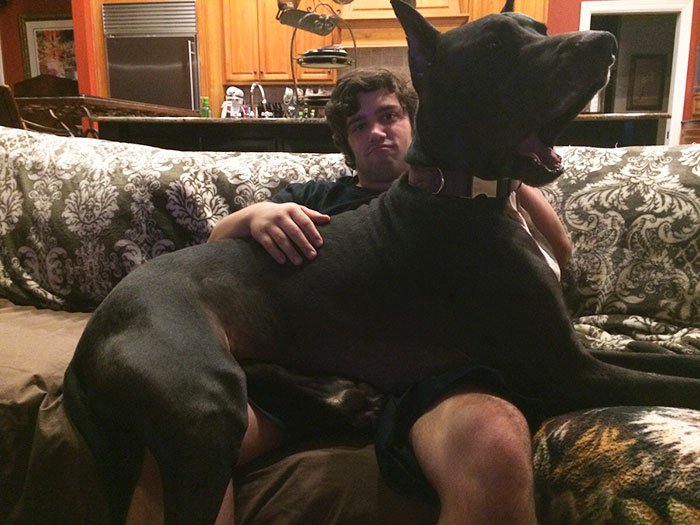 According to the online user that posted this picture, it seems that the cops wanted to get rid of that dog because it was a "danger to people". However, it's clear that he is just a big baby that deserves all the love in the world. Aggressive dogs only become like that because of how you treat them.
TIME TO SIT ON THE COUCH FOR SOME NETFLIX
This picture might be a trick of perspective, but it seems like this cutie pie is way bigger than his owner. Luckily, it is just sitting on the couch, instead of laying on it. The great thing about having a big dog is that even when they mellow and friendly, people will be wary of them. They can protect from burglars just with their size.
NOT EXACTLY A 'LAP' DOG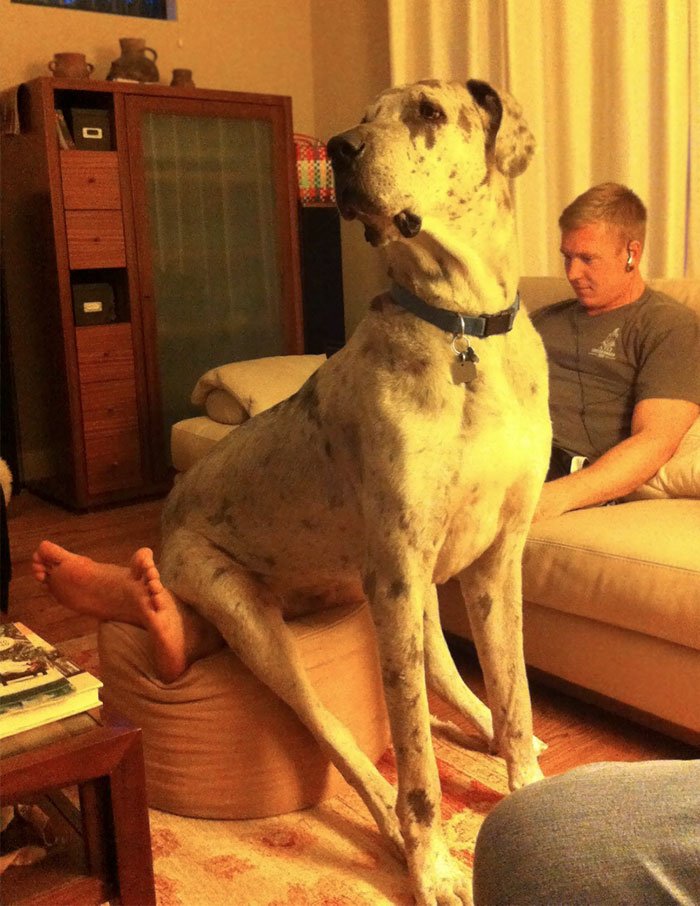 In this case, this dog is not really sitting on the human's lap, but rather on his shins. We call dogs "man's best friend" for many reasons, and the first is that they make us smile. As Moby once said, "Dogs have boundless enthusiasm but no sense of shame. I should have a dog as a life coach." We all should.
A BIG BALL OF COTTON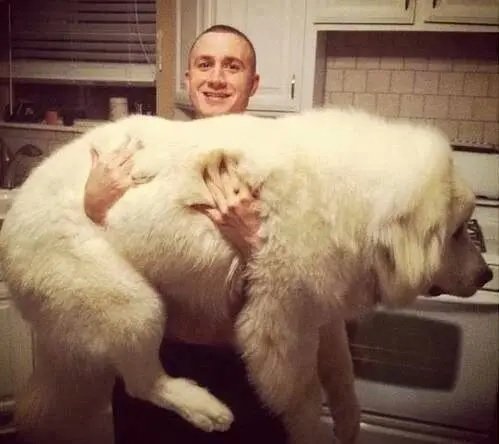 We love it when they are huge balls of fluffy adorableness. Most people have poodles and smaller, fluffy dogs as pets. It must be a little difficult to groom this baby at home, but it's just so cute that anyone would want one. We have to wonder if it's too heavy, but it looks like it might be way over 60 pounds.
NO NEED TO GRADE TODAY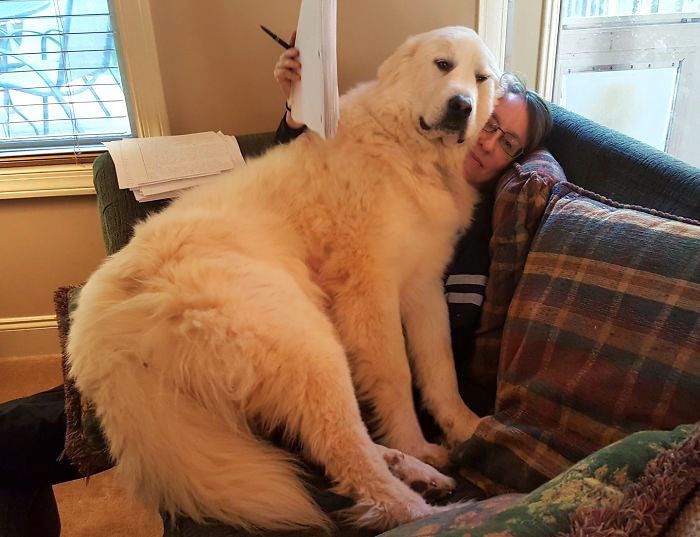 Obviously, this "tiny" dog knew that his owner deserved time off from grading some papers. It was the best decision. Luckily, his whole body covers the entire human, which means that her only focus is to scratch and scratch. We all need just a little bit of cuddles sometimes. And then, it's back to work.
THE BIGGEST BABY NEEDS TO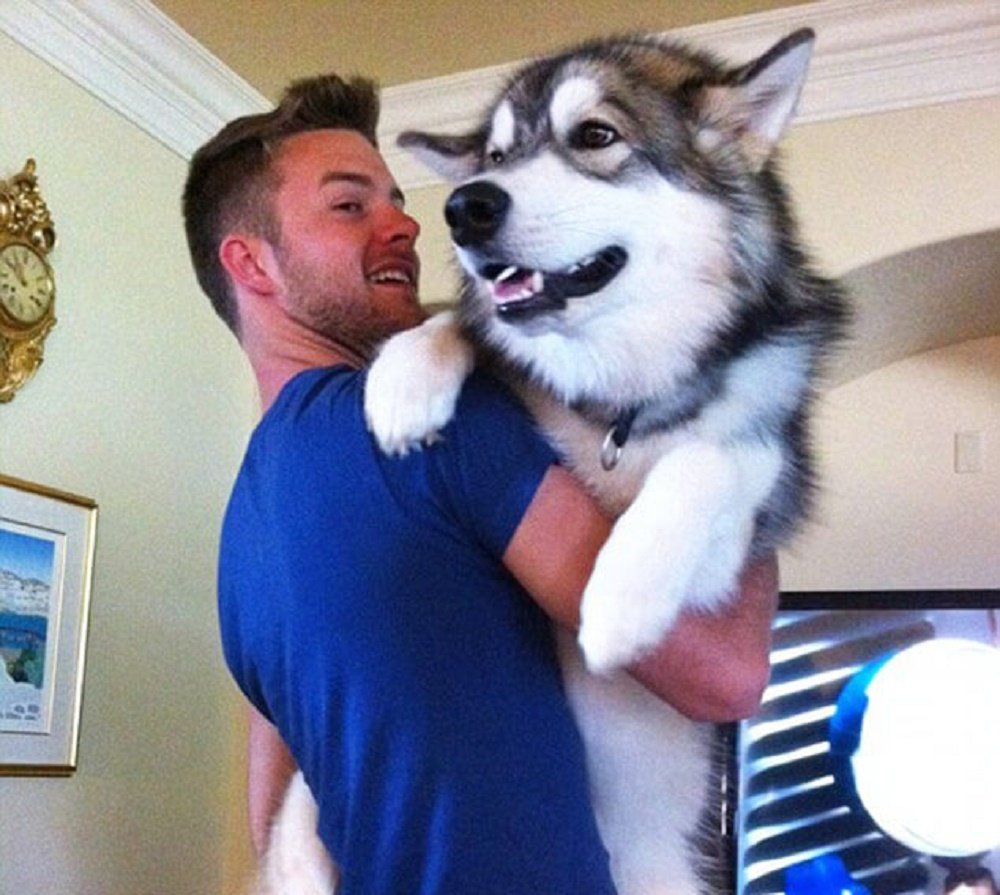 Unfortunately, some dogs get used to how you treated them were puppies. Some people often discourage owners from carrying them around as babies because of this reason. It seems like this baby that it's a little too heavy and big to anymore. However, it learned to be that way.
THE BABY ON THE SWING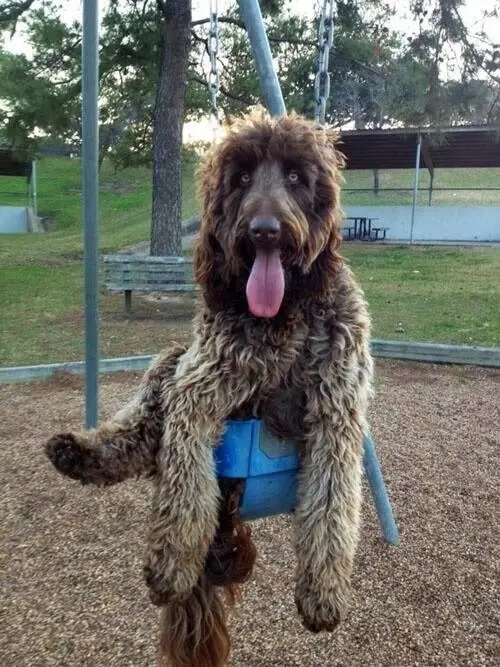 to on the swing, although there are some videos of swinging pets online. However, this one is comfortable, even though it looks like the swing is just too small for him now. The owner probably took a picture and got him out. We get to enjoy this huge baby!
STANDING AND SITTING
This dog is so big that it's standing on the floor while also sitting on the owner on the couch. Its legs are insanely big, but we love that it's so scruffy. The pet actually looks like a wild animal, maybe even a werewolf, but we can tell that it probably loves cuddling with his humans. It also looks pretty mellow.
THE GOOFIEST HUG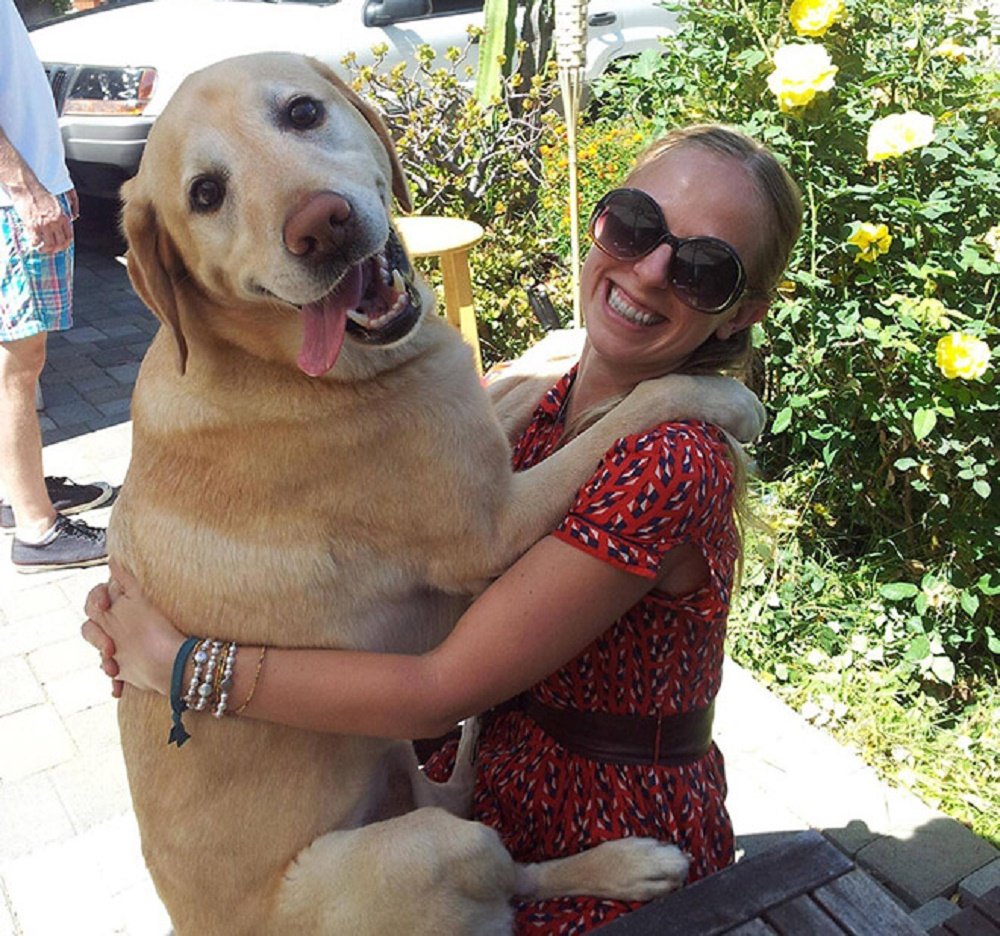 People that don't have pets do not that they all have different personalities. Dogs can be serious, nervous, hyperactive, timid, excited, crazy, and even goofy. They are incredible creatures, and it looks like this owner is having fun with their pup while taking pictures. They might have been playing in the yard too.
THE BIG BOY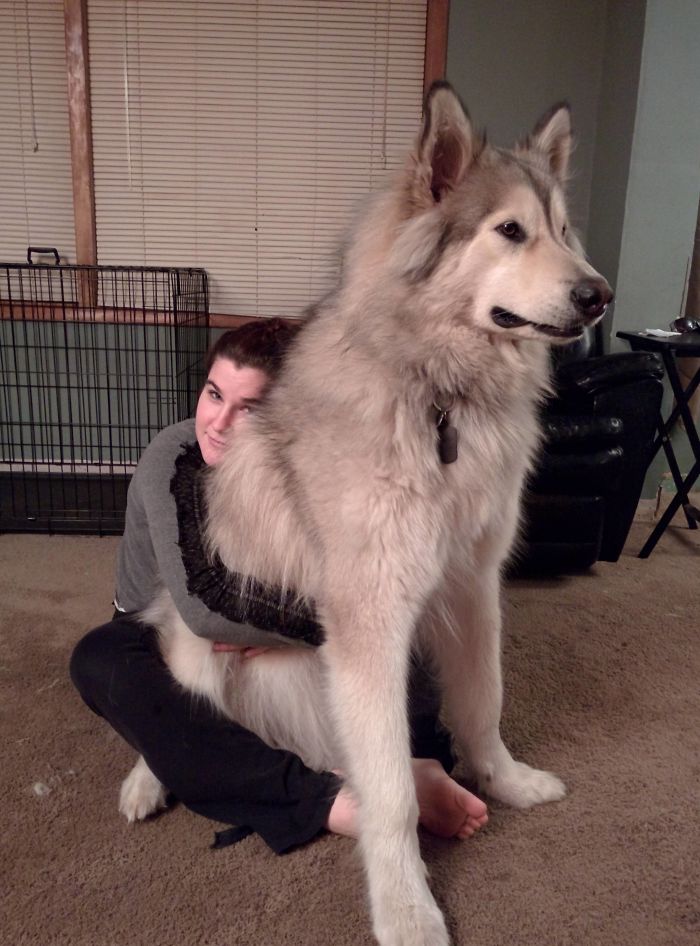 This guy looks like a real direwolf. It's hard to believe that it's actually real because the woman looks so tiny next to it. It's like a giant Husky, but we have to wonder what kind of breed it actually is. This one might actually be a domesticated wolf, although we don't recommend doing that at all under regular circumstances.
FROM PUP TO BIG DOG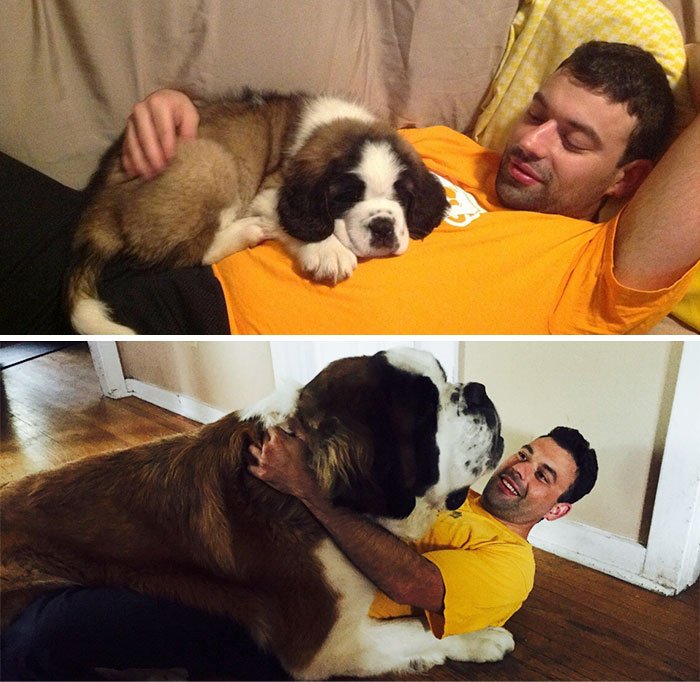 Unfortunately, if you teach to lay down on you, they might want to do it later in life. However, it's impossible to resist them when they are so tiny. By the time that they are big enough, we just love them to piece and let them be the kings of the house. We just love Saint Bernards, especially because of the movie 'Beethoven'.
IT'S TIME FOR NAP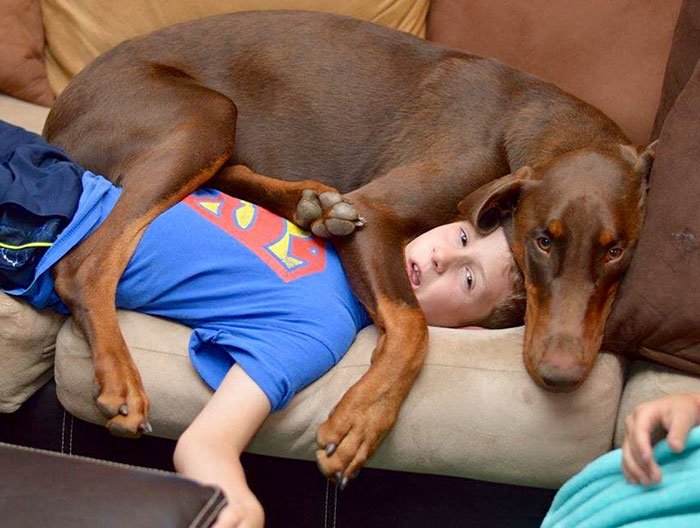 Here is another duo that is getting ready for a nap, it doesn't look like the little boy is really comfortable. But we just love that the dog looked right at the camera with the sweetest face ever. As John Steinbeck said, "I've seen a look in dogs' eyes, a quickly vanishing look of amazed contempt, and I am convinced that basically dogs think humans are nuts."
THE SCRUFFY BOY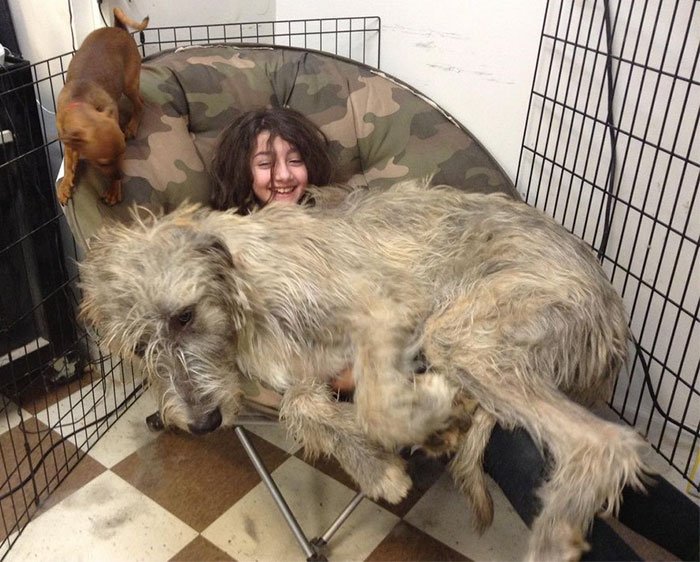 Well, at least that family knows that the chair is pretty solid because it's supporting that girl, the big dog, and the tiny dog. That Irish Wolfhound might fit on the chair by himself, but not if he wants to sit on the girl's lap. It's just adorable that he is trying to make himself smaller by positioning his legs in a certain way.
ALL THE GREAT DANES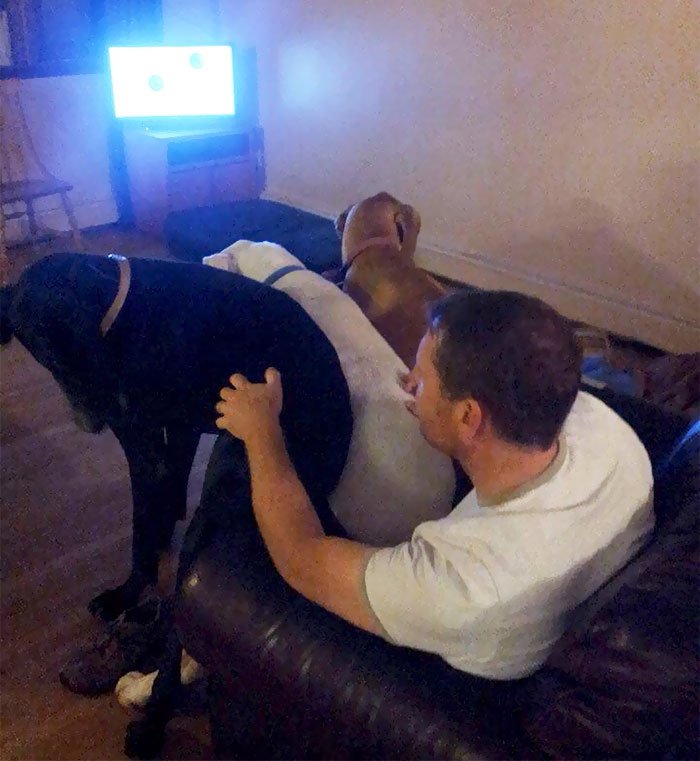 An online user posted this picture and explained that her parents have three Great Danes. All of them love to sit on laps and fight over it. However, one time they decided to all sit together at the same time, and boy, does it look heavy! It's just adorable that they are fighting for the best position, but wait until you get up.
THE TINY WIFE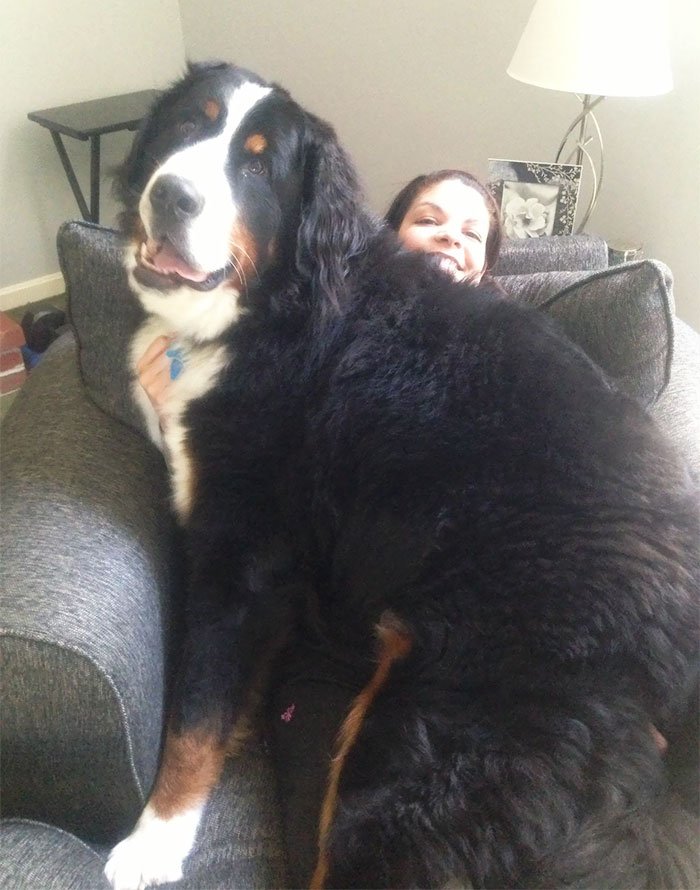 This little boy is named Lincoln, and a Reddit user posted about him online commenting that he was bigger than his wife. You might have not known how big Bernese Mountain dogs can get, and that's why everyone has to do some research before adopting your favorite puppy. We just love his goofy face!
THE ST. BERNARD ON THE COUCH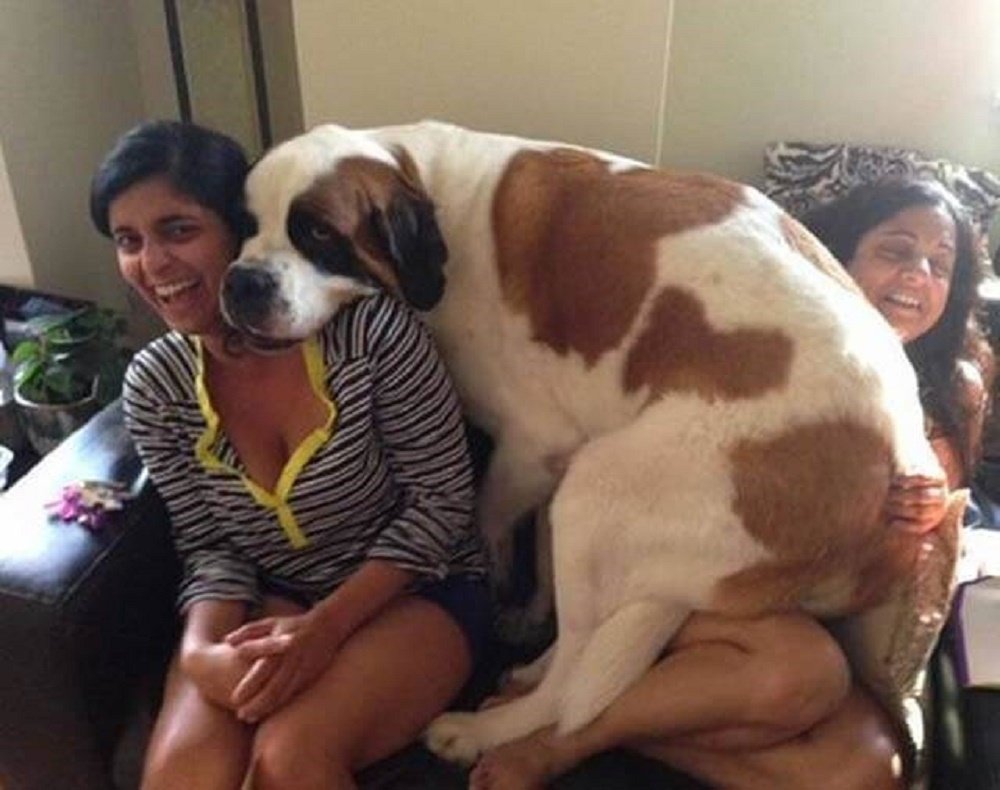 This cute puppy just wants to sit with the humans on the couch. It doesn't know that it might be a little too big to fit comfortably on it. It's crushing the second woman in the picture Luckily, everyone was laughing, and it was a great moment for a family picture. The pup also has a cute, goofy look on his face.
IS IT A CAT OR A DOG?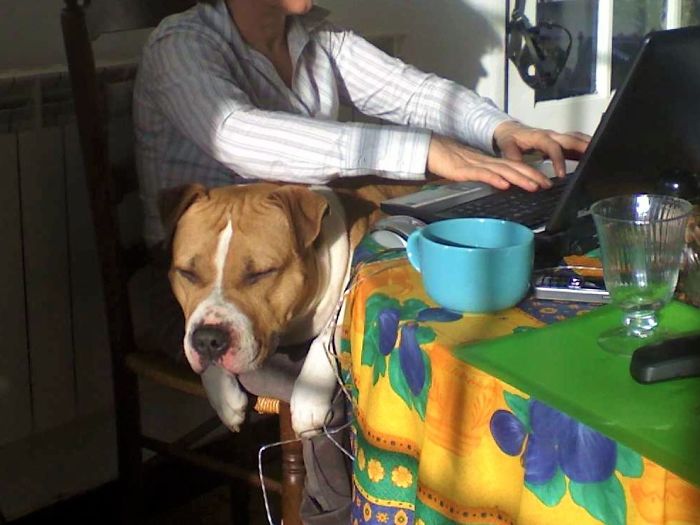 We have all seen that cats love walking around laptops or sitting on your lap when you're working on the computer. That's because they are a bit calmer than dogs and just want a warm spot to lay down. However, it seems that this big boy is a little confused. He identifies as a cat, and a tiny one, apparently.
CUDDLES BUT NOT KISSES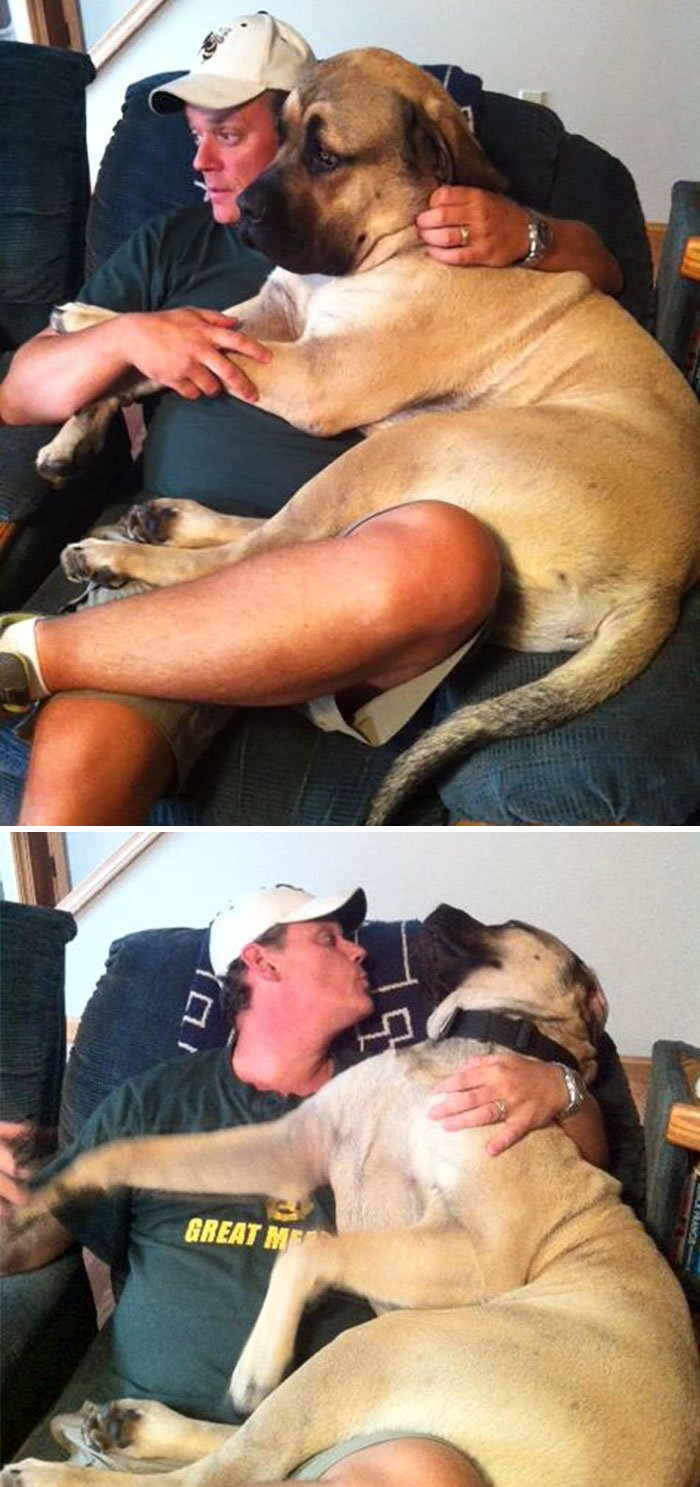 This cute little guy was apparently all for cuddles but did not want many kisses. Sometimes, that same thing happens to us. Meanwhile, here is another thought by Roger A. Caras: "Dogs have given us their absolute all. We are the center of their universe. We are the focus of their love and faith and trust. They serve us in return for scraps. It is without a doubt the best deal man has ever made."
Can you imagine having a dog that big on the house? It could be a huge mess but surely will give you a lot of happy memories with your big, fluffy partner. Let us know what breed is your favorite. If you liked this article, share it with your friends who love pets. See you next time!
Source: Pinterest, Imgur, Buzzfeed, Ranker, Bored Panda, Shutterfly