Princess Diana's Most Iconic Fashion Moments
Princess Diana was known for a shy personality, being a doting mother, and endless charity work. She broke down barriers and increased education and awareness on the AIDS crisis and left a legacy with multiple foundations. Beloved by a nation, and mourned by the entire world, we can only imagine what she would have achieved with more time. As she was one of the most photographed women at the time, we've gathered together our favorite snapshots that showcase her endless creativity and bold style choices. Princess Diana represented a woman who will truly never be forgotten.
An English Rose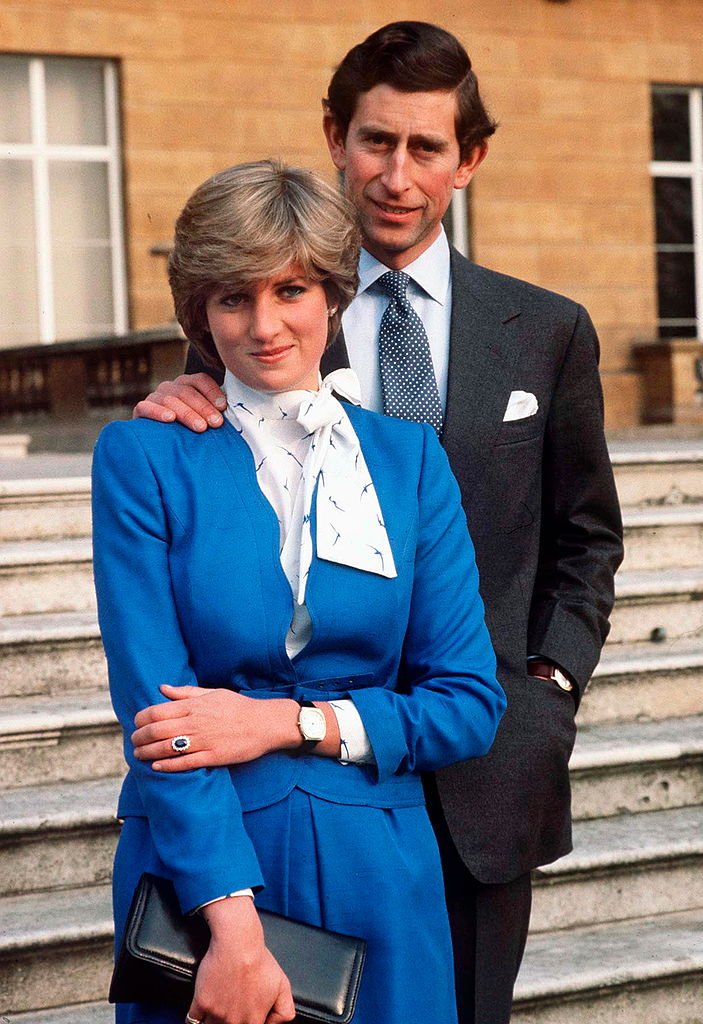 Diana's family was far from commoner status and before she was married she was known as Lady Diana. Her father was The Eighth Earl Spencer and other members of her family were knights and lords. Before marrying Prince Charles, Lady Diana was a nanny and a kindergarten assistant.
And They Lived Happily Ever After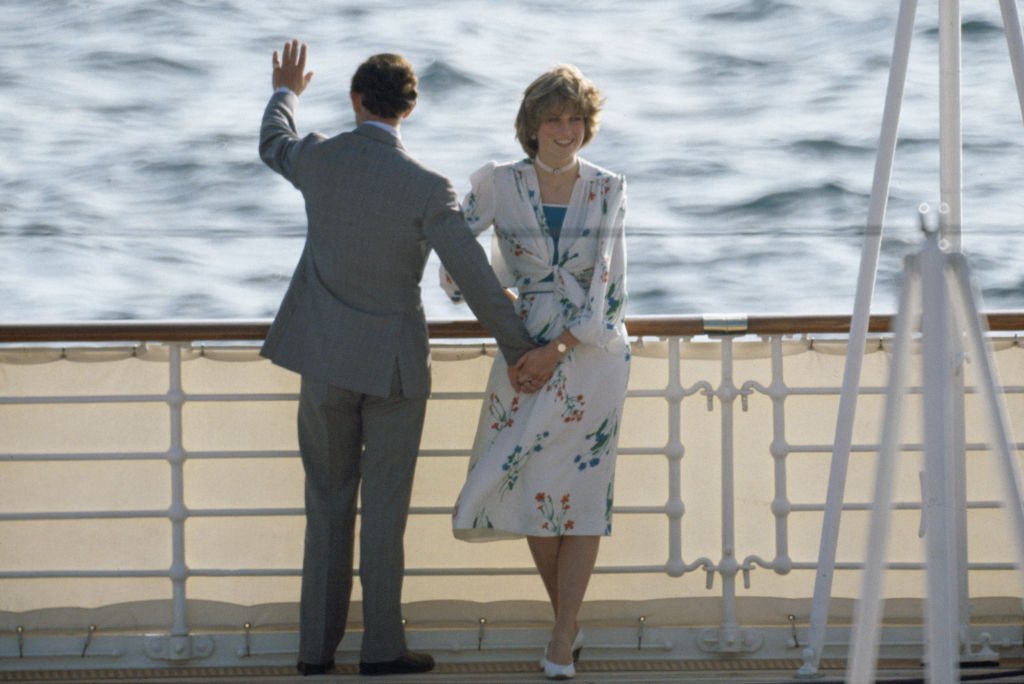 Her life as a royal family member started off like a fairytale. In 1981, Charles and Diana spent their honeymoon on a yacht sailing the Mediterranean. She wore this beautiful floral print dress and was glowing head to toe.
We Can't Get Over-You!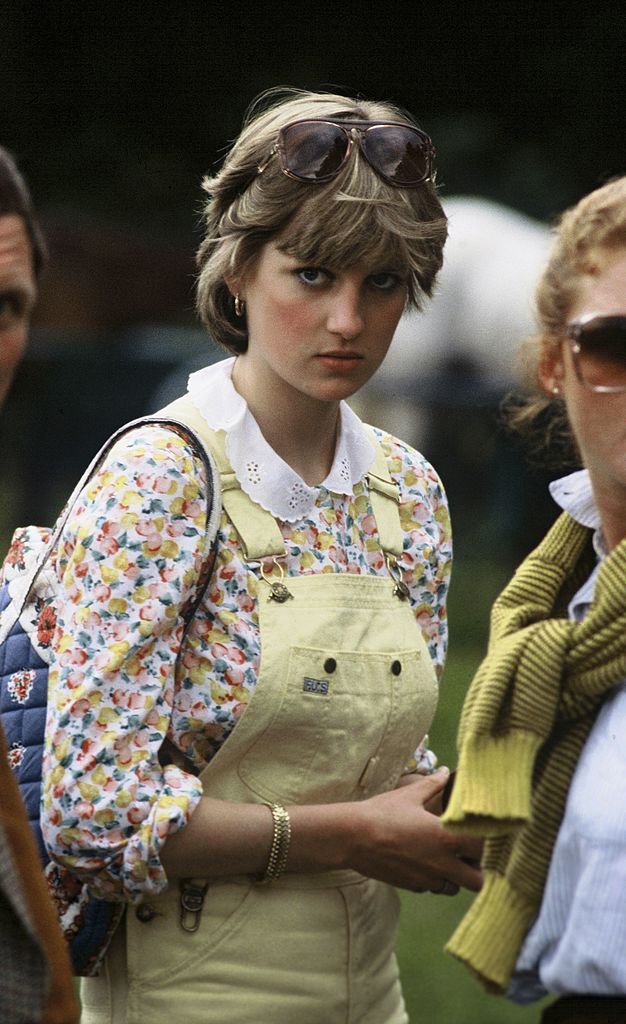 Diana wasn't used to being in the spotlight and tried to stay low key. She preferred casual and comfortable pieces, like these yellow overalls she wore to a 1981 Polo match. It wasn't long before designers wanted her to model their latest threads and she became a living icon.
Tucked In Tartan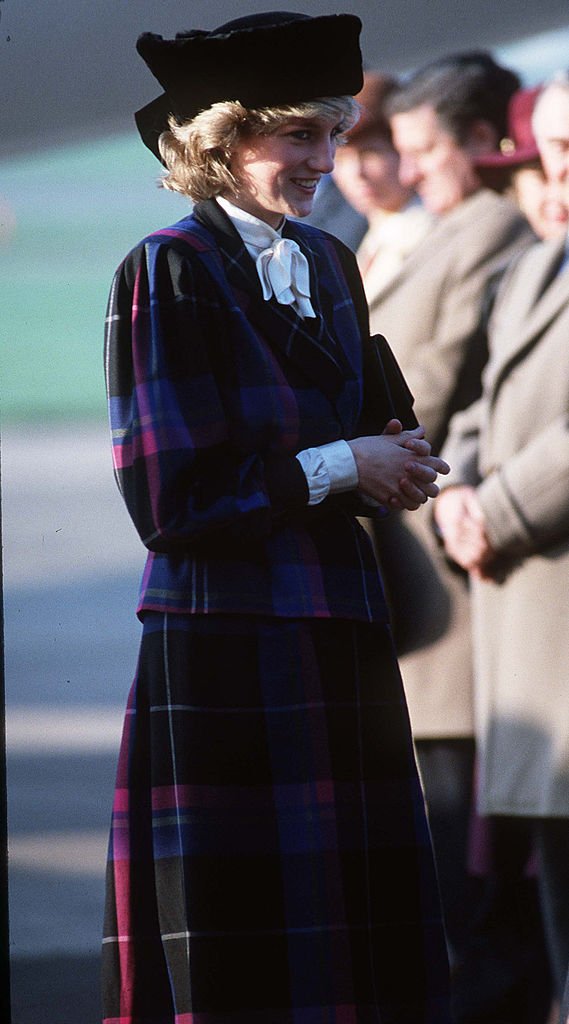 As her confidence grew, so did her wardrobe. In this 1984 picture, she wore a soft tartan jacket with a matching skirt. She began to get creative with her accessories, demonstrated by this Russian inspired fake fur Marina Killery hat. 
Showcasing Catherine Walker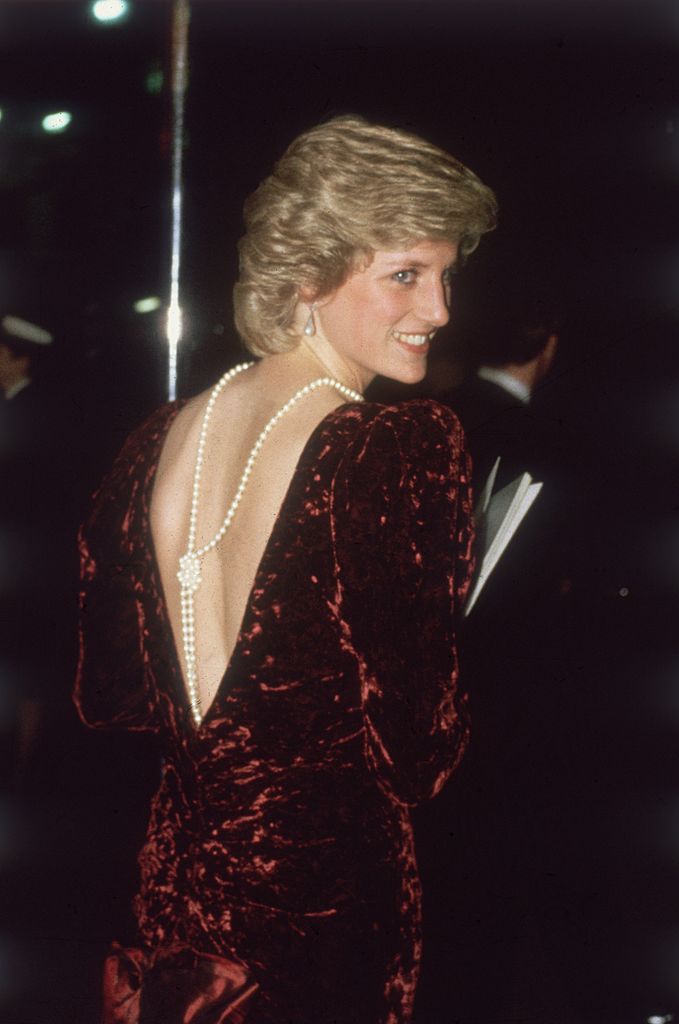 Princess Diana developed close relationships with many designers. Catherine Walker created this jaw-dropping red velvet dress for the Princess. The low back and pearl accents stole the spotlight in 1985 at the Back to the Future premiere in London. 
Showcasing Bruce Oldfield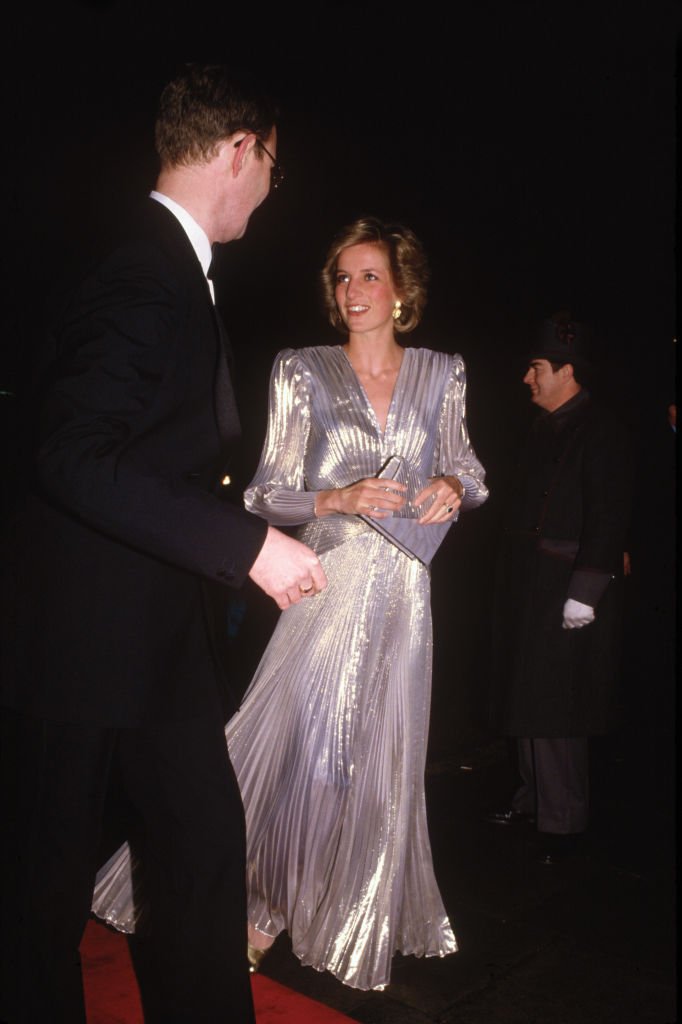 Bruce Oldfield was one of Diana's favorite designers and a close friend. He designed this head to toe floor-length metallic gown she wore to a fashion show in 1985. Upon her arrival, press questioned if her highness would walk the runway! 
Suited For Success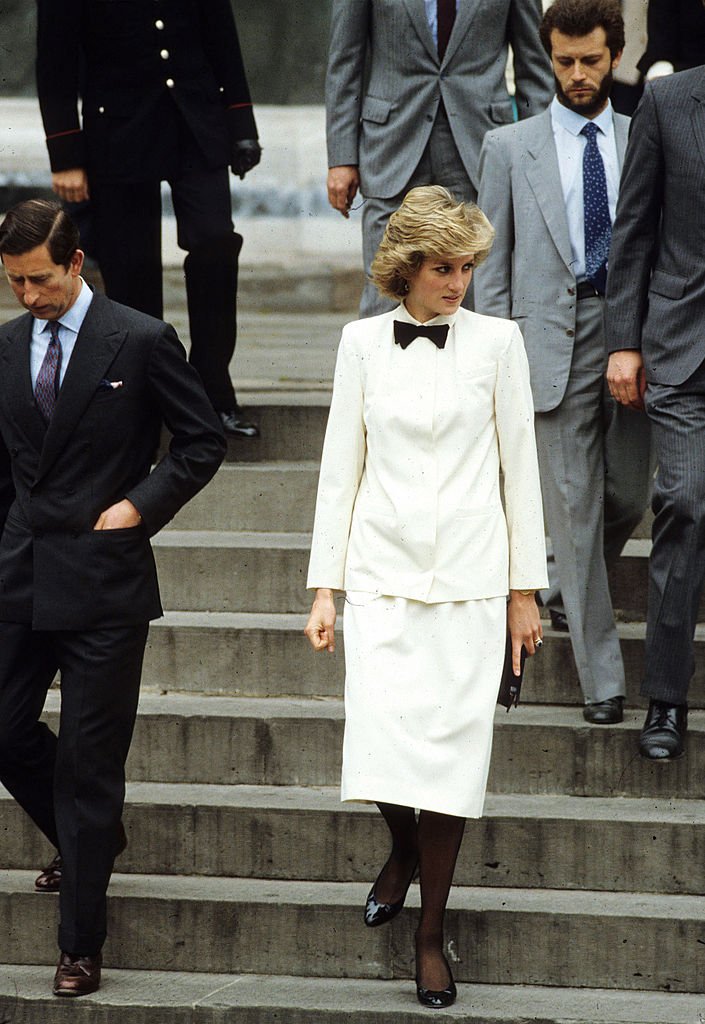 1985 was the year Diana danced with John Travolta at the White House. She also had an official visit to Florence, Italy, and was granted an audience with Pope John Paul II. During this trip, in a royal rebellion, the Princess wore a white suit and black bow tie. Her travel memories and inspirations were only just getting started.
Japan to Thailand Crisp Impressions
In 1986, Diana dined with Emperor Hirohito, while wearing Japanese designer Yuki Torimaru. She accessorized with this beautiful blue sapphire headband. Improving international relations and looking flawless is all in a day's work. 
Sergeant Fashion Reporting For Duty
In 1987, Princess Diana wore this Catherine Walker original while visiting the Sandhurst Military Academy, and called the press to attention! Praising her military forces, she raised spirits and cameras in this sharp white and gold design. 
Representing a Monarchy and a Legacy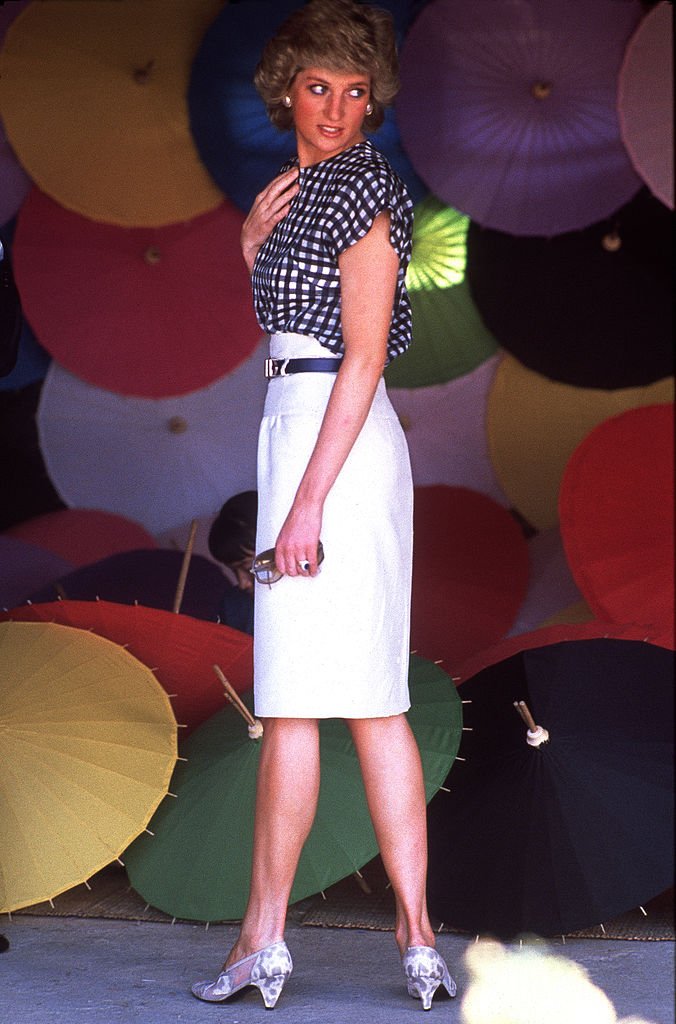 In 1988 Princess Diana wore this high waisted white skirt on her visit to Chaing Mai, Thailand. So chic and effortless, this look stands the test of time. She beat the South East Asian heat and brought classic British style abroad. At the end of the eighties, all eyes were on this rising fashion star!
We're Off To The Races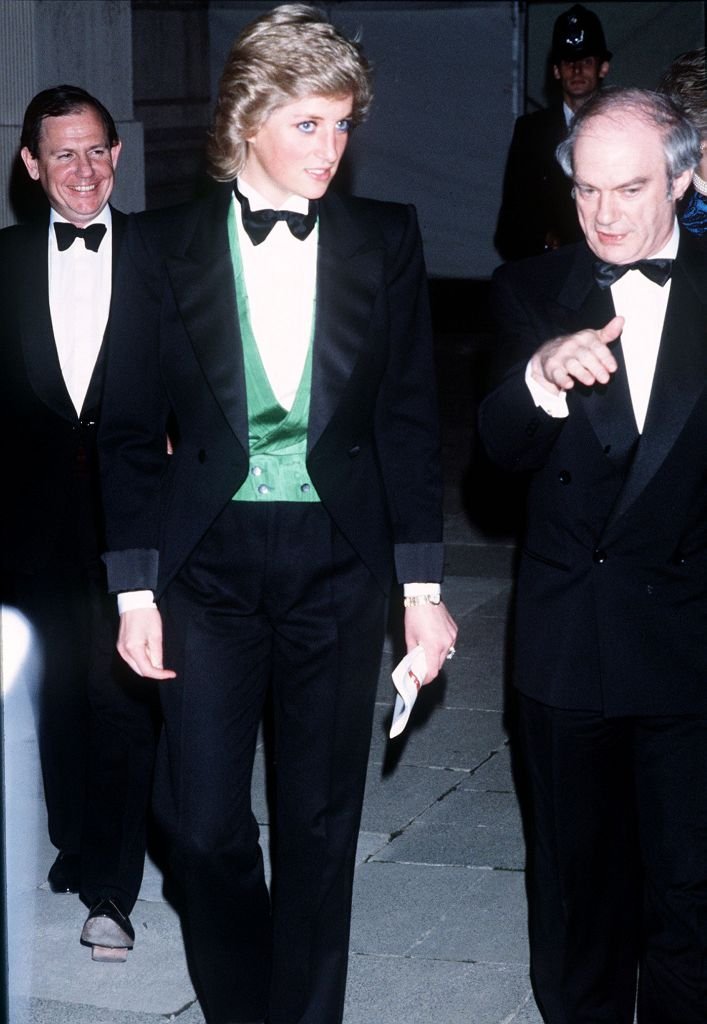 While attending her first White City Greyhound charity event at Wembley racetrack, Princess Diana proved whatever men could do, women could do better in heels! Wearing a fitted black tuxedo and a bright green waistcoat, society couldn't keep up with her creative impulses. 
Girls Just Wanna Have Fun
Ending the eighties in Hong Kong, Princess Diana was feminine and fun in a bright red and purple ensemble. A fun hat and a fitted skirt truly showed off the Princess's style and personality. What would the nineties bring into her closet?!
We're Wild For You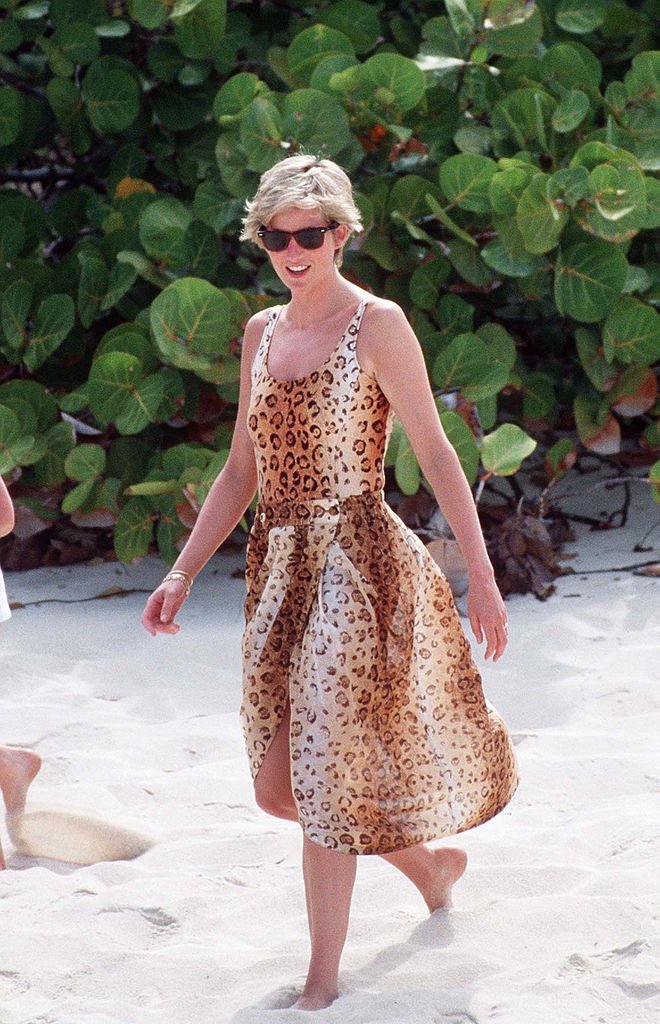 The nineties ushered in a more confident and spunky Princess. Vacationing in the Caribbean, Diana rocked leopard print on white-sand beaches. We are still going wild for animal print in accessories and fashion statements today. 
Country Garden Elegance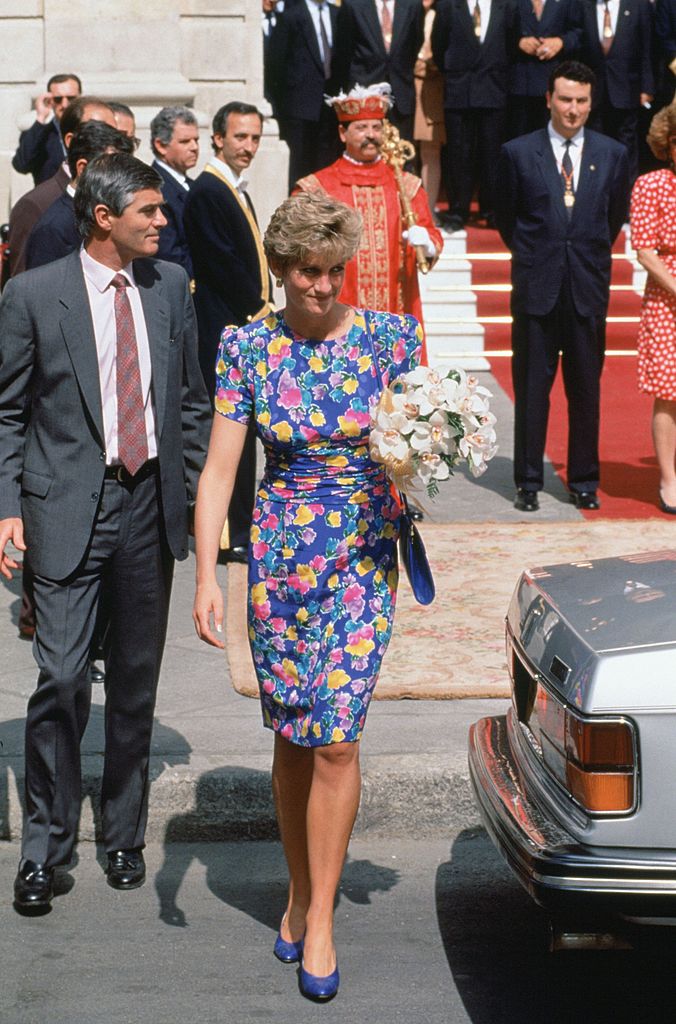 Reminiscent of her honeymoon ten years prior, Princess Diana displayed this dark blue floral print in 1992. This photograph was captured in Seville, England proving a Princess's job is never done and that she always looks gorgeous, no matter the situation. 
Classy and Fabulous Royalty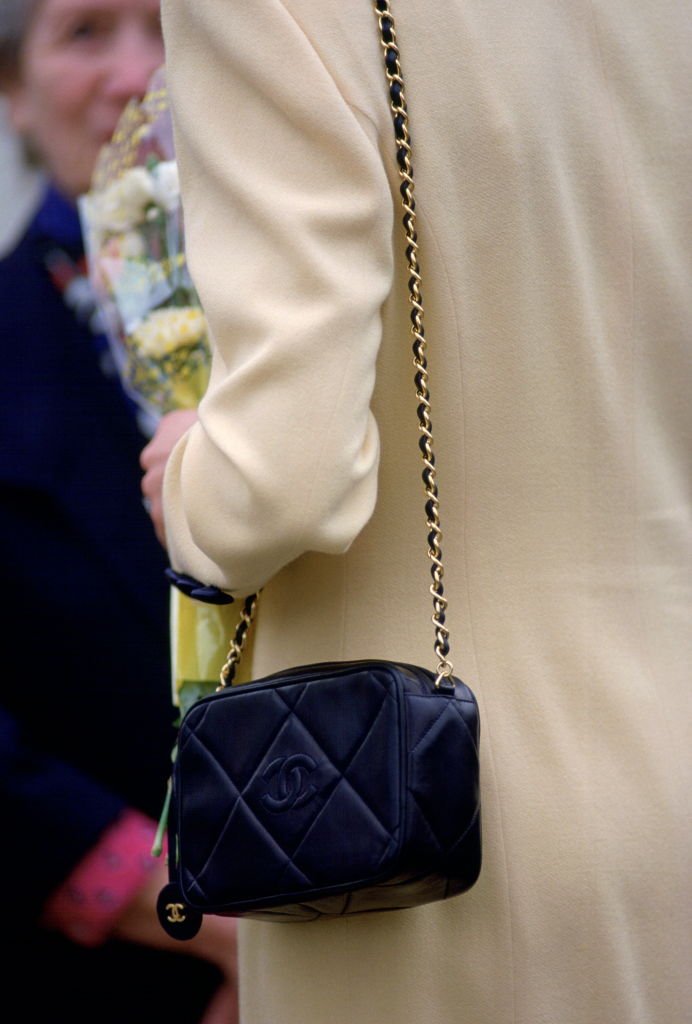 Princess Diana didn't only focus on gowns. She styled her garments with beautiful accessories ranging from pearls, tiaras, metallic accents, and Chanel purses. In 1992, news of Princess Diana and Prince Charles separation became public even though it would still be four years until the divorce was official. 
The Famous Revenge Dress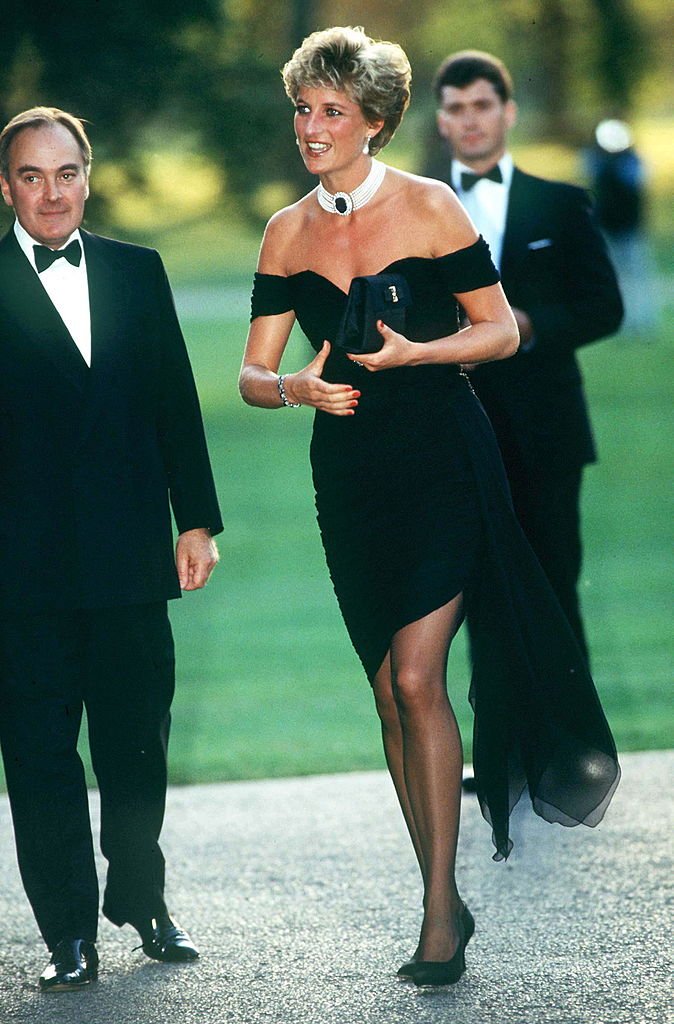 In 1994, Prince Charles went public with an interview where he confessed to having an affair with Camilla Parker Bowles. Princess Diana held her head high and showed the world what he was missing. Famously referred to as the 'revenge dress' this design by Christina Stambolian kept the Princess in high spirits all night. 
The Last Look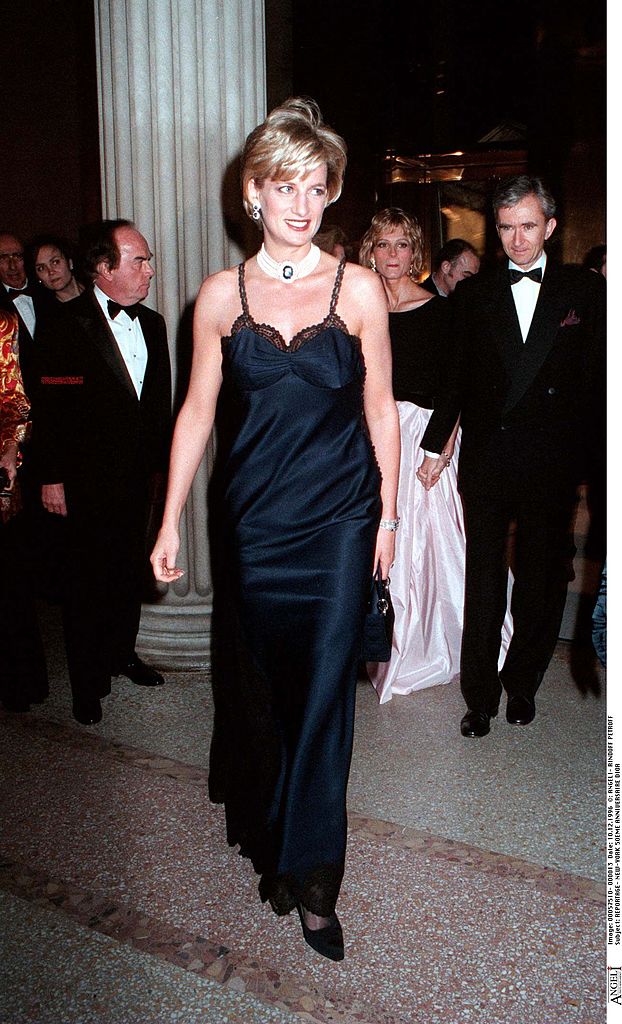 Two years later, the royal divorce is official and Princess Diana a single woman, so she made a splash looking sleek in New York City. Wearing a navy silhouette, Diana seemed to not have a care in the world - or regrets! Attending the 50th anniversary for fashion house Dior in New York City, Diana was confident and mingling with the crowd. 
Gone Too Soon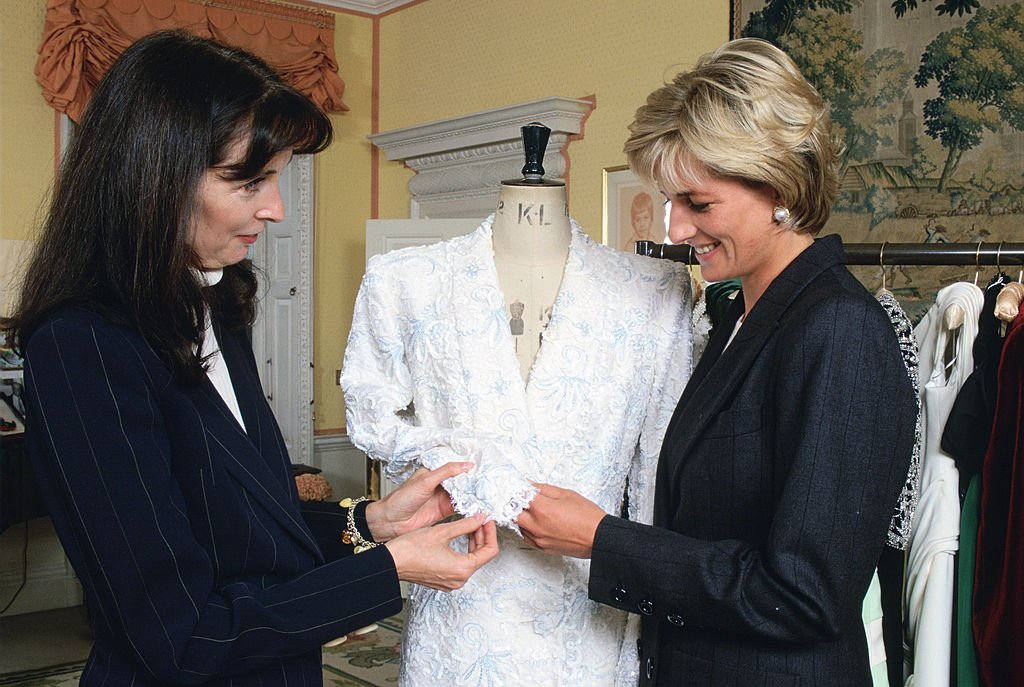 In 1997, Princess Diana tragically died in a car crash in Paris. At the time of the crash, her car was being chased by a swarm of paparazzi and they have largely been blamed for the accident. Internationally, the world mourned the loss and two billion people watch her televised funeral. Singer Elton John dedicated his song 'A Candle in the Wind' as a tribute to the late princess. Performing live at her funeral would be the only public performance. 
The Candle Will Never Burn Out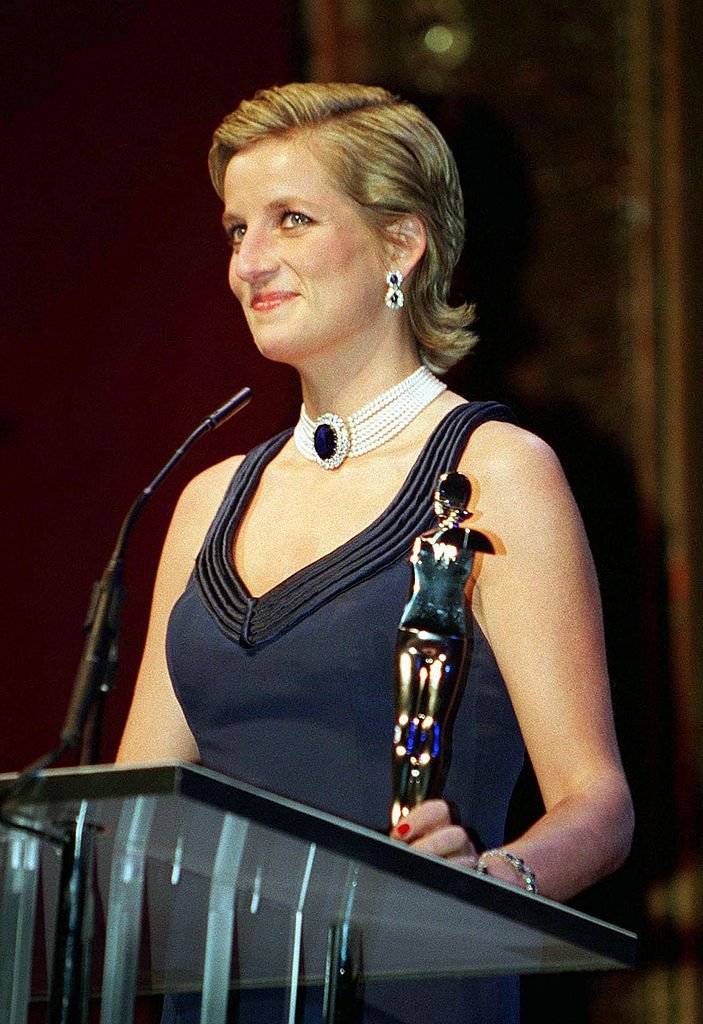 Princess Diana left behind a legacy of fashion and numerous charity initiatives. She is survived by her two sons William & Harry and multiple foundations that have increased the livelihood and research for AIDS patients and children with disabilities.
Princess Diana's life taught millions to seize every day and always to follow your heart, but sadly ended too soon, and we can only fathom of what else she could have accomplished if she was still with us. What do you think about the paparazzi being blamed? Do you think there need to be more laws in place to protect celebrities' private lives? Let us know your thoughts on the People's Princess and share this fashion-forward collection with your friends!