Hilarious Wedding Photo Fails
Couples spend months mapping the best plans for their wedding. They sit hours and hours, pouring in every bit of detail to make their big day unforgettable. But you can't control almost everything—and even the perfectly planned weddings can go horribly wrong! Don't believe us? Take a closer look at these photos, and you'll be glad that these weddings aren't yours! From ruining the wedding cake to having a little photo bomb there, these couples have experienced it all!
Bet She Didn't Expect This...!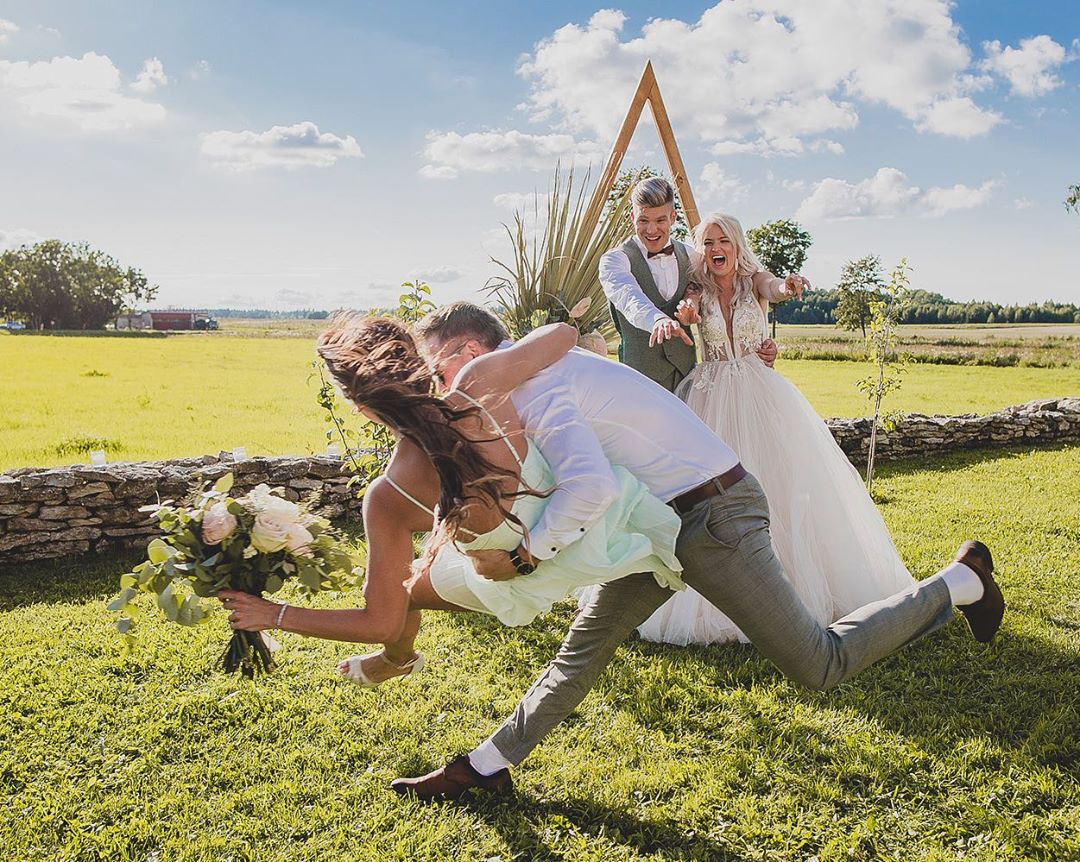 Don't expect too much when you're having that "too" curious bridesmaid around! While everything fell in a perfect place, guess the bridesmaid had to ruin the shot with her ghastly and epic landing! We only hope the groomsman didn't topple on her! Guess her fall is immortalized—thanks to the photographer! 
Ahem...Excuse Me...I'm Not Watching!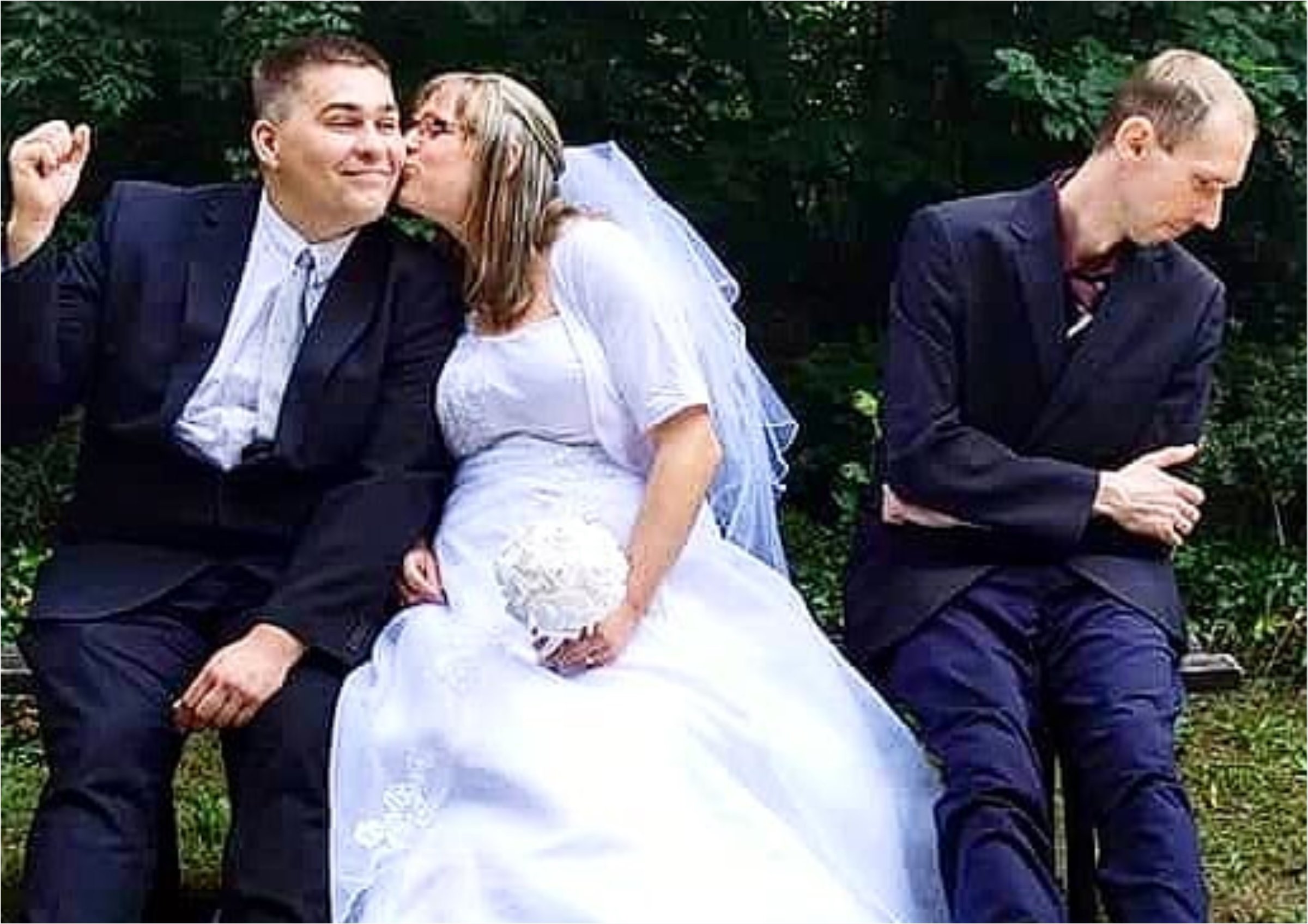 Now, this is something profound and undoubtedly—hilarious! After months of pouring in their best ideas to getting a picture-perfect wedding, this couple had the "not so included" factor that wasn't part of their plan. Maybe the groomsman here didn't understand that he had to stay a bit off the frame rather than just shying away from—Ahem!—the couple's private moment!
Nothing, It's Just The Dogs Doing Their Business!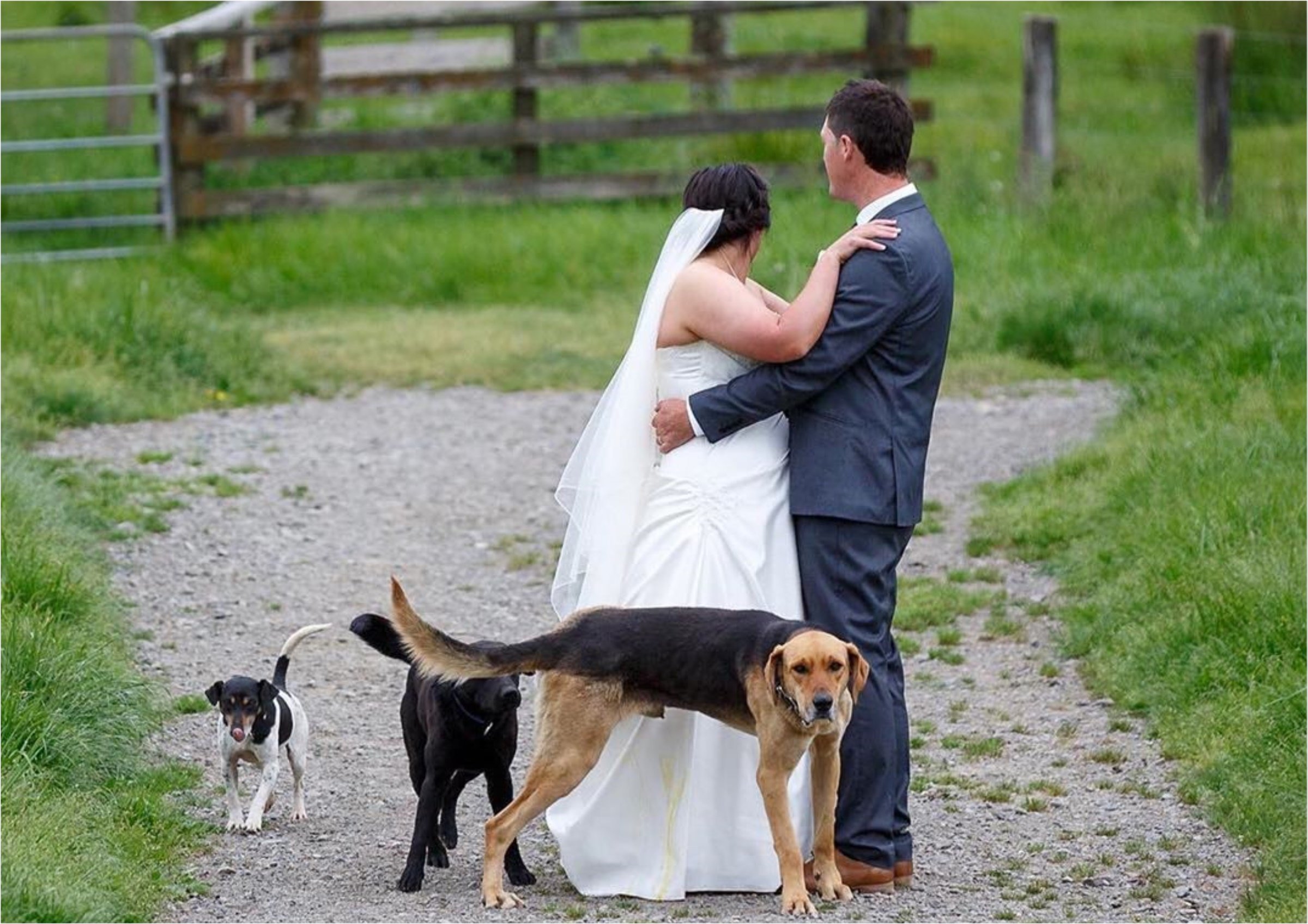 Look at that! Wait for a second. Whatever the couple was gazing at made the best sense to them. Perhaps, snapping that scenic shot under the "Just Married" caption might sound impressive. But visually, well, only if the romantic couple knew what was going on behind the scenes! Sad, but the ultimate photo fail has been immortalized forever!
That "Put Me Down, Now" Moment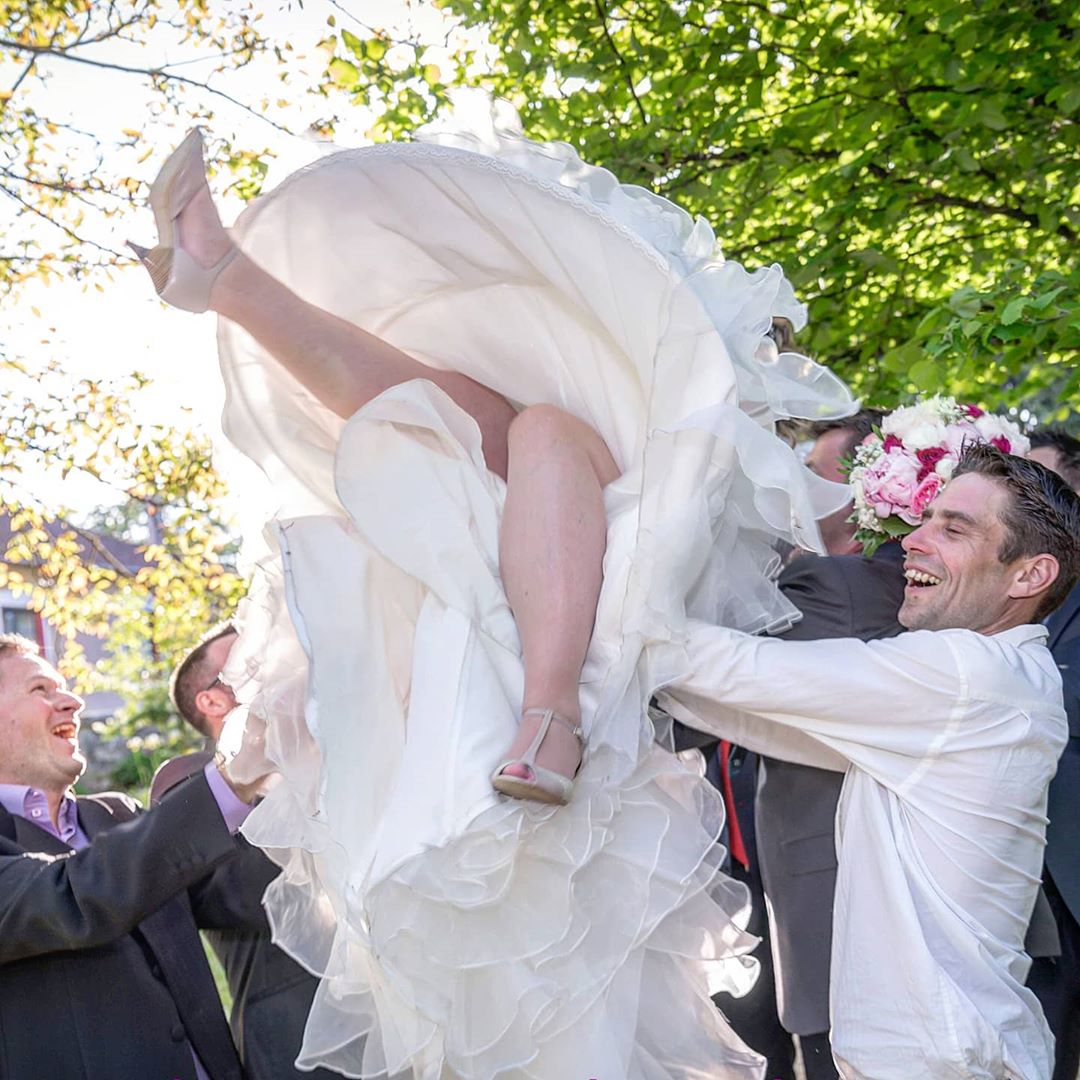 If the "tossing the bride" session makes it up to the wedding to-do checklist, we advise you to give a second thought! Don't believe us? Well, take a closer look at this wedding photo where everyone else seems to shout in joy except the bride! From the look of it, guess she's yelling at the groomsmen to stop doing that to her. Sad, but the photographer got that perfectly "disastrous" view immortalized! 
Someone Is Super Excited...!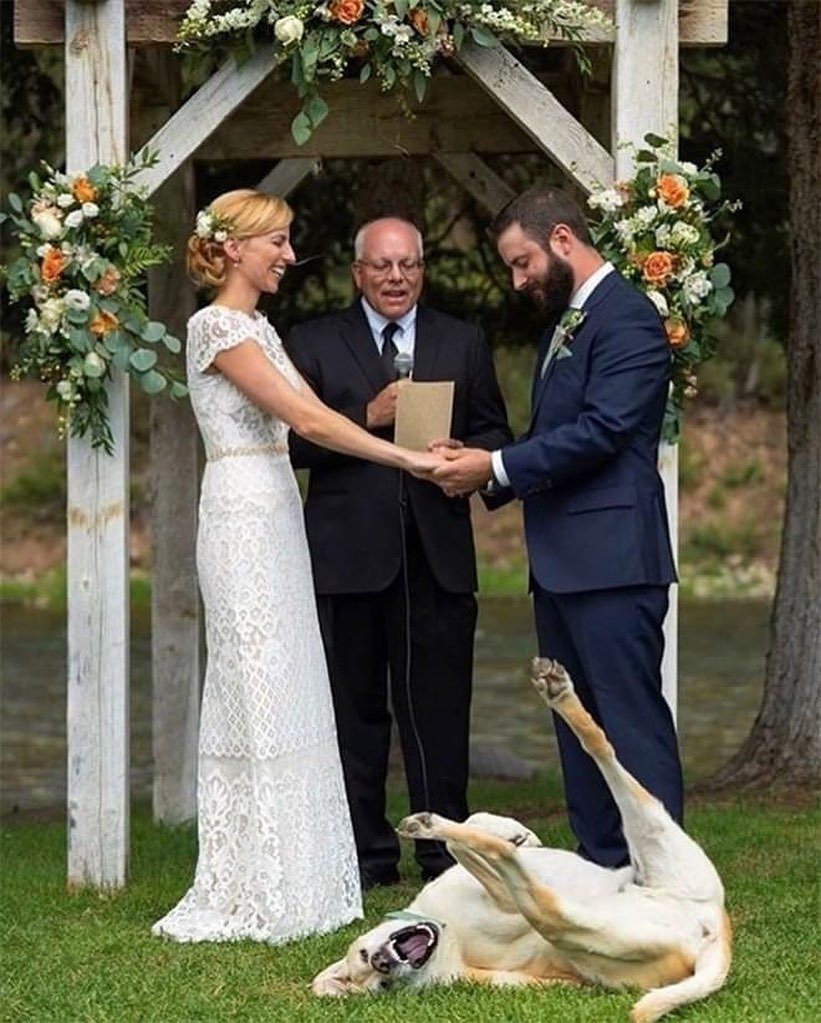 What to do when you have an uninvited guest show up at your wedding? Well, if you have a pawpal enter the wedding premises, then it's okay, as long as he knows to behave! But in this throwback picture, seemingly, the doggo couldn't hold back his excitement any longer. And that's when he did this when the vows were exchanged! Now that's what we call "super excited!" and the ultimate wedding photo fail..! 
Duh, Dude, This Isn't Your Bedroom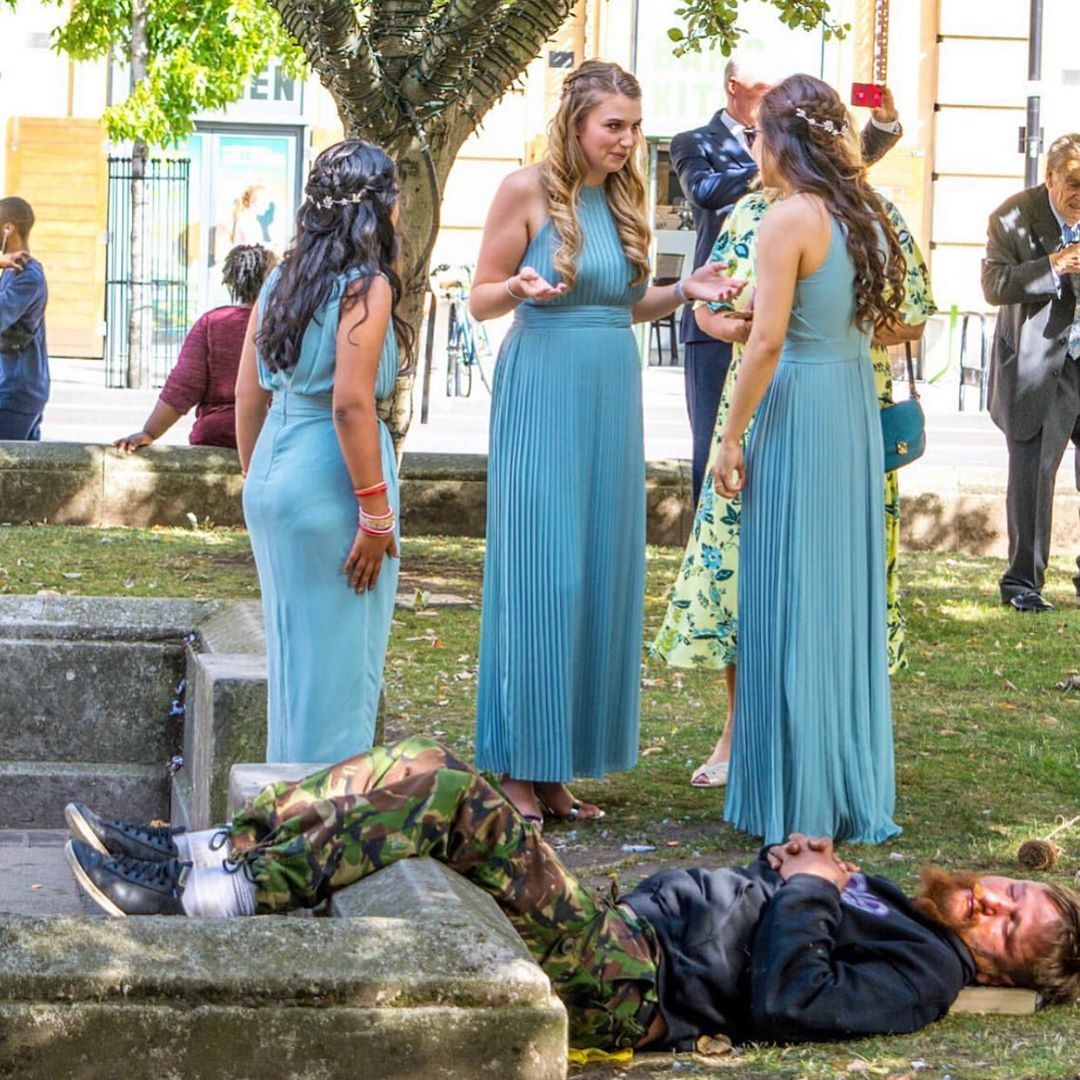 Imagine you have your wedding planned perfectly, and the venue is all set to sound of laughter and wedding toasts. The miserable part is—you have this "uninvited" guest taking his time to wake up and move out of the place! Guess the guy in this picture never expected to be a part of the event. However, he has managed to grab a place in the wedding album!
When You Look Down And Notice Your Dignity Has Fallen
It looks like this couple had planned their wedding for many years! Seemingly when the big day arrived, the groom forgot to tighten his waistline with a belt, and that's the end of the story. Well, looking down to see the groom's pant all gone loose and fallen might not sit well with many brides. And yes, this bride's expressions give us some insight into how she felt the moment the mishap took place.
They Say Love Is Blind—Maybe Even Marriage Is Blind!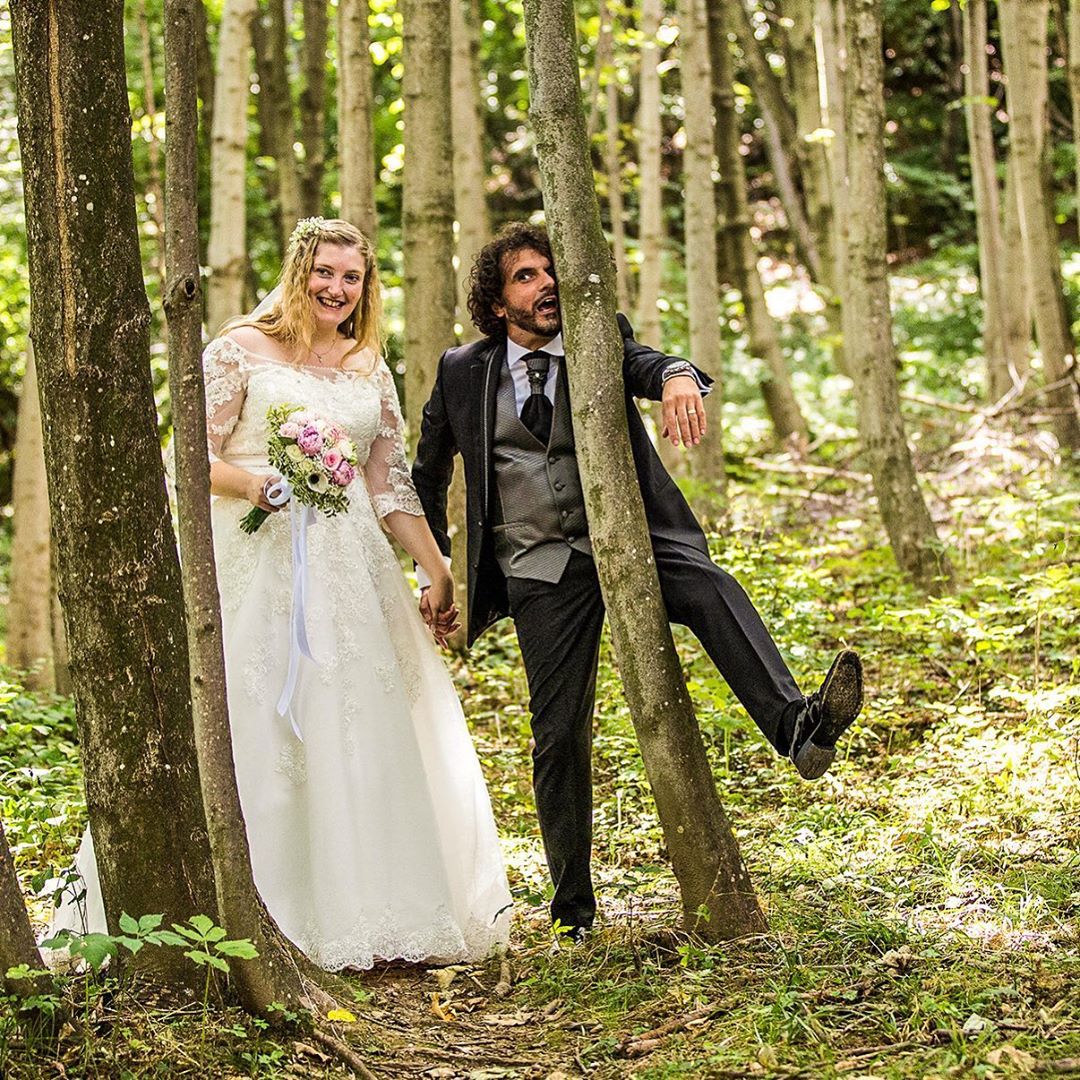 According to this couple, the wedding was over, and everything fell in the perfect place. When things go as planned, the kind of joy we indulge in is utterly different. So basking in that unbound joy, this couple walked in the woods to snap some "in the wild" photos! Guess love and marriage are both blind, and this picture depicts it all! Perhaps, that pose wouldn't be a part of any of our wedding photoshoot plans, right?!
Boot Coming The Wrong Way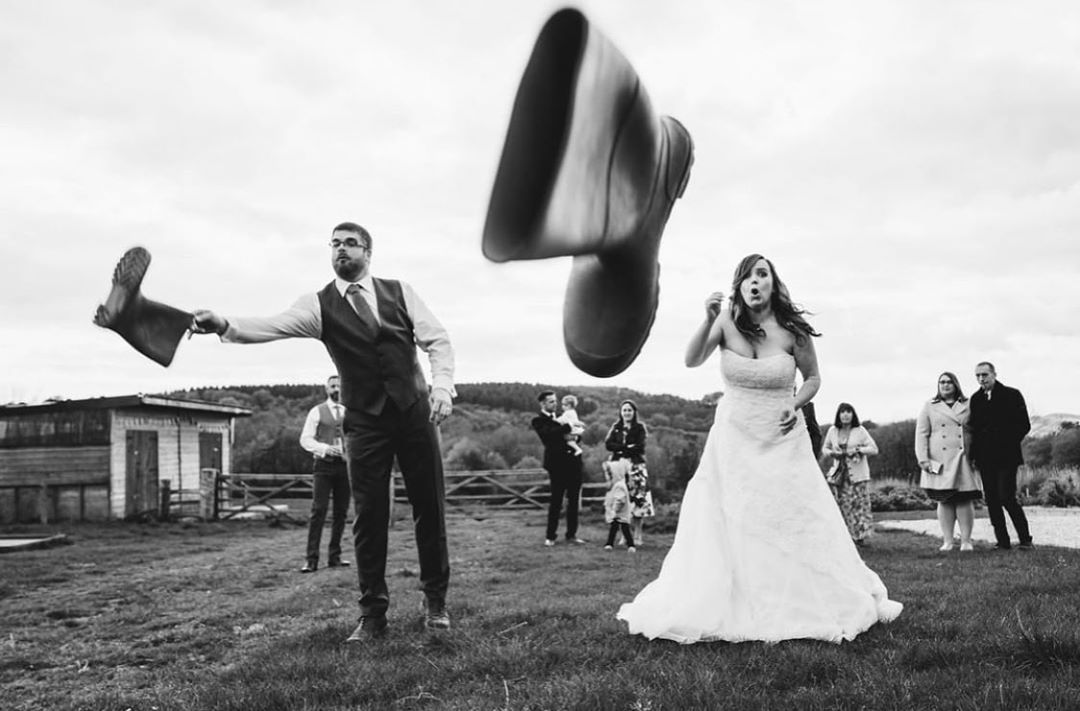 According to an old tradition, throwing boots at the bride and groom's carriage was considered lucky if either pair hit them or the vehicle. But here, we don't see any carriage! While the boot the groom threw goes in a perfect direction, where's the bride's boot going?! Can you read her expressions? Well, she looks shocked and confused about whether the boot would land on the photographer or not. But from the photographer's perspective, he had to snap the shot and run away quickly!
Guess Who Steals The Show Here!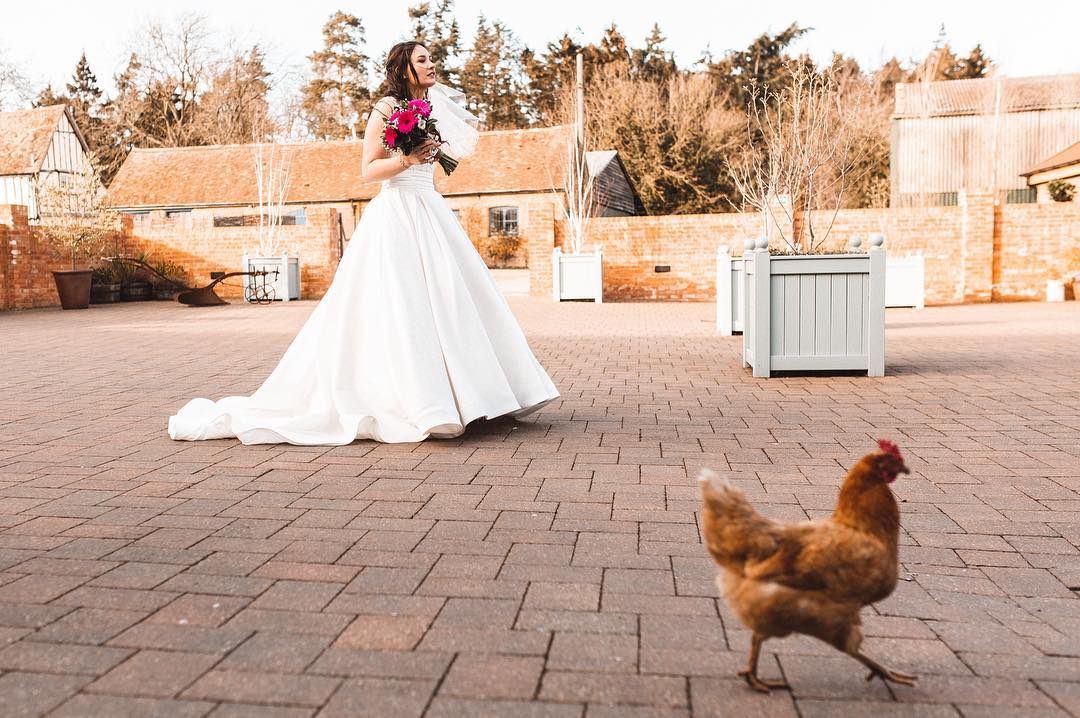 You would've probably heard of the catwalk, but what about chicken-walk?! This bride dreamed of immortalizing her cute moves and that ramp-style bridal makeover just before her wedding. But look who steals the show—a chicken! When the wedding plans were plotted months back, the chicken ramp walk thing wasn't a part of the list at all! Guess the bird had to photobomb the photograph with its hilarious presence.
Duh...Seriously...?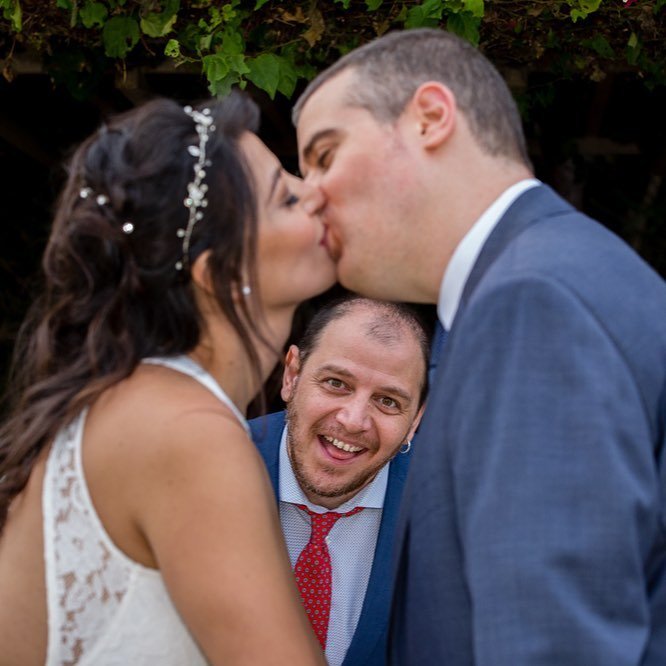 We don't want to comment on this...! Well, a perfectly planned wedding packs tons of excitement and joy, especially between those who're getting hitched. Guess this couple waited for the moment where they would hear "You may kiss the bride" pronouncement from their wedding officiant. And they really wanted to make the moment a memory. Sadly, it has become more than a memory, and that's what we call—disaster!
Now That's What We Call The Perfect Pose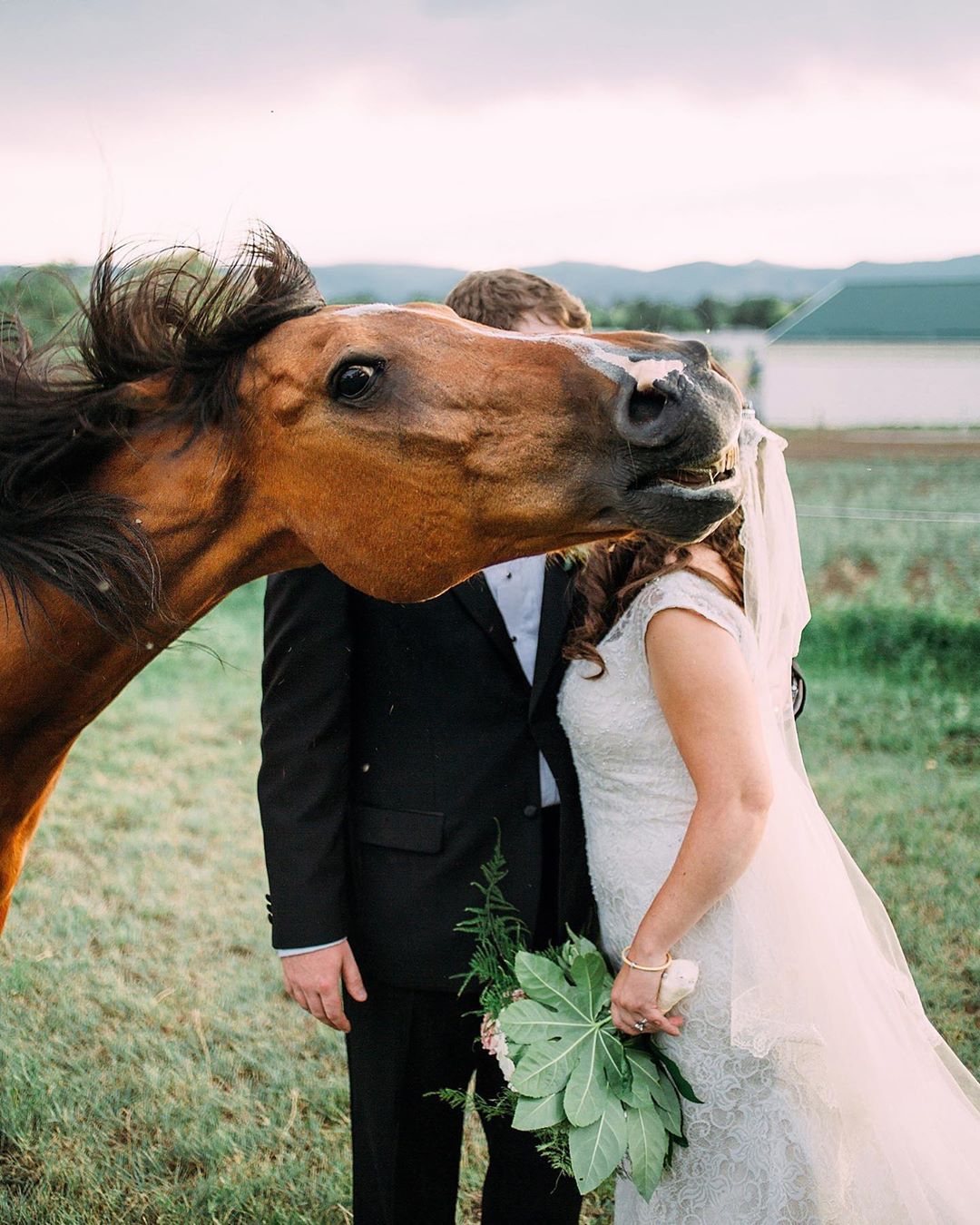 Seemingly, this couple was in love, and every bit of their wedding plan was rooted in the affection and warmth they carried forward through the years. When they chose the picturesque scenery to pose for some really warm pictures, they locked their eyes on each other. But they were unaware that someone else said "cheese," making the moment an epic of a wedding "mustn't have" memory!
When The Groomsmen Destroy The Picture Perfect Shot
Now that's what we call the perfect wedding photo, or it should've been so if it hadn't been for what we're seeing! Don't get mesmerized by the all-smiling faces and joy illustrated in this picture. You got to deviate your eyes and look at the two biggest nightmares present in the photo, only to bomb it from the side! Eeeeeeew! Is he picking the nose or something?! Well, the photographer could've redone the shot, excluding the two doing that nasal excavation! 
She Says—"Watch Your Steps...I Repeat—Watch Your Steps!"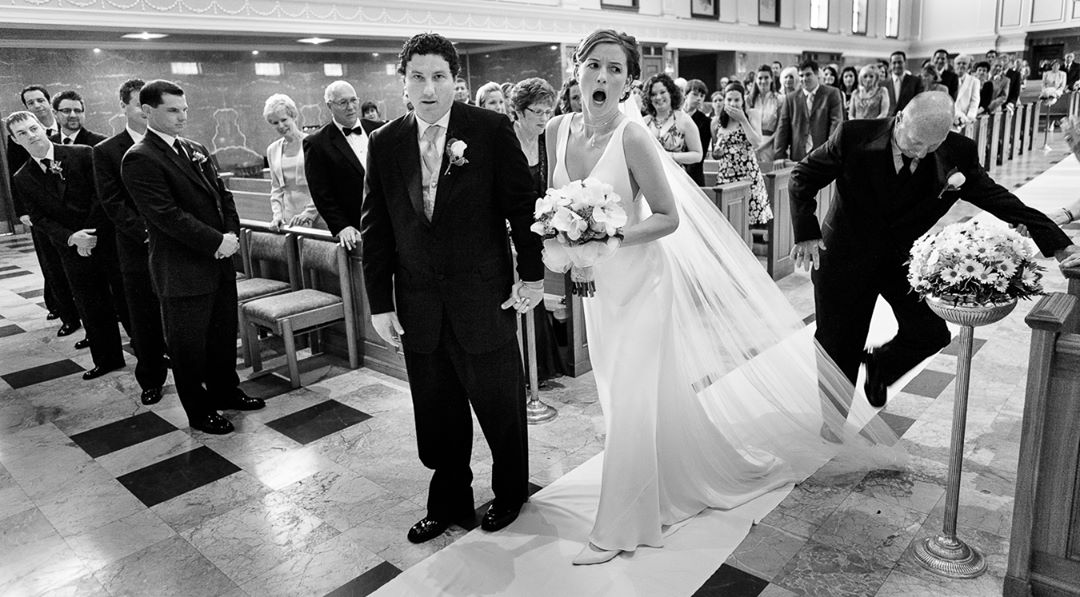 We're not sure whether she fell or not, just forget whatever happened later. This moment paved the way for an immortal disaster! Guess the bride and groom planned everything posh and serene for their big day. There are a good number of guests too in this church-themed wedding. But if it hadn't been for that guest who's seemingly tap dancing on the bride's veil, we wouldn't have got the chance to call this picture an ultimate disaster!
Toss Over Gone Wrong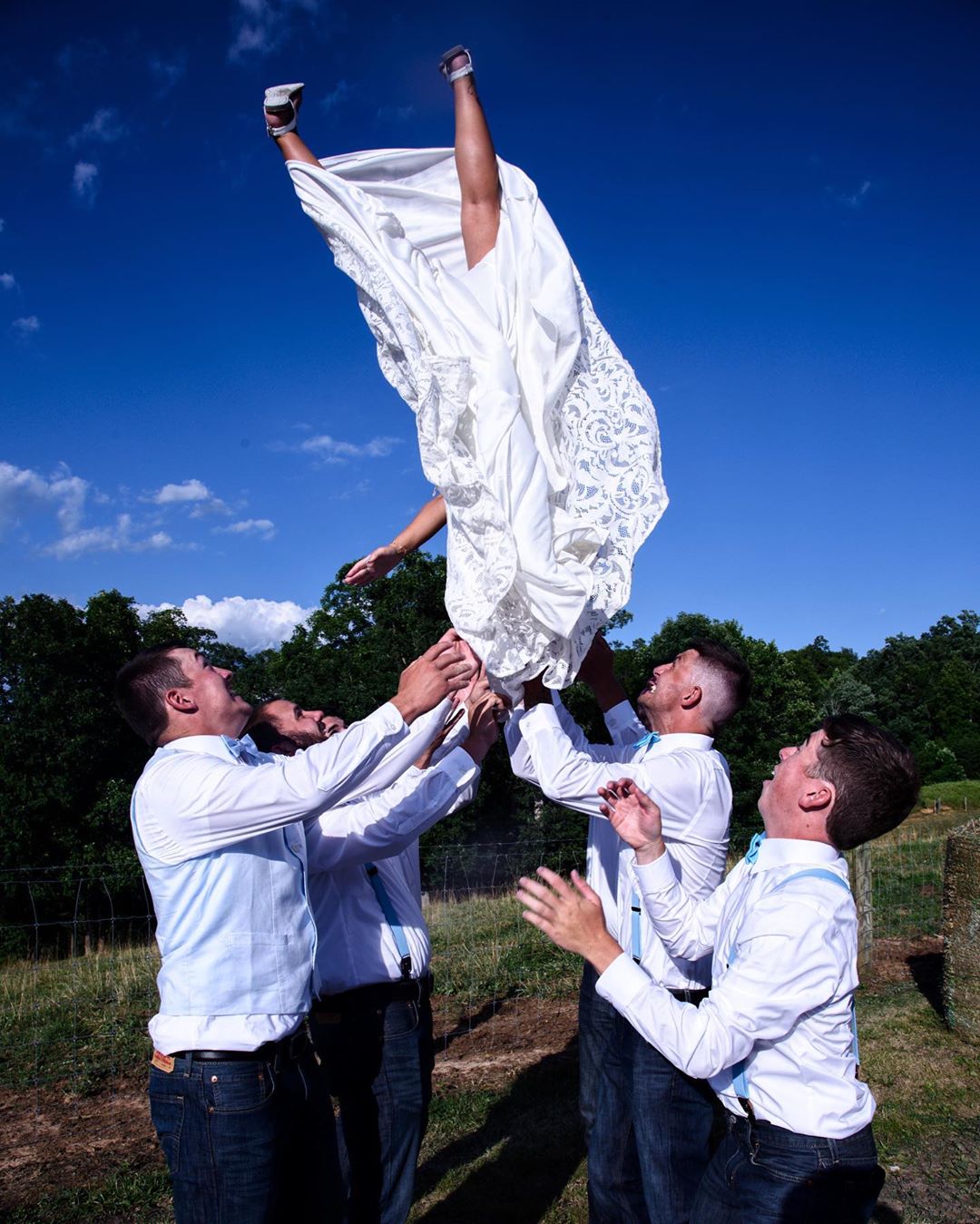 How we hope that this bride made a safe landing! Marriages are fun, especially when everything goes the way you plan it. For some couples, they have to add the tossing around stunts in their to-do checklist. But our strict advice to such folks is quite simple—take a closer look at this picture, and then you're free to decide about the bridal tossing! If you still insist, then we suggest you ask your photographer not to click an epic photo like this that would only ruin your marriage memories!
PS: The Groom Needs To Rest
It's been a big day, and we do understand what it takes at the end of the day, especially after a hectic wedding schedule. But for this groom who misunderstood that only his bride is getting snapped, well, it was too late before he could control his wide-mouthed yawn. Perhaps, he assumed that his act would go behind-the-scenes, but he missed to take note of the other photographer who focused his lens on the tired groom! We hope the groom didn't swallow any flies, though!
The "Hey Look What We've Got Here!" Moment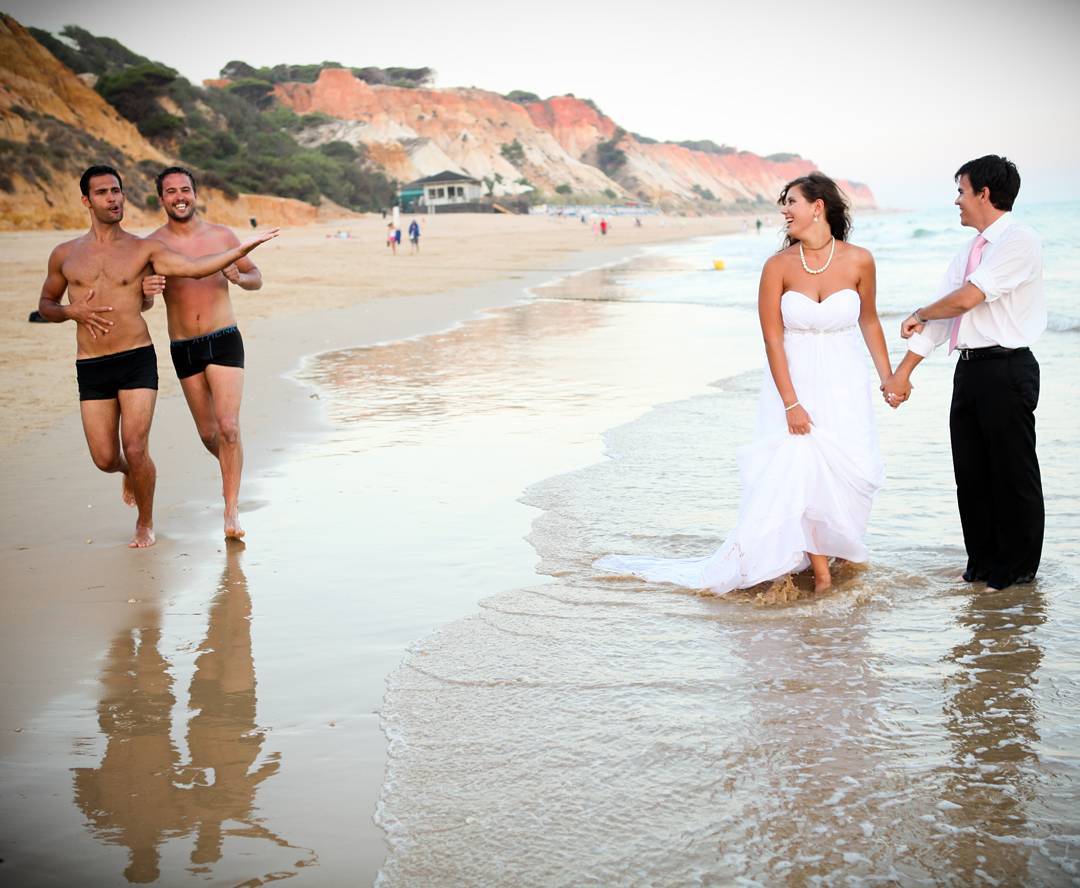 Planning some scenic photoshoot sessions on your wedding is a must-have option on your to-do checklist. So, as you can see, this couple dreamed of getting their feet drenched in the waves while posing for some sun-kissed photographs. If you guessed it already, well, we suggest that picking the beachside as a wedding photography venue must be dealt with a deep thought! If not, this is what will happen! 
That Wasn't A Part Of The Plan—NO WAY
Amidst all that planning and excitement, the bride and groom can't wait for the "Yes, I do" moment during their big day. Well, how serene and picturesque this scene would've been on this couple's wedding day if it hadn't been for that Mr. in the "square pants" in the backdrop!  Did the photographer have to click this picture? Well, he could've done nothing because the vows were exchanged, and he had to click the moment. However, nothing could stop this photograph from becoming one of the ultimate wedding photo disasters ever! 
This Photographer is Fired...!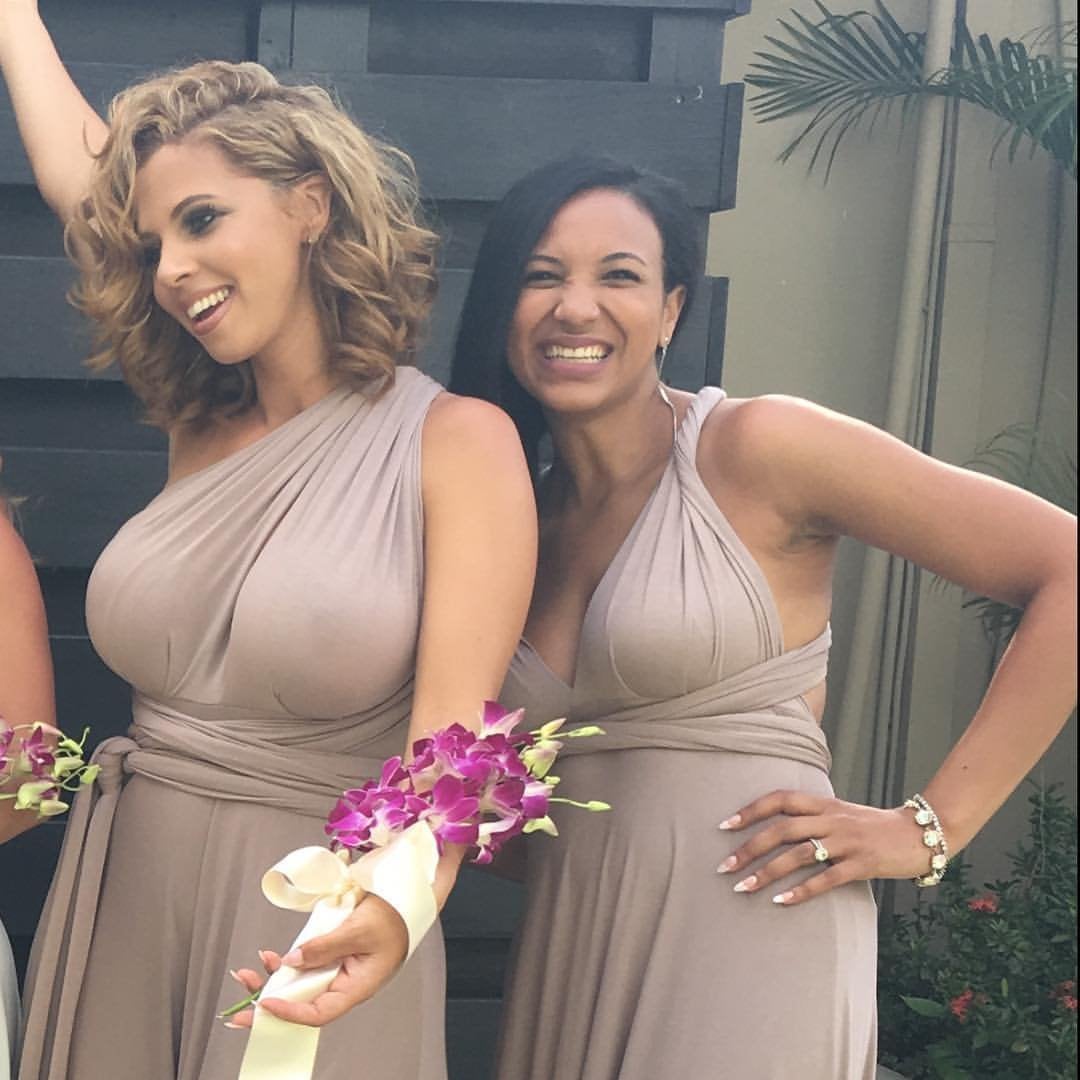 Well, this photograph is more about the photographer than the picture itself! If you ask us why, well, the guy was hired to focus his camera on some stunning photos of the bride and groom. But here, the photographer seemed to have his eye only on the bridesmaids instead! Well, they look gorgeous, but for a wedding contract like this, guess the photographer snapped a picture that bombed the wedding photography plans the couple had! In the end, it's just another epic wedding photo nightmare...!
Sometimes, it takes a bit of being "extra careful" while posing for wedding photographs. Couples who always prefer the best of everything in their album need to make sure that everything from the venue, outsiders, and even pets stay clear from their dream photoshoot. If not, then these are a few of the wedding photo disasters you can expect! Well, what do you think about these epic wedding photo failures? Please share your thoughts with us! But before that, please don't forget to share this article!