Rare Photos That Show True Old Wild West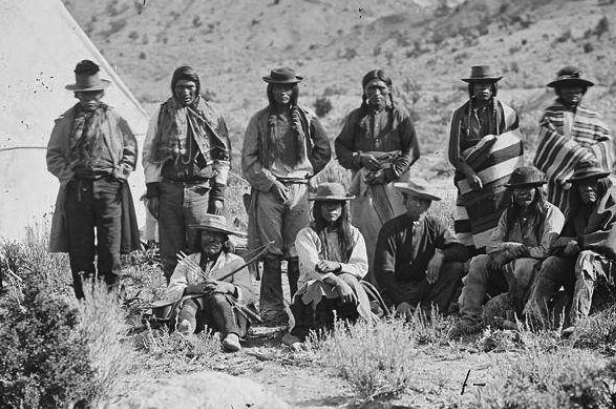 It was a tough time to be alive in the Wild West during the 19th century. However, it was also an exciting and adventurous period in history. While it's true that the Wild West narratives have been laced with the myth about cowboys, gunfighters, and saloon madames, some events happened. The era ended in 1895 and lasted for only 30 years as opposed to how it is portrayed in popular media. Beyond the exaggerations and fictitious additions, we have photos of the prominent persons and events that occurred in the Old Wild West. Here are amazing pictures of the Wild West that are still in existence: Enjoy!
Goldie Griffith
Griffith Griffith was a remarkable member of  Buffalo Bill's Wild West Show. She was known for her fierce skills as a bronco rider, wrestler, and boxer among other stuff. She is regarded as one of our country's initial professional female athletes. When she bagged the job with the Wild West show, she had no idea about how to ride. However, she took the job and trained with a group of show cowgirls, where she learned bronco riding.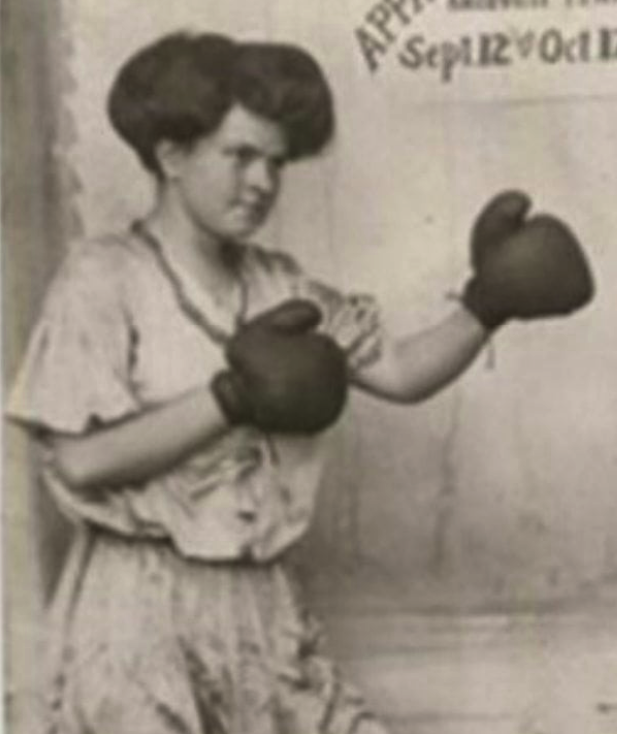 Some of her famous included riding her horse up through the steps of Ulysses S. Grant's tomb in New York City, and riding her horse from San Francisco to New York covering over 3,000 miles. It's no surprise she was named "the gol darndest gal who ever sat leather." While working on the show, she met her future spouse. They got married on May 9, 1913, in the presence of a large crowd at Madison Square Garden. She engaged in a couple of other impressive activities during her lifetime. Go, cowgirl.
Texas Jack Vermillion
John Wilson Vermillion, famously known as Texas Jack, was one of the renowned gunfighters of the Old West. He is acknowledged for his role in the Earp Vendetta Ride, who searched for exiled cowboys. Vermilion earned the moniker "Shoot-Your-Eye-Out Vermillion" because there were rumors that he once fired a man in his eyes. He got the nick "Texas" added to his appellation because "Texas Jack" was the name written on the wanted posters of him for shooting another man.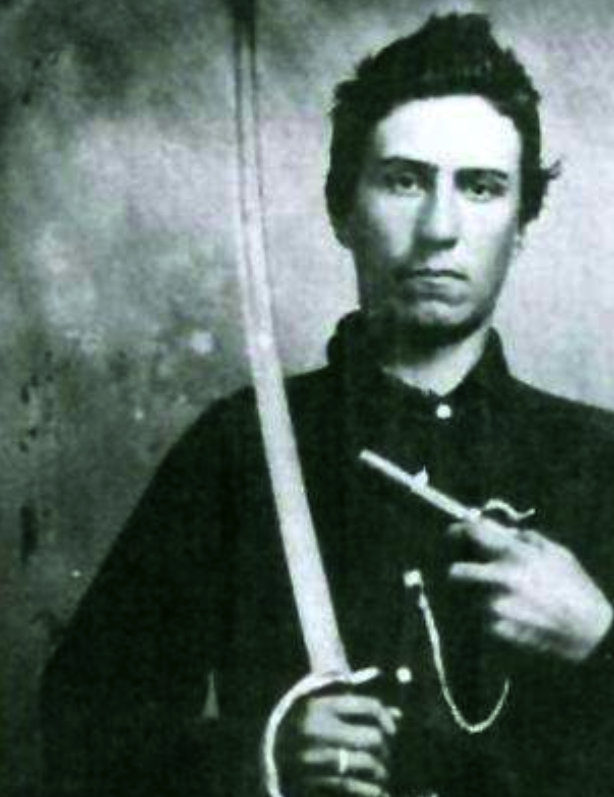 According to history, someone once inquired of him why he was often called Texas Jack, and Vermillion replied: "because I'm from Virginia." Well, we get it! Around the year 1890, Vermillion retreated to Virginia for good. He settled close to the town of Big Stone Gap and began working as a Methodist preacher. Vermillion and his second wife, Nannie Fleenor had two children: Opie Vermillion, and Minnie Bell Vermillion, both male and female respectively. 
Jesse James
Jesse Woodson James was born on September 5, 1847. He was an infamous American outlaw, guerilla fighter, train and bank robber, murderer, and leader of James-Younger Gang. James was brought up in the "Little Dixie" region of western Missouri. His brother Frank and him became a member of pro-Confederate guerrillas referred to as "bushwhackers" who functioned in Missouri and Kansas at the time of the American Civil War. They were accused of engaging in monstrosities against Union Soldiers and civilian abolitionists because they were followers of William Quantrill and "Bloody Bill" Anderson. Both James and his brother established the James-Younger Gang together.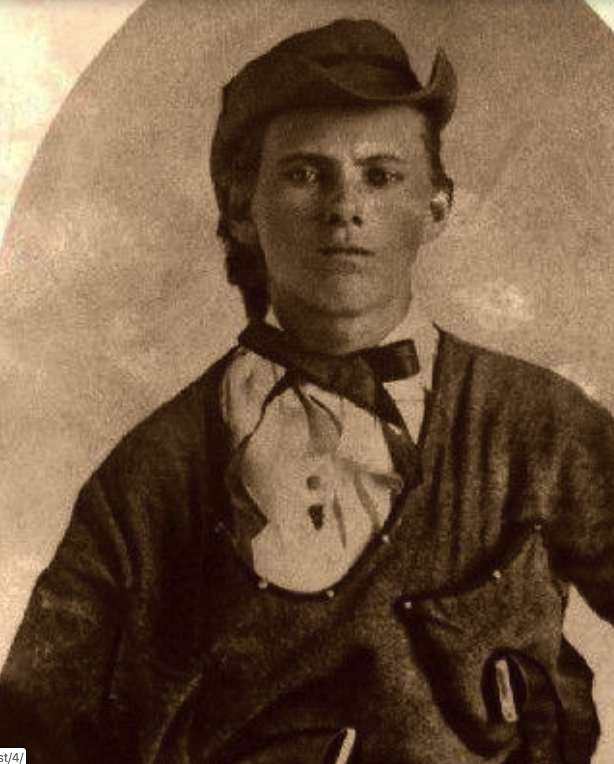 The gang was known for their notorious robberies and atrocities. James tied the knot with his cousin Zee married on April 24, 1874. They gave birth to two children who survived: Jesse Edward James --born in 1875, and Mary Susan James --born in 1879 while the twins Gould and Montgomery James --who were born in 1878 died in early childhood. Robert Ford killed James on April 3, 1882. Following his death, James became a prominent personality of the Wild West. 
Olive Oatman
Olive Oatman was hailed from Illinois was  14 years old when a Native American tribe attacked her family. They killed all the members of her family except her brother, Lorenzo who was severely wounded, and Olive and her younger sister -Mary Ann.  The Oatmans family were driving along current-day Arizona at the time. The group took Olive and her sister and sold them as slaves to the Mohave tribe. During a famine in the region, her sister died of starvation while Olive survived. After five years of captivity, she was later released. Olive was well known for the blue tattoo on her face. She was convinced that the tattoo was a sign of slavery in the Mohave tribe.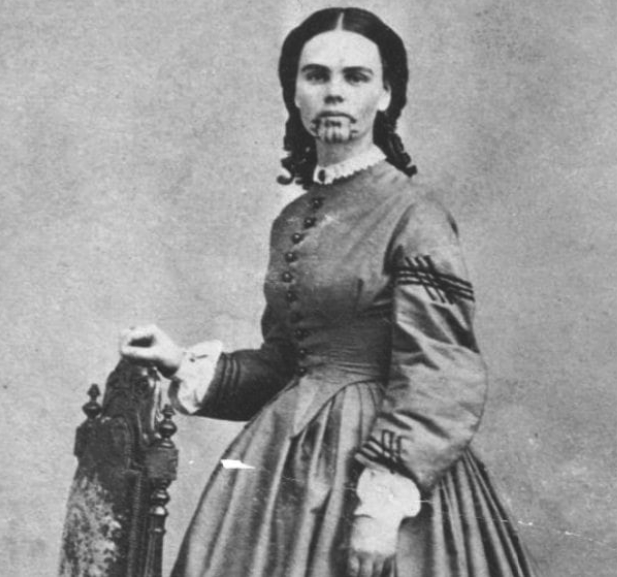 However, her story doesn't match the Mohave's traditions as they are known to give all their members the face tattoo. Olive's story was primarily publicized and reverberated in the media for an extended period. Nevertheless, few details were known of her time with the Mohaves. In 1857, Royal B. Stratton, a pastor, authored a book about the Oatman girls. It was titled "Life Among the Indians." The book quickly became a best-seller at the time and sold 30,000 copies. Proceeds made from the book were used to pay for Oatman and her brother Lorenzo's education at the University of the Pacific. 
Santiago 'Jimmy' McKinn
Jimmy McKinn was given birth to on March 31, 1875, in New Mexico. He lived with his father, mother, sister and elder brother Martin on the McKinn Ranch in southwestern New Mexico. On a fateful day, when Jimmy was about 11 or 12 years old, he and his brother were tending to the family horses on the ranch when they were attacked. Geronimo led the group of Chiricahua Apache to attack the area. He killed Martin and kidnapped Jimmy.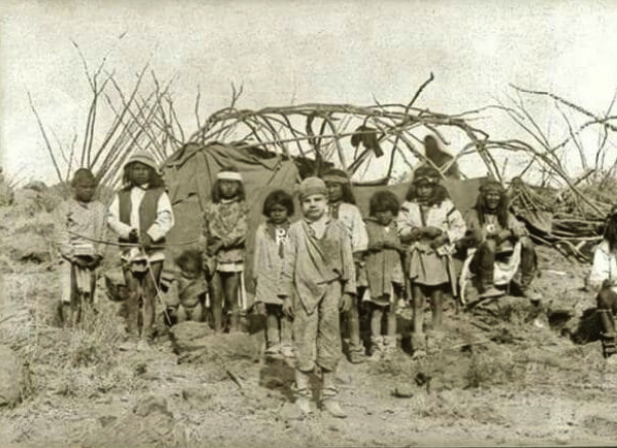 According to the story, Jimmy was somewhat adopted by the Apache and given the name "Santiago." When General George Crook later saved him, he refused to return to his family because he had grown familiar with the Apache people. The picture above shows young Santiago McKinn with his captors, with whom he stayed for six months, adopting up their language and general lifestyle. When he came of age, he married and relocated to Phoenix, Arizona where he worked as a blacksmith. 
Annie Oakley
Annie Oakley, whose birth name was Phoebe Ann Mosey, was born on August 13, 1860. She was an American sharpshooter and exhibition shooter. When she was 15 years old, she won a shooting competition against marksman Frank E. Butler, whom she later tied the knot with. Following the death of her father, when she was eight years old, she started trapping, shooting, and hunting to support her low-income family. Later on, she and Frank E.Butler joined the Buffalo Bill's Wild West show, which made Oakley into a renowned star.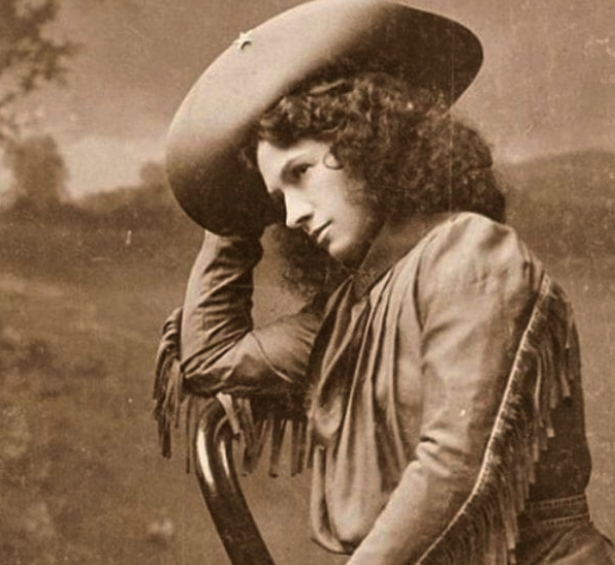 And she performed before heads of states and royal members. In 1925, Oakley's health greatly suffered.  On November 3, 1926, she eventually died of pernicious anemia at the age of 66 in Greenville, Ohio. Her body was cremated two days after in Cincinnati, and the ashes were inhumed at Brock Cemetery, close to Greenville. Her husband, Butler, died 18 days later after she passed away. 
Buffalo Bill's Wild West Show
Buffalo Bill was a prominent man in the Old West, and is regarded as one of the most outstanding showmen ever! Bill was a "wild" man who worked as a scout and a bison hunter. However, there was more to him; he was a showman who founded the famous founded Buffalo Bill's Wild West in 1883.  The Wild West Shows were a series of traveling performances in Europe and the United States between 1883-1913.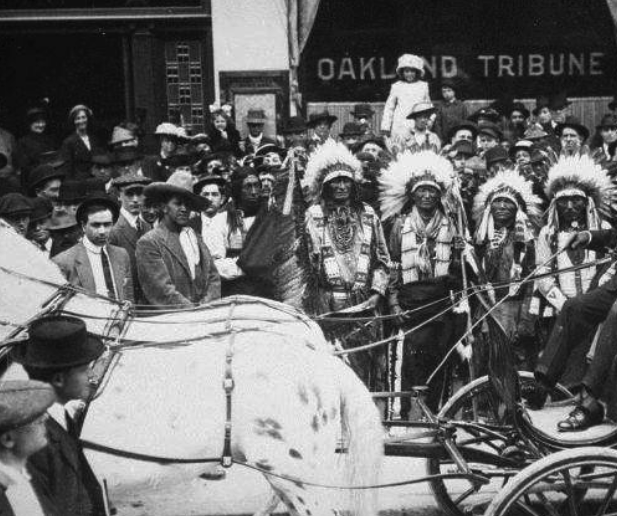 For the most part, the show was highly successful. The show started as theatrical stage productions and grew into open-air shows that portrayed romanticized typecast of cowboys, army scouts, Plains Indians, wild animals, and outlaws, that were in existence in the American West. Although real events inspired some of the narratives and characters, others were purely fictional. The shows can be credited for establishing many popular western performers and personalities.
Rose Dunn
Rose Elizabeth Dunn also is known as Rose of Cimarron and Rose of the Cimarron, was born on September 5, 1878. Dunn's older brothers had joined the outlaws when she was 12. She was taught how to ride, rope, and shoot by them. It is known that through them, she met George "Bittercreek" Newcomb (an American outlaw), and became romantically involved in him when she was about 14 or 15 years old. The gang Newman belonged to greatly admired Ross Dunn for her good looks, calm nature.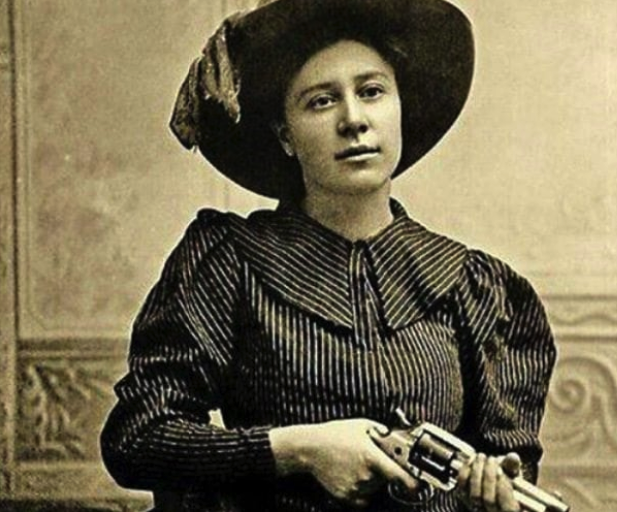 Meanwhile, her brothers had become bounty hunters and were called the Dunn brothers. During a shootout with U.S. Marshals at Ingalls, where Newman had been wounded, Rose is said to run with extra ammunition to meet Newman. She fired at a lawman while Newman reloaded his gun. However, this story was never confirmed and is considered a legend. On May 2, 1895, when Newcomb and another member of the gang -Charley Pierce drive to the Dunn house to see Rose, they were shot by the Dunn brothers who received a bounty for the act. 
Fannie Porter's Brothel
Brothels and outlaws are often associated together, and Fannie Porter's brothel drives home the point. Porter's brothel was the most famous in the Old West. Porter was well regarded for her discretion, usually declining to release a wanted outlaw to the authorities. Due to this, she became prominent among members of the Wild Bunch gang. The brothel which was situated at the corner of Durango and San Saba streets had clients like Butch Cassidy, Kid Curry, the Subdance Kid, and other famous outlaws.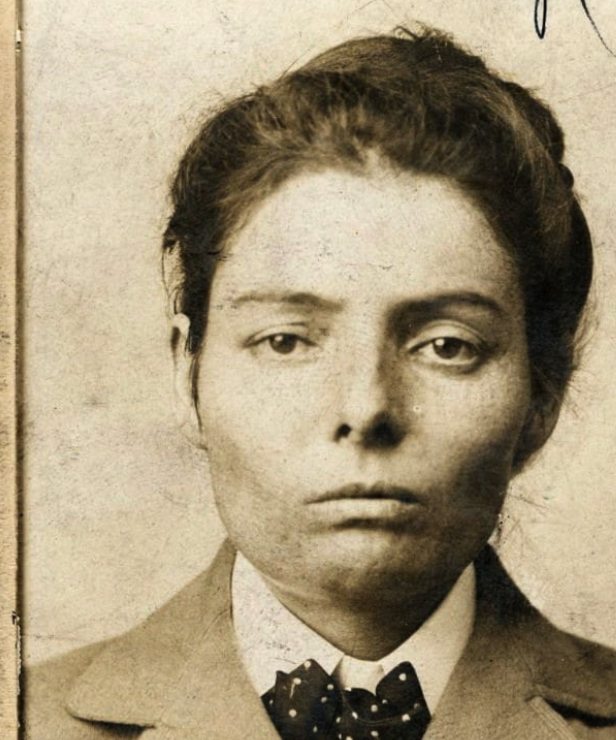 Much more, a couple of Porter's "girls" became romantically involved with the gang members. Della Moore, one of Porter's workers, became the girlfriend to Kid Curry and Lillie Davis with Wild Bunch member Will "News" Carver. Also, Wild Bunch member, Laura Bullion whose picture is above is said to have worked at the brothel for a specified time. By the start of the 20th century, Porter retired from her business. 
Buffalo Bill's troupe
The arrival of Buffalo Bill's troupe in any city was anticipated. Notably, the 1900 tour for the Buffalo Bill show was outstanding.  The troupe shows up very early in the morning to the town and start setting up their arena in the afternoon. Afterwards, a parade and two shows will be performed. Following the completion of the show, the arena will be brought down, and the show would make its way to the next town.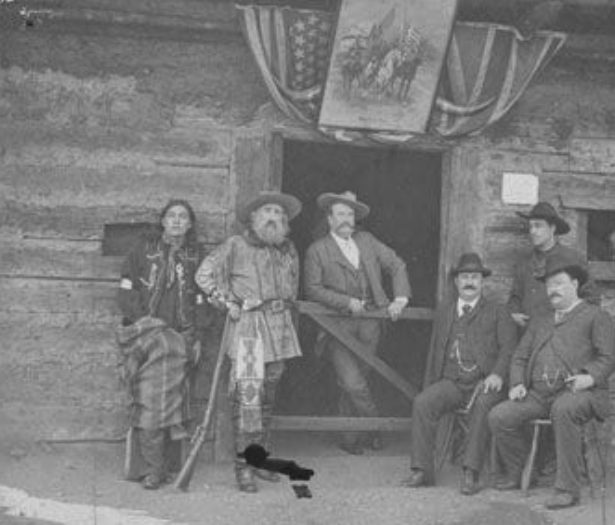 In the picture above, these charismatic men assembled around a log cabin are the many members of Buffalo Bill's troupe. They are part of the Buffalo Bill's Wild West Show performers who traveled to entertain people. In this photo, there is John Nelson, John Burke, a Sioux man, and several other cowboys. According to history, Cody was quite sincere and remunerated his troupe exceptionally well. He also made sure that Native American performers received an equal amount as their white counterparts.
Charley Nebo and a Friend
Charley Nebo (the man on the left in the photo) was born in 1842. His father was an English, while his mother was a Canadian. He was born and grew up in the town of Belle River, on the south shore of Lake St.Clair, which is now known as Ontario Canada. He later came to the U.S. at the age of 18 and operated as a freight handler on a boat out of East Saginaw, Mich. He was a prominent cowboy that stayed in New Mexico, Nebraska, and Texas.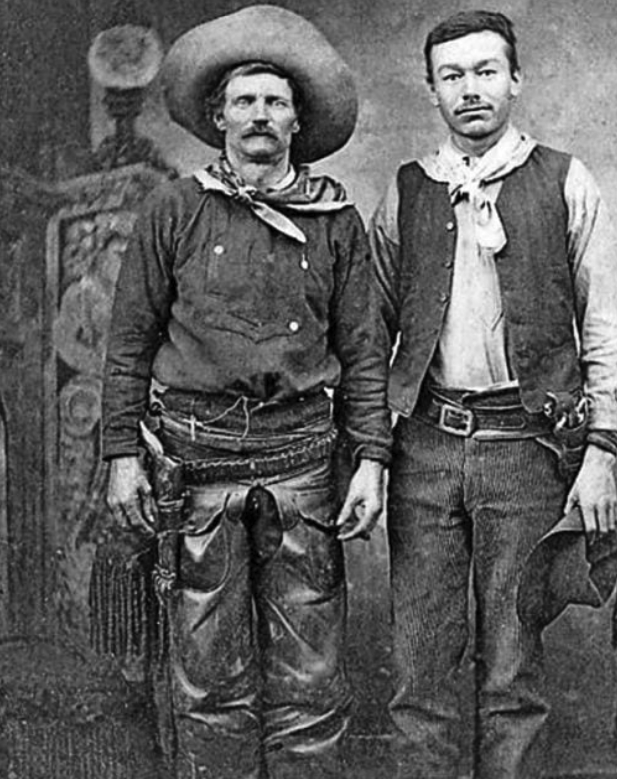 During the Civil War, Nebo server in the Union Army. At the time, he was shot by a bushwhacker in the elbow, and even after a month of tending to the wound, it never perfectly healed. He was eventually honorably discharged on November 22, 1865, in Nashville. Later on, Nebo became a stockman. In 1878, Nebo began operating under  John Chisum's cattle empire. He was also involved with the famous outlaw, Billy the Kid. He was a very skilled cowboy and made an indelible impact on the Old Wild West. 
Cowboys at a Saloon
Traditionally, cowboys were largely young men who generally tend to cattle, and perform other related tasks such as repairing buildings and fences, taking care of horses and others. Even though their dress code has been affiliated with fashion in this era, their clothing served a couple of purposes. The large hats with brims protect them from the sun, bandanas to help them with dust, and boots to aiding them in riding horses. While the workload of a cowboy is huge, and the average cowboy wage was about $25 to $40 per month in the West, it's nice seeing that they had the time to chill at a saloon.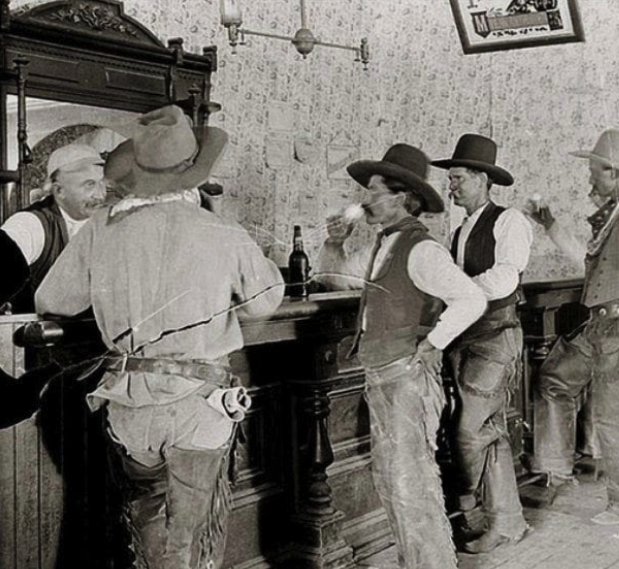 In this photograph, a group of cowboys is spotted drinking and engaging in discussions with the bartender. The saloon, which was also a place to relax and play poker, was located in Old Tascosa in Northern, Texas in 1907. Some saloons operated 24 hours per day, and seven days a week. The Cowboys were not the only one who regularly visited the saloon, other people such as soldiers, travelers, and lawyers made a stop by at the saloon too. 
Bob Leavitt's Saloon
Here is another saloon of the Old West -Bob Leavitt's Saloon. Leavitt was known as the owner is of the saloon.  Apart from drinking, the old Western saloons offered several kinds of entertainment, which included girls dancing, card games, bowling, and dice games. Others involve playing the piano, staging a short drama for customers. Levitt worked at the W Bar Ranch around Little Dry in Eastern Montana.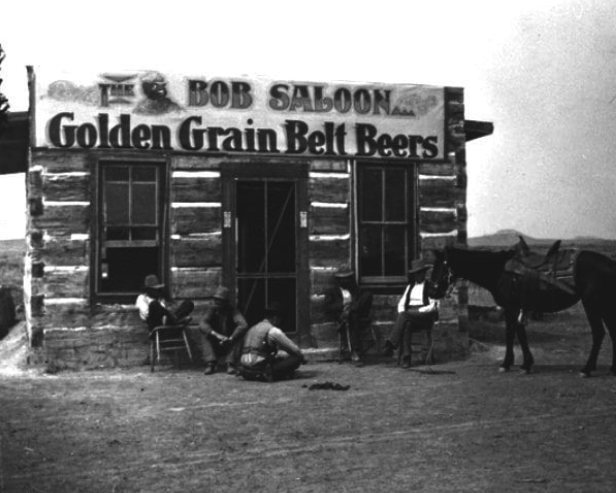 Many had speculated that Levitt began his saloon business when his range days were gone. The famous saloon was located in Jordan, Montana in the 1900s. In this photo, taken by L.A. Huffman, a group of cowboys is shown resting in front of the saloon.
The Cowboy Look
During the Old Wild West, cowboys were not merely people who took care of cattle but did many things. The name 'cowboy' was from the Spanish Vaquero, which means a livestock herder, which demanded skill and majority of physical ability. The Cowboys were known to be white. However, it has been established that a couple of Cowboys were African American and Mexicans and American Indians in the 1860s. Cowboys were often regarded as cowpokes, buckaroos, cowhands, and cowpunchers.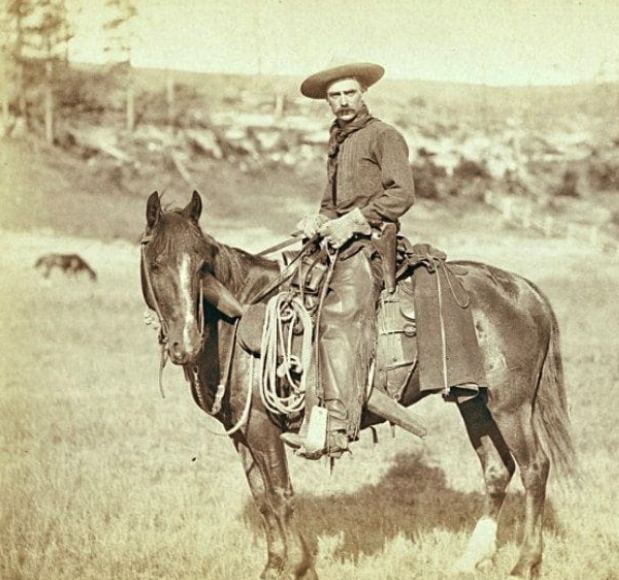 The most skilled cowboy with lots of experiences was called the Segundo. "Segundo" means "second" and even rode with the trail boss. The cowboy looks traditionally had a bandanna, leather gloves, chaps, boots, a sturdy pair of jeans and most importantly, a wide-brimmed cowboy hat. Today, the cowboy look has become a classic in the fashion and media industries. Do you have a cowboy hat? When last did you try the complete cowboy look? If not recently, make it's time to try it out soon.
Gould and Curry Miner
Interestingly, mining was a significant part of the Wild West. There were many jobs in the field and several towns centered around mining! The mine here in the above picture is a silver mine in Virginia City, Nevada. The city's two primary mines are Savage and the Gould and Curry.  The miner in the picture is about 900 feet underground. However, all he had a source of lighting is a burning magnesium wire. Quite unbelievable! Virginia City experienced development and growth after silver deposits were discovered in the area.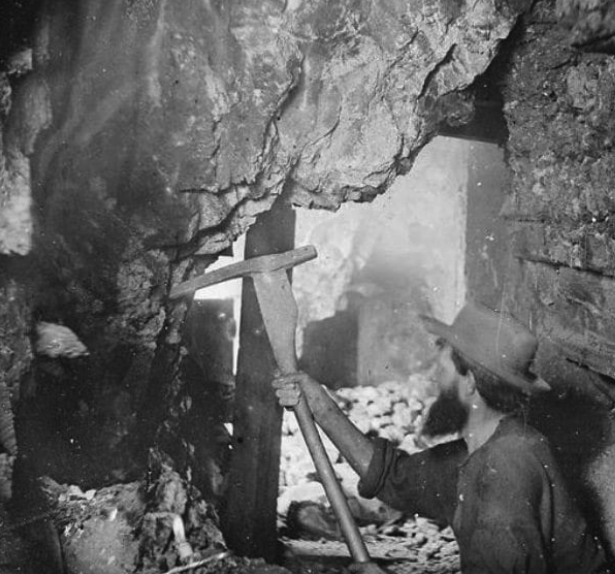 At maximum, the city possessed about 25,000 residents. Sadly, when the mine's produce reduced, it affected the residents too, as many of them moved out of the town. In 2010, only about 850 residents inhabited Virginia City. The Gold and Curry mine disaster happened on January 24, 1897, and about 11 lives were lost due to the event.
Barmen Posed For Picture in an Old West Saloon
Saloons were in many unique ways affiliated with the Old Wild West. Saloons had a wide range of customers such as cowboys, fur trappers, soldiers, miners, lumberjacks, businessmen, lawmen, miners and gamblers, and others. These customers were regularly and primarily served liquor.  The first saloon establishment was situated in Wyoming in 1822 at Brown's Hole for fur trappers. However, the growth of saloons happened swiftly. In 1880, saloons were almost everywhere in the West.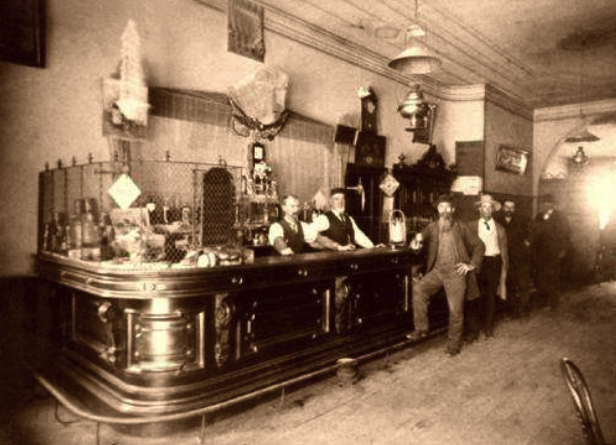 Notably, there were about 150 saloons in Leavenworth in Kansas. Bartenders boasted on the outward look of their saloons, and how proficient they are in pouring and serving drinks. A saloon might also be referred to as a "watering trough," "bughouse," "shebang" 'cantina," "grogshop," and "gin mill." Majority of these saloons served as centers for opium use, gambling, and even prostitution, and stayed open twenty-four hours a day, six days a week. The only days exempted were Sundays and  Christmas.
Charging Thunder
Charging Thunder was born in 1877. He was one of the many Native Americans who performed in Buffalo Bill's Wild West Show. This Lakota chief traveled to Salford, England when he was 26 years old, and became a member of the show in 1903. While the show left town, Charging Thunder decided to stay back in London. He later tied the knot with Josephine, an American horse trainer in the crew who had just delivered their first child, Bessie. Charging Thunder and his family lived in Darwen, before migrating to Gorton.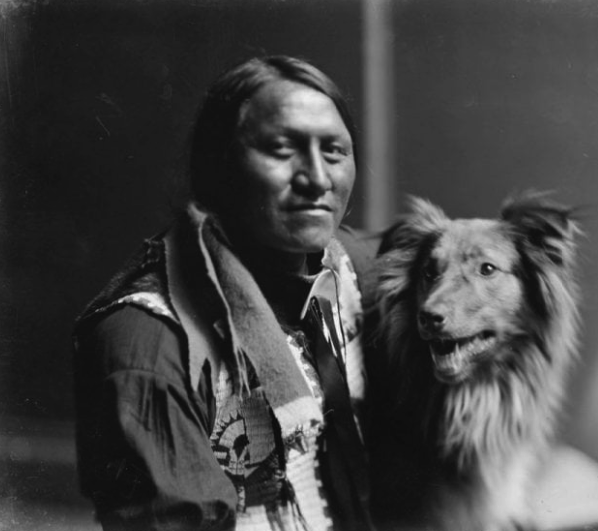 To get a job, he registered his name with the British authorities as George Edward Williams. For many years, George Edward Williams worked as an elephant keeper at the Belle Vue Zoo. After suffering from pneumonia, he passed away at the age of 52 on July 28, 1929. It was also revealed that he worked at a factory during a period of his life after the show.
A Mojave Man
The Mojave or Mohave tribe were a California tribe of Native Americans. They who were hunters, fishers, and farmers. The Mojave tribe are most distinctive and distinguished due to the tattoos that decorate their bodies. The names of the most prominent chiefs of the Mojave tribe were Chief Iretaba and Chief Lobelia, and a couple of others. The man in the photo is a Mojave man. His name was Maiman, and he served as a guide and interpreter in 19th century Colorado, particularly in the 1870s.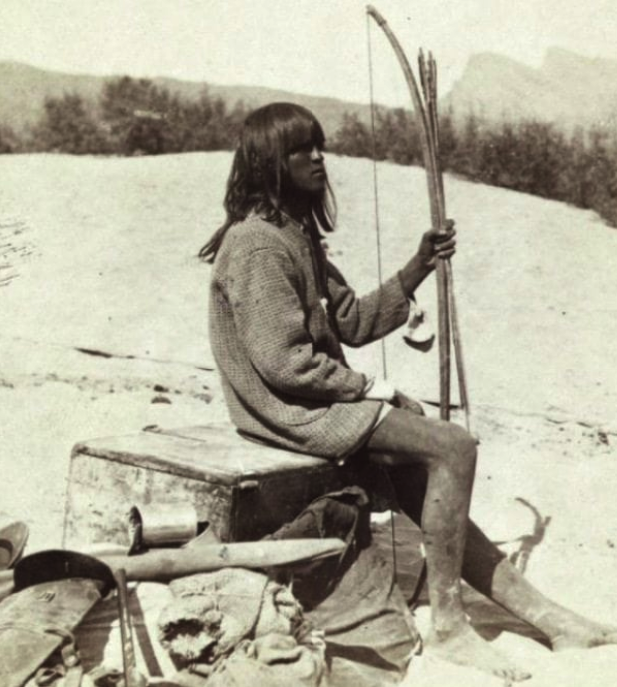 Maiman would often accompany photographer Timothy O'Sullivan to guide him around and assist him in searching for perfect locations for his photographs. O'Sullivan never liked the idea of taking Native Americans' photographs in a studio. This is unlike several other photographers at the time who loved to so. O'Sullivan preferred taking their pictures in a suitable and natural environment to create realistic works. His photos of the Civil War battlefields were also well-known.
Billy, the Kid
Yaaay! Here's the famous outlaw -Billy the Kid. We are sure you must have heard of this outlaw. However, we would interest you with more details. Billy the Kid's birth name was Henry McCarty, but before he got his famous name (Billy the Kid), he referred to himself as William H. Bonney (we bet you didn't know that.) He was born on September 17 or November 23, 1859. He was an infamous American Old West criminal who murdered about eight people before he was killed when he was just 21.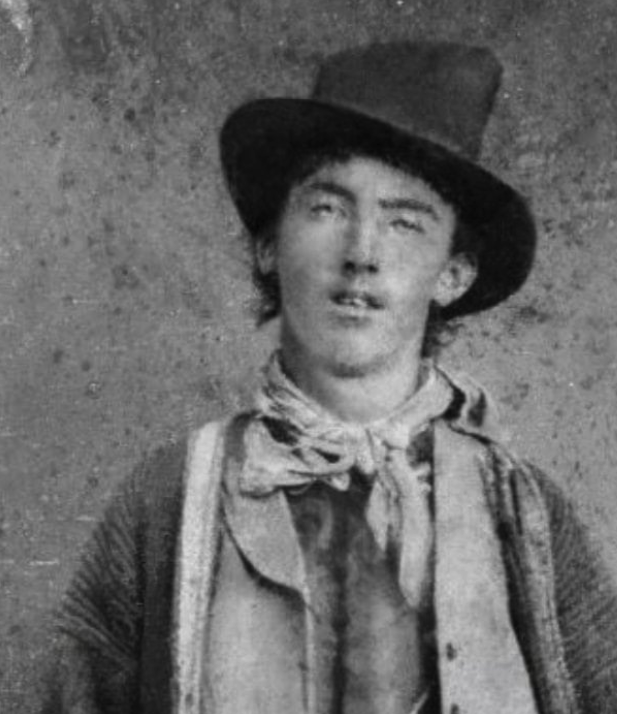 Kid might have died at a young age, but his legacy lives on. He was involved in New Mexico's Lincoln County War, in which he presumably killed three people. Eventually, Kid was arrested and jailed. Then, during an attempt to escape prison, he was shot by Sheriff Pat Garrett. Over the years, there have been rumors of Kid's survival, as many people who committed crimes claimed to him.
General Custer Pictured Along the Dakota Territory
You should be familiar with the name -George Armstrong Custer from your history lessons. Custer was a United States Army officer and cavalry commander in the American Civil War and also in the American Indian Wars. He is well known for his brave exploits on the battlefield. Custer was later killed during the Battle of the Little Bighorn on June 25, 1876, where he lead the 7th Cavalry Regiment to Montana Territory against an alliance of Native American tribes.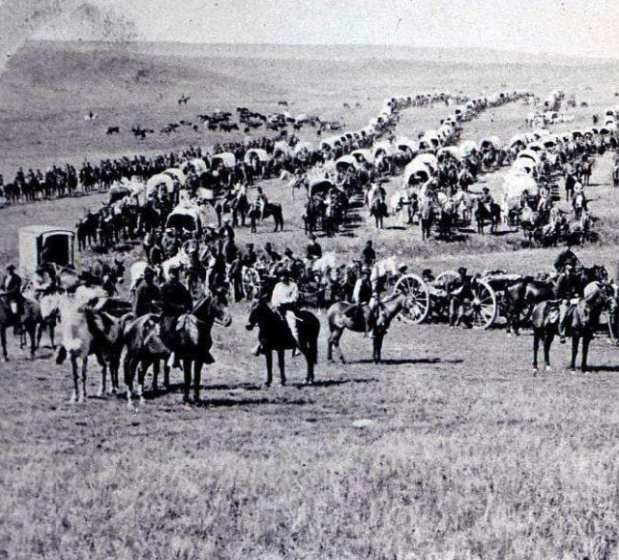 This picture is of the Dakota Territory, which surrounded the area now known as North and South Dakota. It depicts General Custer's men walking across the plains. This photograph was taken by W.H. Illingworth, a famous photographer at the time. However, what made him stand out is that he was English. W.H. Illingworth once on this list, but unlike the rest of them, he's English! Illingworth once tagged along on an expedition to the Montana Territory through the Black Hills of the Dakotas in the 1860s and 1870s.
Wheeler Survey Team
This photo features an extremely cheerful looking group of men. They were known as the Wheeler Survey group. The Wheeler Survey was a survey of an area of the United States on the West of the 100th meridian. It consisted of several expeditions and was overseen by Lieutenant George Montague Wheeler, who later became Captain. The survey group also included Lieutenant Montgomery M. Macomb, who was later promoted to Brigadier General. Wheeler had earlier led expeditions from 1869 to 1871 in the West before burdened with the task to map the southwestern portion of the United States in 1872.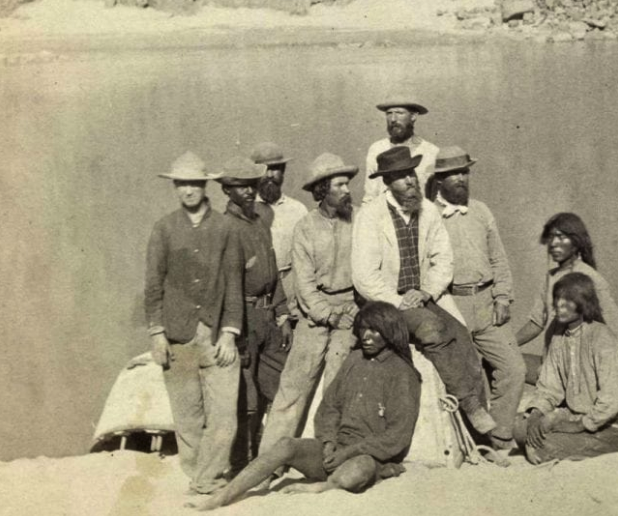 Three regions of the survey were named in honor of Captain Wheeler: Wheeler Peak in New Mexico, Wheeler Geologic Area in Colorado, and Wheeler Peak in Nevada. The survey ended in 1879. Photographers who were involved in the expedition included Timothy H. O'Sullivan from New York and William Bell from Philadelphia. Several pictures they took are stored at the Library of Congress's Prints and Photographs Division.
Wyatt Earp
Wyatt Berry Stapp Earp, an American frontiersman, was born on March 19, 1848. He was a businessman, gambler, lawman, and an itinerant hunter. He is known to have worked in various trades in his lifetime. He was involved in a couple of business enterprises; he established several saloons, managed a brothel, mined for silver and gold, and refereed boxing competitions. However, he is best known for his participation in the famous Gunfight at the O.K. Corral, on October 26, 1881, in which he supposedly murdered three cowboys.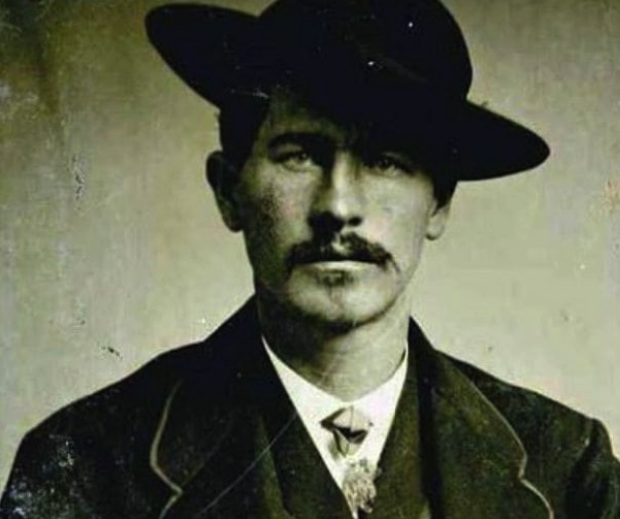 The event made Earp famous for the rest of his life, and he was considered as a shooter, particularly in Tombstone, Arizona. He continued having confrontations with cowboys until his death in 1929. The gunfight was later subjected to numerous fictionalized narratives in films, television shows, and biographies. Earp holds the reputation as being one of the toughest and fiercest gunmen of the Old Wild West. 
Louisa Earp, Morgan Earp's Wife
Almost everyone knows about the Earps men, but little is known about their women. Well, we present to Louisa Houston  Earp was the wife of Morgan Seth Earp. Morgan was an American sheriff and lawman; he participated in the famous Ok Corral gunfight. Louisa was born in Wisconsin, and she is most like the granddaughter of Sam Houston of Houston, Texas. Louisa, alongside her sister Kate, worked as Harvey Girls before she met Morgan. Both Morgan and Louisa settled down in Montana for a while before moving to California.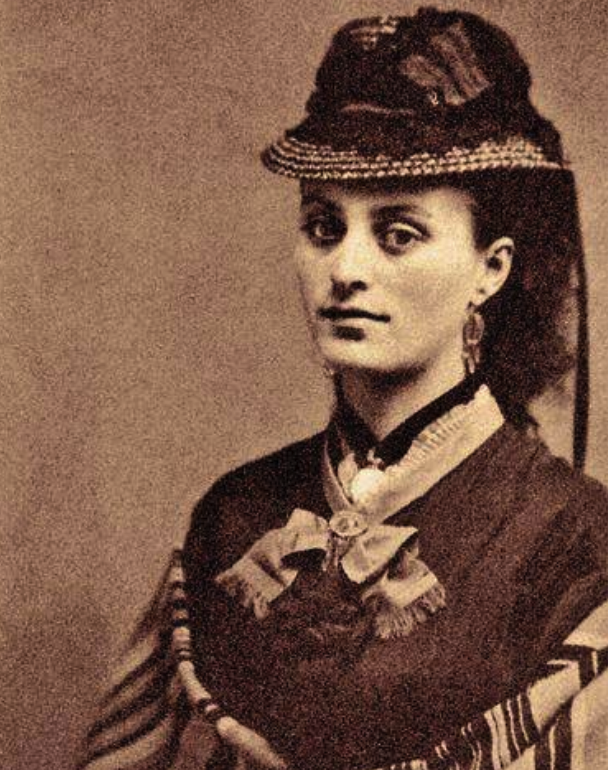 Morgan and his brothers became targets of death threats because of their involvement in the O.K Corral. Louisa was at the home of the senior Earps in California when her husband Morgan was killed in Tombstone, Arizona. On March 18, 1882, the outlaws ambushed Morgan, shot him at night through the window of a door. After the death of Morgan, Louisa maintained her stay in Southern California and married Gustave Peters, a Los Angeles/Long Beach Shipyard foreman.
The Navajo Close To The Fort Defiance
The Navajo are one of the Native American tribes of the Southwestern United States. As of 2015, about 300,000 are official members of the tribe. The Navajo Nation is the second-largest federally acknowledged tribe in the U.S. The Cherokee Nation is the largest. The Navajo language is spoken across the region, and most Navajo people also communicate in English. States with the most massive Navajo populations are Arizona with 140,263, and New Mexico with 108,306. Over three-quarters of the Navajo population resides in these states.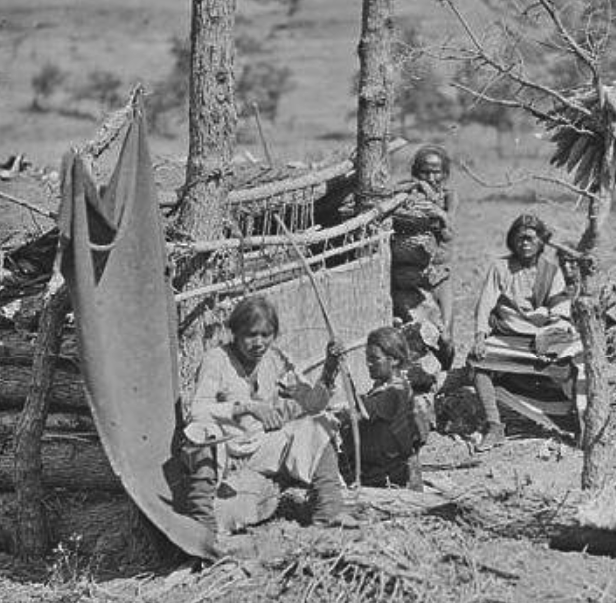 Timothy O'Sullivan took this photograph.  It was printed with the title "Aboriginal Life Among the Navajo Indians Near Old Fort Defiance, New Mexico" in 1873. The print shows the Navajo people at their home, a deserted military post, back in the Old Wild West. The Navajo tribe are known as being very intelligent and notorious. They are also one of the wealthiest aboriginal tribes of the United States. If you look closely, you'll spot the ears of corn that they cultivate and the looms for creating blankets.
Doc Holliday 
John Henry Holliday is known as "Doc Holliday," was born on August 14, 1851. He was an American gambler, gunfighter, and dentist. Holliday studied and became a dentist when he was 20 years old. However, when he was diagnosed with tuberculosis, he opted for gambling in Arizona. He was also a bosom friend of lawman Wyatt Earp. He is well known for his involvement in the happenings leading up to the Gunfight at the O.K. Corral, and events after it. Holliday is famously known for killing over a dozen men in various disputes.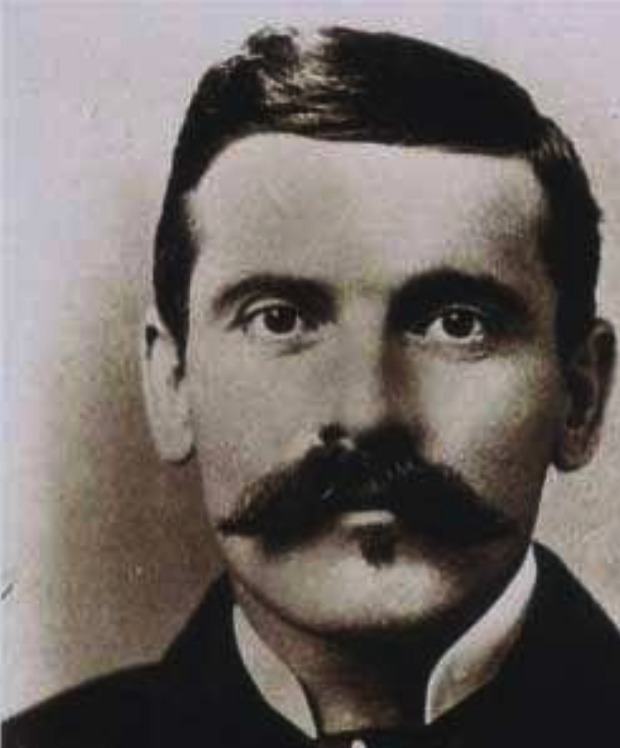 However, modern researchers have resolved that it is merely a popular myth as Holliday only killed one or two men in his lifetime. Regardless of this, just like Earp, Holliday holds the reputation for being one of the fiercest and most dangerous gunfighters of the Wild West. Holliday's buoyant life and character have been portrayed in many books and depicted by popular actors in several movies and television series. 
Old Mission Church, New Mexico
Old Mission Church in New Mexico is one of the earliest missions established by Franciscan friars under the charge of the monarchs of the Spanish Empire and the government of the Viceroyalty of New Spain. The missions were implemented to convert Native American peoples to Christianity mostly. The Old Mission Church was built in 1630. That's a long time ago! The task doesn't precisely occupy ample space, but it's features are sophisticated.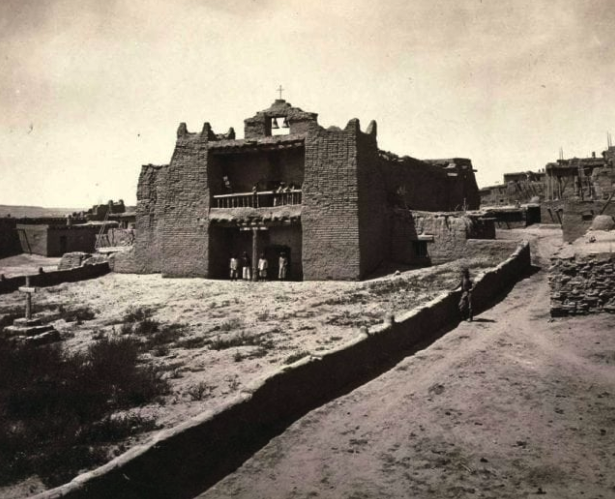 Beautifully, it is now a famous tourist attraction in New Mexico, and you can visit it whenever you want. The mission played a significant role during the Pueblo Revolt, and Franciscans resided in it for a while until Mexico attained independence from Spain. In case you are thinking of exploring a whole new place for your next holiday; we are suggesting the Old Mission Church to you. The fantastic scenery will blow your mind away.
Sioux Teepees
The Sioux Nation is known as one of the largest tribes to have resided on the Great Plains. The Sioux Nation is traditionally comprised of  3 different tribes: Eastern Dakota, Western Dakota, and the Lakota tribes. The Sioux people lived in teepees built from long wooden poles and encompassed with bison hides. The poles would be secured together at the top and spread wide at the bottom to form the shape of an upside-down cone. Teepees could be dismantled and set up quickly.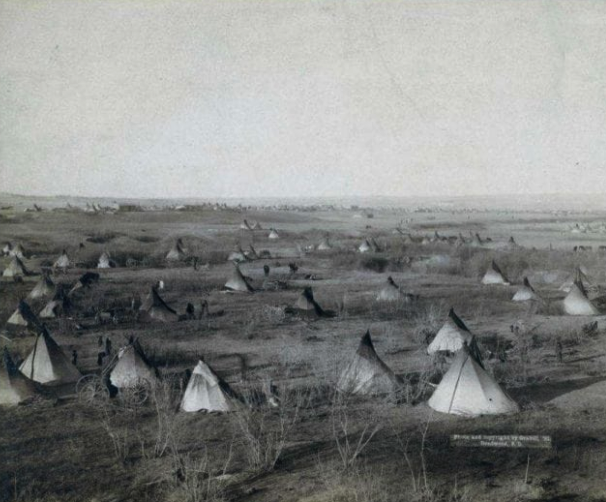 Since the Sioux people were nomadic, this allowed the entire villages to move consistently. Inside, the teepees were equipped with beds made out of buffalo hides and pillows from fox skins that were filled with grasses. Backrests made of willow poles served as the same as chairs. Currently, the Sioux can be found in many different tribal governments distributed across many reservations, communities, and reserves in North Dakota, South Dakota, Nebraska, Minnesota, and Montana in the United States. They are also in Manitoba, southern Saskatchewan, and Alberta in Canada.
Goldie Griffith's Son Sterling
Vigorous cowgirl Goldie Griffith married Harry Griffith on May 9, 1913, at Madison Square Garden. They were both members of the Buffalo Bill Wild West Show. Goldie and Harry exchanged vows during a Buffalo Bill Wild West show with about 8,000 people as witnesses. Both Goldie and Harry didn't exactly enjoy a happy marriage. However, they gave birth to a healthy baby boy named Sterling. On a particular occasion, she fired at him multiple times but missed. Apart from being in the Wild West show, she was also an actor and stunt rider for new Western movies that were trending in the country at the time. During her time in the Wild West shows, Goldie Griffith brought along her son with her to Nederland, Colorado where he groomed him by herself. While in Colorado, the family established a couple of restaurants and trained dogs for World War II.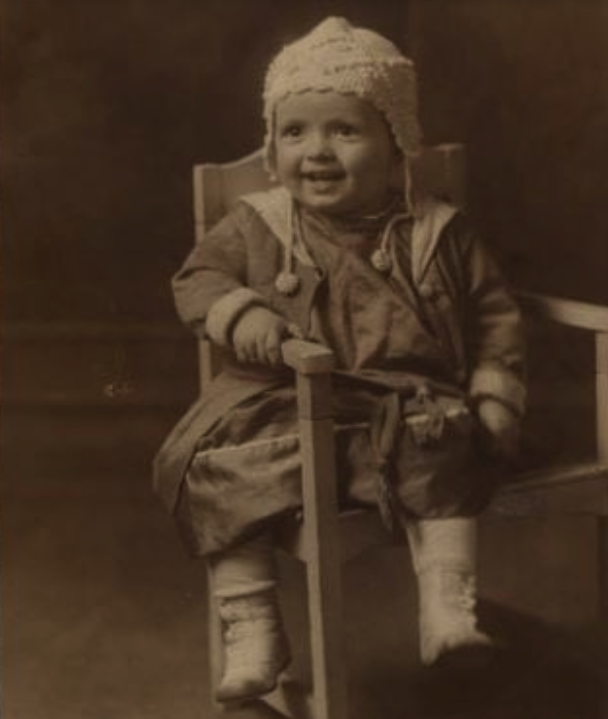 In Colorado, she applied to be the first policewoman in San Francisco. She also was an actor and stunt rider for the brand-new Western movies that were taking the country by storm. She was married during a Buffalo Bill Wild West show at Madison Square Garden with a crowd of 8,000 in attendance. A few years later, she pulled out her show gun, aimed it at her husband, and squeezed the trigger. After he exited her life, she worked on what is now the famous Caribou Ranch in Colorado.
Timothy O'Sullivan photograph
Timothy O'Sullivan was a renowned photographer who was born on Staten Island, New York. Due to his impressive photographic exploits, he became one of the most prominent photographers of the Civil War era. However, beyond that,  he was known for his influence in capturing the American Western landscape in photos. One of his well-known works is an image of some Native American peoples. O'Sullivan became a member of a geological survey team in 1871. This enabled him to travel across the United States while taking scenic photographs most notably in the Pueblos of the Canyon De Chelly.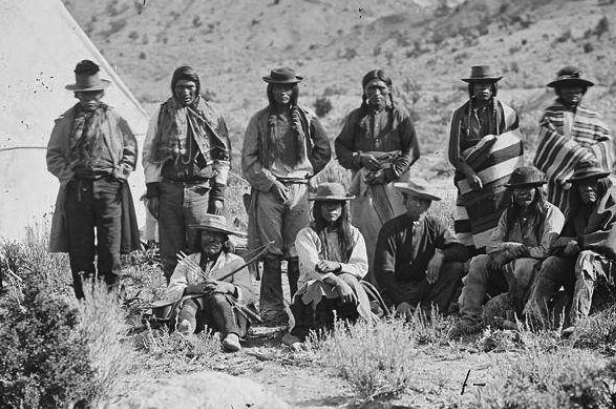 Also, O'Sullivan served as a civilian photographer delegated to the Topographical Engineers, where he copied maps and plans. When O'Sullivan joined Alexander Gardner's studio, his forty-four photographs were published in the first Civil War photographs collection, in Gardner's Photographic Sketch Book of the War. In July 1863, he made his most famous photograph, "The Harvest of Death," showing dead soldiers from the Battle of Gettysburg.
Morgan Earp
Morgan Seth Earp was born on April 24, 1851. He was an American sheriff and lawman and worked in Tombstone, Arizona's Special Policeman. During this time, he aided his brothers Virgil and Wyatt and Doc Holliday to challenge the outlaw Cochise County Cowboys. This resulted in the famous Gunfight at the O.K. Corral on October 26, 1881. Morgan was married to Louisa Earp before he was eventually killed. Morgan, along with his brother who was lawmen and Doc Holliday was charged with the murder of the Cowboys.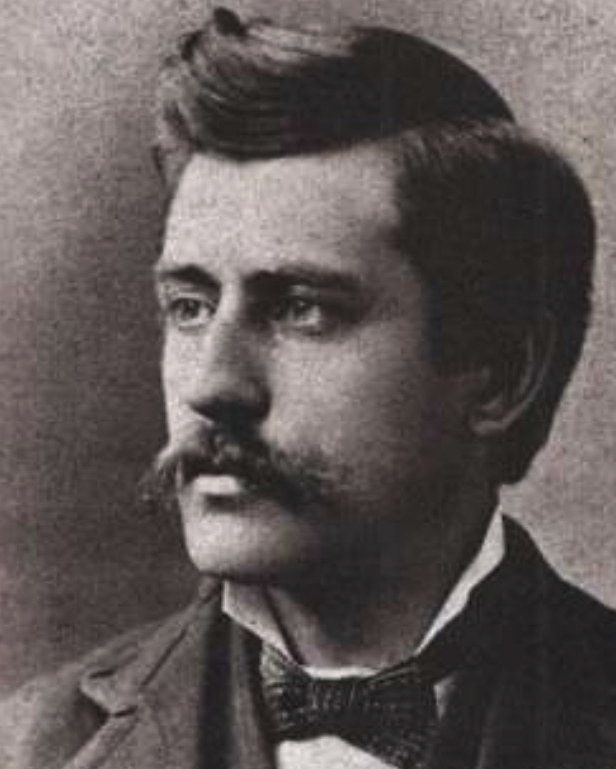 Later on, they were exonerated. As a result of the gunfight which killed Cowboys Tom and Frank McLaury and Billy Clanton, the outlaws continually charged death threats at the Earps brothers. Eventually, Morgan was murdered by them. The police released the suspected Cowboys who committed the murder for lack of evidence. However, Wyatt Earp avenged his brother's death and killed those he perceived murdered his brother. 
Personal Hygiene in the Old Wild West
Back then, in the Wild West, people knew close to nothing about hygiene. Families ate inside the same dish, drank water from a typical can; men wiped beer from their mustaches with the same towel; people barely brushed their teeth or practiced dental hygiene. In summary, regular personal hygiene as we know today was non-existent in the Wild West. And the people knew little about germs and how it spreads.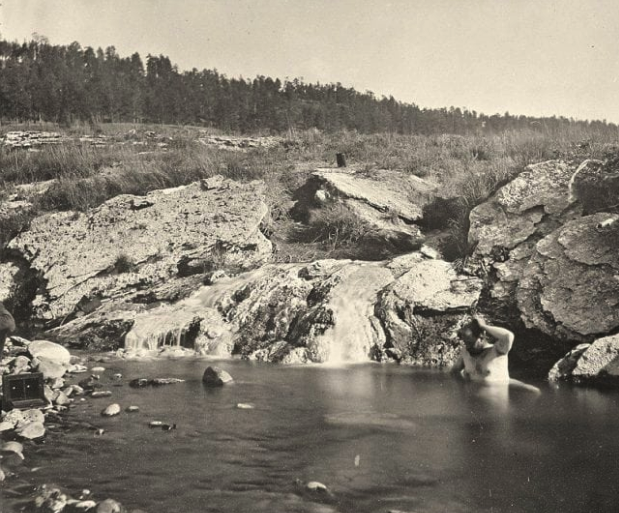 However, people in the Wild West enjoyed the Pagosa Hot Springs in Colorado, which are still in existence till today. For people in the Wild West back then, it wasn't just about bathing, but the springs are known for its mineral waters, which is believed could heal any illness. It isn't sure if this fact is accurate as it has not been scientifically proven. The good news is you can visit Pagosa Hot Springs, and relish in its refreshing waters. You are welcome!
Buffalo Soldier Photograph in 1890
History isn't exactly specific who this Buffalo soldier is, but his face will forever be significant in the Old Wild West. Buffalo Soldiers were indigenous members of the 10th Cavalry Regiment of the United States Army. It was formed on September 21, 1866, at Fort Leavenworth, Kansas. The "Buffalo Soldiers" were also officially established by Congress as the earliest peacetime all-black regiments in the U.S. Army. The Buffalo Soldiers' involvement in the military campaigns were most successful, and they earned a distinguished track record.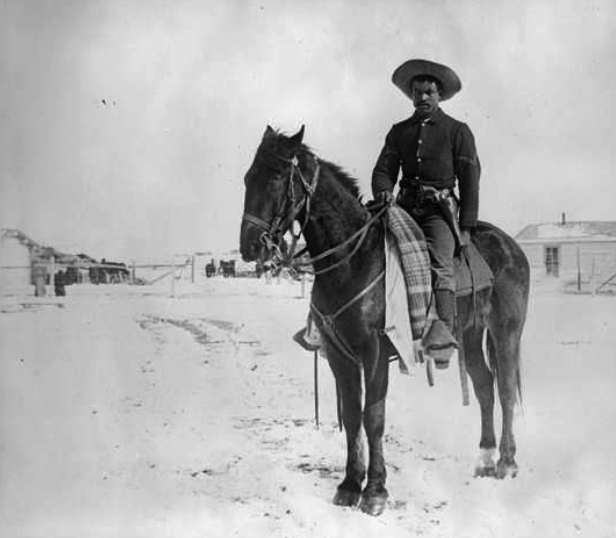 About 23 Buffalo Soldiers were honored with Medal of Honor during the period of the Indian Wars. The nickname -" Buffalo Soldier" was given to the Black Cavalry by Native American tribes during the Indian Wars. The term eventually stuck with all of the African-American regiments established between 1866-1951. The oldest surviving Buffalo Soldier -Mark Matthews died at the age of 111 on September 6, 2005. His body was inhumed at Arlington National Cemetery. 
The Deadwood Coach
John C. H. Grabill was born in1849 at Donnelsville, Ohio. He is the youngest son of David Grabill, and his wife, Catherine.  Grabill spent his early years in Champaign, Illinois. He was engaged in mining in both Pitkin and Chaffee Counties in Colorado. However, Grabill is more known for his historical photographs, many of which he took in South Dakota. He established many studios in locations such as Buena Vista, Colorado, Sturgis, Deadwood, Lead City and Hot Springs, South Dakota and Chicago, Illinois.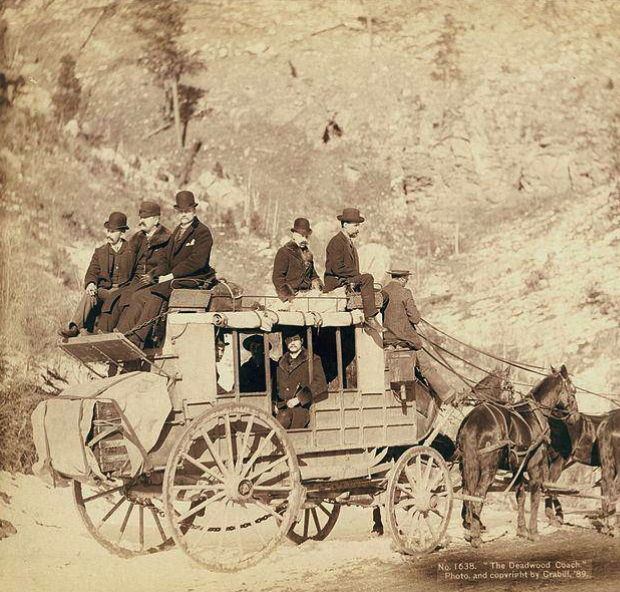 Grabill was the official photographer of the Black Hills and Fort Pierre Railroad and Homestake Mining Company located in South Dakota.  Between the period of 1887 and 1892, Grabill rendered 188 photographs to the Library of Congress for copyright shelter. These pictures are now available in the public domain. This picture taken by Gabrill is of the Deadwood Coach. The Deadwood Coach is one of the most historic and famous stagecoaches. Buffalo Bill carried the stagecoach during all of his Wild West shows all through America and Europe. 
Ox Teams at Sturgis Pictures
This picture is also one of John C.H. Grabill Collection at the Library of Congress. The image depicts the frontier life in Sturgis, South Dakota. The other photos in the collection chronicle the frontier life in Colorado, and Wyoming which includes pictures of railway road establishments, coaches and wagons; mining sites, mills, landmarks, developing cities and towns, parades, cattle, and sheep herding, hunting among others.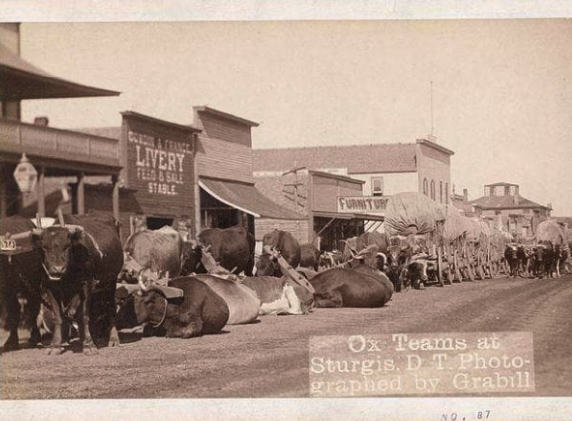 A couple of the images also shows the Lakota Sioux staying on or close to the Cheyenne River and the Pine Ridge reservation. Gabrill also captured the correspondence with U.S. military and government agents, coupled with William "Buffalo Bill" Cody. You can spot the wagons used for transportation back then in the photo, wouldn't you love to ride in one?
Cowgirls Gathering at a Watering Hole
Historically, women have long been involved in rodeo. These women were known as "Rodeo Cowgirls" and "Rodeo Queens." Famous cowgirl -Annie Oakley made the image of the cowgirl in the late 19th century. In 1908, a 10-year-old girl was styled as the first cowgirl after exhibiting her roping skills at Madison Square Garden. Women were openly celebrated competitors in bronc and bull riding events in the first few decades of the 20th century.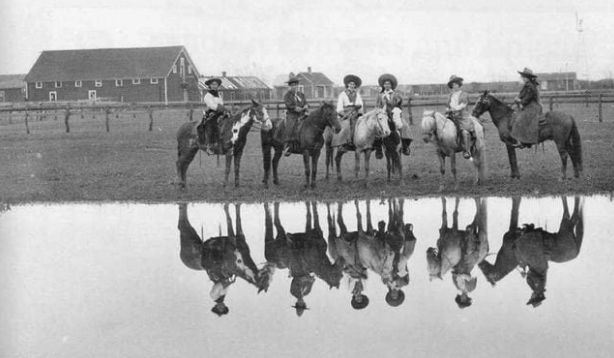 However, when a female bronc rider passed away in a 1929 rodeo, many oppositions rose against women competing in rodeo. Today, cowgirls are perceived as pretty women infringe on cowboy boots and hats. However, this isn't true as cowgirls took part in bronc riding competitions and performed. Annie Oakley, the sharpshooter, Calamity Jane, and Dale Evans are among some of the most prominent cowgirls. Way to go, Cowgirls!
We had a lovely time compiling this list, and we are thrilled by these photographs taken during the Old Wild West. Which one of the pictures is your favorite? Let know in the comment section. If you found this article interesting, please feel free to share it with your buddies.
Source: DIRECT EXPOSE