25+ Woodstock Photos That Will Make You Wish You Were There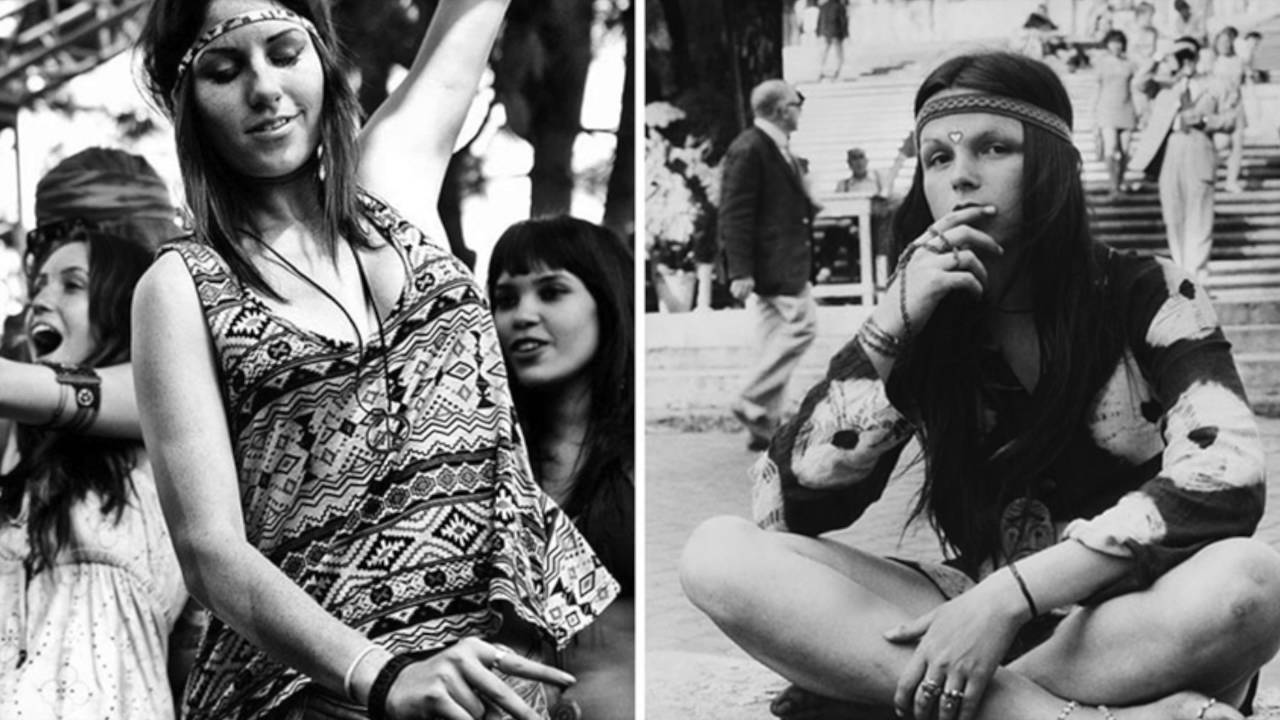 Many times, I feel like I was born in the wrong era. There is no period that I would have liked to live in more than the 60s, with its cool fashion sense and timeless music. Although the Woodstock era has been done for nearly 50 years, the cultural spirit and iconic fashion and music influence is still alive. These photos really represent what Woodstock was all about. It was not just a festival, but also a cultural landmark that represented a sense of freedom and free spirit for the youth of that generation. On the 15th of August 1969, nearly 400,000 people got together to celebrate three days of peace love, music, community, and freedom.
Wish We Were There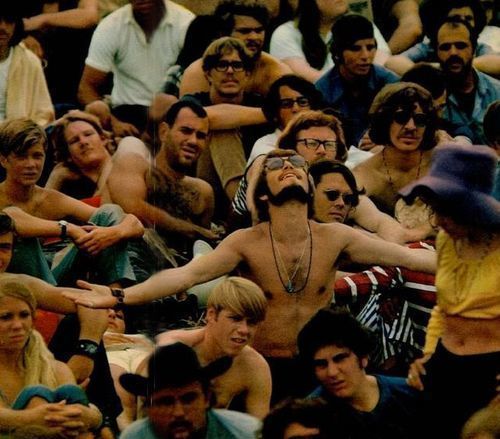 Imagine how it was to live in 1969, with beads around your neck, around a bunch of other colorful, free-loving people. Not many people can say that they've experienced that. 186,000 people were present to tell the story of Woodstock 1969 to the whole world and bring it to life, even 50 years later. People lived in peace among one another with for three days, with no security, and they all co-operated for food, shelter, and drugs.
Exceeded All Expectations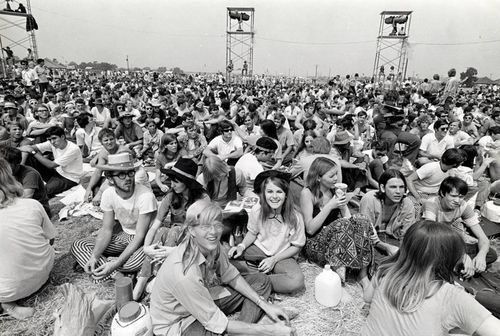 It wasn't easy to find a location that could hold a festival like this and hold the number of people that was expected to attend. It was initially planned to be held in Woodstock, but the locals objected. After they found a new location in Wallkill, NY, another problem arose - crowd size. Fifty thousand people were planned to attend, but the festival ended up having closer to 400,000 people. 
Getting There Was A Problem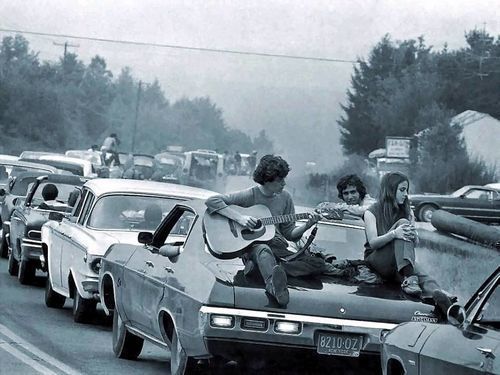 With tens of thousands of people heading to a small town in New York, getting there was a problem. As the roads ended up getting blocked, many people decided to do the rest of the journey on foot. Eventually, roads had to be closed, so some people did not even end up getting to the festival. It is known as one of the worst traffic jams ever, as you can see in the photo. 
Just Relax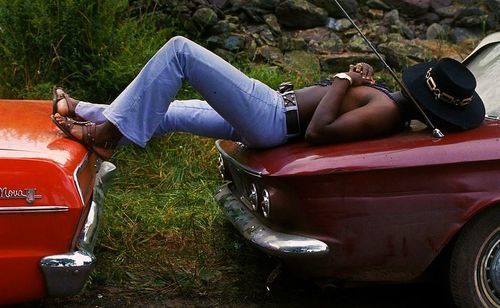 During the festival, it wasn't unusual to find people asleep in random spots that some might find strange. For instance, this man was found sleeping in between two cars. Clearly, he doesn't have anywhere to go, so he decided to relax and have a nap. We hope that this is not in a traffic jam on the way to the concert, or he may have never made it!
Flower Child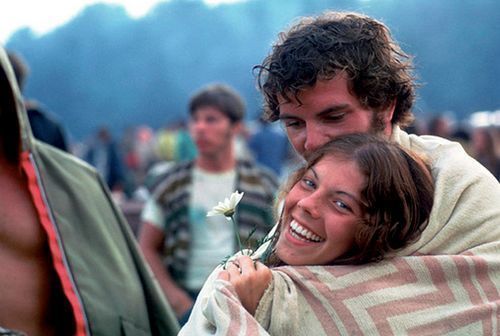 Woodstock was the perfect place to cuddle with your girlfriend, enjoy the tunes, and simply be happy with a daisy. Nothing represents 1969 better than a music festival and a daisy. The beautiful white flower has now become symbolic of the festival.
Climbing The Sound Tower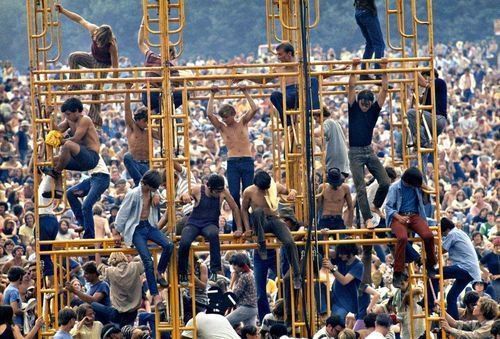 Bill Hanley, the man in charge of the sound engineering for the festival said the event went really well. He created special speaker columns and set them up on high towers. The set up was meant for 150,000 people, but more people ended up attending. However, the sound was still perfect. Hanley's previous experience in large outdoor festivals such as the Miami, Atlanta, and Dallas pop festivals allowed him to establish a reputation, which is why he was picked. 
Sri Swami Satchidananda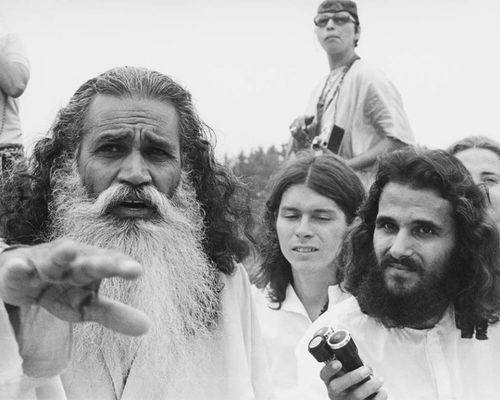 The popular spiritual speaker and religious teacher opened the festival with a speech that was heard by around 400,000 people. He evoked the power and the energy of sound, claiming that it is greater than anything in the world and it is that which controls the universe, rather than atomic vibrations, like many believe.
Jimi Hendrix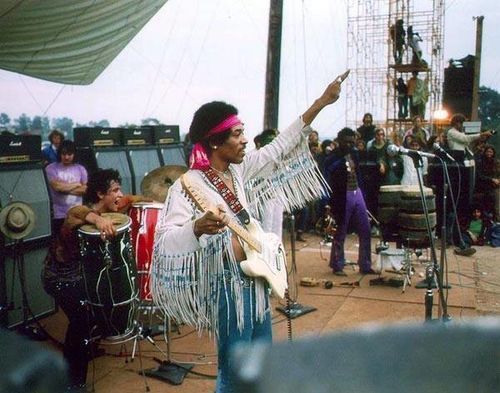 Those attending the festival waited three days to see Jimi Hendrix take the state, and his performance of the Star- Spangled Banner has become synonymous with Woodstock Festival. He performed with a temporary band at the festival, because his usual band split up right before the festival. Hendrix had to come up with a new one - the Gypsy Suns and Rainbows - and it was the first time that they performed in front of such a large crowd.
Janis Joplin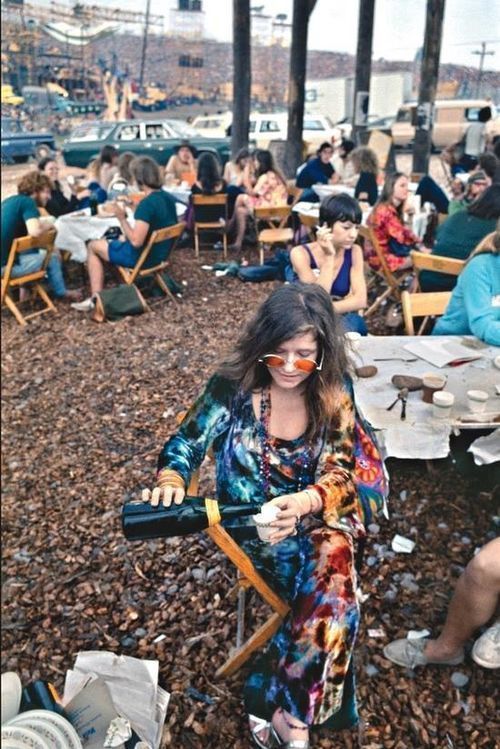 Janis Joplin performed at the festival, and she was paid $7500 for it. The most remembered part of her performance was her famous song, "Piece of My Heart". On the second day of the festival, she performed many other songs. She was flown to the festival by helicopter alongside her band, but she told her band members to perform just like it was any other gig. After she performed, she stayed for the remainder of the festival.
From Young To Old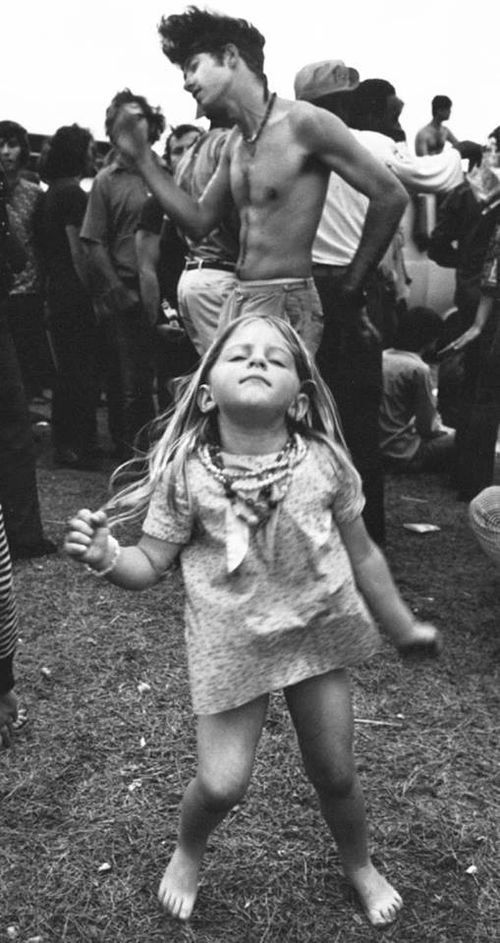 Woodstock was a place strictly against discrimination, whether on the base of gender, race, or age. Many parents attended the festival with their kids, and this one in particular seems quite happy to be there. Aside from children, some babies were even present! And others were surely born during the festival!
John Sebastian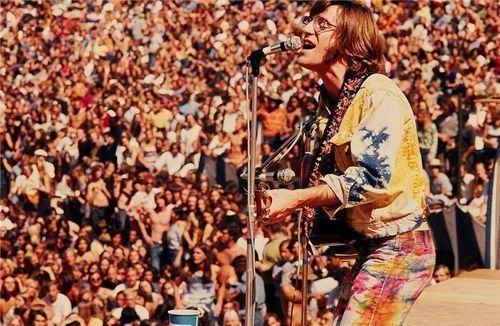 John Sebastian's performance at Woodstock was not planned, but it was definitely memorable. He attended as a mere spectator, but the organizers asked him to perform as they needed an acoustic guitar player. He played three unreleased songs from his album and two additional songs. According to Sebastian, he was not supposed to perform at all and was rushed on stage by the show's unorganized staff while he was on a mix of different drugs. 
Carlos Santana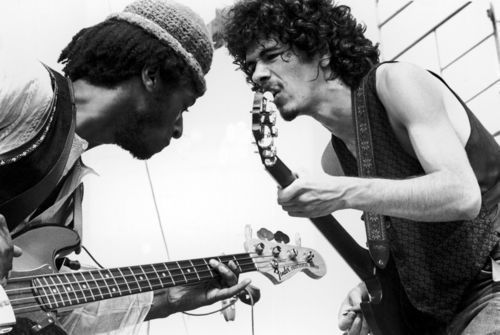 Carlos Santana and his band played Latin-rock music at the festival, and the audience was loving it! Speaking to Rolling Stone Magazine, he said: "So I said, 'Hey, I think I'll take some psychedelics, and by the time I'm coming down, it'll be time to go on stage and I'll feel fine. But when I was peaking around two o'clock, somebody said, 'If you don't go right now, you're not gonna go on.'"
The Beat Of The Drum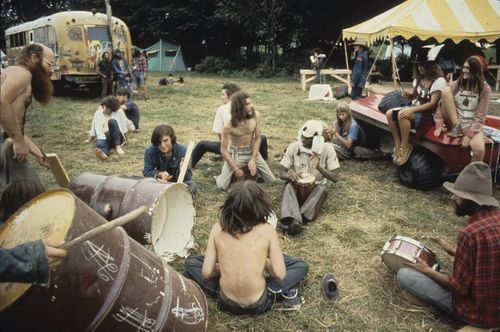 The drum circle was invented at the festival. People attending the festival were influenced to create their own music; they made musical instruments out of anything they could get their hands on. People jammed with strangers, and anyone could participate and play music together.
Shopping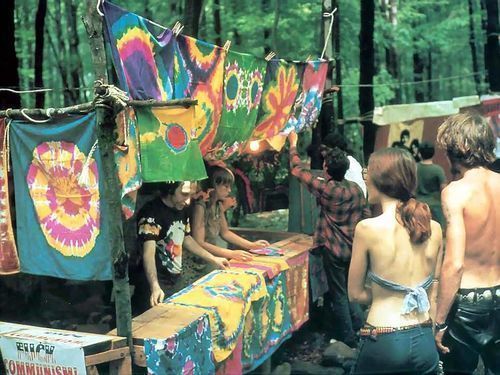 Temporary shops were opened to sell drug paraphernalia, crafts, and clothing. The visual and aural feast created by the markets is still being copied at other festivals today. Tie-dye shirts were the most popular fashion item at Woodstock. If you forgot yours at home, you could buy one at one of the festival's many stands. Performers such as Janis Joplin, John Sebastian, and Joe Cocker all wore tie-dye shirts on stage.
Love is All You Need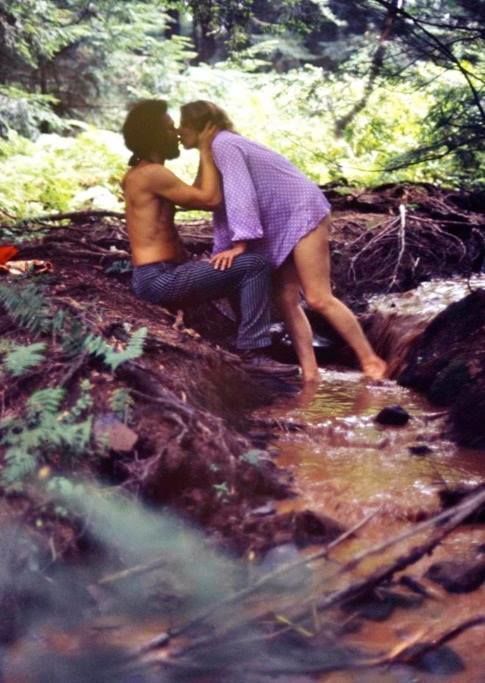 At the festival, many couples found secluded spots for some intimate moments with their loved ones. Love was in the air at Woodstock 1969, and romantic couples could find some quiet, alone time in these beautiful corners of nature. Who ever said hippies weren't romantic? Also, it was said that the only way the incident managed to take place without any major incidents is thanks to love.
Families Living The History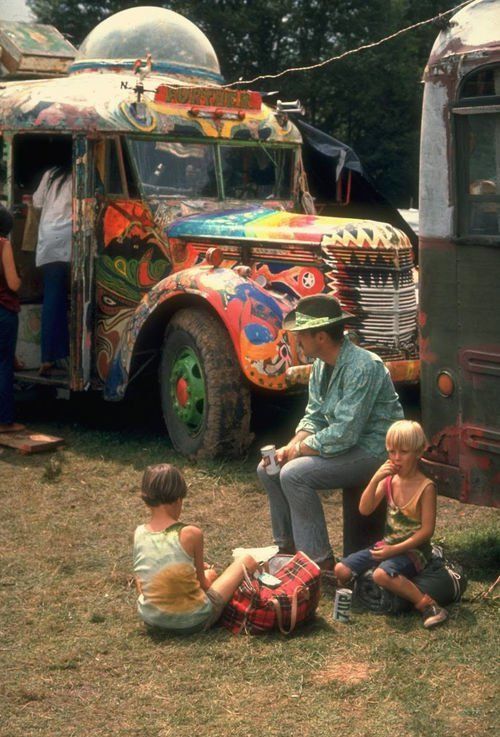 This father is undoubtedly the coolest dad ever. Not every father takes their kids to a festival, and even fewer let them board a psychedelic school bus! The family seems to be having fun and doing activities. In the photo, it looks like they are taking a little break and having a picnic. It was reported that thousands of children attended the festival with their parents.
Collective Love And Sense Of Sharing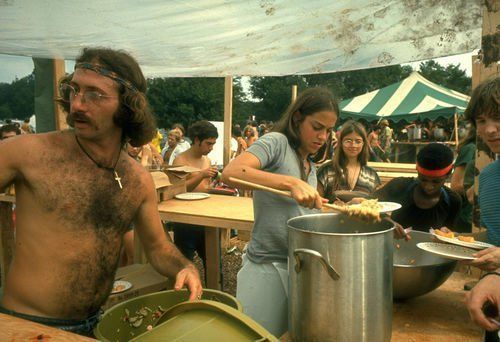 Sharing was simply part of the Woodstock experience, especially when it came to food. However, there wasn't enough food for everyone.The number of attendees exceeded expectations, so not enough food was prepared for everyone. Thankfully, love was in the air, and people volunteered to help get some more food to the festival.
Another Sleeping Arrangement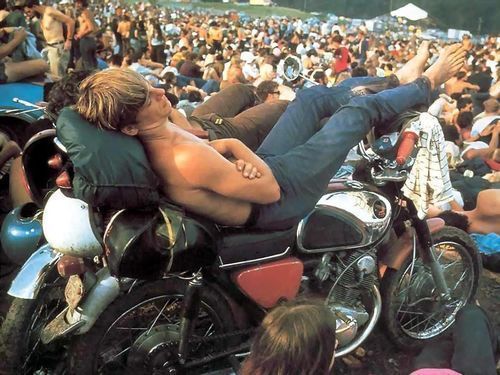 The music, crowds, and psychedelic drugs can sure make you tired. While we saw another man who took a nap on two cars, this young man decided to take a nap on his motorcycle. Finding weird sleeping spots is simply part of the Woodstock experience. As the festival was attended by a lot more people than planned, the sleeping arrangements were not optimal, and people would just take what they could get.
Hippies On The Roof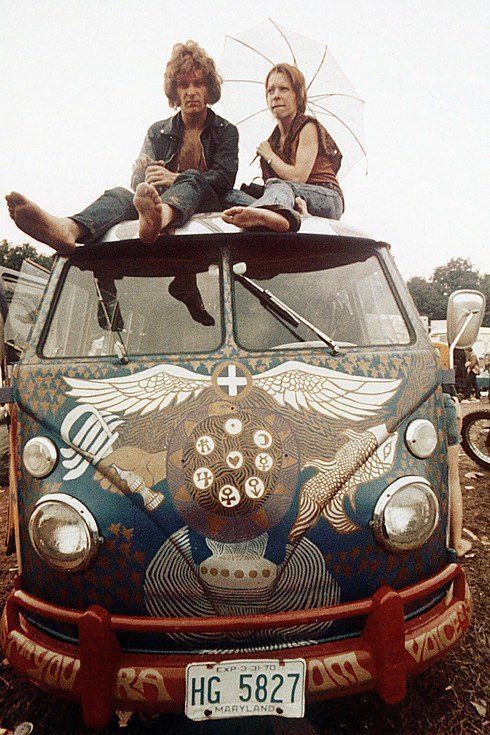 Aside from being a groovy mode of transport, psychedelic vans were great for other reasons too. Some attendees sat on top of their cars to get a better view of what's happening on stage.  Also, you get to look super hippie and take amazing photos that you can later show your kids to remind them that you weren't always a boring old person!
Magical Mystery Tour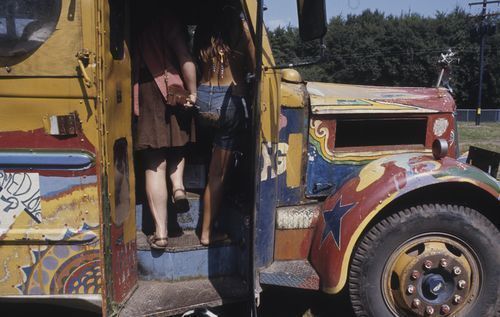 There were caravans and old painted buses all over the place, which were a great place to simply escape, or just for a little privacy, if you know what I mean. This one, in particular, is the famous "Light Bus" that was painted in beautiful colors by Dr.Bob Hieronimus for the festival. The VW bus has become the representation of a counter-culture movement synonymous with a hippie, anti-establishment lifestyle.
Fashion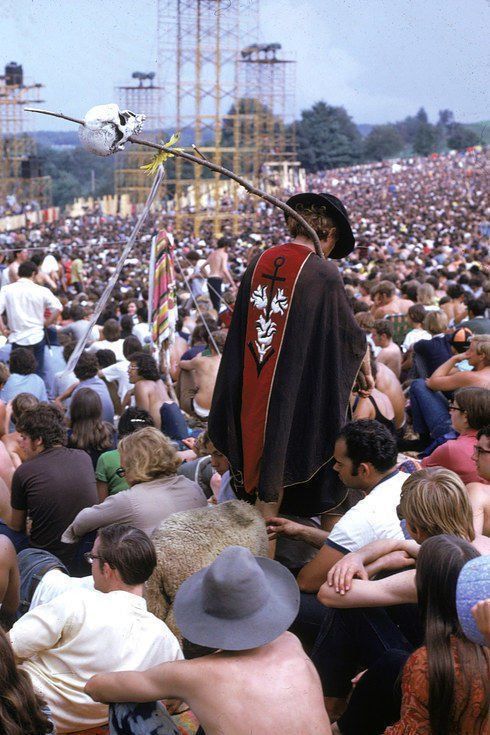 There is no dress code at music festivals, and while some love the tye-dye look, others prefer to stand out or send a message. We are still not exactly sure what the skull on the stick represents, but it probably signifies something to this man. Under the effect of psychedelic drugs, things often have a deeper meaning.
Free Hugs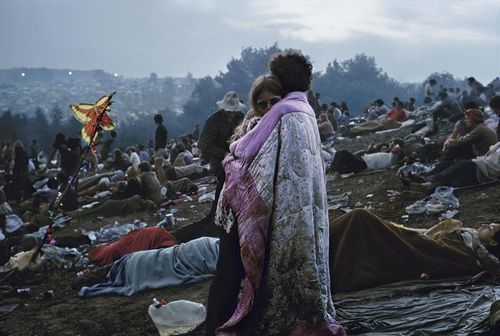 It was getting a little chilly at the festival, and a photographer caught this couple having a tender hug under a blanket. As you can see in the photo, they weren't the only couple who thought of doing this. The sleeping arrangements at Woodstock were all over the place! As people swarmed in to attend without tickets, people had to naturally sleep wherever they could.
For The First Time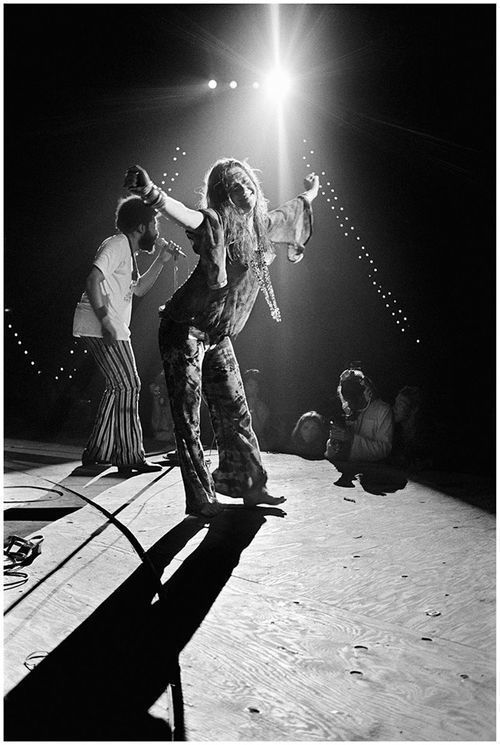 Woodstock was one of the largest rock festivals of all time, and also one of the first. That's partly why it is such a legendary festival, and it has been referenced in pop culture ever since. More than 30 bands and artists performed in the 3-day festival, and there wasn't a dull moment at all. Although it wasn't the first big festival, it set the template for the modern music festival.
Good Day Sunshine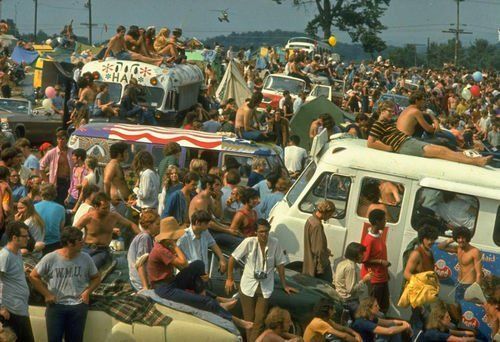 The weather was not the best during the festival, with 3 days of constant rain, as well as violent thunderstorms. People were repeatedly told to get off the towers, as there was fear that they may fall. Interestingly, some have claimed that the government (or "fascist pigs", as hippies love to call them) made use of cloud seeding to create more rain. 
Thank You For The Music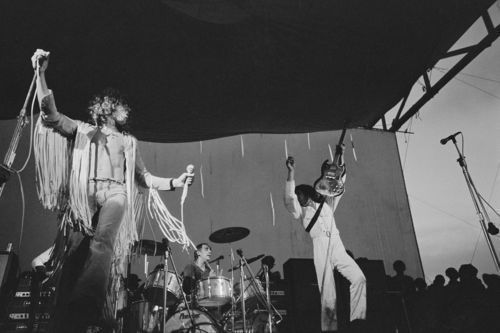 The musical experience was something out of a dream, and it will be remembered for a very long time. Aside from Santana, Janice Joplin, Jimi Hendrix, and others which have already been mentioned, other unknown bands performed as well. Two such bands were The Who and Creedence Clearwater Revival, which would later go on to become widely popular. The Who performed their exceptional "Tommy" album about a deaf, dumb, and blind boy who later finds a cure and becomes a star.
With A Little Help From My Friends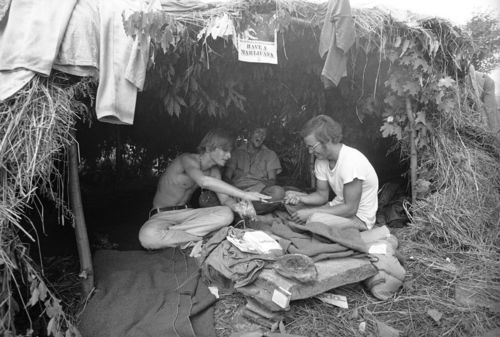 People at the festival shared everything: clothes, food, sleeping spots, and more. According to Joni Mitchell, "Woodstock was a spark of beauty where half a million kids saw that they were part of a greater organism". Michael Lang, one of the founders of the festival, said, "That's what means the most to me – the connection to one another felt by all of us who worked on the festival, all those who came to it, and the millions who couldn't be there but were touched by it."
And In The End...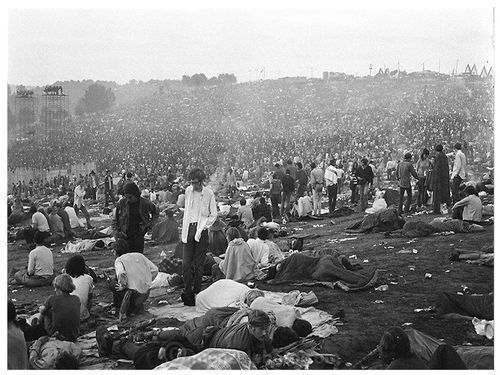 Like The Beatles said: "And in the end, the love you take is equal to the love you make" - and love was definitely in the air at Woodstock 1969. Although 100,000 tickets were sold prior to the festival, they became irrelevant as swarms of people made their way in. On the 18th of August 1969, nearly 400,000 people celebrated three days of peace and music - and made history forever. 
Source: Simbaly.com