40+ Absurd Things That Were Used In The Past
Nowadays, new products that facilitate our lives are released all the time. It is easy to research them, read reviews, and compare them with competing products. However, back in the day, that wasn't possible. Also, as you will see, in the past, not all products facilitated our lives! We have gathered all the weirdest and craziest inventions from the past, and some will have you wondering what the inventor was thinking when they thought of such an offbeat idea. Let's get right to it!
Beauty Contest in Cliftonville, 1936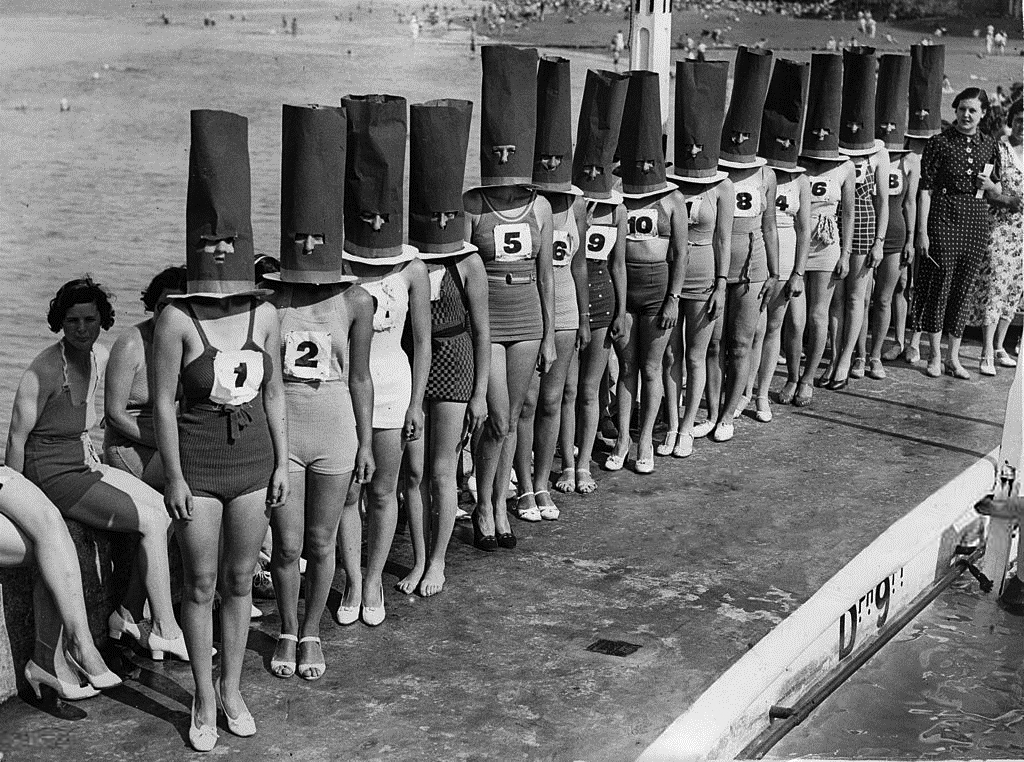 This photo depicts a beauty contest that took place in Cliftonville, Mississippi in 1936 called the Miss Lovely Eyes Pageant. Surprisingly, the models have their faces covered with a funny-looking hat. Apparently, in this specific section of the competition, women's eyes are at the forefront, so their faces are covered in order for the umpires not to be biased and judge fairly. In the 1930s, this was quite common, whether it was to judge the women's' eyes, knees, or other body parts.
However, when you look at this photo with no context, it is so intriguing and creepy! In other cases, women covered their faces with bandanas, pieces of paper that they held up, or ski-mask like contraptions. However, the majority of these pageants used these scary-looking masks that belong in a horror movie rather than a beauty pageant. Just imagine a gang of people all wearing these masks chasing you in the middle of the night!
Suntan Vending Machine, USA, 1949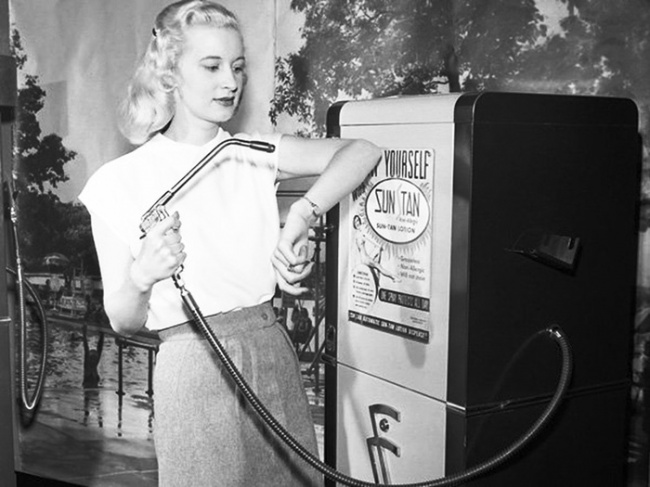 Wouldn't it be great to be able to easily get a tan on your own, without going out to the sun or to an indoor tanning studio? In 1949, you could! Just kidding. This isn't actually what you think. This machine simply dispenses suntan lotion at beaches, pools, etc.. The machine was manufactured by Star Manufacturing Company in Chicago in 1949, and it cost 10 cents to use for thirty seconds.
It was popular at the time as beauty had begun to be seen as self-representation, creativity, and a way for women to express themselves, rather than just being beautiful by "duty" like in the past. As you might have noticed, it looks very similar to a gas pump. Suntan lotion is still very much alive today, although this machine does not exist. However, a very similar one called Sunscreen Mist appeared on an episode of Shark Tank, but its inventors walked away empty-handed.  
Hair Straightening In The 1960s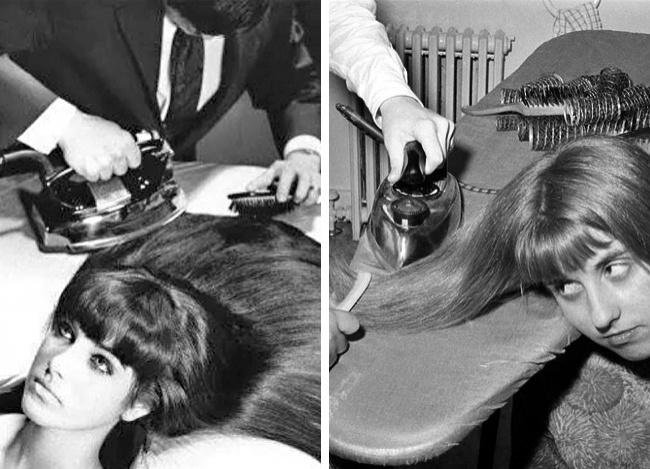 In the 1960s, women sometimes used clothing irons to straighten their hair. At the time, the likes of Cher and the hippie movement promoted straight hair, and it became extremely popular. Using a regular clothes iron to straighten hair might seem crazy, but with the right technique, it is the most efficient and long-lasting way to straighten even the curliest and thickest hair.
This technique might seem ancient, but it is still used today. A simple Google search for "iron straighten hair " will reveal tons of pages and Youtube tutorials teaching the correct technique. Of course, one wouldn't advise it, unless it's being done by a professional. 
Fake Nylon, London, 1941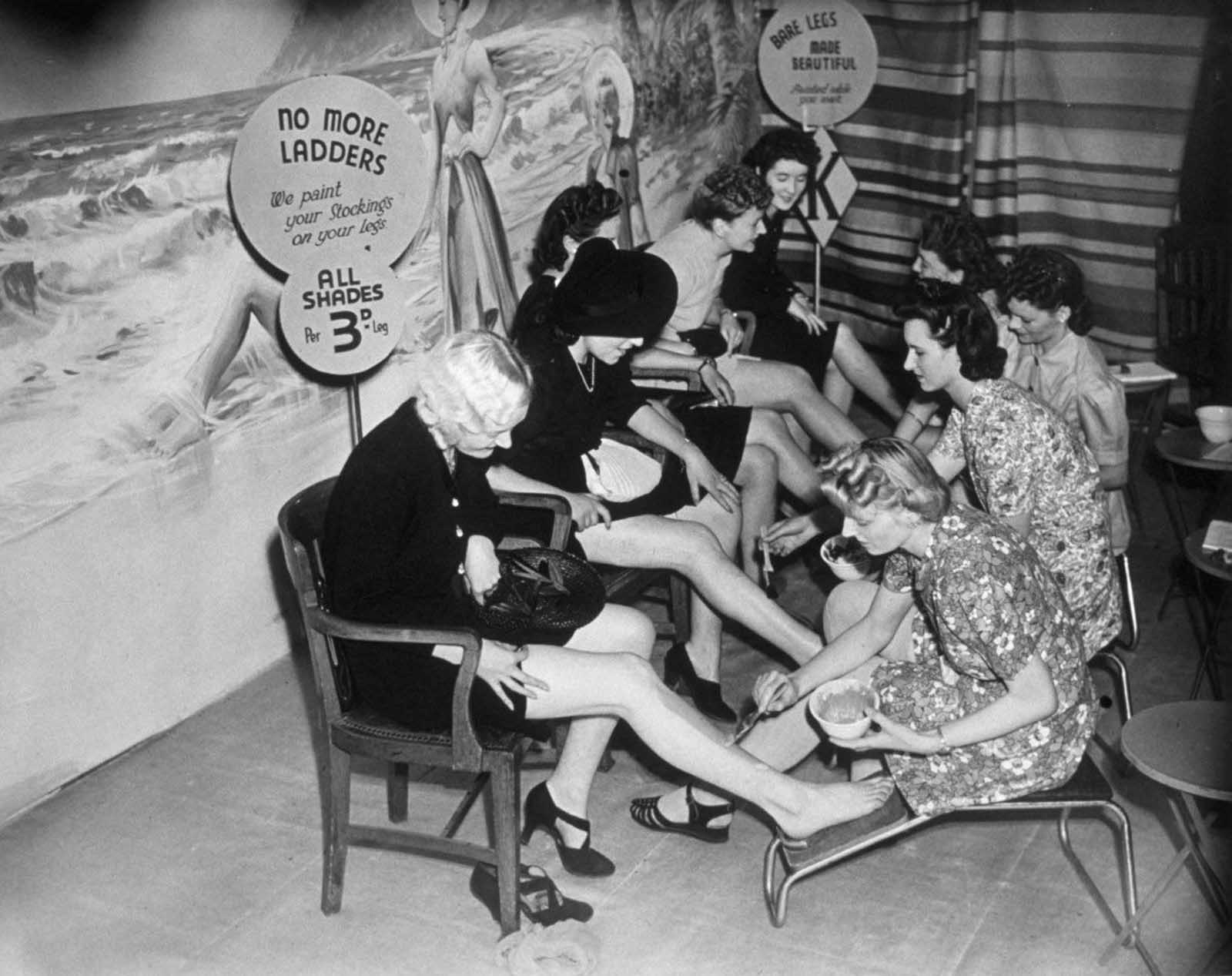 Due to WWI, nylon manufacturer DuPont started producing nylon parachutes, cords, and rope instead of stocking, leading to a stocking black market. As wartime propaganda was rampant, with the government telling women to "Make Do and Mend", which became the motto, they had to find another way to "wear" stockings.
So, this led to women painting dark stripes on the bag of their legs to make it look like stocking seems. To do so, gravy browning was often used, and the look was called "Glamor Hose". Nylon was taken very seriously at the time; after the war, when DuPont resumed production, they could not keep up with demand, which led to disturbances termed the Nylon Riots. 
Resume, USA, 1931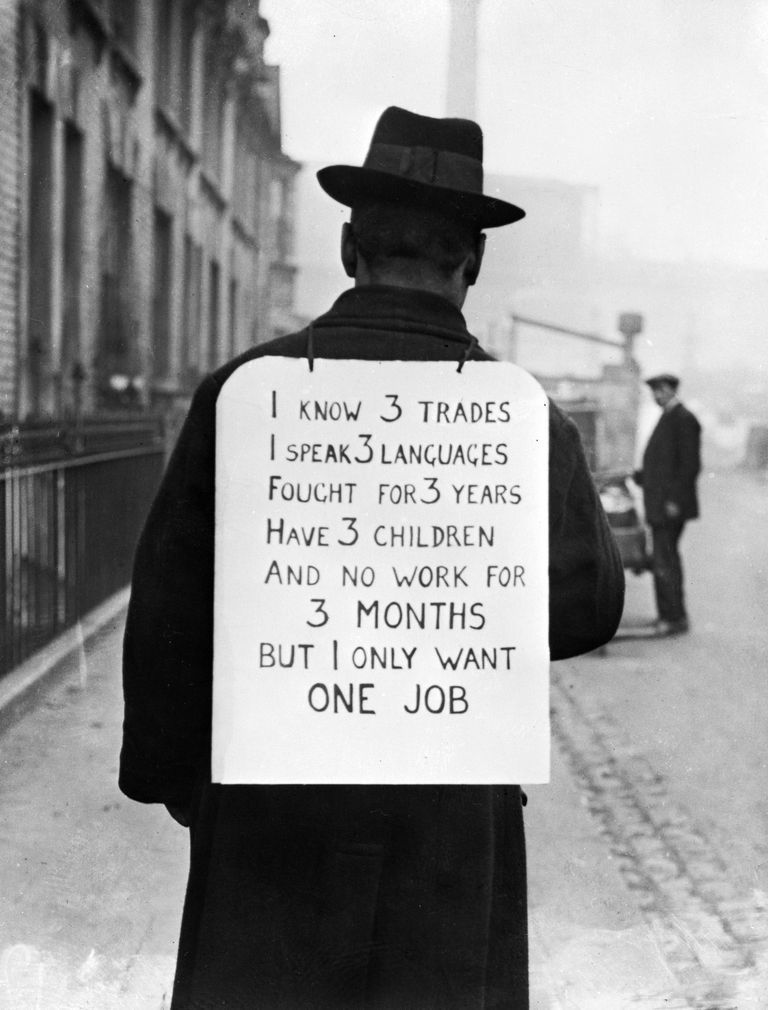 The Great Depression, a period that ranged from the stock market crash of 1929 until 1939, was the worst economic period in history. It let to the highest rate of US unemployment ever, with a rate of 24.9 percent in 1933. Some starved, and others lost their farms and even their homes. 
Here, a man is protesting against unemployment during the Great Depression in a unique way. We've got to give it to him - it's quite a creative way to showcase your skills. We hope that an employer out there appreciated the ingenuity and gave him a job!
A Mobile Church Based On Ford T With A Priest-driver, USA, 1922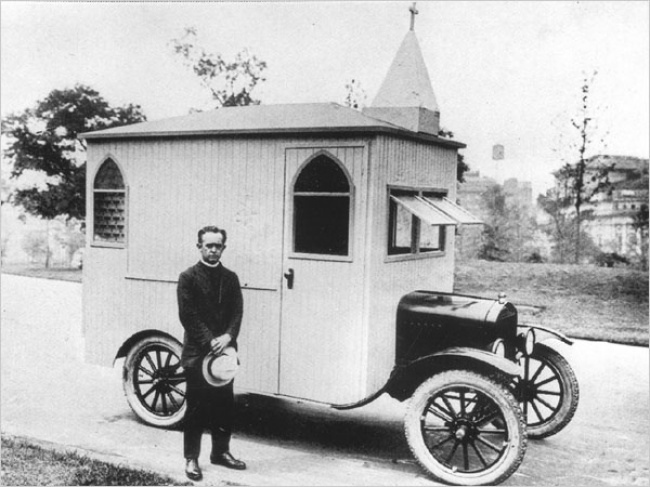 In 1922, a minister turned a Ford T into a mobile church called the "Ford Chapel". So, if you saw him passing by your house, you could stop him for a quick confession! While this may seem funny, mobile churches or "churches on wheels" still exist today. Based in Botswana, a fleet of trucks travel to big cities and rural villages all across Africa, like Ghana, Kenya, Botswana, and beyond. Each truck holds the essentials for a gospel meeting, like tents, chairs, and a baptistery. 
Specially Numbered Gloves Used To Teach Touch Typing, USA, 1961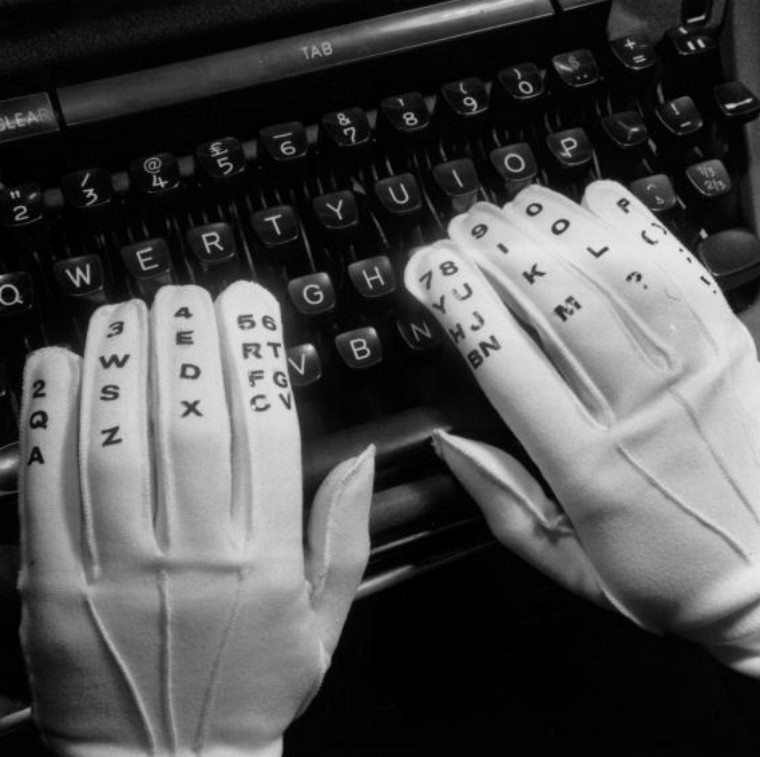 As you can tell, these gloves indicate where the keys are, as it is meant to facilitate typing. However, touch typing is meant to be done without looking at the keys, so how on earth is this invention supposed to help? And how are you supposed to learn touch typing if you can't even feel the keys? 
Record-Breaking Omelet, USA, 1931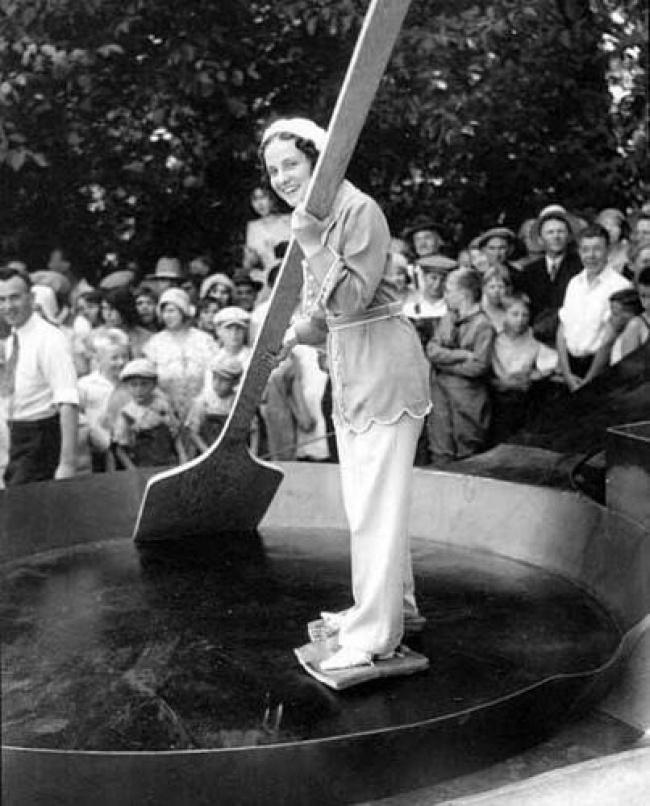 On July 24, 1931, nearly 10,000 people attended the Lewis County Farmers and Merchants Picnic at Alexander Park in Chehalis to see the world's largest omelet cooked in the world's largest frying pan. First, the skillet needed to be greased, and to do so, Thora Yeager put a giant slab of bacon under both her feet and skated around the pan. To keep her balance, she used a long spatula that would later be used to mix the eggs.
Once her job was done, she got out of the pan, and the heat was raised to cook the eggs. Although it was initially planned to use 10,000 eggs, only 7,200 eggs fit in the pan. This didn't seem to be a problem, though, as the omelet was already massive. Once the eggs were ready, the public was announced by loudspeaker, and thousands got to eat this record-breaking dish.
Children's Entertainment In Great Britain, 1973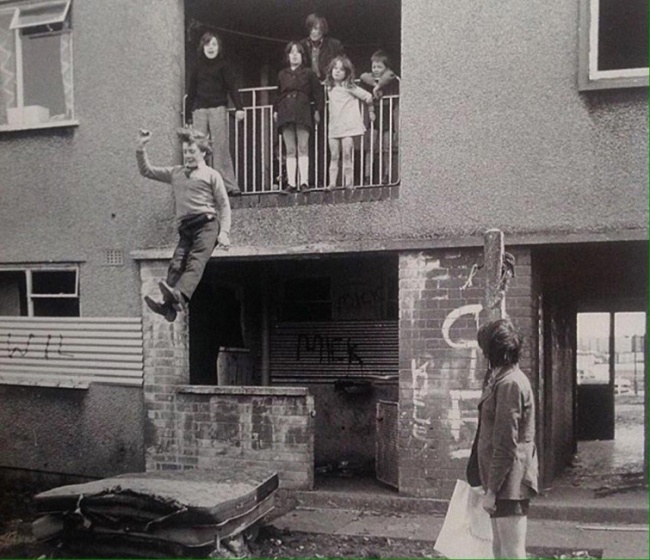 Nowadays, most parents complain about the amount of time their children spend playing video games instead of being outside, taking in the fresh air and playing with other kids. When parents think of their kids playing outside, they picture birds, trees, the sun, the park, swings, and all these sweet things, but they surely don't think that their children are going to be doing things like in the photo above!
Before video games were even a thing, as you can tell, kids found other ways to pass time. Would parents prefer that their children waste time on Fortnite, or jumping off balconies? Sometimes, the answer is neither. This photo was taken in Great Britain in 1937. At least the kids seem to be having loads of fun!
A Child's Car Seat From The 1940s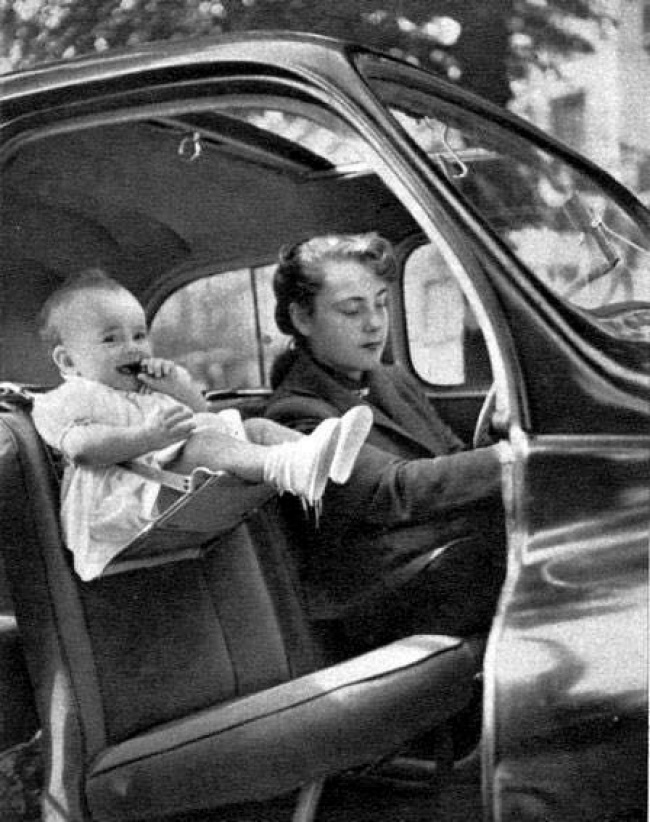 In the 1940s, a child's car seat was only in its infancy; it consisted of a metal frame attached to a car's front passenger seat so the baby could get a good view through the windshield. At the time, baby car seats were used to restrain the baby, and not as a safety device. 
It was only later in 1962 that the first car seats designed with safety in mind were created. In those 20 or so years, we wonder how many babies flew out the windshield. Englishman Jean Ames invented a rear-facing seat with a safety harness, and it is quite similar to today's models. Also, it is important to remember that seatbelts only became mandatory in the 1960s! 
"The Ghost Team"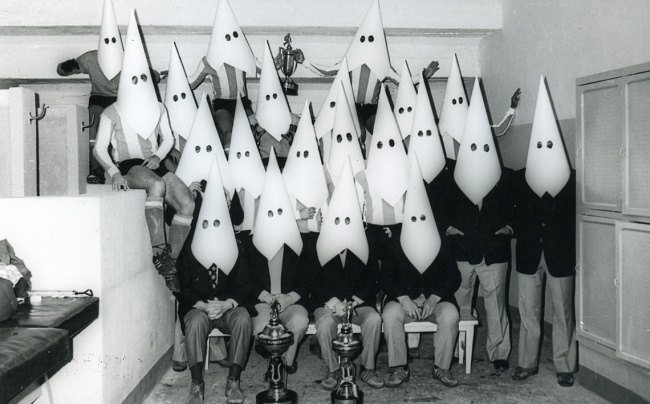 On September 23, 1973, Argentina was scheduled to play against Bolivia for a World Cup qualifier at LaPaz. Argentina's Technical Director ordered a selective squad to go to Bolivia to adjust to the high altitude and play two matches. The plan was to train and beat Bolivia to qualify for the 1974 World Cup in Germany. However, there was an issue; according to some of the Argentinian players, the Argentina FA "forgot" about their own team and never paid for supplies, the hotel, food, etc.
So, instead of playing only two friendlies, they had to play six or seven to gather enough funds to buy food. The players eventually went back to LaPaz and beat Bolivia 1-0 to qualify for the World Cup. In La Paz, journalist Miguel Tapia, the director of Hoy Deportivo, had a great idea; he decided to get a photo of the Argentinian squad in sheets like ghosts in protest, with the caption "Ghost Team" due to what had happened to them. The photo went viral and caused quite the stir in journalism and public opinion. 
 Before A Vaccine Against Diphtheria Was Invented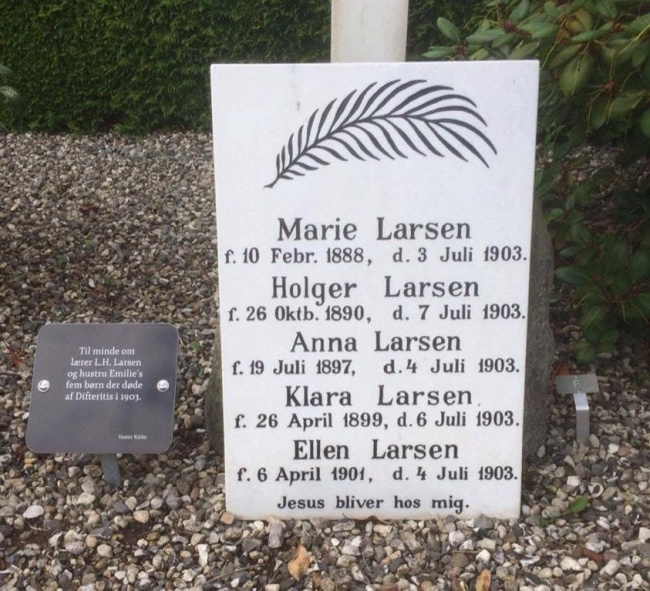 This one is not an invention, but rather the result of a non-invention! This haunting photo is proof that vaccinations are crucial., but at the time, a vaccine against Diptheria was yet to be invented. This photo shows the tombstone of five babies of the same family who died within five days. With the anti-vax movement in full swing, it is important to highlight how important getting your children vaccinated is. In this case, the babies were not vaccinated against Diptheria, as the vaccination wasn't invented yet.
Diptheria is an airborne-infection that causes the throat to swell up and cause irregular heart rhythms. Thankfully, it is extremely rare today thanks to vaccinations. Apparently, the parents of the children who died had sixteen children; eight that survived, and eight that died. You win some, you lose some.
Beauty Micrometer, 1937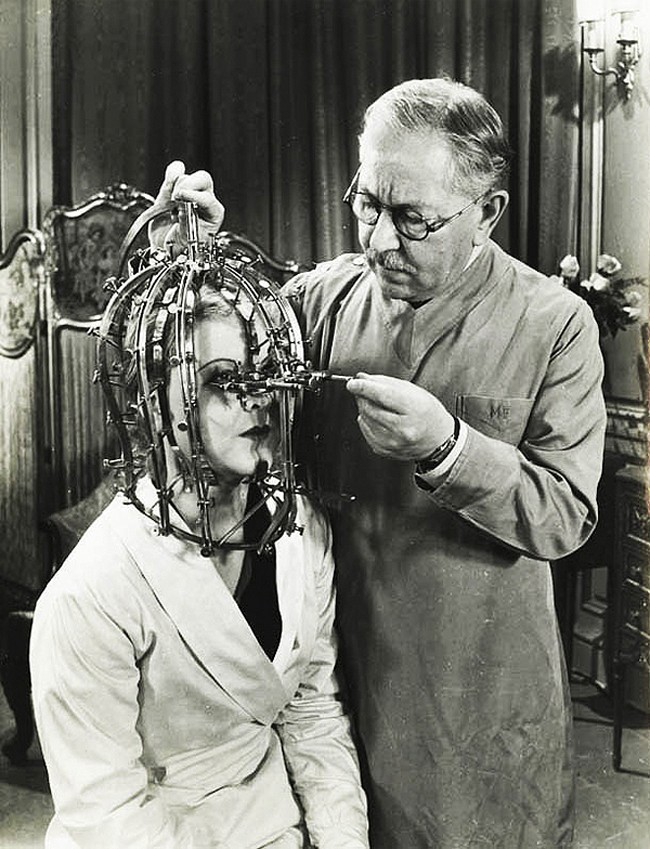 The beauty micrometer AKA the beauty calibrator was a device invented in the early 1930s to help identify which parts of a person's face need to have their appearance reduced or enhanced by make-up. Famous beautician Max Factor Sr. was one of the inventors. A 2013 Wired article describes the device as a "Clockwork Orange style device" that combines "phrenology, cosmetics and a withering pseudo-scientific analysis".
The device is placed around the head and face using flexible metal strips that align with someone's facial features. According to the inventors of the device, two key measurements need to be looked at: the height of the nose and forehead should be the same, while the eyes should be separated by the width of one eye. When an imperfection can be seen, corrective makeup can then be used to enhance or subdue the feature. According to Max Factor, the device helped famed beautician Max Factor Sr. better understand the female face. 
The Dimple Maker, 1936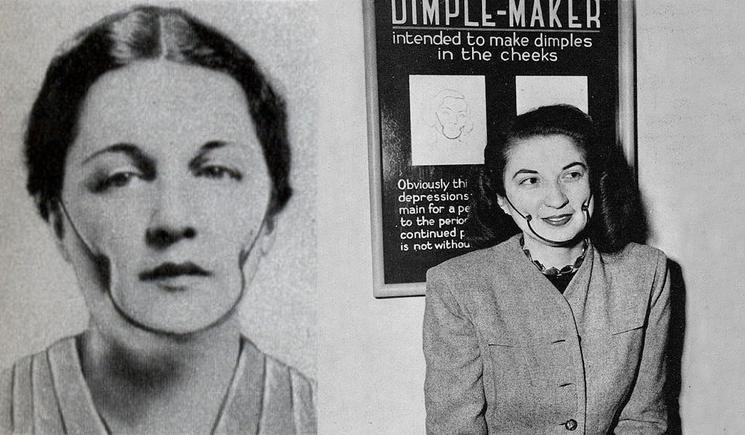 The Dimple Maker was invented by Isabella Gilbert in New York in 1936. Its purpose is pretty self-explanatory - it creates dimples on people who were not born with them. The device itself looks extremely uncomfortable, painful, and unpleasant. It contains wires that dent your face, and it seems as though this machine needed serious dedication from the user because dimples surely can't be created overnight, if at all! If this wasn't bad enough, the American Medical Association claimed that the device could cause cancer, although that is highly doubtful. 
The Dimple-Maker wasn't successful, perhaps because of how odd and uncomfortable it was. Today, it seems weird, but we still have beauty trends today that are just as strange, such as women wrapping their thighs with material to get a thigh gap, for example.
Hair Permer, 1930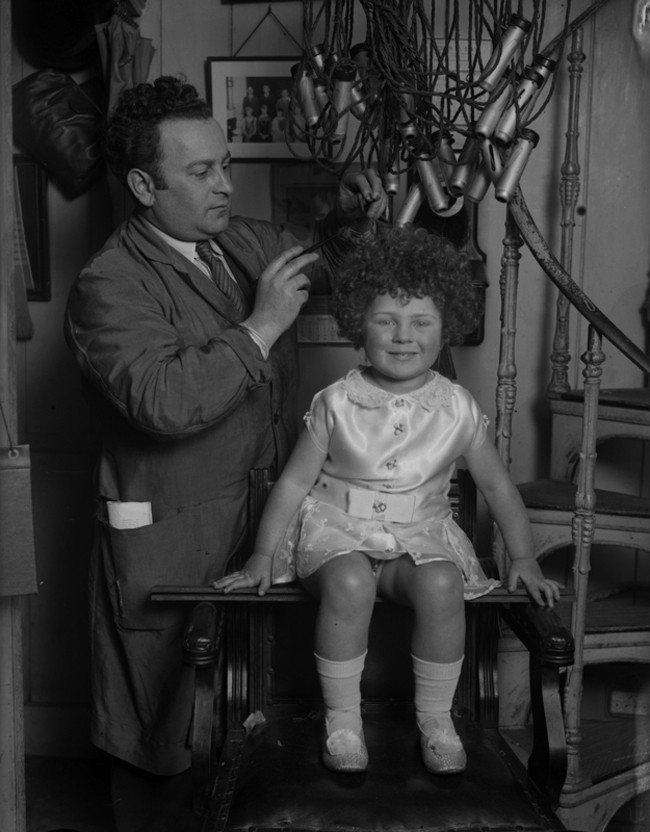 Karl Nessler AKA Nestle created the first patent for a hair perming machine and received a patent for it in 1909. The machine used counterbalances attached to an overhead apparatus that resembles a chandelier, which reduced the chance of burning. However, it was perfected by African-American woman Marjorie Jayner in Chicago. While she was having dinner one day, she looked at the rods inside her pot roast and realized that heating from inside out would be a good way to curl or straighten somebody's hair.
After spending many years perfecting her idea, she finally got a patent for it in 1929, making her the first African-American woman to do so. Of course, nowadays, getting a perm is much less intimidating. Today, the process is chemical, and it doesn't require the use of electrical heating, which allows one to move about while the hair sets and curls. It doesn't include any cords, big bulky machine, or electrical burns.
An Icemask To Beat Hangovers, 1947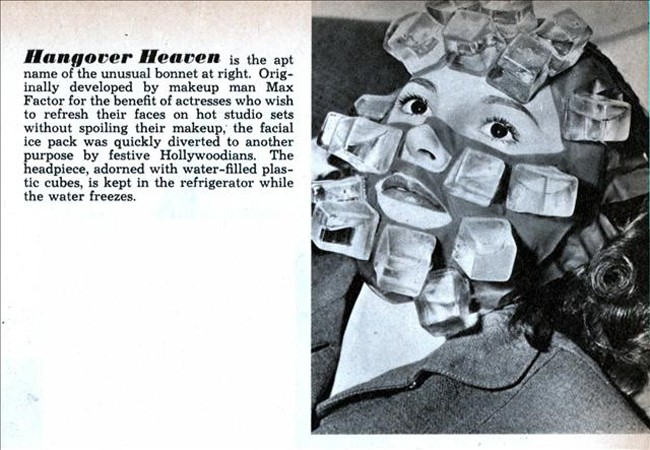 In 1947, if you were suffering from a hangover, you could easily beat it with this ice mask! Or so they say. Today, hangover cures include specific meals and smoothies, or just drinking some more. However, the last option usually only delays the hangover rather than cure it.
This ice mask was originally created so actresses could refresh their faces on hot studio sets without messing up their makeup, but it was quickly used for something else - to cure hangovers. As you can see in the photo, the "device" consists of a headpiece with water-filled plastic cubes. It's highly doubtful that it works. If it did, it would surely still be used today. 
The Isolator, 1925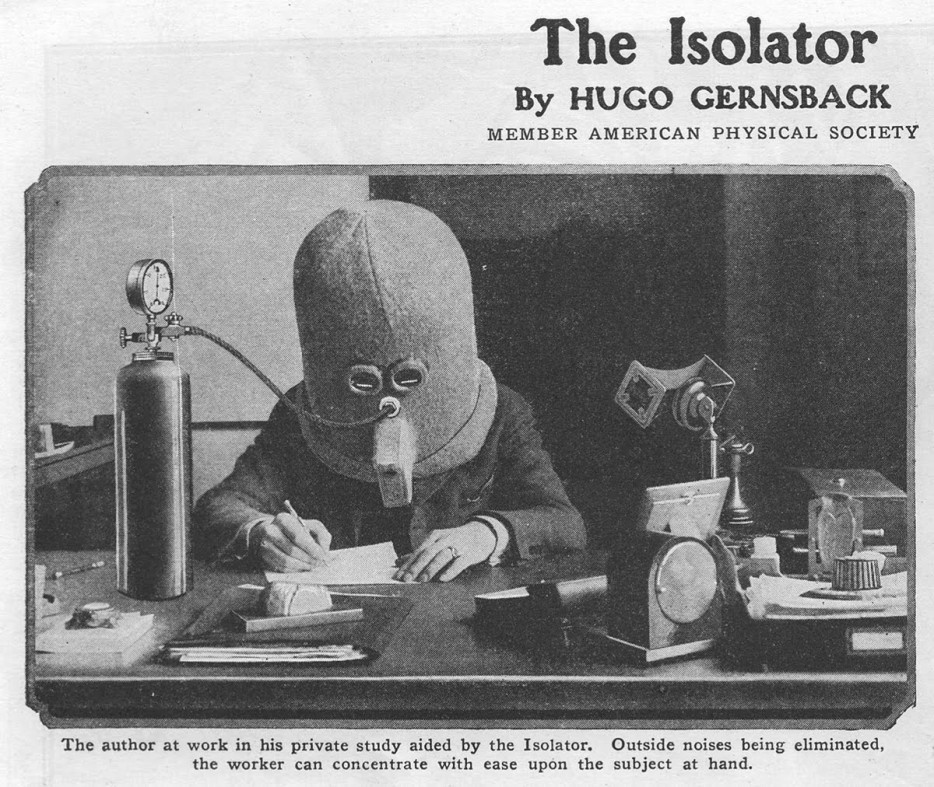 What a ridiculous idea! Why not simply sit in a quiet room? Or was that impossible back in the day? Well, apparently, this was made to block out sounds from outside while you are trying to concentrate. In front of the eyes, the glass windows are black, with two tiny lines scratched into the paint. However, shutting noises out wasn't enough. The writer wanted to be distracted by nothing at all, so the eyes had to be covered too in order not to wander around and get distracted.
Basically, it is impossible to see anything except the piece of paper that you have in front of you. You might be wondering why there's a gas mask, too. The funny answer is that people using the mask realized that if it was used for more than fifteen minutes at a time, the wearer would start feeling drowsy, which is why a small oxygen task was attached to the helmet. This one is quite the invention!
A Vibrating Rubber Finger To Massage Your "Gums"
Have you ever felt like you needed a little massage to the gums? Well, the vibra-gum massager finger is just for you. This 1950s dentist-approved product promised to stimulate gum tissue as well as increase and improve circulation. Also, the cleansing and refreshing product fits easily in your hand. However, one can't help but think that the vibra-gum looks more like a sex toy than something recommended by your dentist. Interestingly, in the past, many sex toys were not marketed for masturbation, but rather as therapeutic massages of the non-sexual kind, just like this one.
Household products sold with the word "vibrator" in the box were meant to relax muscles, but they were often bought as a sex toy rather than for its original intended use. Even the makers of the famous Hitachi Magic Wand argued for decades that it was meant to massage the kinks out of the shoulders and back, and that it was not intended to be a sex toy. While it is difficult to prove that these were in fact used as a pervertable object, there is something that immediately screams sex toy about this product.
The Pack Smoker, 1955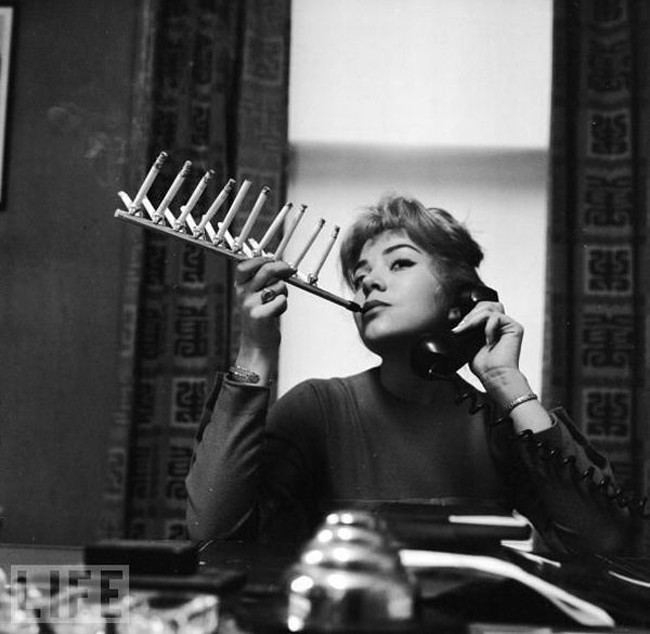 Have you ever felt like smoking a whole pack of cigarettes at once, but they just wouldn't fit in your mouth comfortably? Well, back in the day, with the Pack Smoker, you could. It's like a Juuls, but vintage. All jokes aside, how does one feel after smoking 20 cigarettes at once? That sudden, massive nicotine rush will surely make you feel sick really quickly. Did the inventor of this ingenious invention not realize that excess nicotine may cause violent vomiting, diarrhea, severe headaches, and dizziness? We hope that the model in the photo is alright, but we're guessing that she only took a drag for the photo and didn't smoke the whole thing. At least we hope she didn't.
The Egg Cuber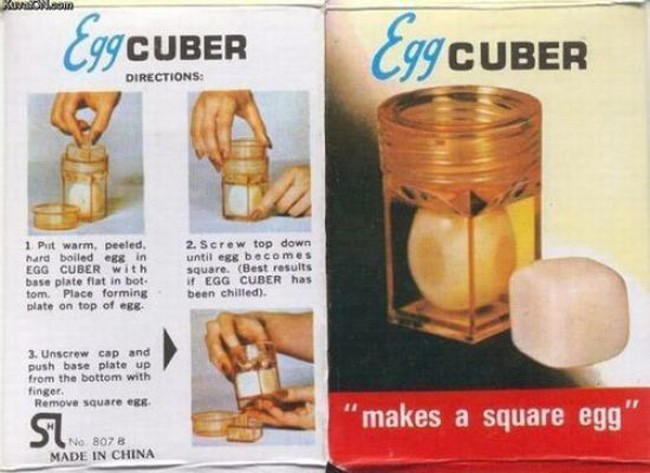 The egg cuber allows you to transform eggs into a square. "Put a round egg in … and get a square egg out!", boasts the box. Geometrically, this is wrong on both counts, as we're talking about ovals and cubes rather than circules and squares, but there's no point being pedantegg. This little machine looks like a medieval torture device to terrify hens.
The egg is squashed down then chilled under cold water rapidly before the egg is ready. But what's the point? Well, for one, it could fit easier in sandwiches. It's simple - either the idea of a square egg egg-cites you (sorry) or it doesn't. Perhaps you want to build yourself a little egg fortress? How are they going to stack on top of one another if they are round? It's interesting that this product, which was created for fun more than practicality, still exists and is used today, unlike many other items on this list.
The Scalp Massager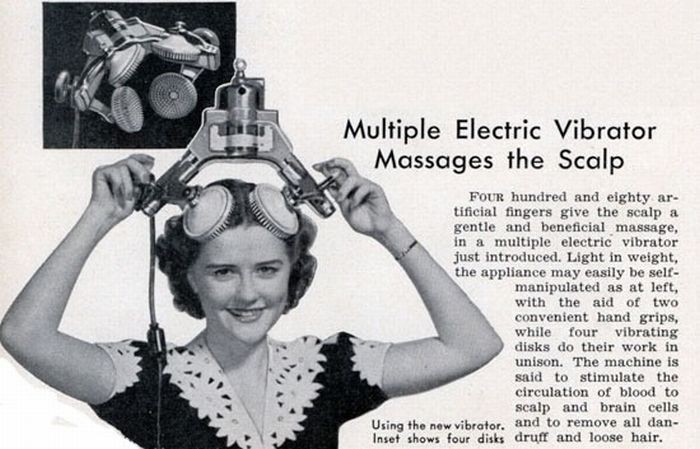 Although this invention is harmless, it is pretty creepy as it boasts having four hundred and eighty artificial fingers! According to the advert, "Four hundred and eighty artificial fingers give the scalp a gentle and beneficial massage, in a multiple electric vibrator just introduced. Light in weight, the appliance may easily be self-manipulated as at left, with the aid of two convenient hand grips, while four vibrating disks do their work in unison. The machine is said to stimulate the circulation of blood to scalp and brain cells and to remove all dandruff and loose hair". 
Clamps To Teach Your Kids How To Walk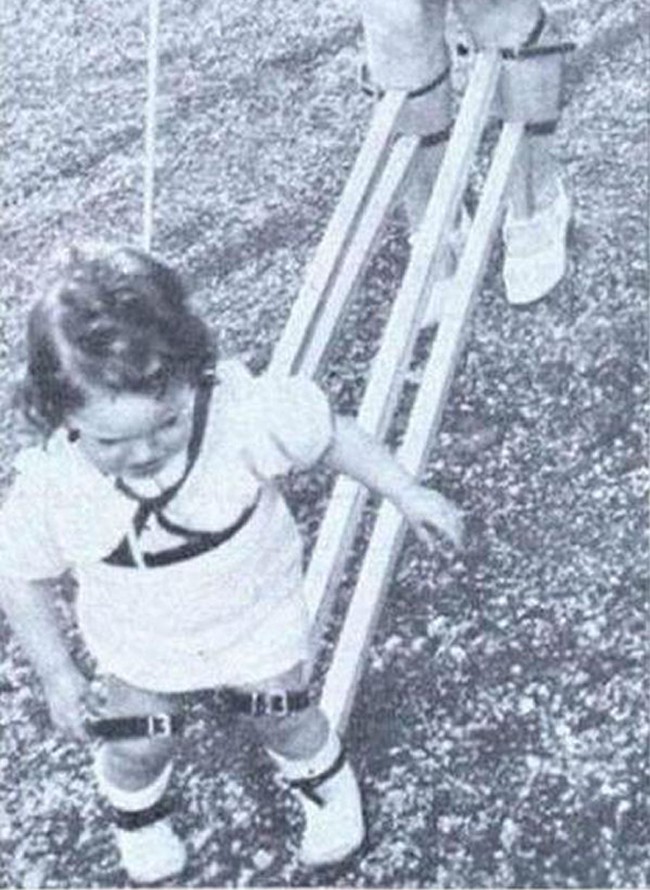 At first, one may think that these leg clamps were made to help children with polio, as it was a common disease in the 1950s. However, this invention was more basic than you might think. The baby leg clamp was invented to help children learn how to talk, and although they are not popular anymore, there might be some merit to the idea.
Usually, parents teach their baby how to walk by carefully lifting them up by the arms or by using a wheeled baby walker. However, one Swiss engineer thought he had a better idea, and decided to strap wooden beams between both his legs and those of his baby in order to be able to guide his child's movements. Also, the "device" included a harness attached to an overhead pulley to keep the child balanced.
Solar Bath Apparatus
This weird-looking device is not a camera, or even a telescope, even though it may look like both. It is a "solar bath apparatus" that, according to the advert, was extremely popular within the medical fraternity in Germany. The device was created to cure sicknesses of the head, such as catarrh of the nose, throat, or ears.
It is placed against the wall, with a patient sliding their head in from underneath it. Then, ultra-violet rays throws artificial sunlight on all parts of the head. The ad claims that "eventually, when fully tested and improved, it is expected to cure many of the illnesses of the head". For some reason, we highly doubt that. 
The Dog Squeezer, 1940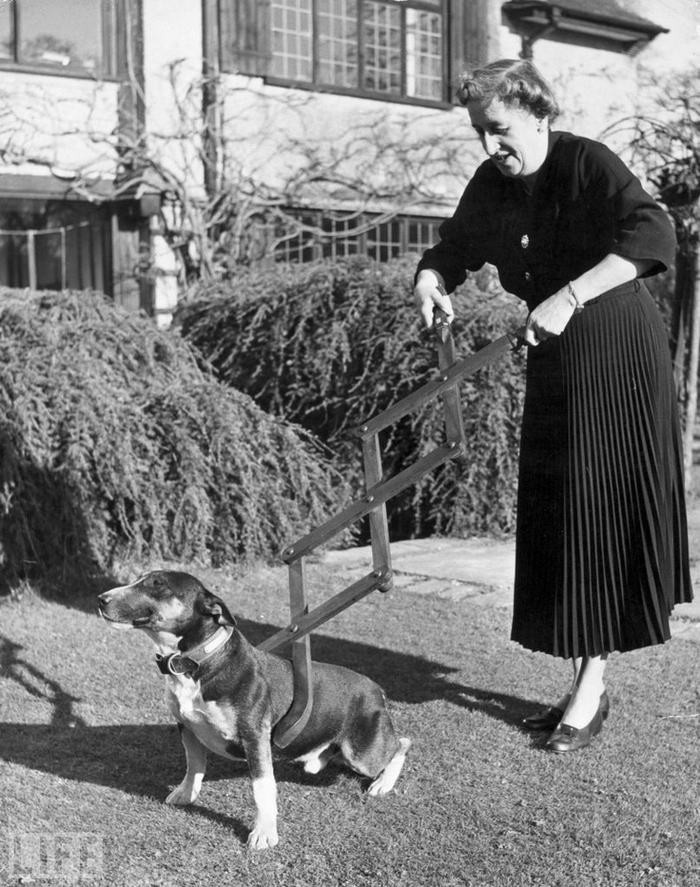 Sometimes, it feels like people make things up just to say that they invented something. For instance, look at this dog restraint invention from the 1940s. The fact that somebody thought this was a good idea is just insane. The bulky and flawed invention would squish the dog by the ribs, keeping them restrained. However, depending on the dog size, this could prove difficult. It is difficult to find much information on this ancient invention, but for the sake of both the dog and the owner, we hope that this design failed to become anything more than a mere prototype.
Bikes For Your Feet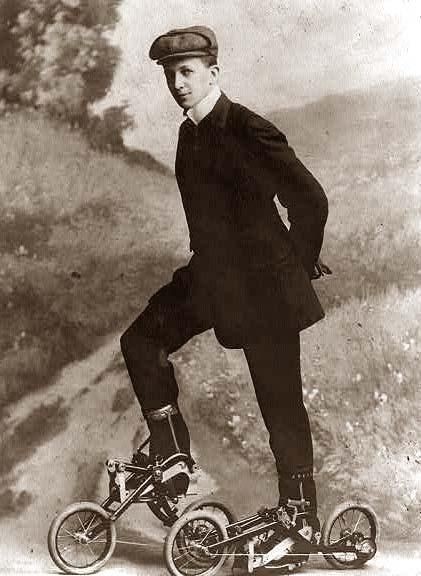 These are not really roller skates, but more like their grandfather. Invented by Swede Edward Petrini, this is the Takypod, a two-wheeled bicycle which was used by pedaling rather than rolling. This picture dates all the way back to 1910.
Unlike a traditional bicycle, where the rider sits, "takypoden" are attached to the feet. The takypoden moved by pumping your legs up and down.  After this invention, roller skating became a common pass time. While they look very different to the roller skates we use today, we would love to have a go at the Takypod! 
Motorized Roller Skates, 1961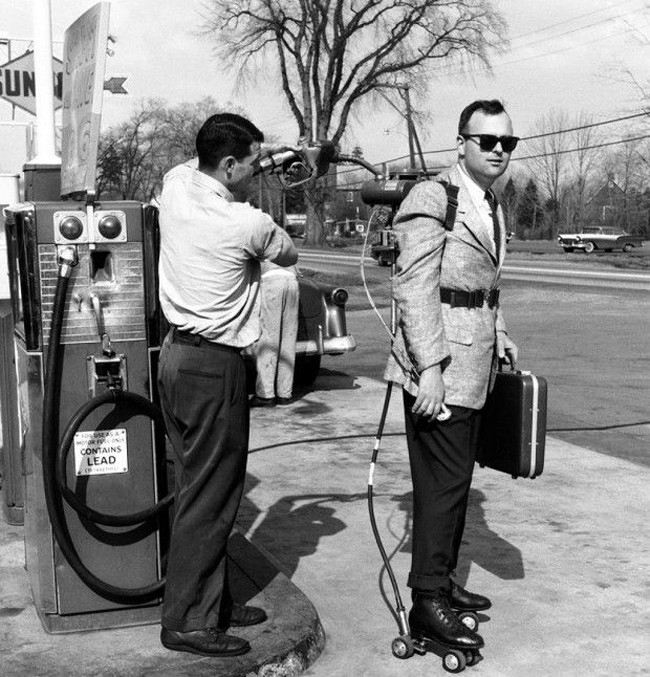 These motorized, self-propelled skates were manufactured by the Motorized Roller Skate Company in Detroit in 1956. They included a tiny one-horsepower piston engine that you would wear on your back, like a book bag. The small motor was connected to a flexible shaft that sent power to the rear wheels of the right skate. The machine was also equipped with a one-quart gas tank, as well as hand controls for the clutch, accelerator, and for cutoff.
The crazy part about this invention is that although the Motorized Roller Skate Company provided an engine that could allow you to reach speeds of up to 17 miles per hour, they never advised on a practical solution for how to stop! These skates were far from cheap, retailing at $250, which was an enormous sum in 1956.
Toilet Mask That Bleached Skin To Remove "Imperfections"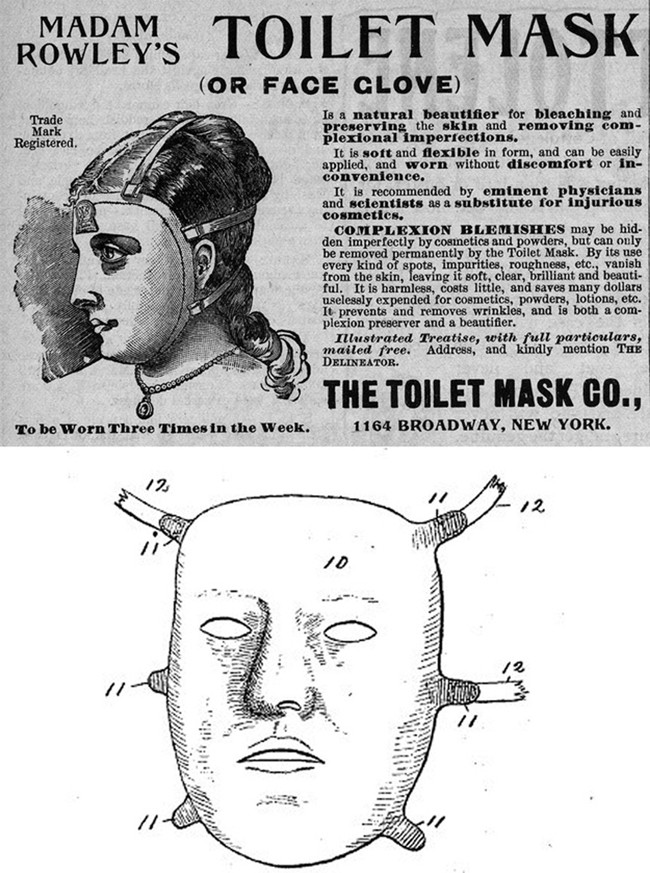 The very first Toilet Mask was invented by Madame Helen M Rowley in 1875. At the age of 51, she patented her invention as a "mask for medical purposes". The mask was soft and flexible, made of flexible india rubber, and it was made to be worn at night during sleep to beautify, bleach, and preserve the complexion. In her patent, Rowley went into more detail about her mask's purposes: firstly, it was to excite "perspiration with a view to soften and clarify the skin by relieving the pores and the superficial circulation", and second, to apply "unguents or other medical preparations to the skin of the face for the palliation or cure of cutaneous eruptions, blotches, pimples, or other similar complexional defects".
But what was the reasoning behind this strange idea? Well, the answer, again, is in the patent: "for freckles or fugitive discolorations and for clogged pores and capillary congestion, the perspiration excited by covering the face with a medium which prevents the escape by evaporation of the cutaneous transpiration acts as a bleaching agent, and to relieve the loaded pores and congested capillary vessels. But for affections requiring specific remedies the medical agent adapted to the particular ailment may be applied in the shape of an ointment or plastic preparation spread upon the interior surface of the mask."
Hair Growth Hat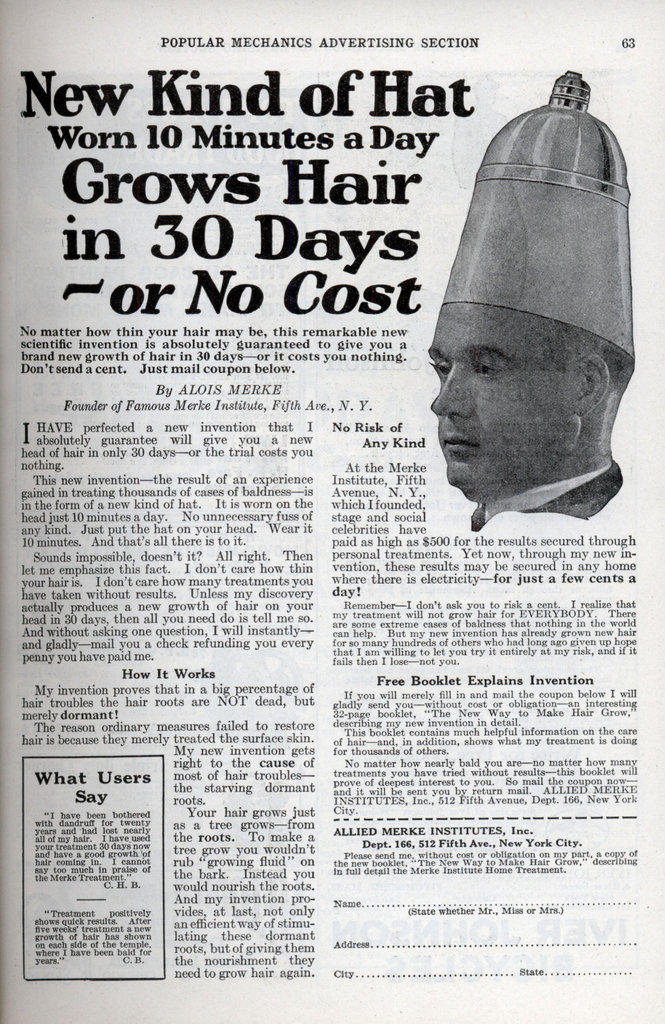 So, according to Alois Merke, Founder of the Merke Institute, Fifth Ave., N.Y, he invented a hat that makes your hair grow by wearing it only 10 minutes a day for a month, no matter how thin it is. The founder claims that this invention came about after treating thousands of cases of baldness and finding the scientific cure.
Does it work? Of course not. If it did, it would surely still be used today. The founder goes into a detailed explanation about dormant roots in our hair, and how his hat manages to stimulate these roots. The advert even includes testimonials, which of course, are fake.
Reddi-Bacon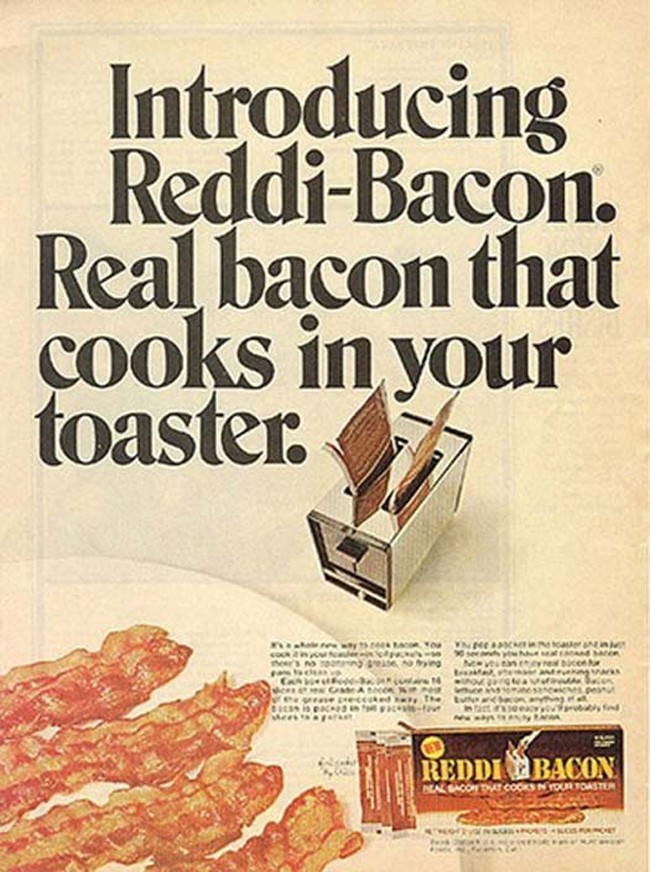 Reddi-Bacon was pre-cooked bacon packaged with absorbant paper in between two sheets of foil. Each packet included four slices that were made to go in the toaster. It would take only a minute and a half to be ready. Unfortunately, it had some issues with package leaking. As it was impossible to avoid excess fat dripping, many believed that the product was both a fire hazard and a toaster killer. Although a patent was filed, and marketing for the product begun, Reddi-Bacon never made it passed test markets and the product was pulled.
Since then, many sources such as CNN have called Reddi-Bacon stupid, but we have to appreciate the creativity. It would be nice to have some Reddi-Bacon right now. I even wouldn't mind sacrificing a toaster or three. As long as my fire extinguisher is closeby. 
The Poker Face Mask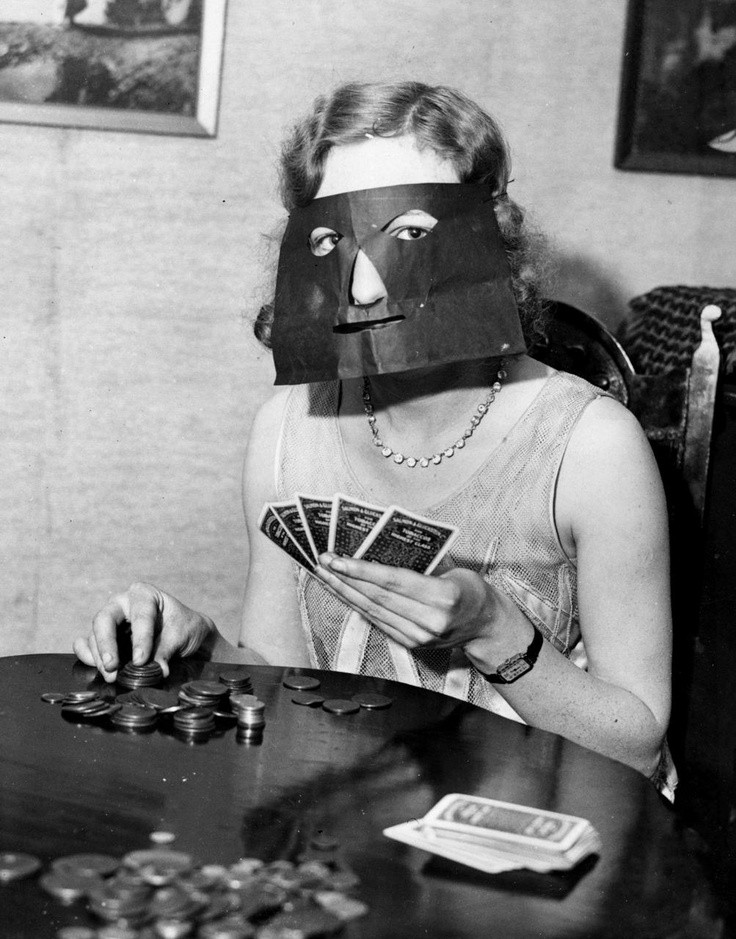 Poker is fun and all, but not when you're losing money. Nobody enjoys that. If you're not familiar with the term "poker face", it means keeping a straight face while playing the game in order not to reveal what your next move will be. Nowadays, some people like to wear a hat and sunglasses to mask their poker face, but back in the day, an ingenious person invented a strange-looking mask that takes care of this.
However, we can't help but realize that the eyes, which can reveal a lot, are still visible. There isn't much information about this groundbreaking new invention on the web, so it's unclear whether it was a success or not, but our guess is that it didn't make it far past this table.
A Massive Automatic Hairdryer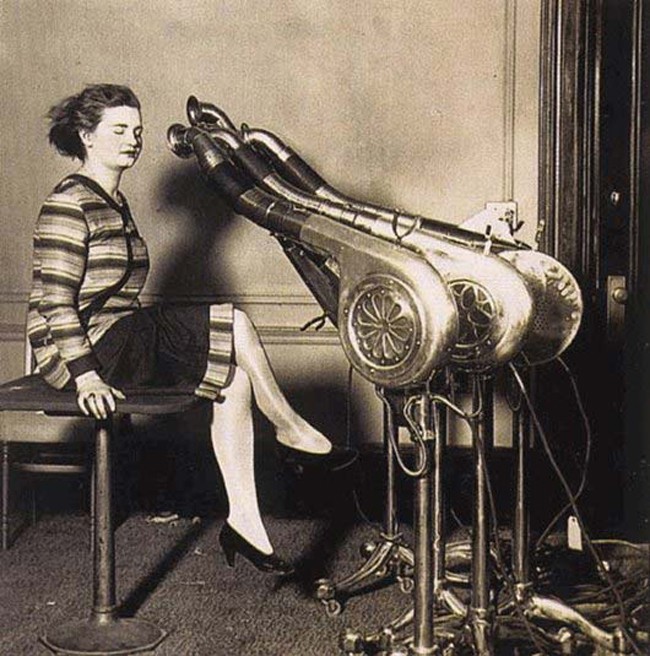 Aren't we glad to live in the 20th century! In 1920, this is how women dried their hair. This is what I imagine vintage aliens would use to telepathically read our thoughts. Also, it looks like four elephant trunks are blowing air on this woman's face.
Whatever does the job though, right? Well, it did, but at one's own risk. This came at a price cosmetically as the motors were externally mounted, which could lead to electrocution. It wasn't until the 70s that safety regulations were put in place for hair dryers. Today, with innovative inventions like the cordless hairdryer, this device looks absolutely cumbersome and impractical.
The Cone Face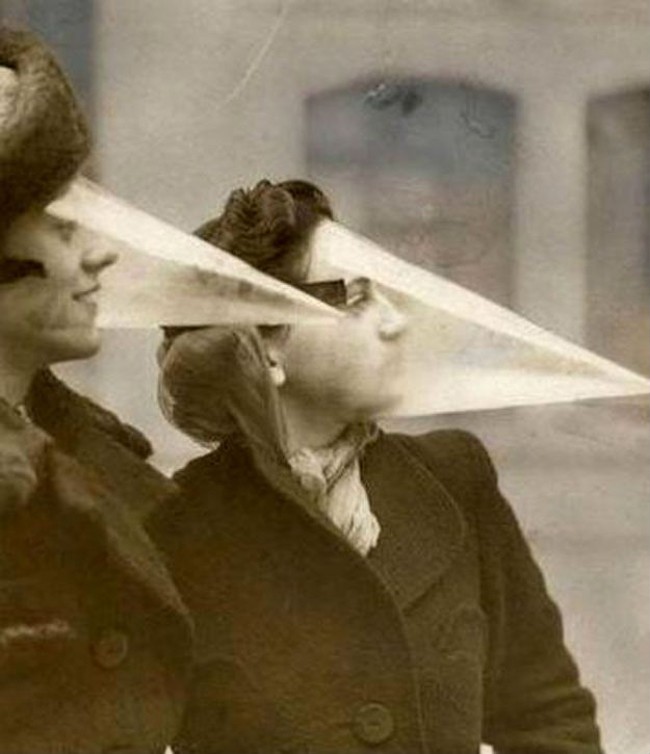 What we have here are cones made in Canada that aim to protect women's make-up from snow, rain, blizzards, and whatever else comes their way. Ever since the beginning of times, humans have been looking for new ways to battle the winter elements, and this may be one of the most interesting ones.
If everyone's wearing a plastic beak, perhaps it stops looking strange? There is barely any information out there regarding this piece of ingenuity which never really took off. No wonder. If it had, there would have been some serious etiquette guidelines when standing on crowded sidewalks. 
The Baby Dangler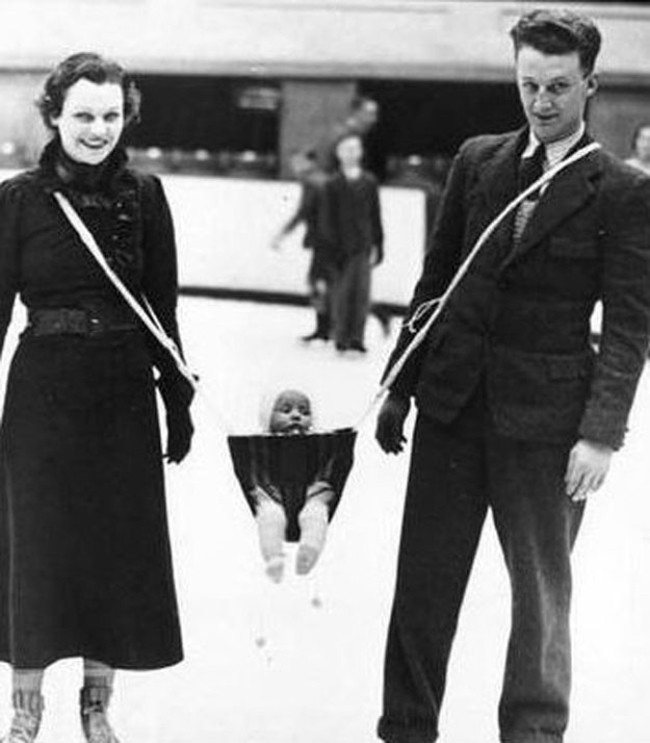 Well, at least mom and dad had equal opportunity to carry the baby. Invented by a hockey player in 1937, the idea was to allow parents to practice ice skating along with their little one. It was aimed at couples who liked to go ice skating frequently. However, it's not hard to see the flaws in this design. We wonder how many babies were injured before the product was deemed a failure. Sometimes, you just have to leave the baby behind, for his own sake.
The Baby Cage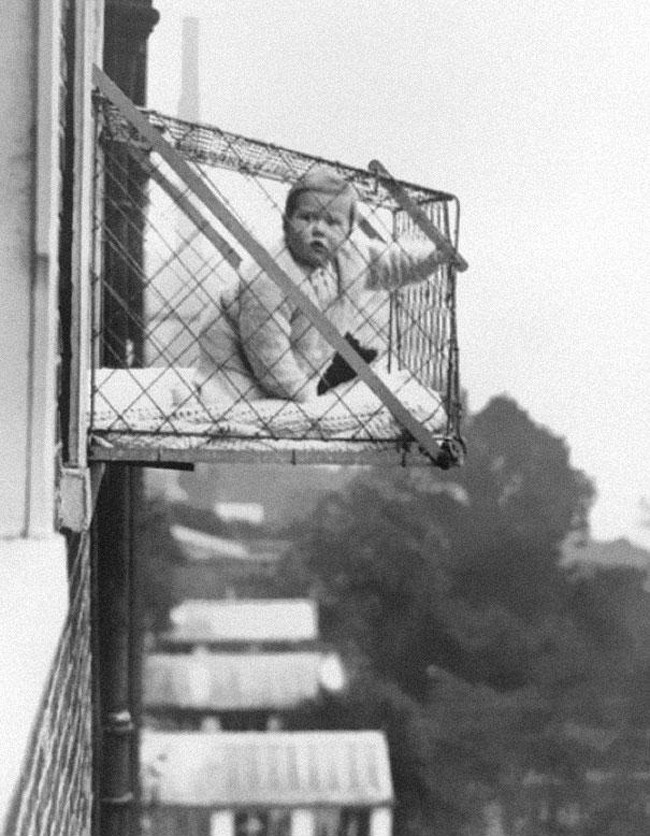 You may remember your mother being a little less concerned about child safety than today's young parents, perhaps by allowing you to sit in the front seat without a seat belt, but parents from a generation or two ago were on a whole other level. In the 1930s, moms in London would literally hang their babies out their window in these baby cages. The cages became popular after their invention in 1922, but according to Gothamist reports, it really all began in 1884 in Dr. Luther Emmett's book The Care and Feeding of Children, where he claims that babies need to be "aired" to "renew and purify their blood".
In hindsight, we can safely say that it is a bunch of nonsense. But mothers at the time didn't know better, so how would they "air" their baby if they lived in an apartment with no balconies? Well, mother started to outfit their windows with infant-sized cages for their babies to hang out in. We hope the view was nice.
The People Scooper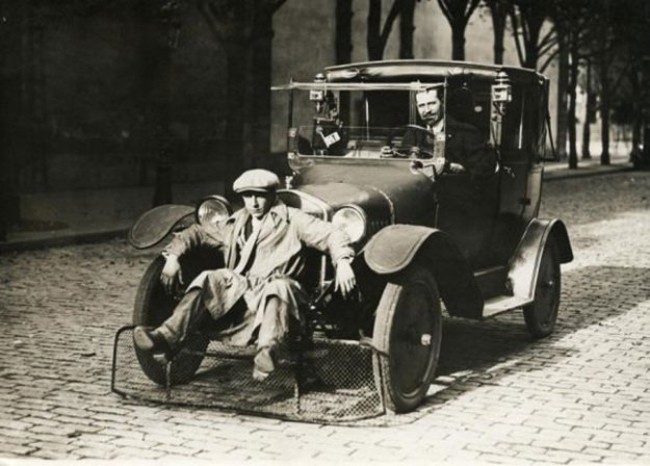 This picture was taken in Paris in 1924. The invention is a shovel that you can add to your car, and its aim was to reduce the number of pedestrian casualties. Bye-bye car accidents!Ever since the first car accident ever, automobile manufacturers have been racing to solve the problem of car deaths. The first invention of this kind was the pedestrian catcher. Also called the safety scoop or the car catcher, this device aimed to bring pedestrian deaths to a complete halt.
A Modern Mechanix headline in 1931 claimed ver that "it will literally sweep a fallen pedestrian before it and thus save him from being crushed to almost certain death beneath the heavy wheels." When a pedestrian was almost going to be hit, the driver of the car needed to pull a lever to deploy the shovel to the ground. There is a demonstration video out there if you're interested.
Tiny Umbrella To Smoke On A Rainy Day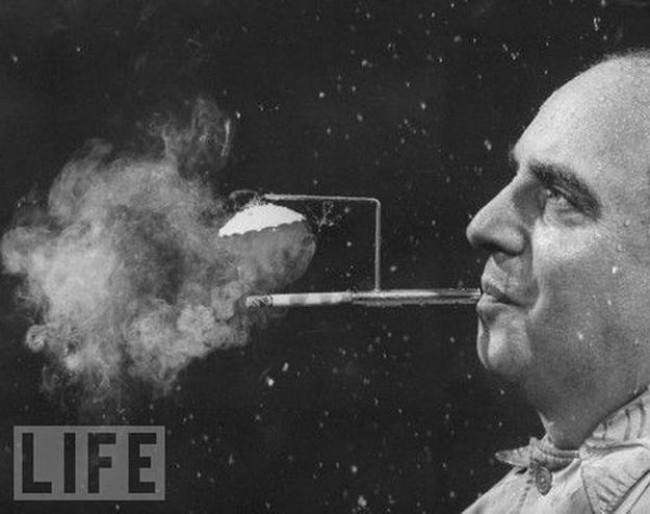 This looks absolutely ridiculous. In this photo, President of Zeus Corp Robert L. Stern is demonstrating his new invention. He was called The Smoking King as he came up with several "ingenious" products related to smoking cigarettes, such as this tiny umbrella that protects your cigarette from the rain.
If it's both windy and rainy at the same time, it's highly doubtful that this works better than protecting your cigarette with your fingers, as smokers do today. This is simply doing too much. We would love to see Robert L.Stern on Shark Tank, though. 
TV Glasses Decades Before Google Glass, 1960s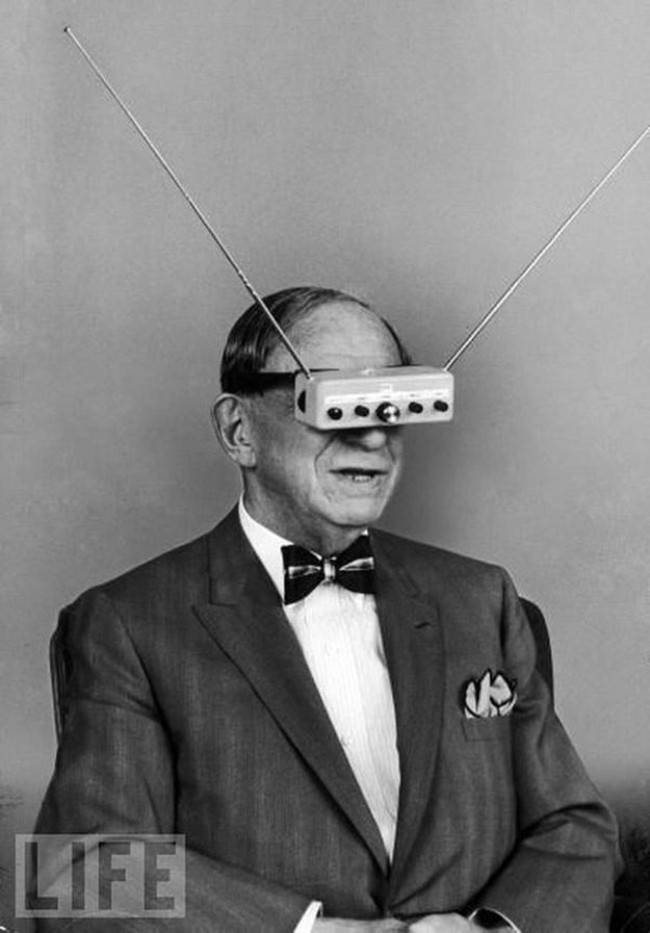 This famous photo depicts Hugo Gernsback and his "teleyeglasses" in 1963. Gernsback is responsible for the term "science fiction". In 1963, Life Magazine decribed his invention: "He now invents only in broad outline, leaving the actual mechanics of the thing to others. His television eyeglasses—a device for which he feels millions yearn—constitute a case in point. When the idea for this handy, pocket-size portable TV set occurred to him in 1936, he was forced to dismiss it as impractical. But a few weeks ago, feeling that the electronics industry was catching up with his New Deal-era concepts, he orders some of his employees to build a mock-up.
The teleyeglasses weighed around 140 grams. They were built around little cathode-ray tubes running on low-voltage current from small batteries. As there was a separate screen for each eye, it had the ability to display stereoscopic images, much like 3D virtual reality glasses do today. Life also described the effect as "neo-Martian". If only they could see what exists today.
Venetian Blind Sunglasses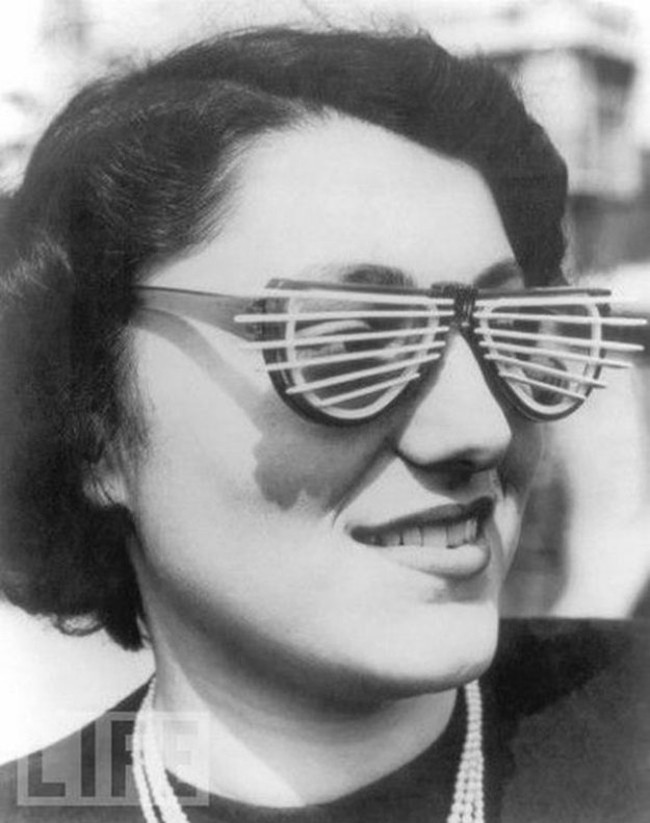 In modern days, influential rapper Kanye West popularized shutter shades, or Venetian blind sunglasses, as they called it back in the day. Many think that the artist invented these glasses, but they have actually been around since the 1950s. According to an advert for the shades: 'Tiny Venetian blinds are built into the top of a new type of sun goggles to shade the eyes from direct sun glare.
The Venetian-like structure is an integral part of the lenses, formed by deep rectangular indentations in the lens material which are then filled with opaque liquid. While the uncolored lenses are about ninety-eight percent transparent, the upper part intercepts overhead sun rays and casts a shadow on the eyes. In one type, the "blinds" are made of thin, flat wires.' 
Mouse Scaring Machine That Made Cat Noises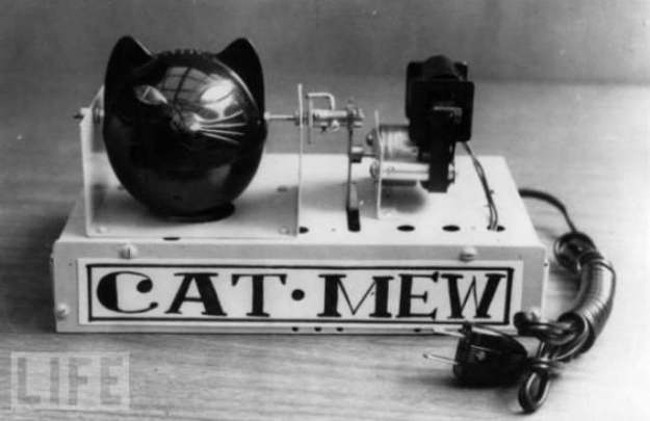 Built in 1963, the Cat-Mew machine is a mechanical cat has the ability to meow ten times a minute, and its eyes light up every time. The Japanese device, a solution to the mice plague, is aimed at scaring rats and mice. Nowadays, there are better ways to humanely catch mice, such as no-kill traps that you can easily make at home. In 1963, mouse traps already existed, as they were invented in 1894. However, assuming that the Cat-Mew works and keeps mice away, it is a better solution as it doesn't kill the poor creatures.
Pipe For Two, 1949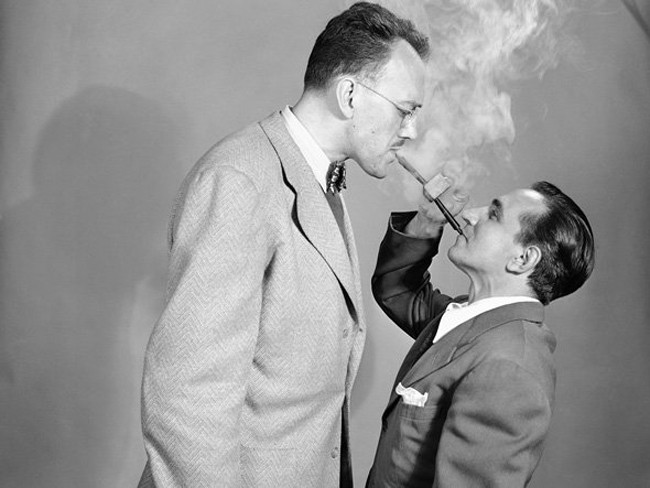 Here, George Braunsdorf and Joe Damone are demonstrating a two-man pipe called the "Double Ender" in New York on June 2, 1949. According to the manufacturer, the aim of this invention was to conserve tobacco for pipe smokers down on their luck, or simply to share a smoke.
We are sure that no one can argue that this looks really silly. As the invention is extremely ancient, there isn't much information about it anywhere, but it seems like it isn't a product that caught on, which is not surprising. 
Pain-Free Spanking Brush
Nowadays, though some parents do still discipline their children physically, it has become a practice that is frowned upon in many places in the world. However, back then, a little spanking was not a big deal. While fathers did want to discipline their children, the point was not to hurt them, which is why the Los Angeles Brush Corp invented the"revolutionary" pain-free paddle or pain-free spanking brush with rubber hands. The idea was suggested by a father in Montana who refused to beat his child with a conventional type hairbrush. Well, it's definitely better than the belt, that's for sure.
A Terrifying Swim Mask From The 1920s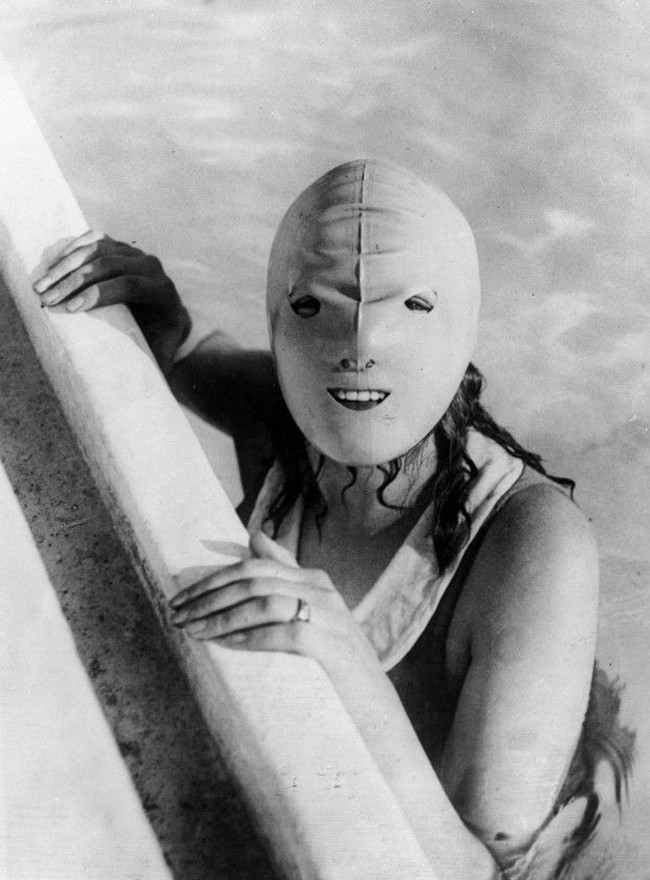 ndAt first sight, you might think that this is a scene from a vintage horror movie. However, this photo is actually real-life, and it depicts a woman wearing a full-faced swimming mask that was designed in the 1920s to protect women from the sun. Although it looks terrifying, these masks are actually still used today in China due to environmental dangers. Halloween is coming up, and now, I know what I'm going to wear. 
 Inflatable Life Vests Made From Old Tires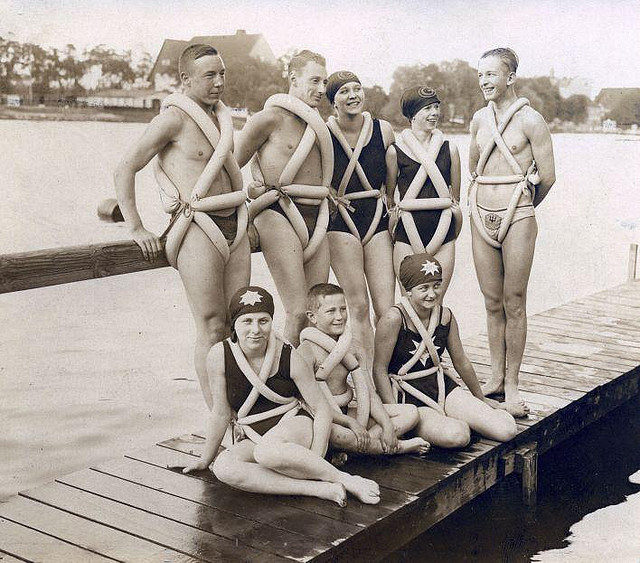 Have you ever wondered how people swam safely in the 1920s? Well, you now have your answer. These German teenagers seem quite proud of their invention. But it begs the answer - why didn't they take the photos while floating in the water? It doesn't look comfortable at all.
Today, we have floating tubes made out of plastic, which is both simpler and smarter than attaching a bunch of tires around your body. Also, you can choose to float when you want to. With these tyres around you, it will be impossible to do anything but float. We're going to have to pass on this one.
The Turkey Blaster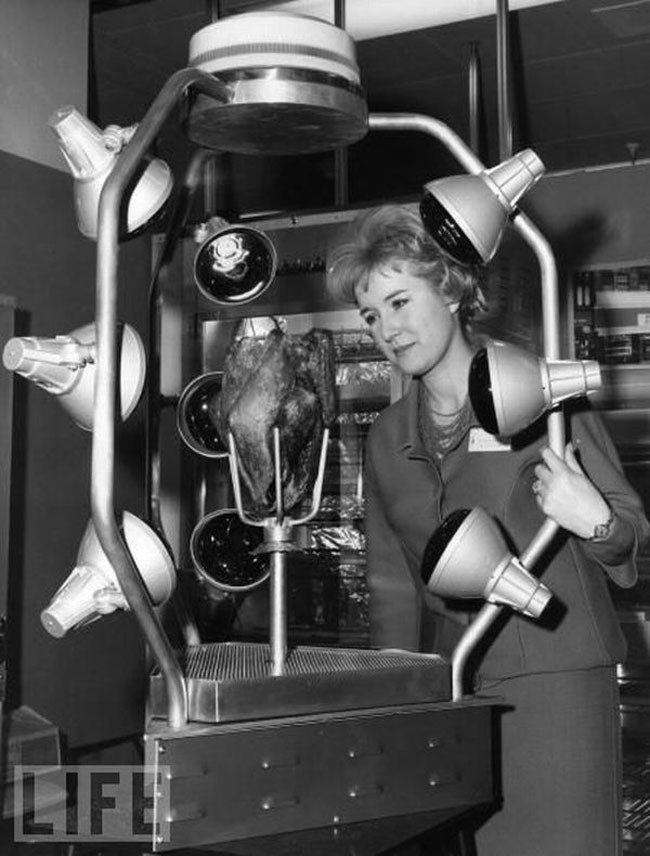 Roasting turkey has never felt so glorious. Just look at her face - she looks like she's about to devour that turkey entirely. The device looks absolutely insane to be used simply to cook a turkey! It looks like she is performing a rigorous medical procedure on the poor animal. Unfortunately, not much information can be found about this device, though we know that this photo was featured in Life Magazine. The cooking device consists of 9 lights blasted straight at the turkey, which is suspended in the air like an expensive art piece. We can't help but wonder how that turkey tastes. Perhaps this device makes it delicious?
Portable Sauna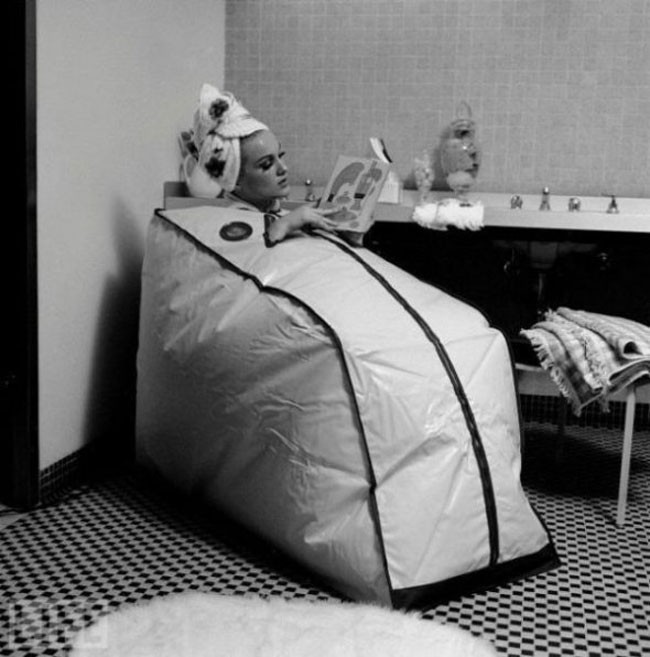 Holy mackerel! Is this the past or the future? Invented in 1962 in Finland, this ingenious invention saved you a trip to the sauna as it literally brings it right at your doorstep. Saunas play an important part in Finnish culture, and it is estimated that there are a total of five million in the whole country, which on average is about one per household. So, what happens when they have the urge to sweat but haven't yet had a permanent sauna installed in your home? Or what if you are traveling, for example? Well, the photograph above is the first example of a portable sauna.
It was listed in Life Magazine's 30 dumbest inventions ever. However, if you do a little research, you will find out that they haven't gone out of style. Finnish Olympic teams still take portable saunas with them when they leave for competitions. But it's not just for athletes; anybody can enjoy a sauna on the go. Well, I guess It's time to go on Ebay and find me one of those.
Motorized Surfboard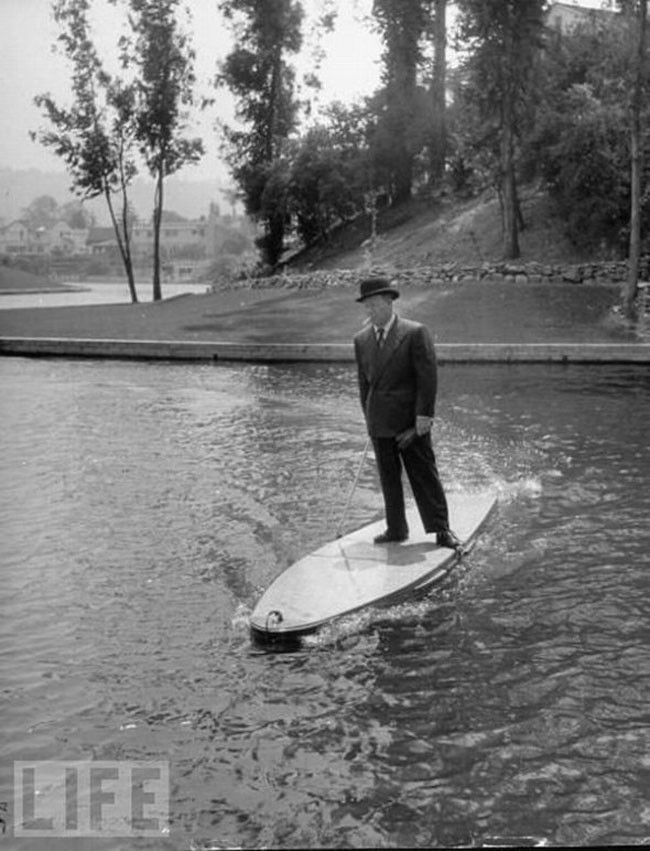 Okay, first of all, why is this man surfing in a complete suit with a cigarette in his mouth? Where is he going? What is even the point of this invention? This surfboard was invented in 1935, and perhaps there was nothing else to wear but suits at the time. It was known as the surf scooter, an invention made popular by a major Australian newspaper in 1935, who said the following: "Surfboard riders won't have to depend on outboard motors or speed boats to pull them over the water in the future. Below is shown a motorized surfboard scooter recently invented in Australia. The small motor in the rear furnishes the power and also sets the board at the proper angle in the water. A good machine for lifeguards."
Of course, the Surf Scooter was uncomfortable and unworkable. However, we must pay respect to the pioneers of the motorized surfboard. You've got to start somewhere.
The Family Bicycle Equipped With A Sewing Machine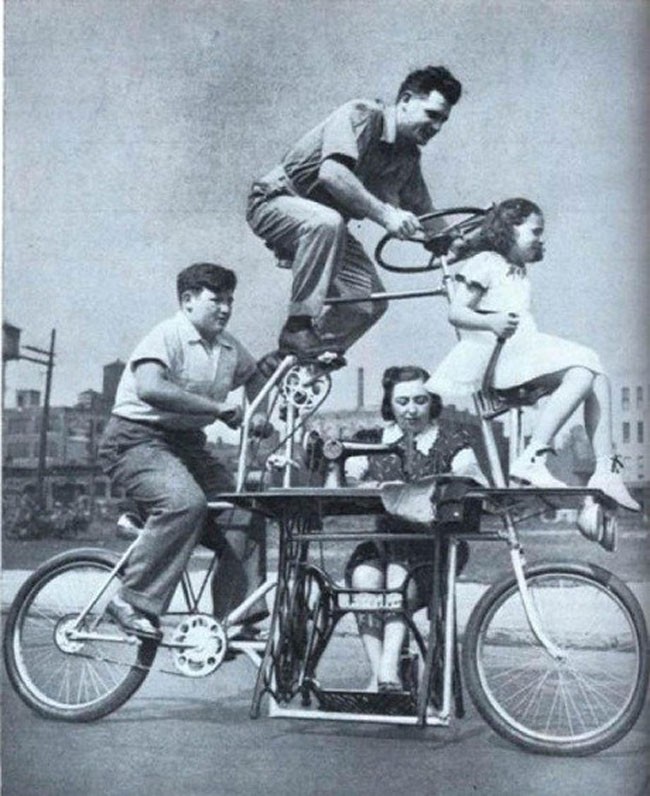 Cycling is a great family activity, but what if you only have one bike, and you remember that you really need to get some stitching done? Well, here's the answer. Meet the four-person bicycle that allows you to enjoy a ride with the entire family. Of course, mom is enjoying the ride too, although she is busy with the in-built sewing machine, which is powered by pedaling.
What a random, silly invention! Designed by Charles Steinlauf, this bike first made an appearance in Chicago in the 1930s. Steinlauf was known for building strange inventions around the streets of Chicago, no matter how impractical. This design was known as the "Goofybike". We truly wonder why this product didn't take off in the commercial space.
A Pram To Protect Babies From a Toxic Gas Attack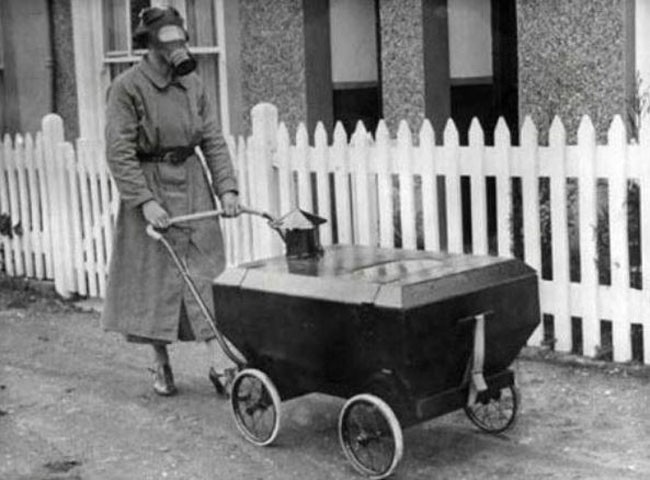 In 193, it was increasingly likely that Germany would attack Britain. So, FW Mills from Kent designed a big pram aimed at protecting babies from gas attacks that could come from German air raids. The child would be placed in what is essentially a small bed, with a lid over the top. A gas filter is attached to the top, which allows the child to get a supply of fresh air. Also, a rubber bulb helps push out the stale air. Well, if even just one baby was saved by this, this invention was a success. Sometimes, you gotta do what you gotta do!
The Single-Wheeled Motorcycle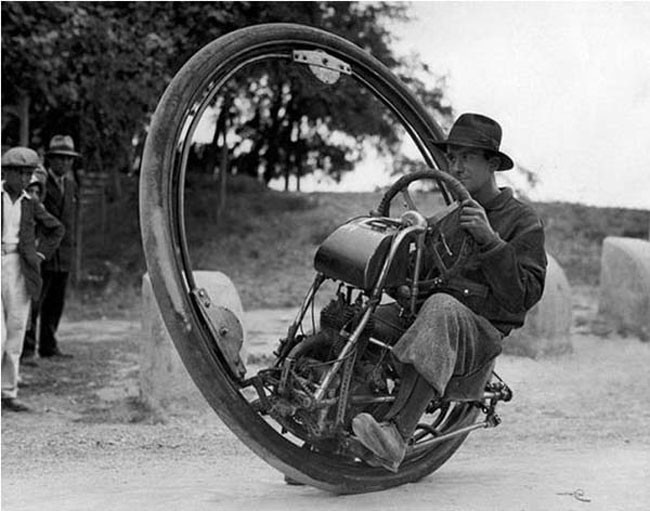 This monowheel was designed by Mr.Gerdes, a Swiss engineer, in 1931. Apparently, this man in the picture above is on a trip to Spain. A monowheel is similar to a unicycle, but instead of sitting on top of the wheel, the rider sits either within it or by it. The wheel is a large ring driven by smaller wheels that press against the inner rim. Like the one pictured above, most are single-passenger vehicles, although multi-passenger models were later built.
Pedal-powered monowheels already existed, and in the 20th century, they became motorized. Today monowheels are generally used for fun and entertainment, like at the circus, but from the 1860s to the 1930s, they were a serious mode of transportation.
The 2-Inch Television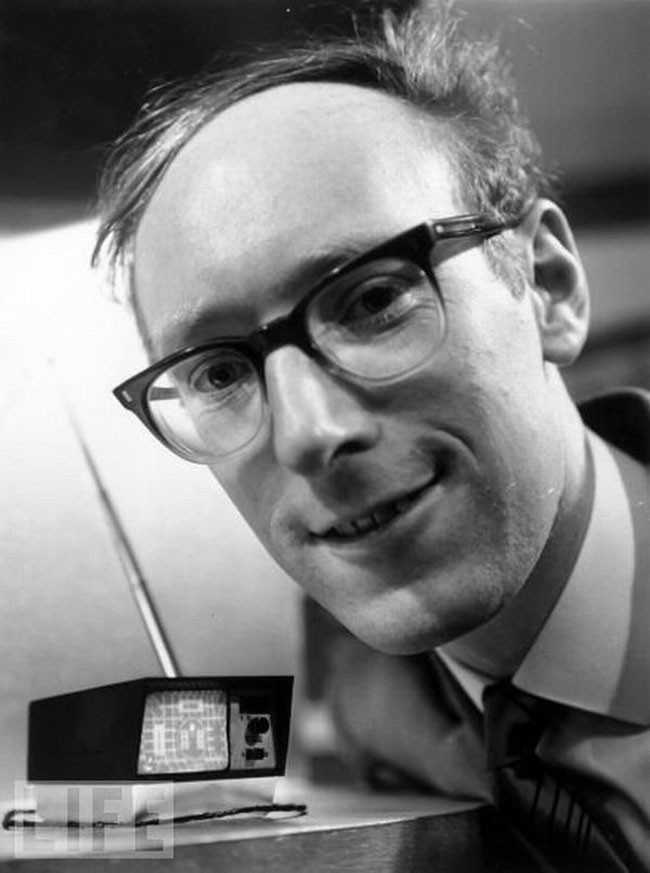 Would you watch TV on this 2-inch television? Well, you watch videos on your phone, don't you? What was the point of this, though? Instead of improving the television, this inventor made it worse. Here, British inventor Steve Sinclair seems absolute chuffed about his creation. Imagine watching the football on this. 
Toothpicks From 1620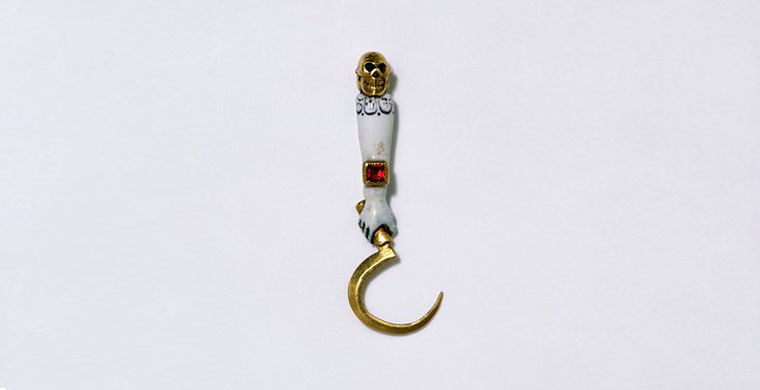 These scary looking toothpicks are from England, dating from 1620. At first glance, it looks more like something a pirate would use, so it's strange to imagine that such a fancy artifact does something as banal as cleaning your teeth. Also called the Morthouse, this toothpick is made of an enameled gold arm with a curve sickle for picking teeth. This remarkable item also has a ruby-embedded hand with Islamic motifs, and a skull at the top. Back in the Middle Ages, toothpicks were a traditional item, and they were often made from water bird claws. 
Cameras Mounted On Pigeons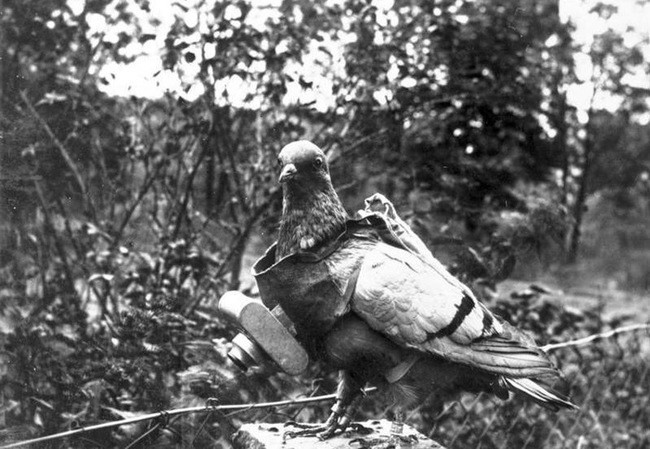 During WWII, pigeons would carry these cameras to help armies with their aerial reconnaissance. It's pretty cute if you think about it, but isn't that heavy for a little pigeon? Pigeon photography was invented way before WWII, in 1907, by German apothecary Julis Neubronner. He also used the birds to deliver medication. He would fit a pigeon with an aluminum breast harness to which he would attach a lightweight time-delayed miniature camera. The inventor's initial patent was rejected, but in 1908, he produced authenticated photos taken by the pigeons, and he was granted the patent. 
 At first, the use of pigeon photography for aerial reconnaissance seemed interesting. Due to the quick perfection of aviation during WWII, pigeon photography faded and Neubronner dropped his experiments. However, in the 1930s, the idea was briefly resurrected by a Swiss clockmaker. Although it is widely known that pigeons were deployed extensively during WWII, it's not clear to what extent they helped with aerial reconnaissance. 
Chair With a Set Of Scales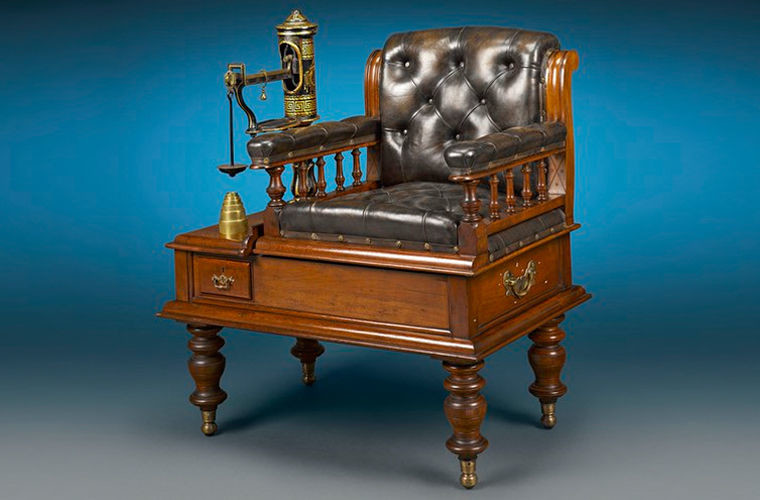 As you can see in the photo, the chair has a set of scales attached to it. Was this to remind people to get off their buts and go exercise? It is impossible to find much information about this chair, but it seems like it may be from the Victorian period.
Syringe Used For Abortions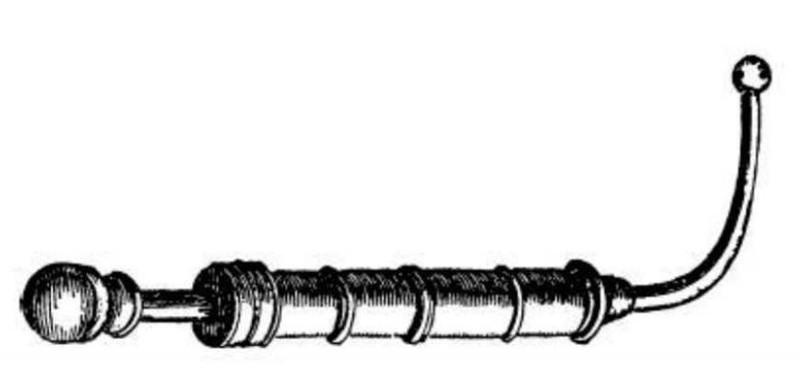 The image above is a baptismal syringe that was used for abortions. Abortion is a hot topic in the media nowadays, but it is nothing new and is a practice that has been used in different cultures for generations. However, of course, the medical science behind abortion is miles ahead of what it was back in the day.
Wishing Tree In Scotland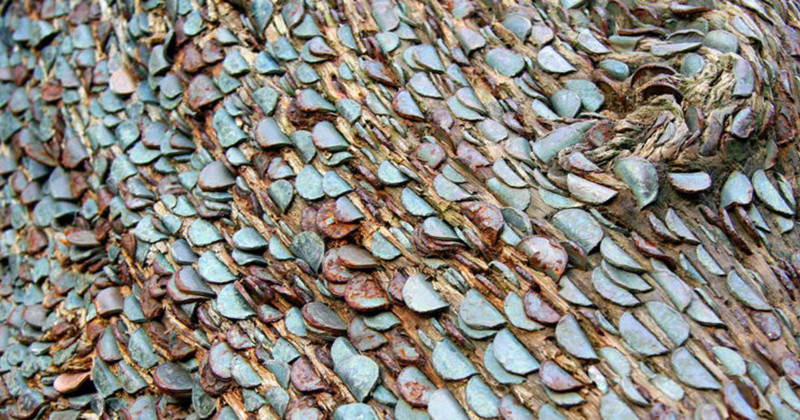 It may be difficult to tell what this is at first glance; in the same way that we use wishing wells, people placed coins in the trunk, and with time, the tree grew over it. How artistic is that! We hope it didn't bother the tree, though. Who says money doesn't grow on trees?
The coins are placed into tree trunks using stones by people hoping it will bring them good luck and fortune. This fantastic phenomenon has been going on for centuries, with coins buried deep in their bark with time. The tradition to make offerings to deities at wishing trees is a hundred-year long tradition, and the combo of man-made and natural is absolutely spectacular.
Vintage Underwear - Koteka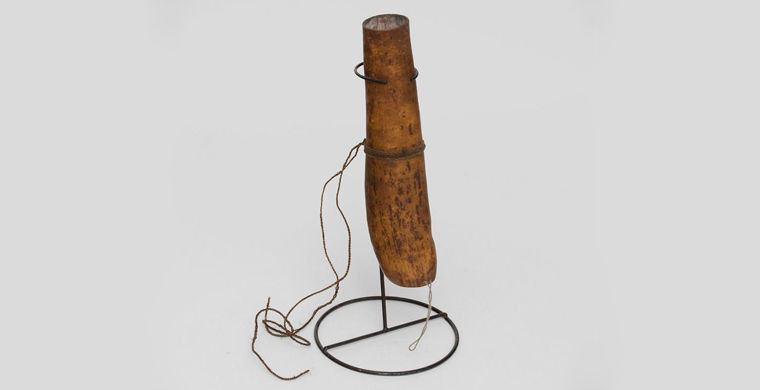 A very long time ago, in New Guinea, men wore a koteka, which is a case made by gourds to cover their family jewels. As you can probably tell, they didn't wear any underwear or pants.
As many of you might wrongly assume, kotekas have nothing to do with sex; they simply protect male tribesmen from insects in the jungles of New Guinea. The penis sheats were either made from gourds, woven materials, or both. Many were decorated with paint, feathers, and cowry shells, while others were plain, just like artifacts from New Guinea. The gourds used to make the sheats are grown at the village, close to the villagers' homes. Surely, there must be a better way!
Ancient Pair Of Sunglasses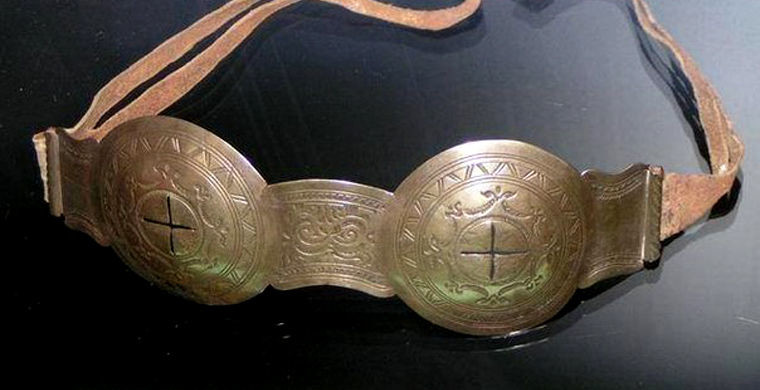 The image above is an ancient pair of sunglasses. If there's one thing they do, it's block the sun, along with everything else around you. Who on earth thought this was a good invention? These are actually Siberian goggles, which are some of the world's earliest glasses.
They were made to prevent blindness from the sun's piercing reflection off the snow. Some are made of silver, but this item, which became both a necessity and a fashion statement, was also made from walrus teeth, whalebone, leather, bark, and hair. In the winter, softer materials were used. Those like the image above, with tiny cross like slits, were made to block the harsh bright sun from the eyes.
Type 89 Machine Gun Camera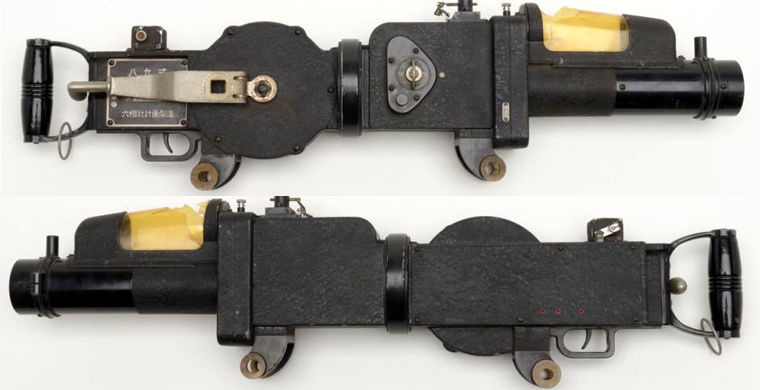 This may look like a Type 89 machine gun, but it is a camera used to train aircraft during WWII. It snapped photos of targets to act like it was firing actual bullets. Say cheese! Taking a good photo meant the soldier "hit" the target. Officially called the Rokuoh-Sha Type 89 "Machine Gun" Military Training Camera, it was made by photography brand Konishoruko, which later became Konica, to train Japanese airplane gunners in WWII.
To train new gunners, cameras would be placed on airplanes instead of guns, and the photo would capture whatever the "gun" was aimed at, and they would later be examined to determine the gunners' accuracy and improve upon it.
Old-Fashioned Hair Dryers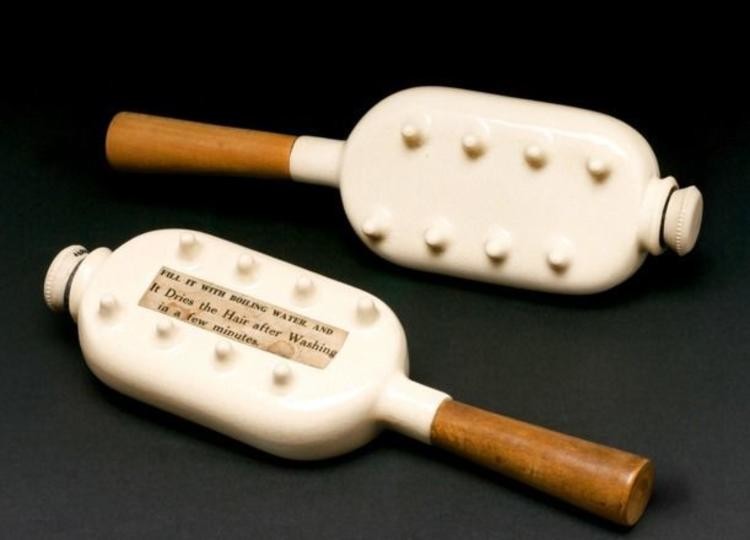 We know what you're thinking - these do not look like hairdryers at all. Well, they actually were. To use them, you would have to boil water and wrap your hair around them. The instructions says: "Fill it with boiling water and it dries the hair after washing in a few minutes".  It sounds pretty safe, right? There is absolutely no way that this has caused any accidents. However, as impractical as it sounds, it is a piece of history, as it's one of the first hairdryers ever. The first was invented in 1890 by French stylist Alexander F.Godefroy, and it consisted of a metal bonnet attached to the chimney pipe of a gas stove, which you would then sit under.
Hats of the Qing Dynasty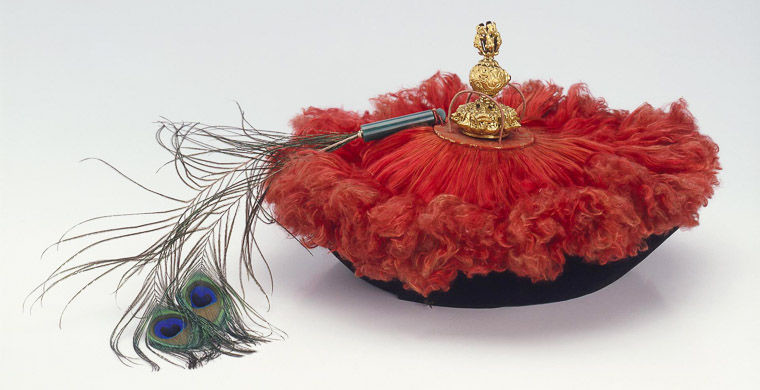 The official hats of the Qing Dynasty (1644-1911) were very different from those of previous dynasties. Any military or political personnel above the rank of bailiff wore a kind of weft hat. There are two different types of hats: caps and top hats. Top hats, which are also called big hats, are designed with the weather conditions of summer or winter in mind. 
Winter hats were round and black, with a black skullcap and an upturned brim made of fur, satin, or woolen cloth, depending on the weather. Summer hats were more simple; cone-shaped and with no brim, they were usually made from strips of bamboo or vines and laced with silk brocade. Also, some were white, light green, and yellow, and all were capped with red tassel. Both the winter and summer hats had knobs of different materials, which showed officials' ranks. The feathers were either single-eyed, double-eyed like in the photo above, or triple-eyed. Only noblemen who had done" immortal" feats were allowed to wear feathers.
Portable Altar For Voodoo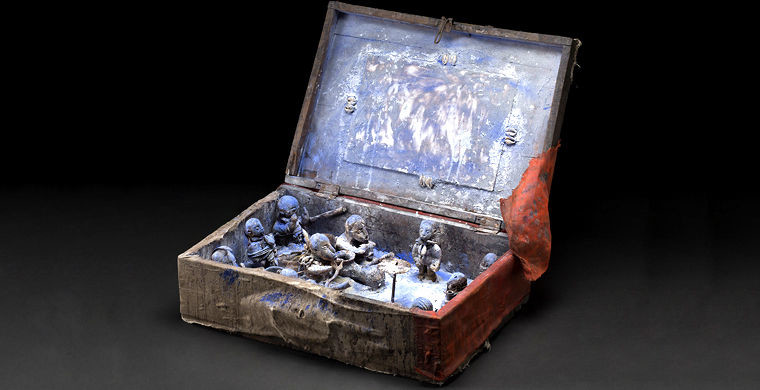 This creepy little device is a portable altar to practice voodoo with. You never know when you're going to be on the go and want to do some voodoo worshiping! 
Spoon Used To Feed Bears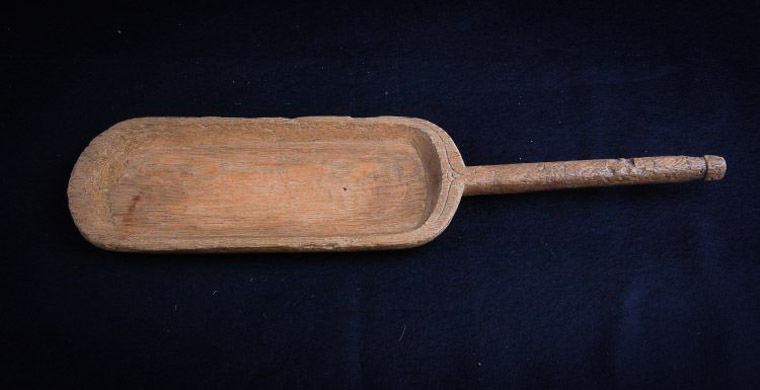 Although there is very little information about this invention, apparently, it was used to feed bears. Wait - why would anyone ever have to feed a bear? Is this a pet bear that we're talking about, or a bear in the wild? Feeding the animals is fun and all until you become the food yourself! 
Knife Made Out Of Shark Teeth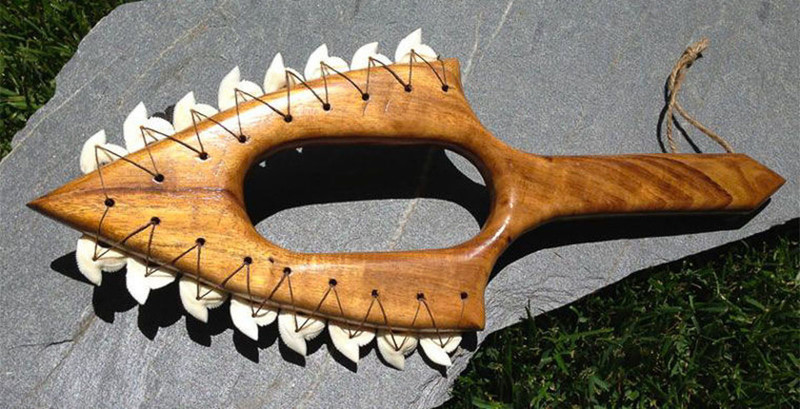 This beautiful wooden knife is made out of shark teeth. It's made out of wood, as it originates from a time when metal was inaccessible. It's great for a meal, but also to defend yourself from vicious creatures ... you know, like sharks!
Knapsack Flamethrower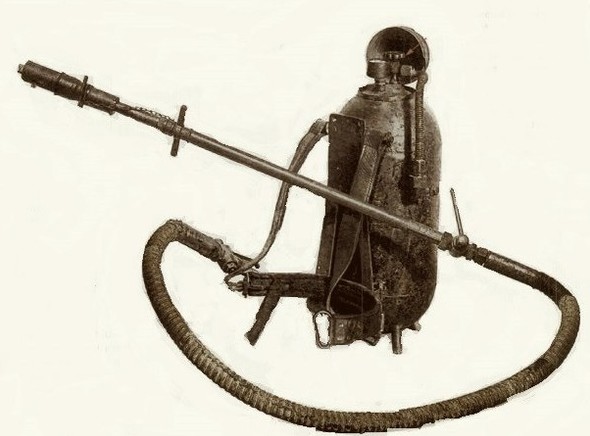 Dating all the way back to 1916, the Flammenwerfer M.16. was a backpack flamethrower made in Germany. It was employed during WW1 in trench warfare. It is the very first flamethrower to be ever used in combat, in Verdun in 1915. Also, it was used in 1918 in the battle of Argonne Forest in France against Allied forces, and if you're interested, you can see it in use in the 2001 film The Lost Battalion. Most of the time, when we picture a knapsack, we think of the kind that you take to school, not the kind you exterminate enemy forces with!
Sources: Emlii, Boredomtherapy, Brightside