Extremely Dangerous Jobs Of The 20th Century
Are you familiar with the expression "it's a dirty job, but someone's got to do it?" It can apply to many of the dangerous jobs that we have listed here. Wherever people live, they need to provide for their families, and throughout time, people have pushed themselves to accomplish great things. Whether they were building extraordinary monuments like the Eiffel Tower or coming up with life-changing products, people have always worked through tough situations. Would you have managed one of these jobs?
It Was A Dangerous Job, But Someone Had To Carve The Presidents Into Mt. Rushmore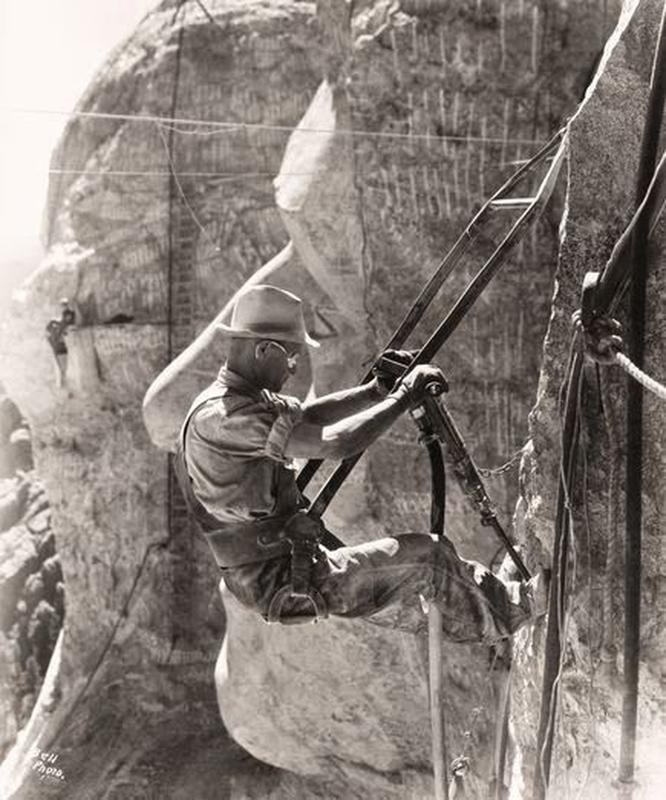 In the 20s, as South Dakota state historian Doane Robinson wanted to boost tourism in the Black Hills, he had the idea of carving historical figures into massive granite pillars. Eventually, the site chosen was Mount Rushmore. Work began in 1927; 400 workers were tasked with chiseling their way into the mountain, removing 450,000 tons of rock as they sculpted the famous faces.
Only The Most Courageous Of Men Could Fell Redwoods In The Early 1900s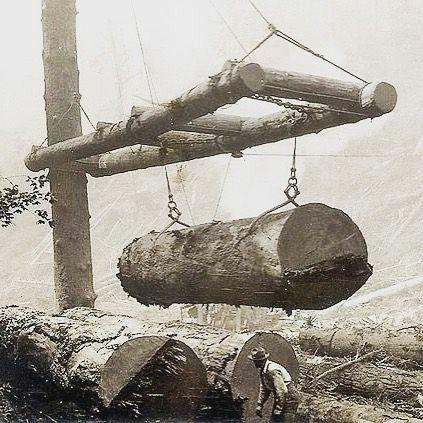 The redwood tree is one of the largest and oldest living organisms on earth. The most sought-after part of it is at the very top, and in the early days, scaffolds were used to raise the fellers. Boards were wedged in the side of the tree to have the space to stand and cut. Once the tree fell, its limbs were cut off, and it would get cut into more manageable lengths. Then, finally, the peeler can remove the bark. The tools used were quite dangerous, and the immense size of the trees made it even worse to manage. 
Many Overhead Powerline Workers In 1952, In Nagoya, Japan Were In For A Shock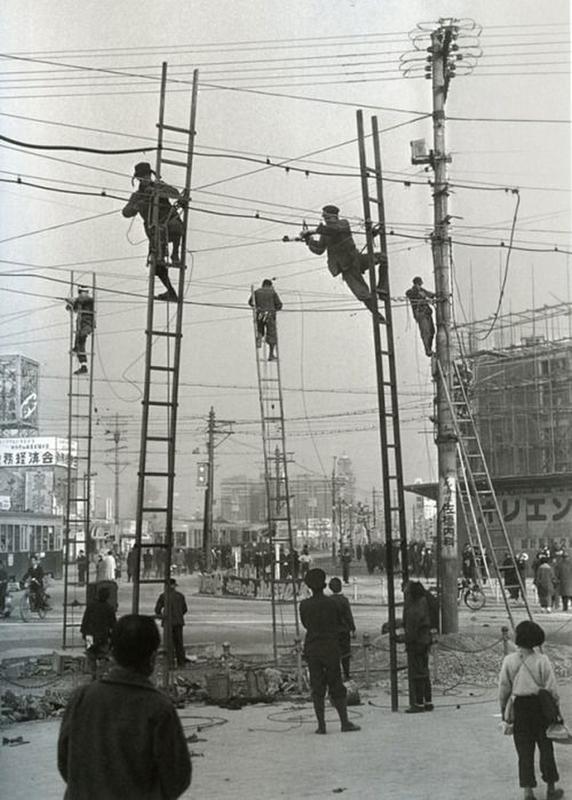 The overhead powerline workers are heroes that perform a risky job to allow us to keep our lights on. Today, many regulations have been put in place to protect these workers, but the majority of fatal electrocutions still happen to them. Aside from electrocution, workers can die from falls, be hit by falling objects, get burnt, or even over-exhausted.
Bringing New York And New Jersey Together With The George Washington Bridge Was A Deadly Business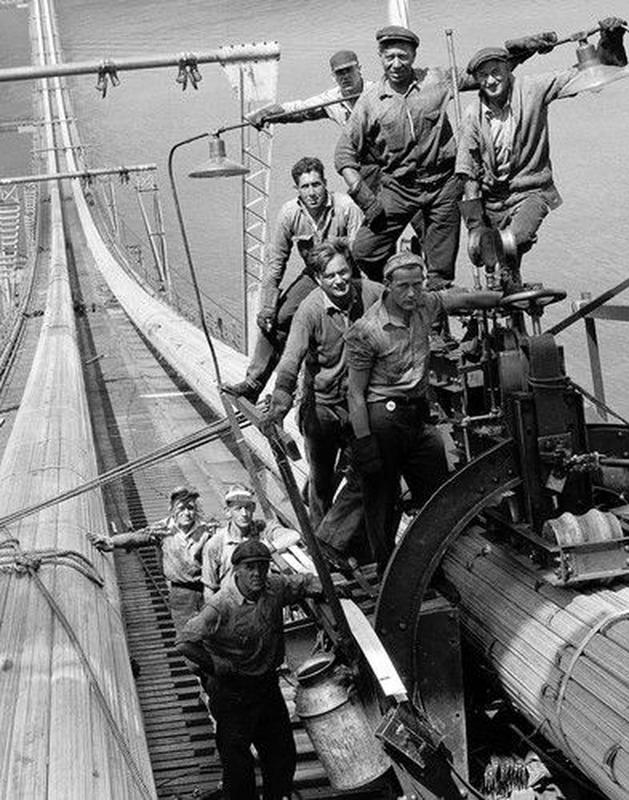 The George Washington Bridge is an excellent work of engineering that connects New York to New Jersey. Construction began in 1927, and it took a total of one hundred years to complete. Shortly after construction started, three men drowned when a cofferdam gave way under pressure and released the full power of the Hudson. The most horrible deaths occurred when three men fell into the concrete, entombing them forever.
A Chicago Police Officer Examines Thirteen Bullet Holes In A Glass Window At The Scene Of An Attempted Murder, Chicago 1920s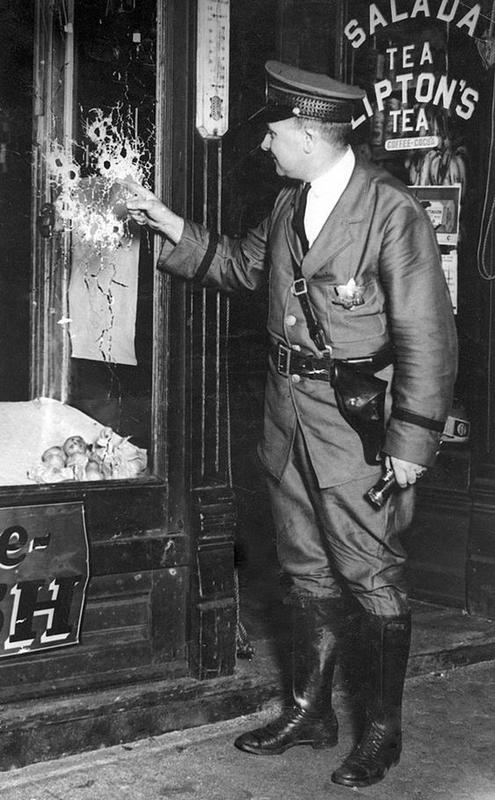 Police officers know the risks they take every day due to their jobs, especially in cities such as Chicago. In the 20s, the statistics were quite daunting, and this was because the city was run by the mob, in specific, Al Capone. He was involved in different sorts of crimes, from alcohol and gambling to prostitution and extortion. While some of the killings were random, others were very specific, and police officers were targeted, as well as lawyers, newspaper reporters, and even saloon owners. 
This Deep-Sea Diver Gets Big Air, 1915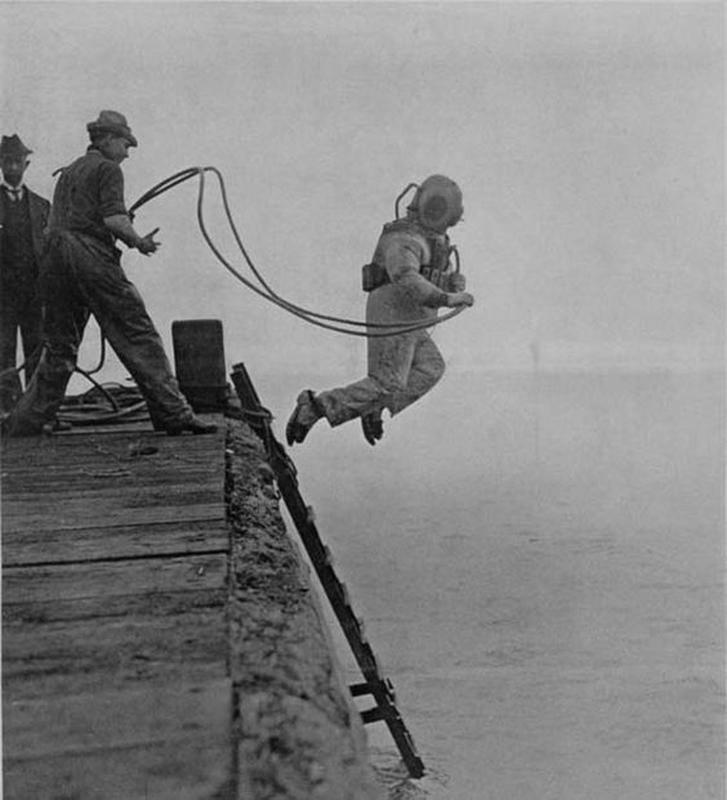 Humans have been diving in the sea for a very long time, mainly to look for food and other resources. While this job doesn't seem particularly dangerous, sometimes, it is. No, the biggest danger is not getting bit by a shark, but rather something more simple - lack of oxygen. When you dive, it's important to breathe naturally, and as you rise and the pressure changes, you must ensure to do it at the right pace.
This Acrobatic Man "Enjoys" A Cup Of Tea On A Construction Beam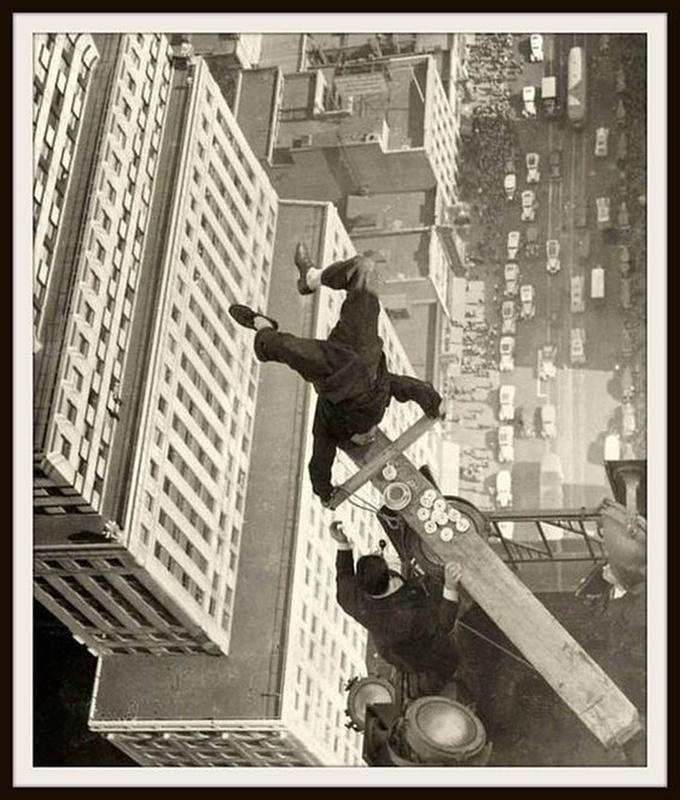 This job is probably an acrophobic's worst choice of employment. The construction worker has to balance himself on a beam, as well as be aware of the wind movements, making sure to add extra weight and lower his center of gravity. Aside from the danger of falling, the workers have to carry heavy tools and work outside in extreme temperatures. 
Divers In The Late 19th Century Wore Suits More Than Three Times Their Weight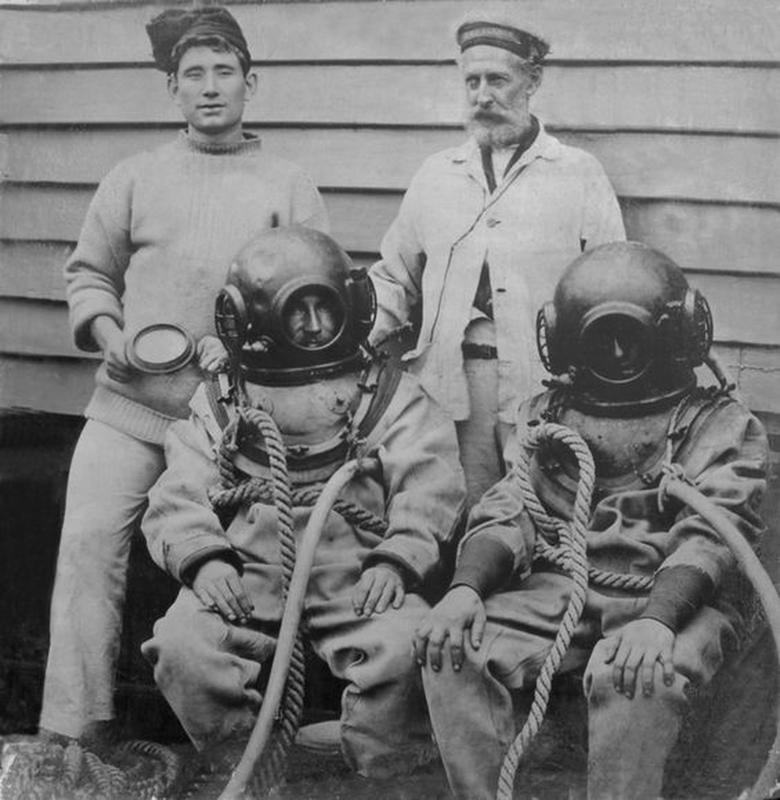 Modern diving can be risky, and back in the day, before innovation, it was even worse. Divers were at risk of nitrogen narcosis, hypoxia, decompression sickness, and drowning. The diving suits they would wear weighed 830 pounds, and they were designed to allow divers to reach depths of 2000 feet. Despite being safer today, diving can still have long-term neurological damage.
A Foundryman At The Portland Stove Foundry Doing His Best To Stay Cool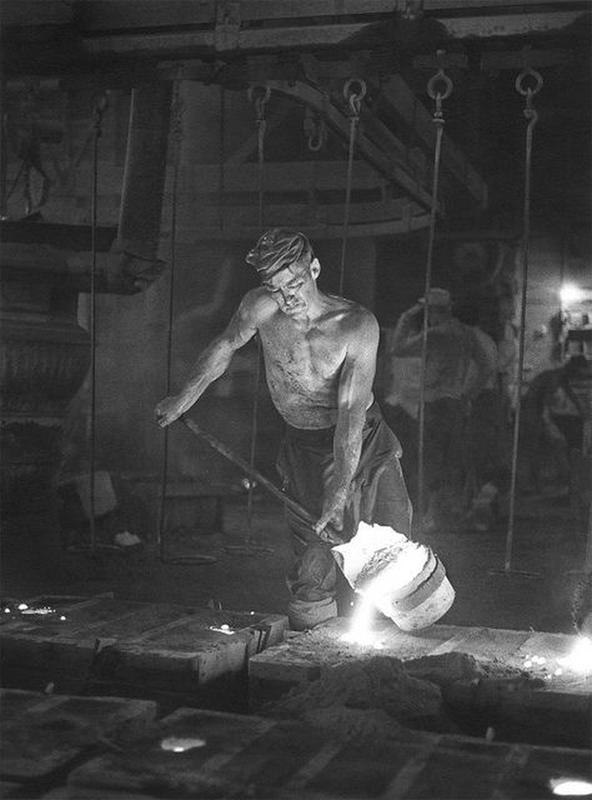 The foundryman plays an important and dangerous role producing construction beams and other tools that are important in our daily lives. Some of the dangers are quite obvious, like working with molten metal. Other hazards, however, are less visible; in the foundry, the workers are exposed to dangerous chemicals and substances floating in the air, and although there is now more awareness about this, foundry workers still die from diseases resulting to this exposure.
Acrobats Putting It All On The Line In Chicago, 1955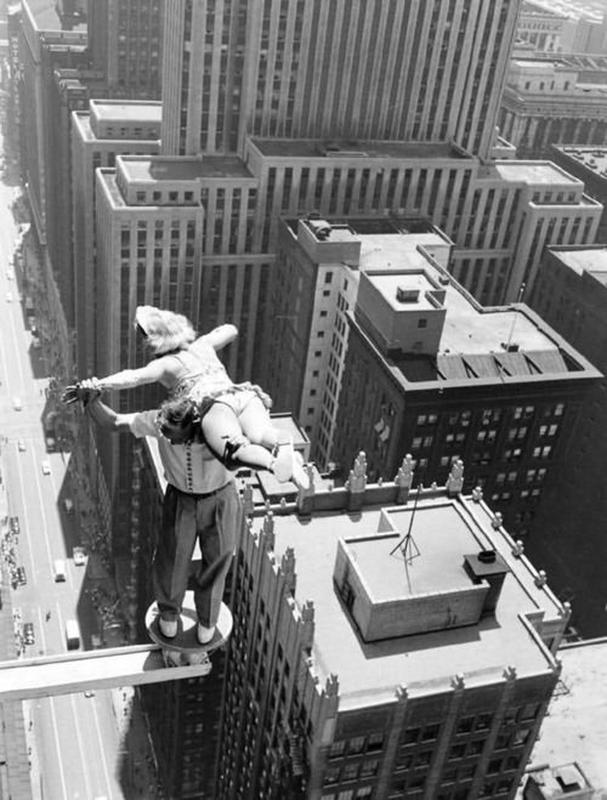 Acrobats already have quite a dangerous job, as they perform tricks that put them at risk of injury all the time. However, in 1955 these "skyscraper acrobats" in Chicago took it to a whole other level by performing over the entire city! This photo is so extraordinary that it looks like it was photoshopped. Don't look down!
A Young Coal Miner Putting His Life On The Line To Help His Family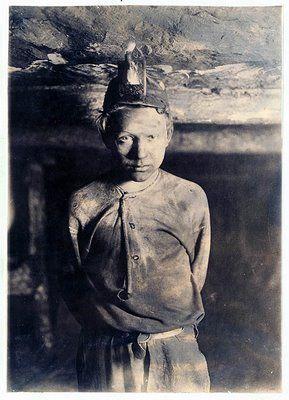 Humans have been going underground to extract coal for power for hundreds of years. However, this job has some unusual risks. In the 20th century, over 100,000 coal miners died in different ways. Some died due to vehicle collisions, while others faced deaths more directly related to the job, such as suffocation, roof collapse, gas poisoning, explosions, and rock bursts. Also, coal miners are at risk of black lung and other lung diseases.
The Heights Weren't The Most Dangerous Part Of Building San Francisco's Golden Gate Bridge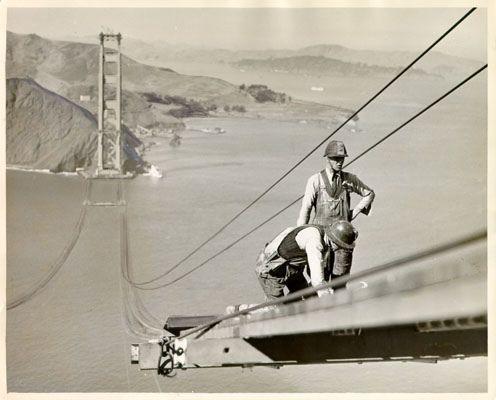 During the Great Depression, a time of extreme poverty, desperation caused many people to take on risky jobs. In 1933, construction for the Golden Gate Bridge, a true engineering marvel, began. Workers had to work in cramped, confined places and had to wear respirators due to fumes from the installation of the lead-based rivulets. Also, they were in danger of falling, and to fight this, they employed a safety net. In February 1937, scaffolding fell through the net, and 10 men died.
Horse Diving Is Not For The Faint Of Heart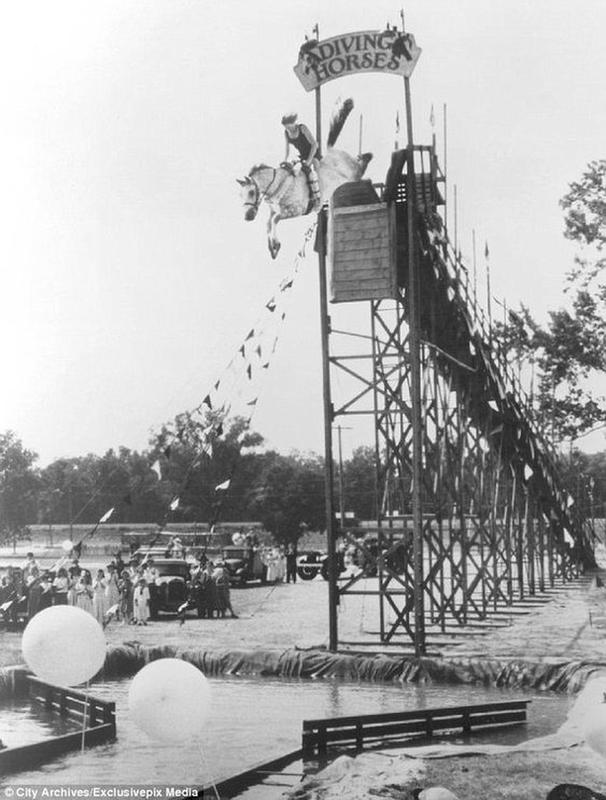 Most of the jobs that we have mentioned so far are necessary for survival in a civilized world, but some others are for mere entertainment. In the middle of the 20th century, men and women would hop on horses and dive 40-60 feet into the water ... for fun. While nobody ever died doing this, there were some injuries. Most of these injuries were broken bones, but there was one unusual one - in 1931, Sonora Carver entered the water with her eyes open and immediately went blind. This did not stop her, as she continued performing and went on to live 99 years.
When You're Painting The Eiffel Tower, You've Got To Look Good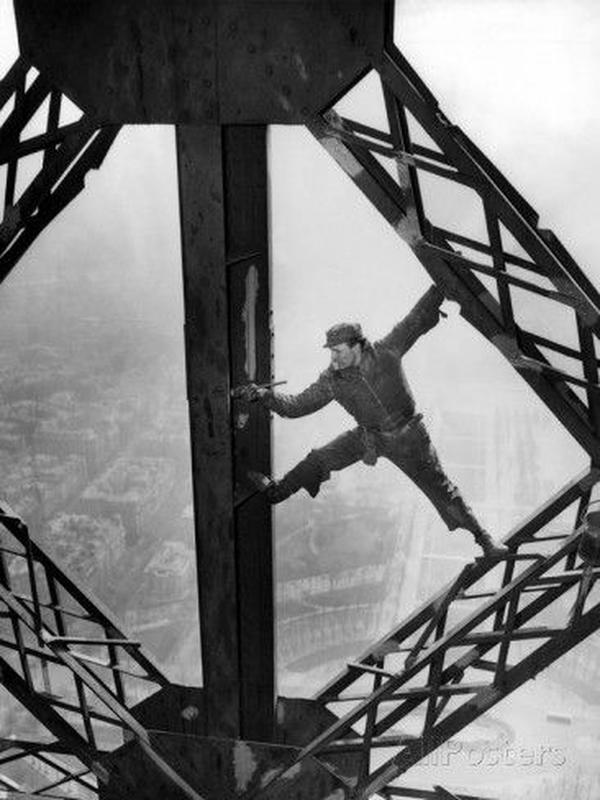 When the Eiffel Tower was first introduced to the world, it was reddish-brown. Ten years later, to keep up with the trends, it was painted yellow. It went through many different colors before becoming the modern Eiffel Tower Brown. The tower is painted in three progressively lighter shades so that it can stand out against the sky. To maintain its beauty, the Eiffel Tower requires 60 tons of paint every year. This job, just like many others, is dangerous due to the height of the tower.
The Beauty Of Space Is Only Paralleled By How Terrifying It Is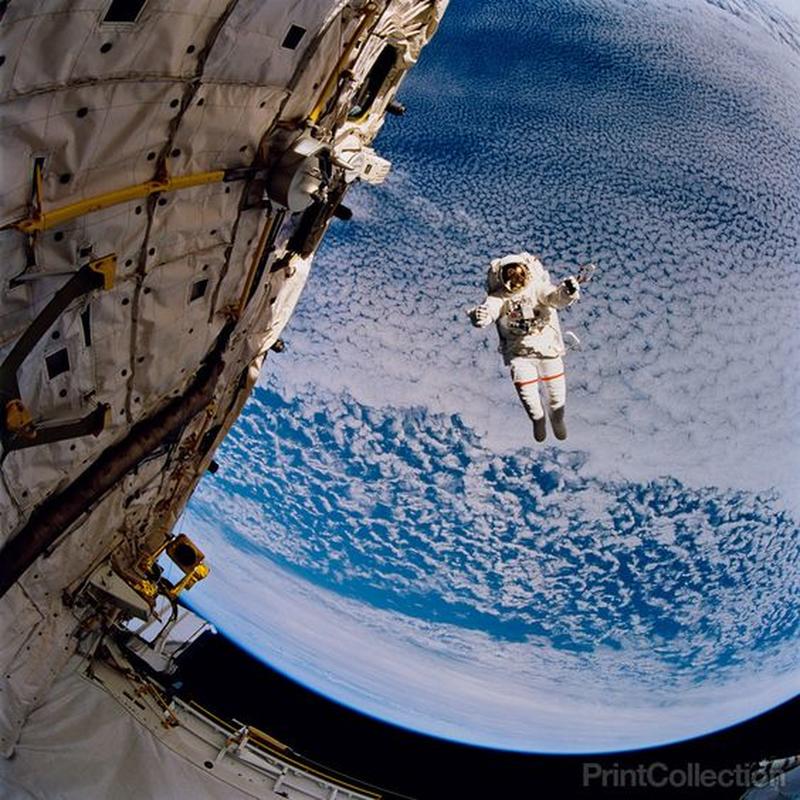 Astronauts face dangers that most of us don't have to, like losing contact with the vessel in space. Due to the nature of space, it is impossible to get back to the ship without being assisted. So, a system called SAFER was designed as a means of self-rescue when an astronaut is lost in space. Essentially, it is a backpack that serves as a jetpack. Thankfully, it has never needed to be used yet, but it's better to be safe than sorry.
Painters Working On The Bronx-Whitestone Bridge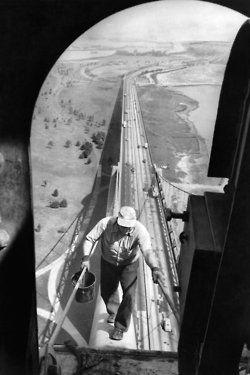 In addition to building bridges, they also need to be regularly maintained. In 1941, the Bronx-Whitestone Bridge was opened, and its design was similar to the Tacoma Narrows Bridge in Washington. As the bridge collapsed, the public was worried about the safety of the Bronx-Whitestone. So, the bridge was modified, and two steel cables were installed. The bridge was painted as a protective measure, to ensure the steel doesn't corrode.
Delivering Mail By Plane In 1918 Could End In Tragedy Or Infamy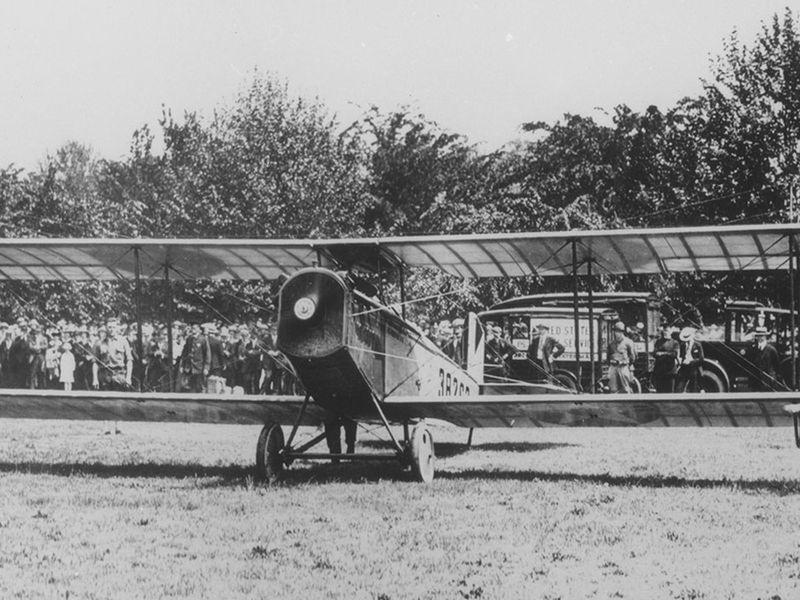 Nowadays, we often joke about the dangers that dogs pose to mailmen. Back in the day, the method of delivery was the dangerous part. From 1918 to 1927, mail was delivered with Jenny's, and out of 230 men, 32 died in plane crashes. These flights could only happen during the day as there was light, and the first mail pilot was guided only with a map that he had on his lap. However, many men still applied to the job. 
Phyllis Latour Doyle Hid Secret Codes In Her Knitting To Avoid Detection By The Nazis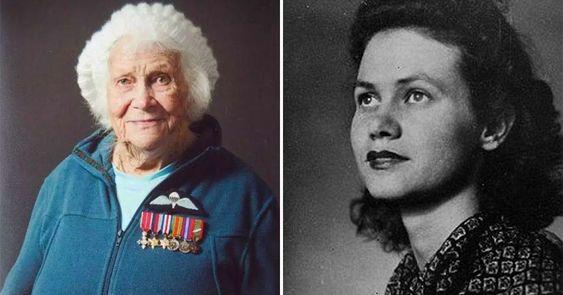 If you want to be a spy, you have to understand that it's a career that will be full of danger. Phillis Latour, a flight mechanic in 1941, did not think twice about becoming a spy. She worked in Aquitaine for a year under the codename Genevieve. To get military intelligence, she would ride a bike, sell soap, and use that as an opportunity to speak to German soldiers. 
Photographer Charles Clyde Ebbets Risks His Life For The Perfect Photo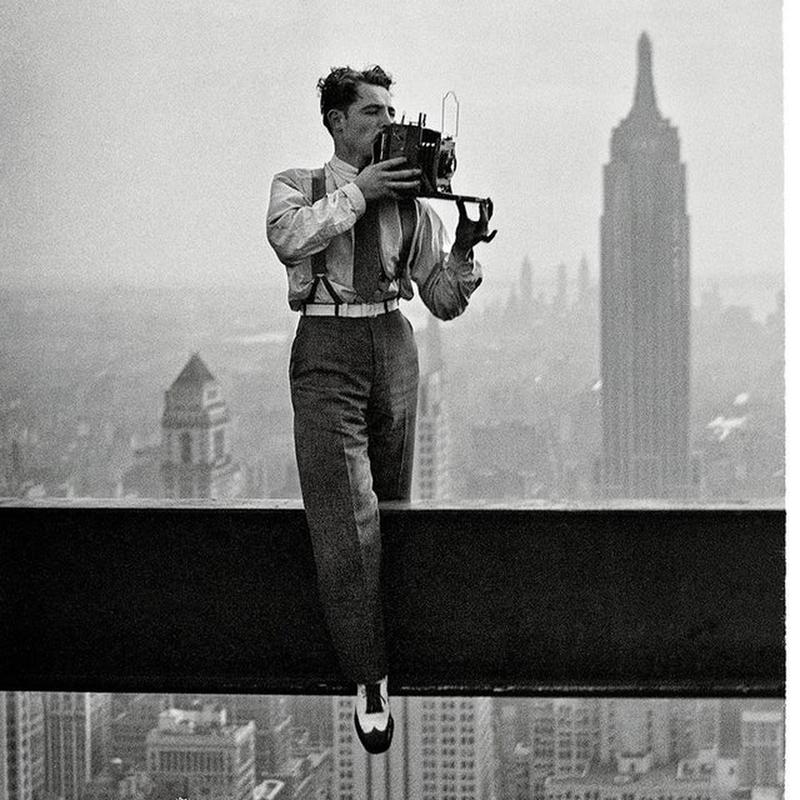 Clyde Ebbets was a famous photographer published in major newspapers. In 1932, he wanted to take a photo of "Lunch Atop a Skyscraper" on the 69th floor of the RCA building which was being constructed. The photo of the 100 men sitting on a girder with their legs danging went viral. In 1935, Ebbets took photos of the 1935 Labor Day Storm, and he was also given permission to take photos of the Seminole Indians during their sacred Green Corn Dance.
This New York Building Worker Waves Hello On A Break From Construction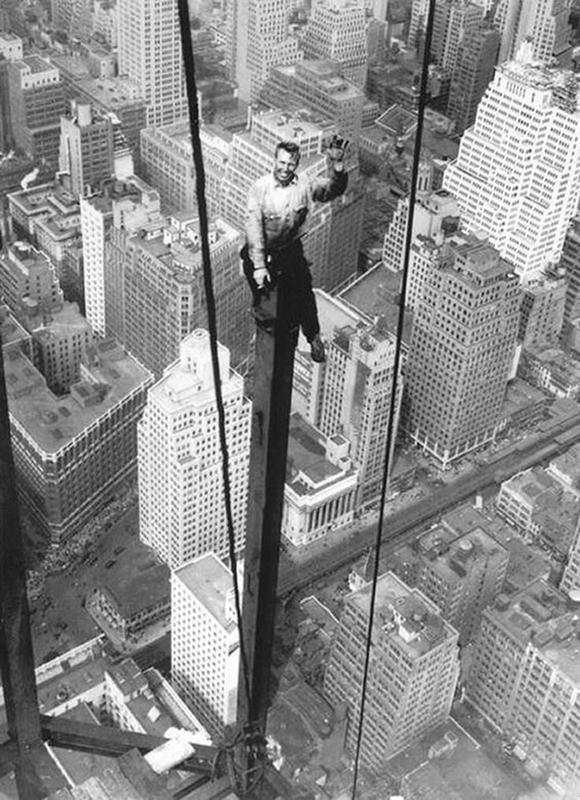 In the 1930s, the Empire State Building was being built in New York, and it would become the tallest building in the world for a while. For its construction, over 3,000 men were employed, and unfortunately, some men had to give their life for it. According to official records, five workers died during its construction. In this photo, the worker seems quite content with being so high, and he even waves to the camera!
Navy SEAL Boarding A Ship, What Did You Do Today?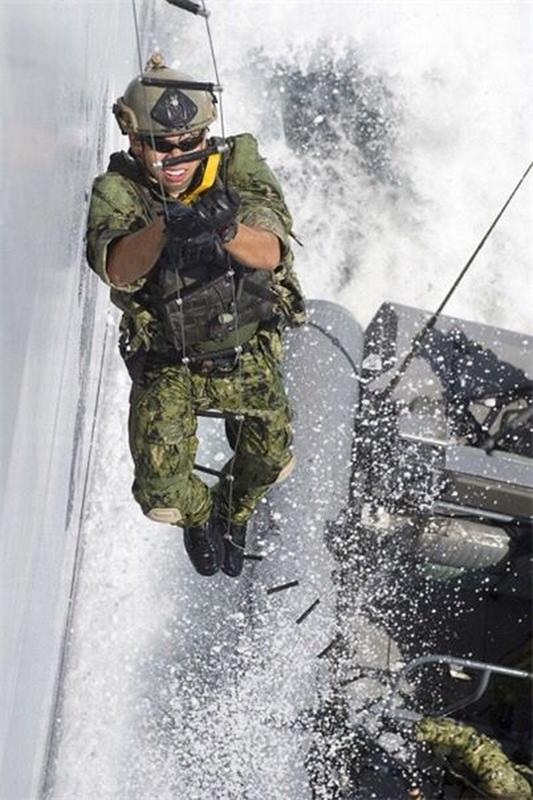 To become a navy seal, candidates must go through rigorous physical training and pass a difficult physical test. Their job requires them to get into dangerous situations, board ships to combat piracy, terrorism, and other dangers. During their missions, they follow a "visit, board, search, and seizure" protocol that happens in three waves. So, men board the ship to provide cover fire for the coming waves, protecting the helicopter. As they are always in danger of enemy fire, these steps need to be taken to ensure their safety.
A London Telephone Engineer Attaches A Phone Cable 50 Feet In The Air, No Big Deal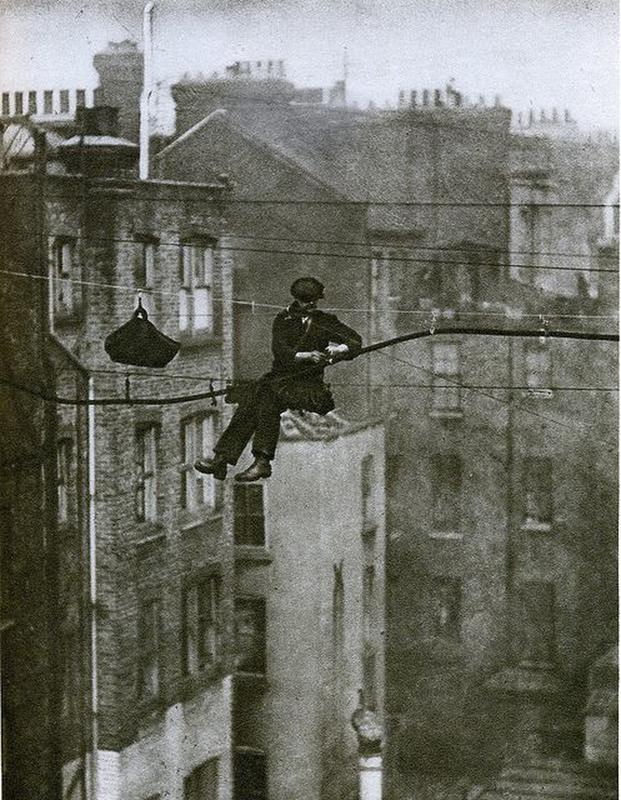 Some jobs seem much more dangerous than they are, such as telephone wire installers. These men look like they have a terrifying job, but it's really not as bad as it seems. One of the most challenging parts of the job was connecting the wires together. In some cases, they needed to cross bodies of water. The cables also need a support wire, and to attach them, the workers sat in a bo'suns (or boatswain's) chair 50 feet in the air. 
It's Lonely At The Top, Steel Riggers In New York Get To Work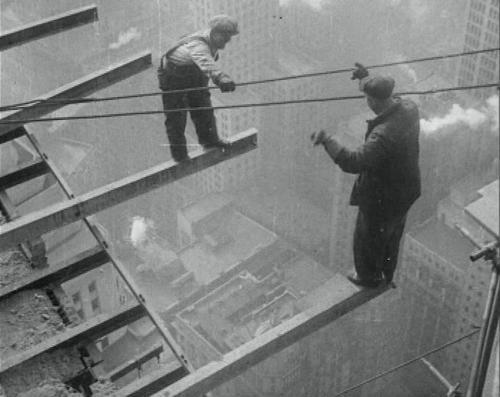 The rigger is the person who uses the heavy ropes to hoist sails. Riggers are still used today, but the term is used for anyone who has to lift heavy objects. They use chains, cables, winches, etc. to lift heavy objects, and they have to make quick calculations and employ suspension techniques to move their load around obstacles. As the loads are extremely heavy, steel riggers are at risk of injury.
John F. Kennedy Campaigning In Coal Country, 1960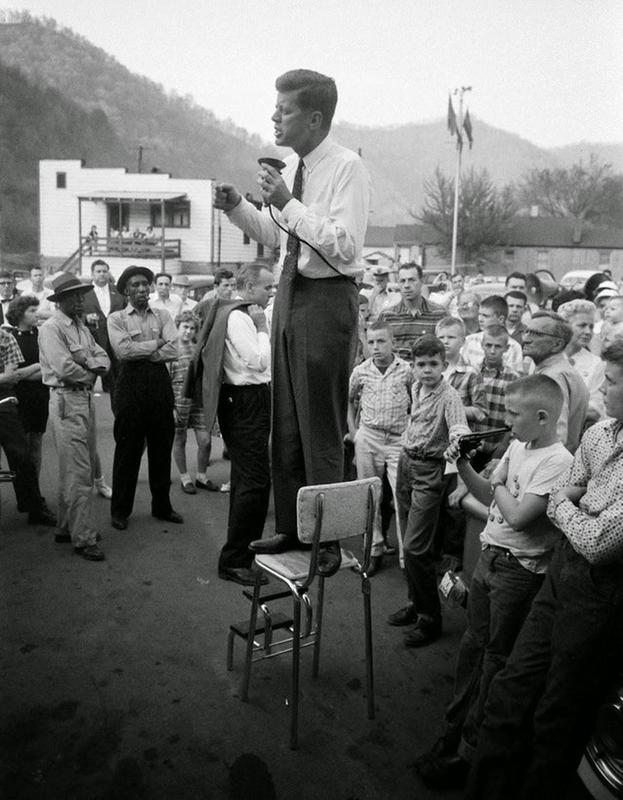 When people are asked what they think the most dangerous job in the world is, they usually think of firefighters, policemen, and things like that. However, did you know that statistically, the job with the highest chance of death is being president? Today, the position has been held by a total of 45 men, and 9 of them have died while in office. Four of those were assassinated for being president, two of them died due to stress in the office, and one of them died after being in the cold for too long during his inauguration speech. 
 The Bullet Proof Vest Test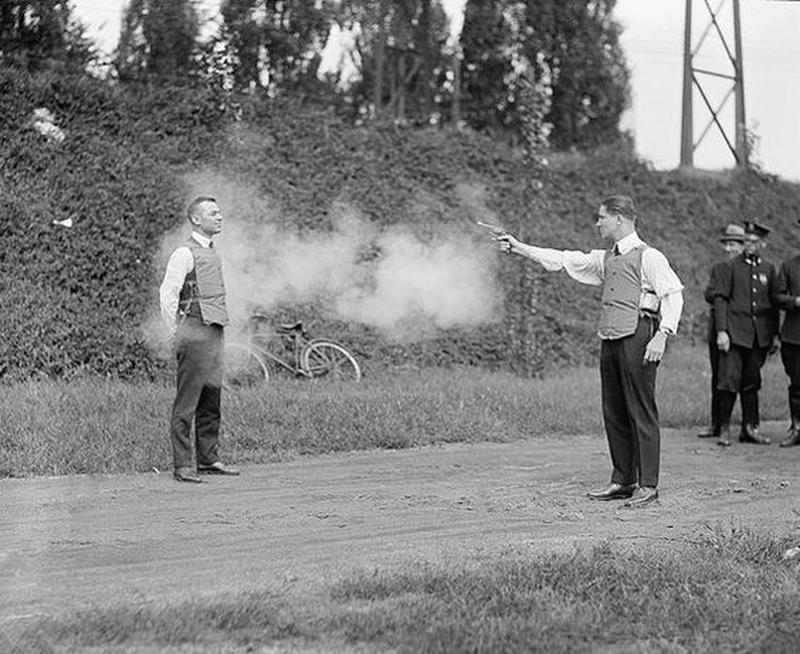 In 1901, following McKinley's assassination, the army introduced soft body armors. First, they tried to use silk, but it could only handle low-velocity bullets. So, to ensure the new bulletproof vests were going to work, they needed to be tested. After it was confirmed that they worked, they needed to demonstrate this to potential sellers. To do so, an officer had to fire at a man wearing the vest. While nobody died from this, many were injured as no material is completely 100 percent bulletproof, but rather bullet resistant.
Two Workers On The Empire State Building Admire Their Work From 1,000 Feet In The Air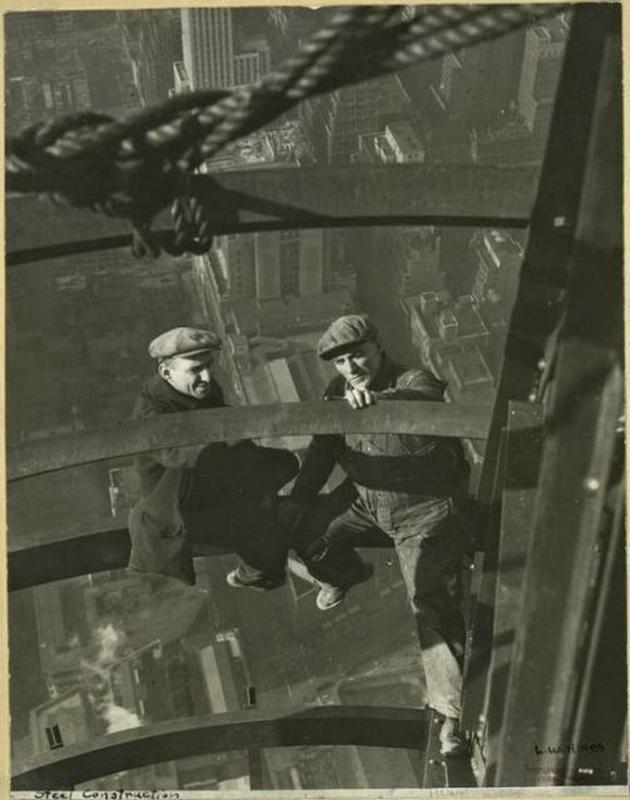 Again, this job involves heights, and for the construction of the Empire State Building, 3,400 men were employed. Some of these workers were European, while others were Mohawk. Apparently, the Mohawk were fearless at such high altitudes. For some time, the building was the tallest in the world, but some workers had to risk falling to their deaths to construct it. According to official records, only five workers died during its construction.
If A Tree Falls In The Woods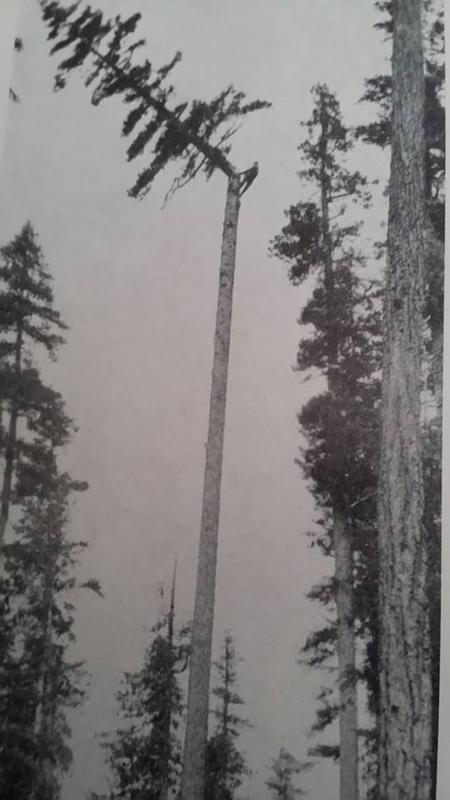 Trees are trimmed for many different reasons. Sometimes, it's for their health, while other times, its because they are too close to electric wires. A tree trimmer faces many risks, such as getting hit by falling branches or injuring themselves with their tools. Also, if the tree isn't trimmed correctly, it looks healthy, but it is actually weak, and its branches may break, causing it to fall by surprise.
Jet Fighters Live La Vida Loca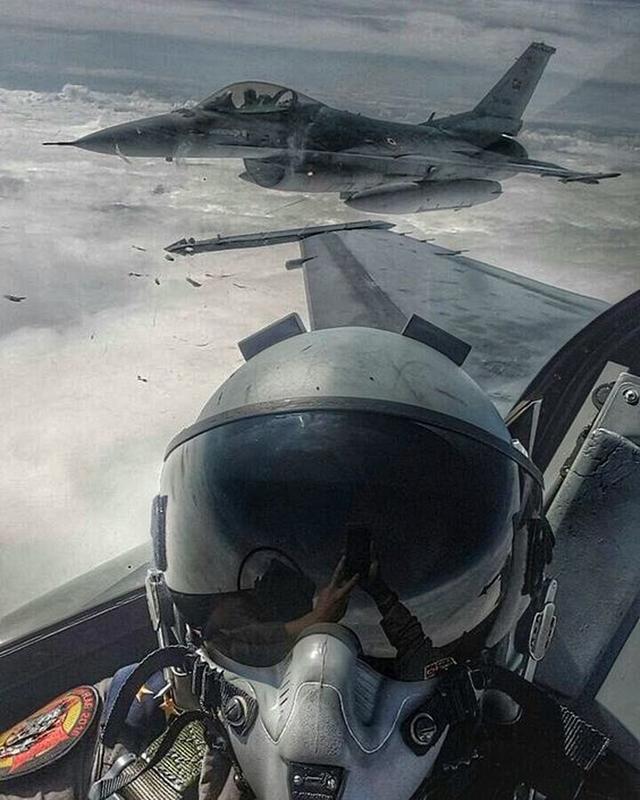 Being a fighter jet seems like the biggest adrenaline rush; however, it comes with real dangers. Yes, you may get hit by enemy fire, but that is not the main risk involved. If you have no choice but to eject from the plane, there's a 10 percent chance of dying. As the jets need a lot of fuel and can't carry much weight, they need to be refueled mid-air. Also, since they are moving at such high speed, hitting a bird can pose dangers. While this doesn't kill drivers, they may get injured from the impact.
Workers Playing Harmonica During The Construction Of The Rockefeller Center Skyscraper, 1932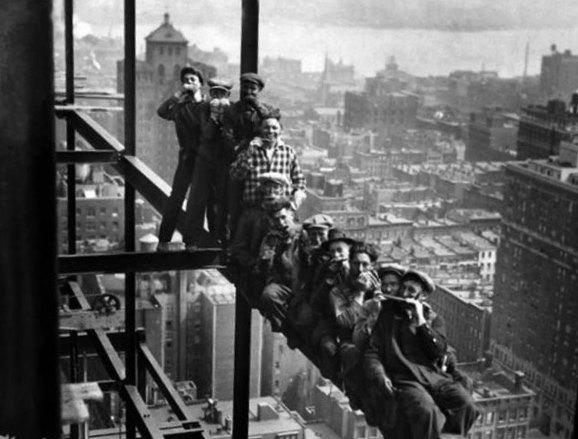 As you can probably imagine, working up in high altitudes is stressful. Working on constructing a skyscraper comes with many logistical questions. As shown in the viral photographs of the construction of the RCA building, sometimes workers neede to eat their lunch in the air. And how did they take a break and relax? This group of workers did so by playing the harmonica with stunning views of Manhattan.
Manchester City Detectives Pose On A Break From Solving Crimes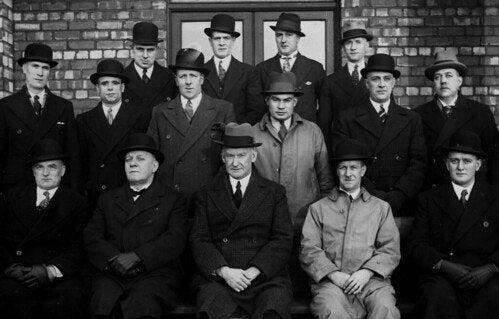 This photo looks like a group of Chicago mobsters, but these are actually the good guys. At the time, new technologies such as police radio networks were employed to help police and detectives, but as many of you know, change can lead to stress. Constable Sir John Maxwell was behind these changes as he served during the wartime era in 1942, a time of extreme tension.
Racecar Drivers In The 1940s Cheated Death Every Time They Hit The Track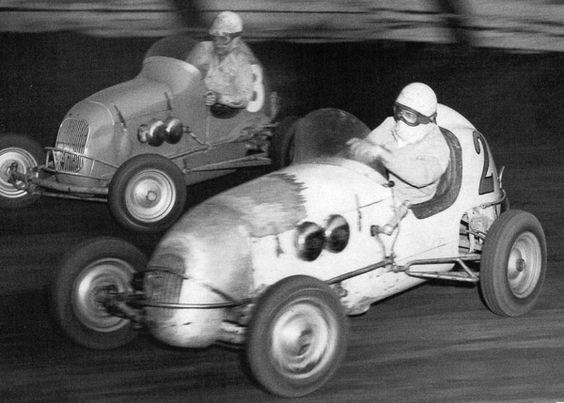 Most of us know how dangerous it is to drive a car at 180 mph, and of course, crashing is the most obvious danger. However, there are other hidden dangers, too, such as being exposed to high levels of carbon monoxide. Also, drivers sit for a long time without moving, so they are in danger of blood clots. The most dangerous cars are midget cars as they are very small and light, only weighing 900 pounds. Although they are small, they have a total of 400 horsepower. Nowadays, for safety, they are equipped with full roll cages.
A Man Working In Hat Manufacture With No Protective Equipment, 1938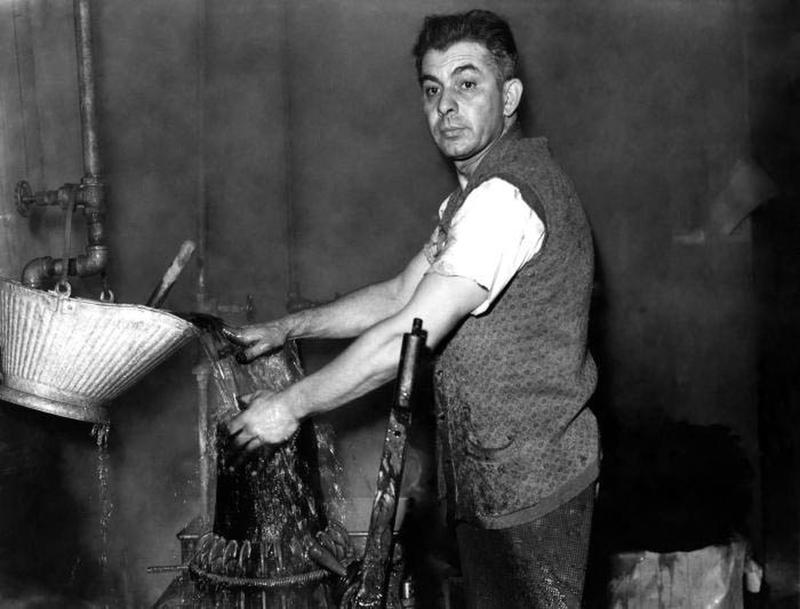 You might be wondering how making hats is dangerous, but back in the day, it actually was. To make the hats, hatters used a process called carroting. In this process, they had to wash their felt with mercury nitrate, exposing them to mercury vapors in the air that attacks the nervous system. This leads to mercury poisoning, and causes drooling, twitching, hair loss, and difficulty in thinking. In the worst cases, it could even lead to hallucinations. In 1941, the use of mercury nitrate was banned by the United States.
Chimney Sweeps Were Lucky If They Didn't Get Carcinoma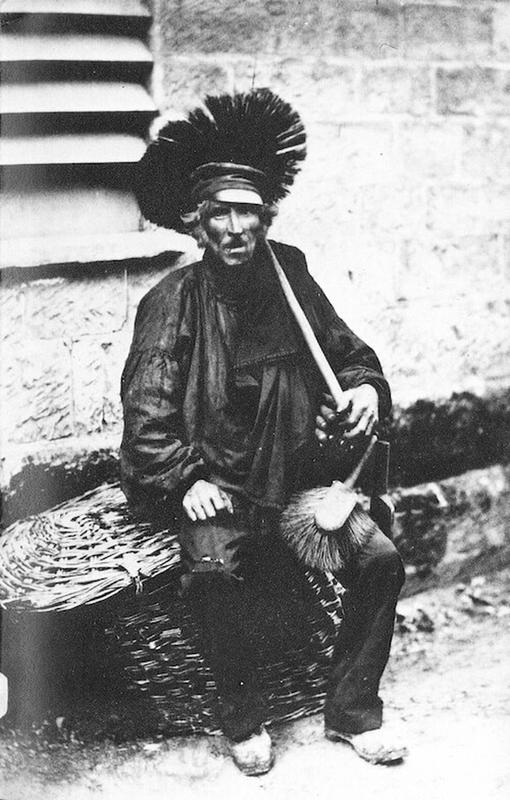 As fun as it is to imagine Santa Claus coming down our chimneys every Christmas, the job of a chimney sweep is far from delightful. You might be imagining men with faces covered in soot, and that can lead to respiratory danger if it's inhaled. Physical contact, on the other hand, can lead to skin irritations, rashes, and infections. Also, exposure to creosote can cause visual issues due to chemical burns. Of course, chimney sweeps still exist, but safety measures make it much safer.
Working With Glow-In-The-Dark Radioactive Paint Gave The "Radium Girls" Radiation Poisoning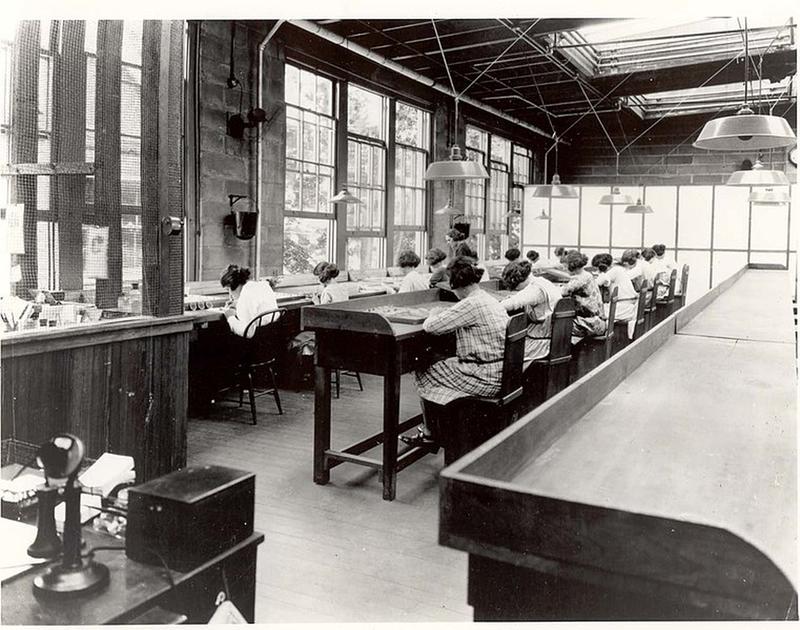 In the 1890s, Marie Curie discovered radium. During WWI, the U.S. Radium Corporation hired working-class girls, offering triple what they earned at an average factory job. Their job was to paint the faces of watches with radium. By the end of their shifts, the girls would glow in the dark. Even if they didn't make themselves glow on purpose, every time they used the paint, they ingested a little bit of radium. They weren't told of the dangers of radium exposure, and gradually, the girls began to get sick and die.
Building The Golden Gate Bridge In San Francisco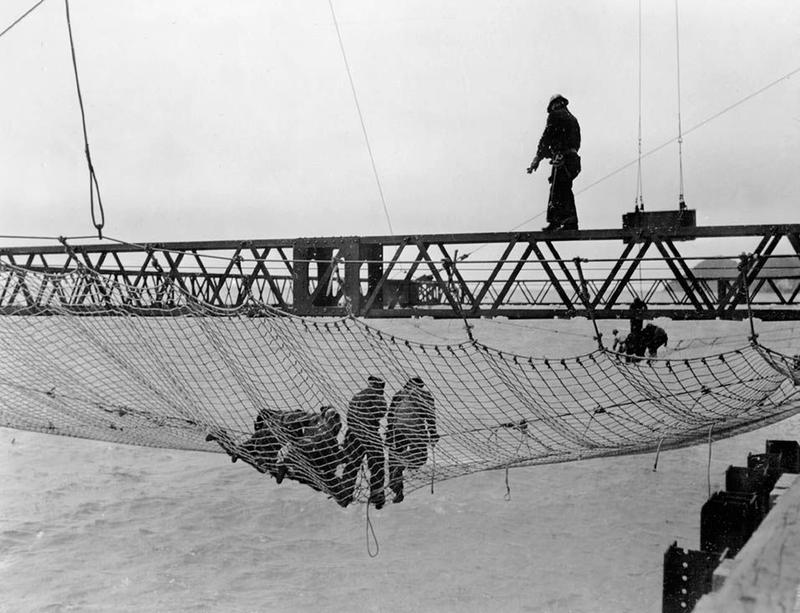 In the 1920s, when the technologies and advancements of today's construction industry were yet to be introduced, building the Golden Gate Bridge in California seemed like an impossible task. Today, it remains one of the world's most famous landmarks. Here, workers are suspended on a safety net, while one of them is walking on a narrow structure with zero protection. We hope they're not scared of heights!
Sculptors Cutting Out Thomas Jefferson's Eye While Working On Mount Rushmore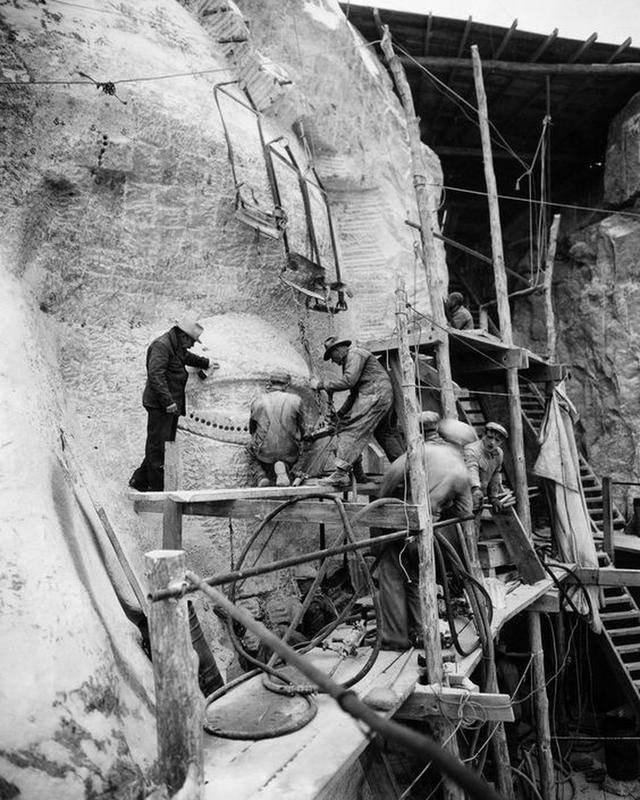 In this photo, Danish American Artist John Gutzon de la Mothe Borglum is overseeing work on Mount Rushmore between 1934 and 1939. The artist is famous for being the one who created the monumental president's head at Mount Rushmore in South Dakota, as well as the famous Stone Mountain near Atlanta and other works of art. 400 workers were tasted with chiseling their way into the mountain and removing 450,000 tons of rock to create the tourist attraction that now attracts 3 million visitors a year. 
The "Kiss Of Death" 
The kiss of death sounds quite sinister. At the time, workers in textile mills worked with an old tool called a shuttle, and each one had a pirn, which is a hollow area to hold the thread. The thread would then be pulled through using the breath. The practice wasn't considered dangerous until late in the 19th century when workers in the textile industry began to die at higher rates than the general population. Upon realizing this, a German bacteriologist discovered that a certain bacteria was causing this disease and that even one infected worker was enough to cause an outbreak in the entire factory. 
These Sailors Aboard The Garthsnaid Bring A New Meaning To The Phrase "Sea Sick"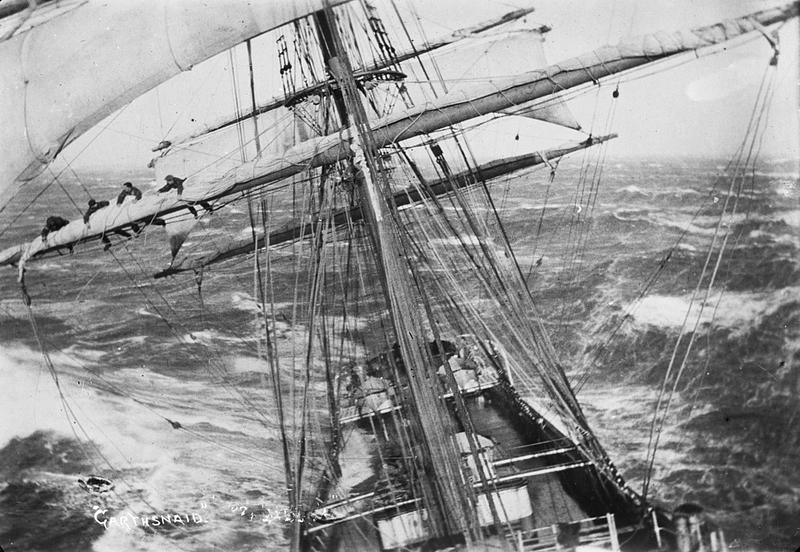 Sailing is one of the most dangerous sports in the world. So, naturally, working on a ship is dangerous too. There are some obvious dangers, such as violent weather, for example. Also, due to how the sailboat moves, there is always the chance to go overboard. Also, there is a chance to fall on the boat and get injured. Finally, a heavy item not secured properly could hit you and hurt you. Most sailing fatalities, however, occur from drowning, but in many of those cases, the person wasn't wearing a life jacket.
Breaker Boys Sorting Coal When They Should Be In School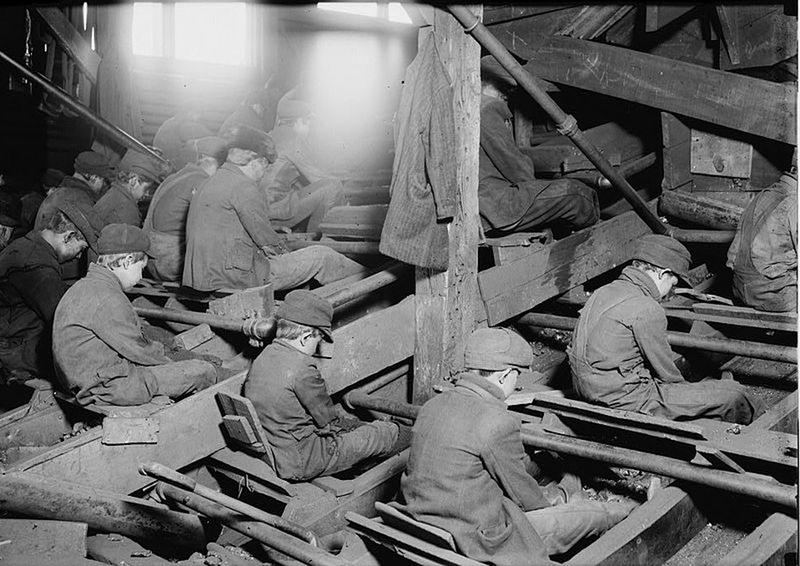 Anthracite is a type of coal that is a little safer than the normal bituminous coal, and it is harder and burns longer. However, just like typical coal, it needs to be extracted from the earth, and this comes with dangers. Workers ran the risk of getting crushed in a tunnel collapse or killed in an explosion. Also, just like with bituminous coal, black lung was a constant danger. 
Bethlehem Steel Workers On Their Last Day Of Work In October 1983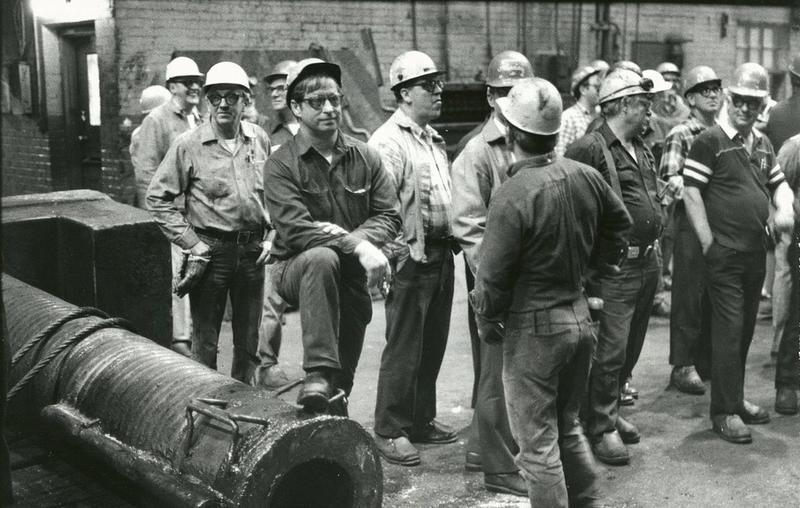 Nowadays, we are so aware of the dangers of asbestos in housing products that we hire contractors to remove it from our homes in order not to be exposed to it. Back in the day, steelworkers who already had a dangerous job were also unknowingly exposed to this carcinogen. When released into the air, exposure to it can lead to lung cancer. In steel mills, it was used in machinery and equipment, protective clothing, as well as in some of the building materials.
Firefighters Calling For Water In The 1980s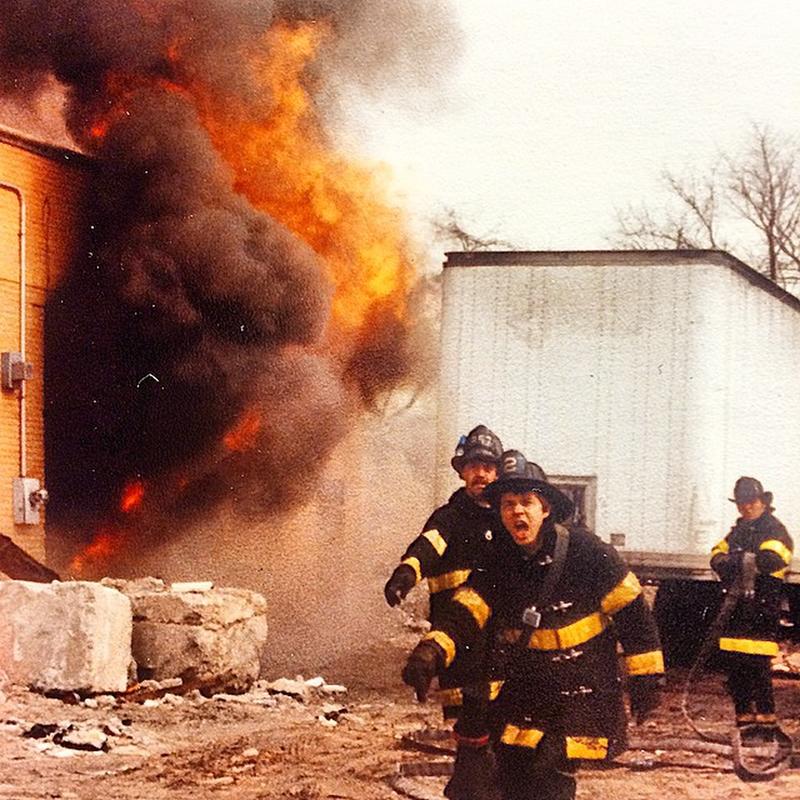 Whenever they go to work, firefighters put their lives on the line. They are always at risk of a major blaze that could easily wipe them out. Obviously, this isn't a problem unique to the 20th century, as firefighters have been saving people for ages, but it was only in this period that their actions were captured so clearly. In this photo, the firefighters calling for water are obviously in the middle of a stressful situation, but they're used to it.
Two Strapping Fishermen Wait To Go Out To Sea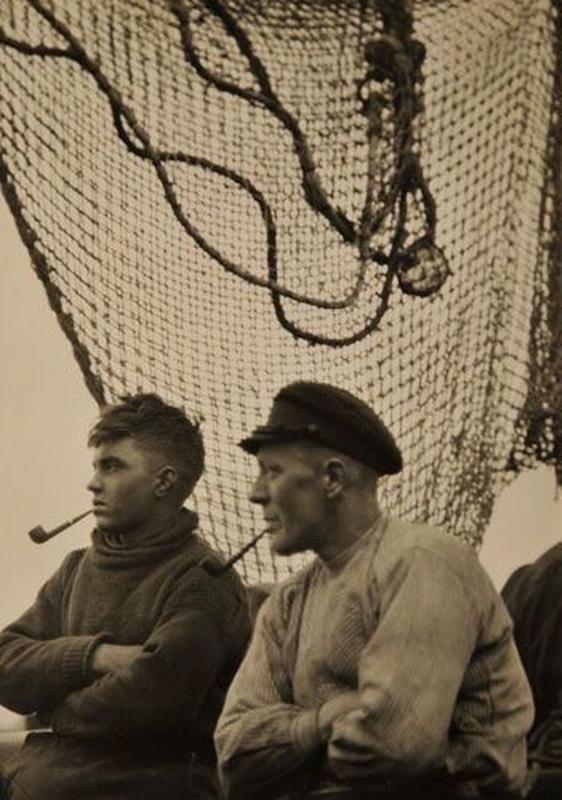 The life of a fisherman includes early mornings, troubled seas, and bad weather. In the 20th century, fishermen woke up before the sun to provide for their families in times of famine. The life of a fisherman included waiting for the good and dealing with the bad. While fishing in bad weather and rough seas, many men lost their lives, but nobody complained as this was simply a way of life.
Roofers Baking In The Sun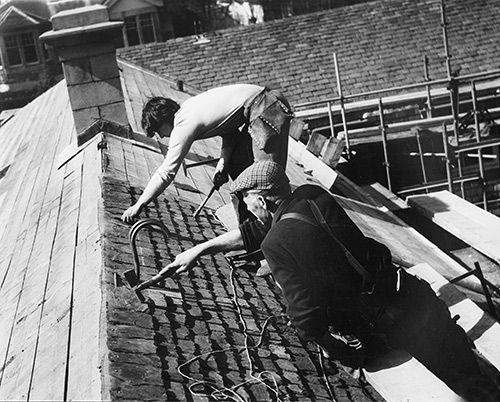 Most of you reading this are lucky enough to have not had to spend time on a hot roof, baking under the sun. Roofing is a very dangerous job; you can run the risk of falling off the roof, which can lead to a few broken ribs. Also, as they are always in the sun, they run the risk of heat strokes if they do not stay hydrated enough. Roofers don't have the luxury to work a little in the day and a little at night because they have to be up there all day to ensure that the job gets done.
A Grizzled Trucker Shows Off His Choice Machine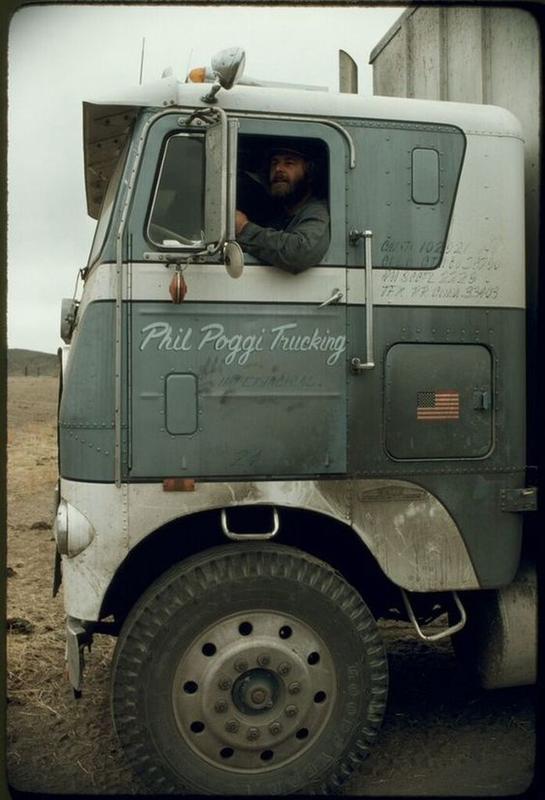 Truckers are often considered the pirates of the highway because they've always had to bend the rules to make sure their load gets delivered on time. They are extremely dedicated to punctuality, whether that means driving all night or flooring it. This can be very dangerous, as many truckers who have tried to beat the clock ended up victims of their need to succeed.
Source: HistoryDaily