40+ Photos From Extraordinary Moments In History
Prepare yourself for some intriguing and great historical nuggets; forty-four in total. These are all photos that depict extraordinary, fascinating, and strange moments in history. You will see Marilyn Monroe working in a factory, the face of the statue of liberty arriving by boat, Bea Arthur's military ID, a handsome 21-year old Winston Churchill, and baseball legend Lou Gehrig auditioning to play the role of Tarzan. Let's delve into a wild world of imagery intrigue, with photos that will leave you with some great facts to tell your friends. 
'Marilyn Monroe' Working In A Factory In 1944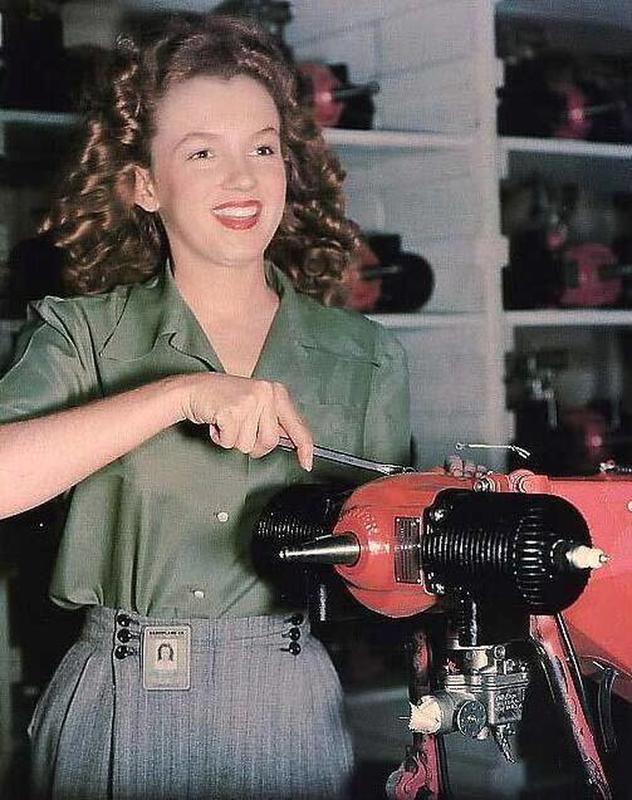 Before becoming one of the world's biggest stars, Marilyn Monroe worked at a military factory in Van Nuys, CA. During the Second World War, Marilyn Monroe, born Norma Jean Mortenson helped assemble parts for airplanes at Radioplane Munitions Factory. This photo was taken by David Conover in 1944 for Yank Magazine. The photos of young Norma Jean assembling drone parts helped launched her career. At the time, Conover was employed at the U.S. Army Air Force's First Motion Picture Unit. Who was his commanding officer? None other than Ronald Reagan. That's pretty crazy.
The First Photo Taken Of Macchu Picchu, 1911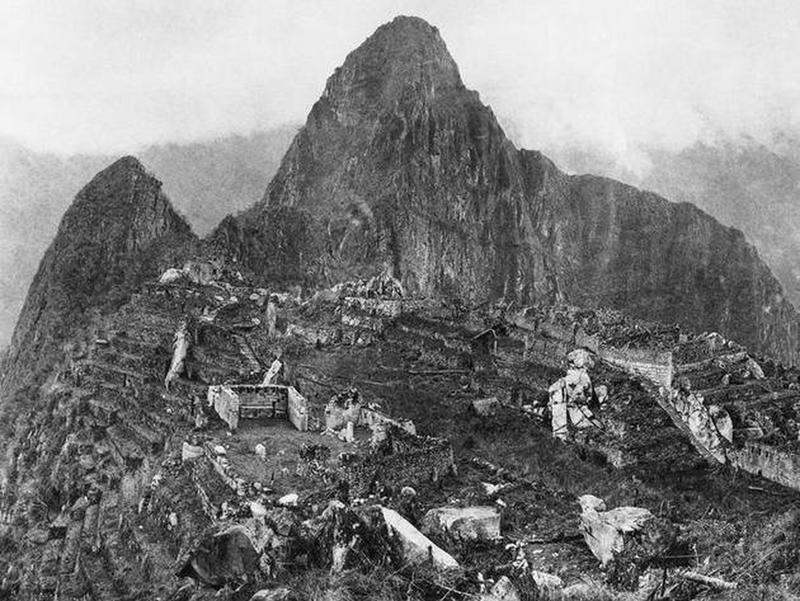 Did you know that no photo of Macchu Picchu was taken until 1911? Why, I hear you ask. Well, the very simple answer is that it wasn't discovered until that year. Of course, it was already an ancient Inca settlement, but it wasn't discovered by an American with a camera before that. The first person to snap a photo of it was Hiram Bingham, who was in Peru with a team of explorers to look for the "lost" cities of the Incas. He had no idea he would discover what would become one of the top tourist destinations in the world! Nice one, Hiram!
Telephone Ad From 1959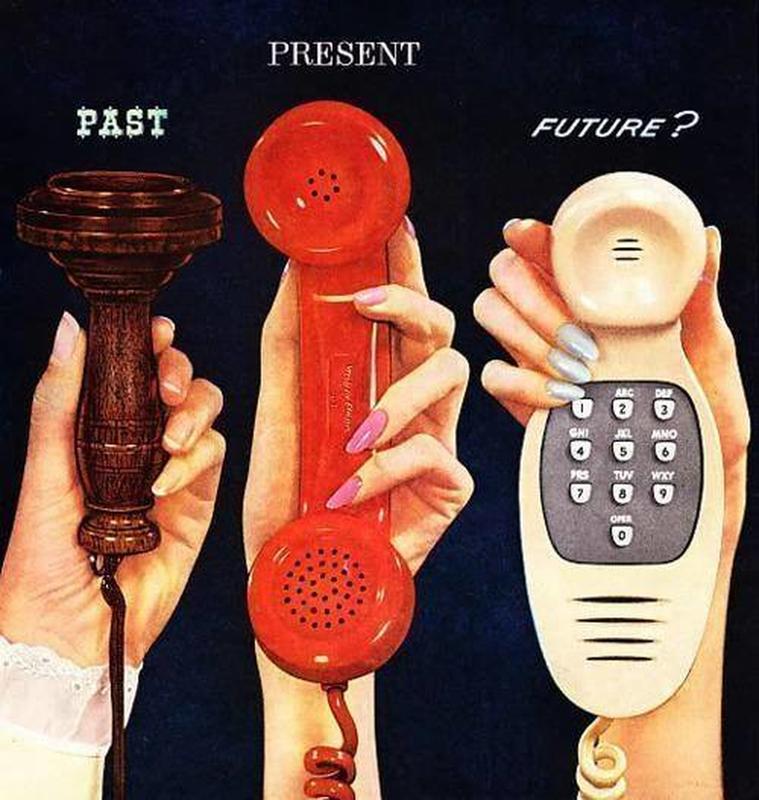 What's your favorite phone in this advert? Is it the rustic phone of the past or the one of the future? It's surprising that hipsters haven't used the old-timey phone in their vegan juiceries. The phone of the future is intriguing, though! In 1959, why did they believe that this was futuristic? Were fatter phones a thing in sci-fi novels? Meanwhile, the same year, the first car phone was invented in South Lancashire, England.
Batgirl Gets Fitted, 1960s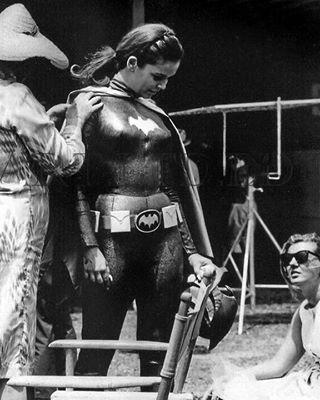 This photo was taken in the 1960s, and it shows Yvonne Craig being dressed in a Batgirl uniform for the humorous ABC TV show Batman. Unfortunately, this photo is in black and white, and it doesn't show Batgirl's funky purple and yellow outfit. Also, she rode on a purple motorcycle, just like Prince. Isn't that awesome? Today, Craig is considered one of the pioneers of female superheroes on television. She also starred in Star Trek playing the role of the green-skinned Orion slave girl Marta in an episode called "Whom Gods Destroy." We haven't seen the episode, but we can all assume that she gets busy with Captain Kirk. 
 The First Selfie In Space, 1966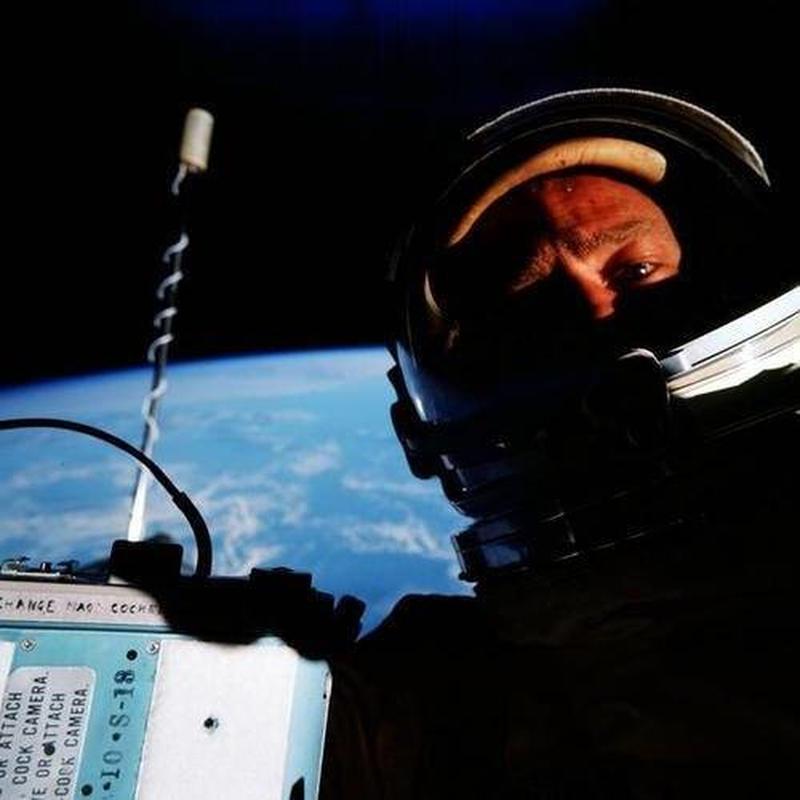 This is the very first selfie taken in space. In 1966, Buzz Aldrin went on a mission on Gemini 12 and was the first to perform a successful spacewalk. The Gemini program was aimed at showing that astronauts can work effectively outside of a spacecraft, and following this mission, the first moon landing happened in 1969. The duration of the flight was 5 hours and 30 minutes. Today, you can see the spacecraft displayed at the Adler Planetarium in Chicago. As mentioned, Buzz had some time to take a little selfie. Ultimately, the mission was a huge step for mankind, and a small step for selfies.
Exchange Between Jayne Mansfield And Sofia Loren, 1957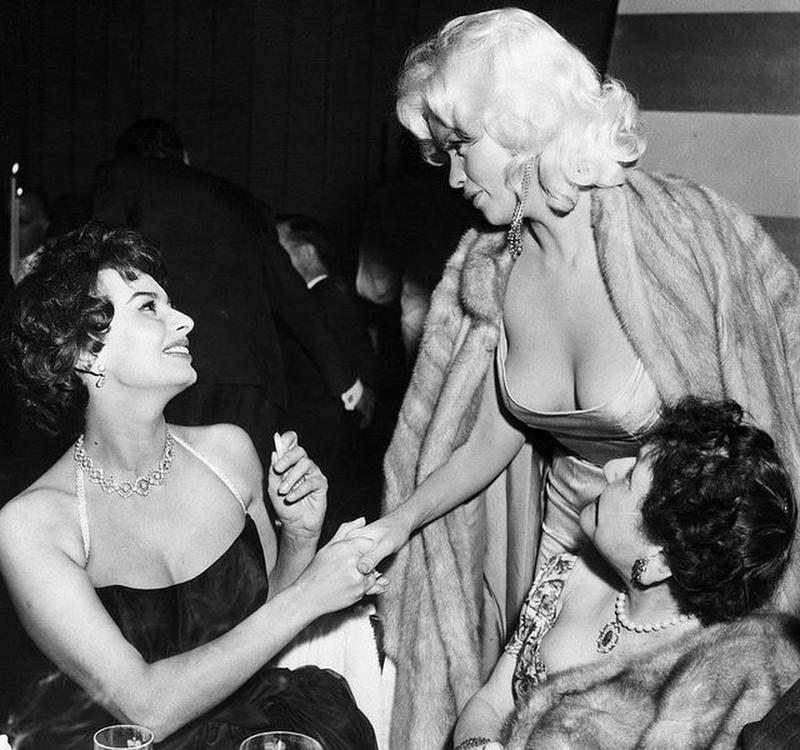 This is one of the biggest pairs in movie history: Sofia Loren and Jayne Mansfield. This photo of their iconic meeting was taken in 1957. At the time, Sophie Loren's career had taken off in Europe, and here, she was attending a party organized by Paramount Studios to welcome her to Tinsletown. At the 1955 Cannes Film Festival, Loren was the most photographed actress, though she believes that Jayne Mansfield, who is greeting her in the photo, stole her shine. Some years later, speaking about the meeting, Loren said: "I'm so frightened that everything in her dress is going to blow—BOOM!—and spill all over the table."
Measuring The Size Of A Donut Hole, 1948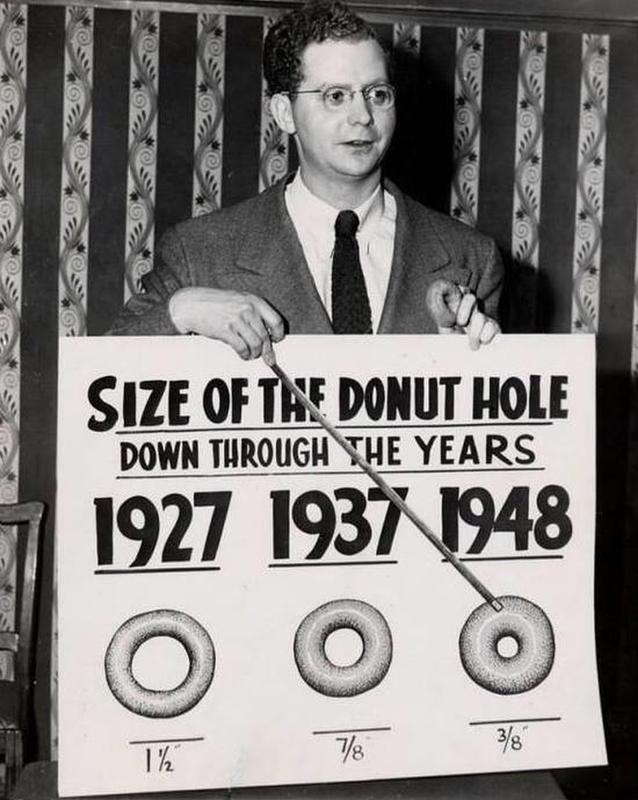 Can this be true? Did the size of the donut hole really reduce between 1927 and 1948? Well, this can't be a bad thing, as it means that there is more donut to eat. Who would complain about that? However, if I worked in a donut production factory, I would realize that a smaller hole may lead to less profit. When does it end? If it continued like this, a donut would start to resemble a small cake. It has been said that with the invention of the donut machine, it became easier to make donuts with smaller holes. Also, smaller donut holes help prevent breakage.
Margot Kidder As 'Lois Lane' In The Film "Superman," 1978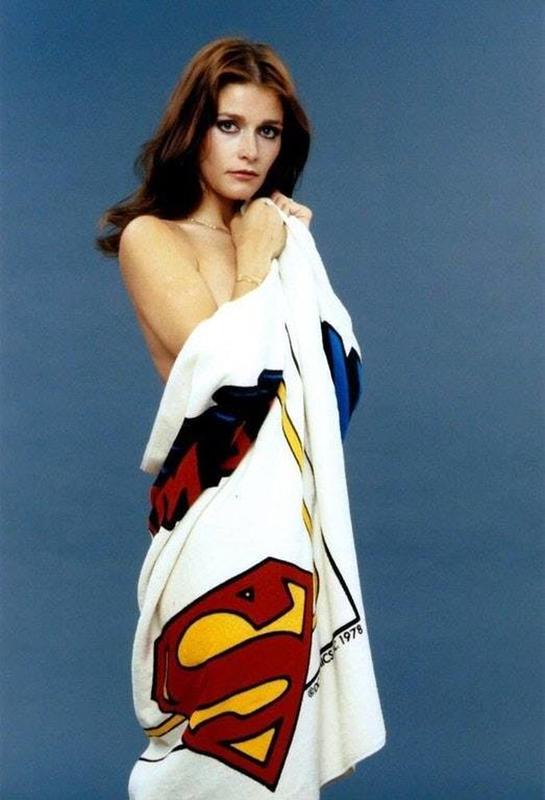 This is the greatest Lois Lane of all-time, Margot Kidder, dressed in nothing but a Superman blanket. Kidder was born in Canada, in a town called Yellowknife. Her career began when she appeared in low-budget Canadian films, and she was later cast to play the other half of Christopher Reeves in the 1979 version of Superman. The film took a year to complete, and Kidder would go on to appear in three more Superman movies. However, in Superman III, she only appeared for around five minutes.
The Statue Of Liberty's Face, 1886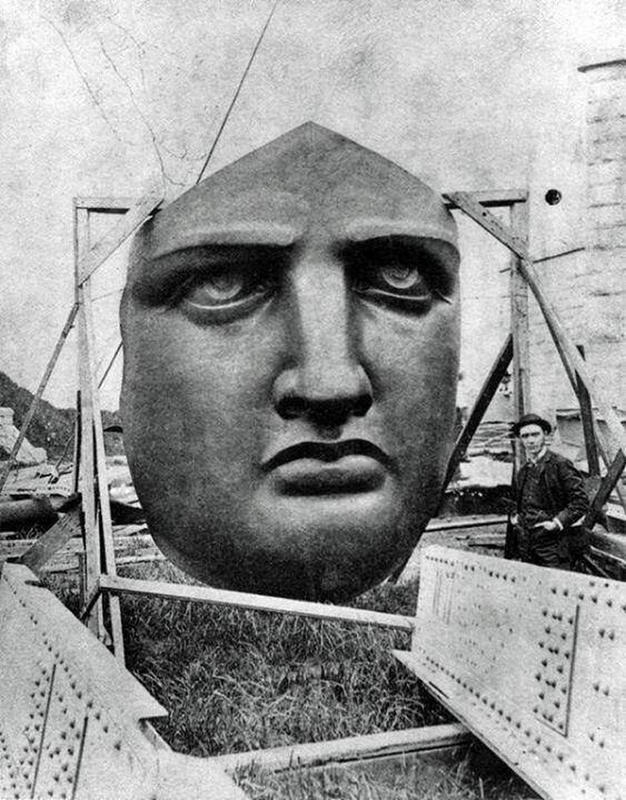 This photo is sort of creepy. But we have to admit it's also pretty cool. And no, this isn't a scene from the movie Face/Off. In 1886, the French offered the United States the Statue Of Liberty in the New York Harbor. The famous monument was designed by Frédéric Auguste Bartholdi and built by Gustave Eiffel. But why do the French offer gifts unassembled? According to this photo, the statue of liberty was kind of like furniture you get from Ikea. 
Children Shucking Oysters, Early 1900s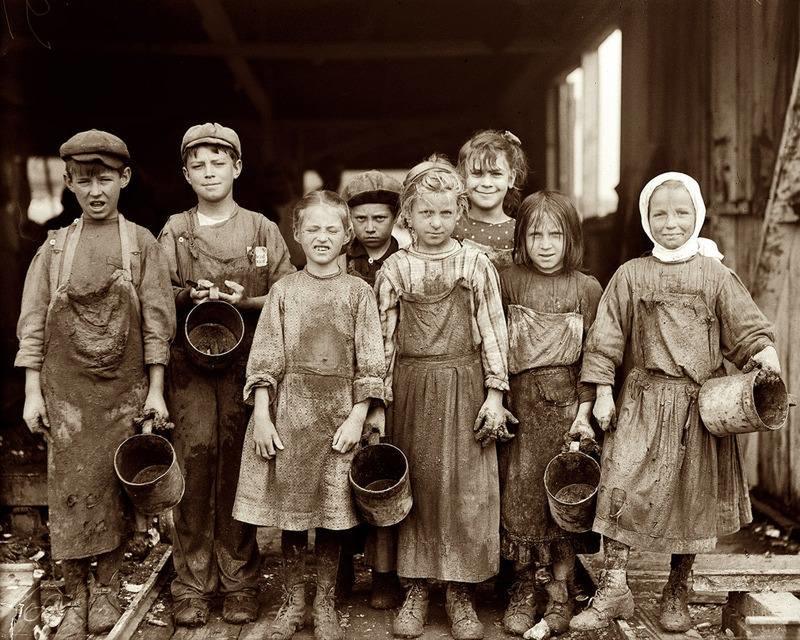 It's pretty crazy that the Maggioni Canning Company in Port Royal, South Carolina, still exists today. Of course, the labor laws are much stricter! These poor children had to divide their time between school and the canning company, where they shucked oysters. However, don't these kids look pretty happy? Maybe they enjoyed this line of work? The company was founded in 1870 by an Italian immigrant. Today, it is South Carolina's largest provider of bushels and oysters. Thank you to all those children!
Woodstock, 1969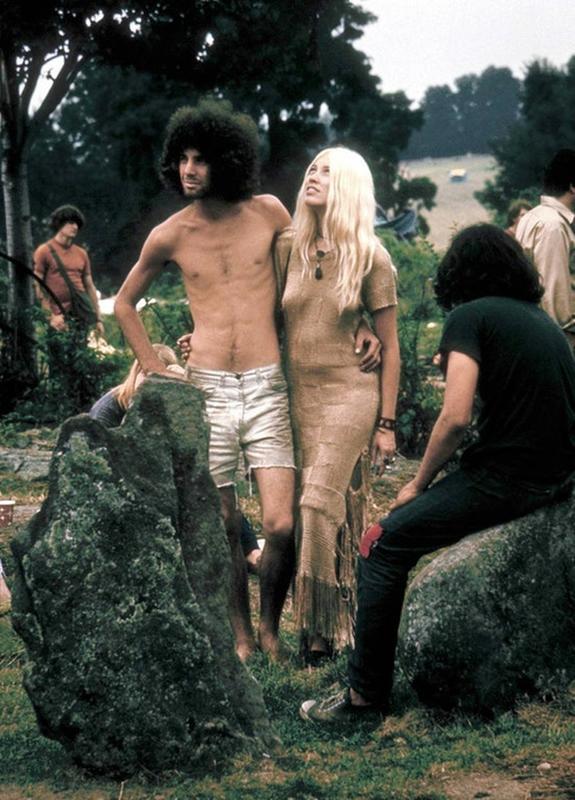 Who doesn't love Woodstock, with its smelly hippies and acid hits? If you're not familiar with the event, it was a 4-day music festival in a dairy farm in upstate New York that attracted a whopping 400,000 people. If you're interested, there is a movie about it called Woodstock. Carlos Santana claims that at Woodstock, he was tripping so hard on stage that he felt like his guitar was a snake. 
A Giant Octopus Attempting To Pull A Scuba Diver Back Into Its Tank, 2010s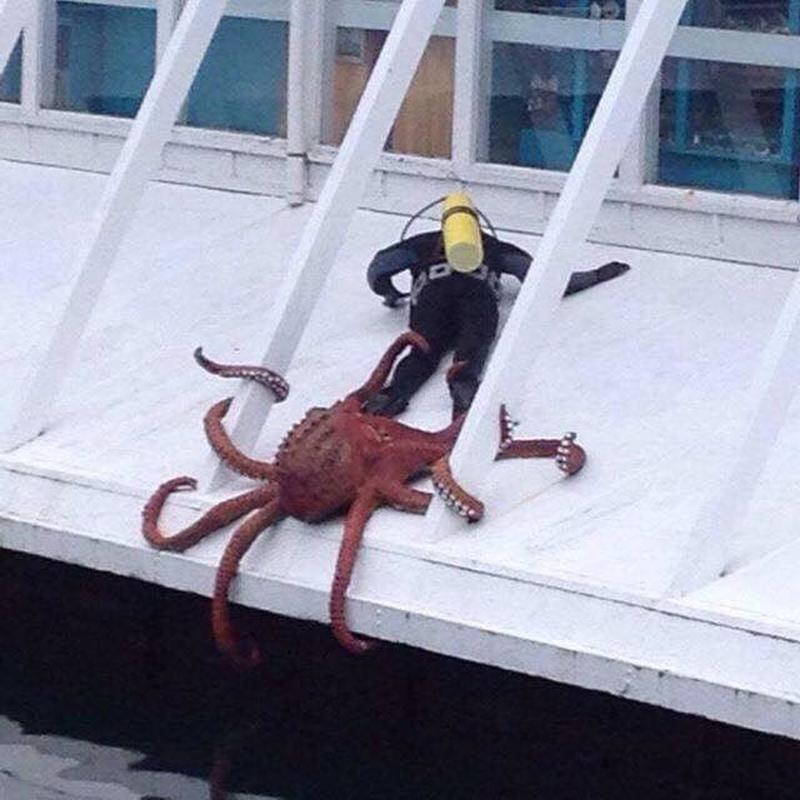 This seems like a bad day for everybody involved. This soft-bodied octopus is attempting to pull a scuba diver back into its tank. Why is nobody helping him? If the scuba diver fights back, the octopus may spray him with ink that it expels when it feels threatened. Thankfully, the octopus in this photo isn't blue, as those are known to be poisonous to humans.
Vivien Leigh Napping On The Set Of "Gone With The Wind," 1939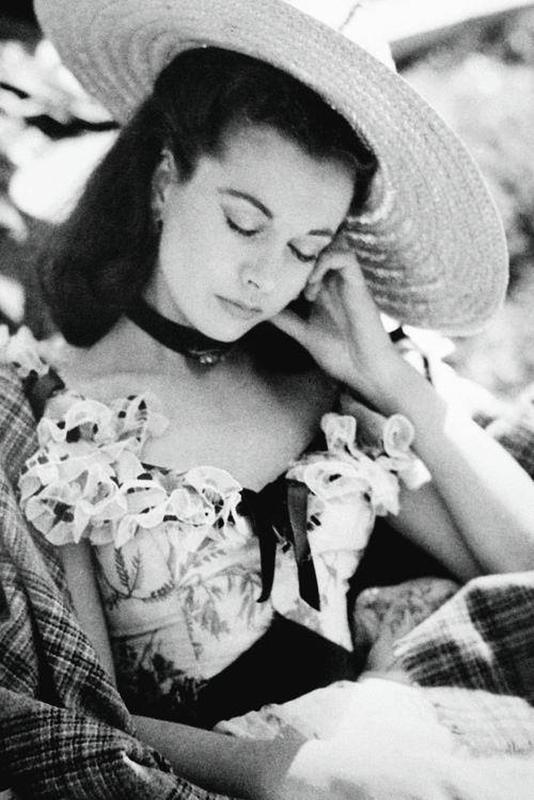 Yes, even iconic movie stars need some rest from time to time. Here, Vivien Leigh is sleeping on the set of Gone with the Wind in 1939. The iconic movie was the very first to win an Academy Award. However, things weren't always peachy on set. Leigh did not like kissing Clark Gable because she claimed that he had bad breath. 
Maud Stevens Wagner, First Known Female Tattoo Artist In The US, 1907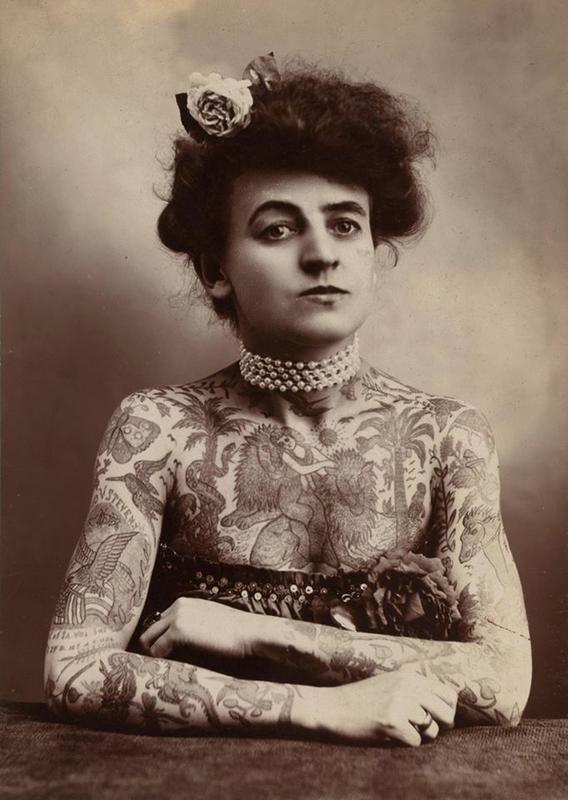 Born in 1877, Maud Stevens Wagner was a performer in a traveling circus. She got into tattoos when she met her husband, a sailor who had traveled the world and learned about tattoos from tribesmen in Java Borneo. Maud fell in love with his tattoos, and in exchange for a date, she got tattoo lessons. They ended up falling in love and getting married, which, of course, meant more tattoos!
Burt And Loni, 1988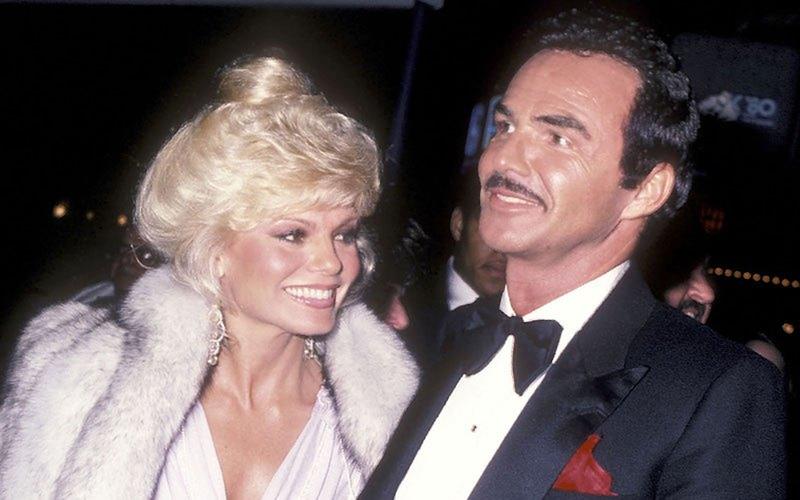 Burt Reynolds and Loni Anderson got married in April 1988. Their marriage consisted of a 20-minute ceremony on Burt's ranch in Florida. Although they wanted it to remain quiet, five paparazzi helicopters were circling above the venue, and there were a ton of reporters outside the gates. Only five years later, their marriage fell apart in a bitter and ugly split.
Masks Worn By Doctors During The Plague, 1619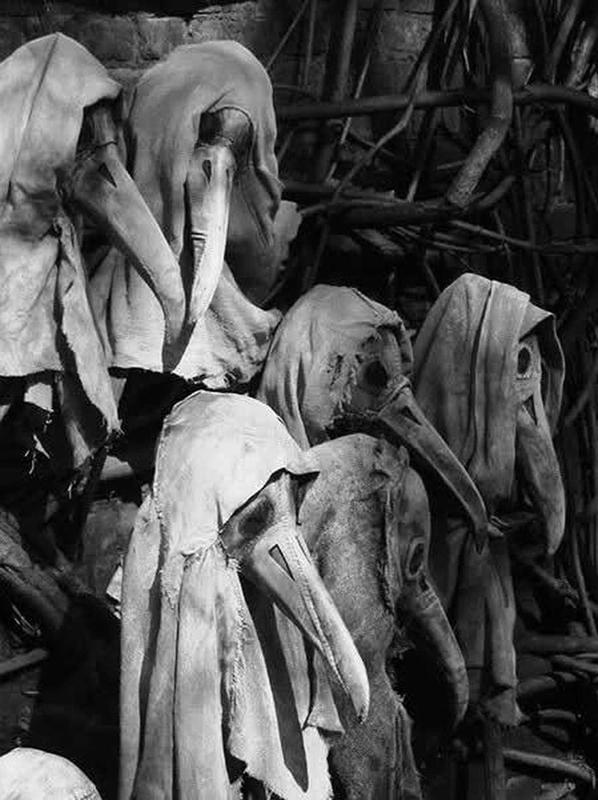 At the time of this photo, doctors wore bird beak masks to avoid getting infected by the plague. The airborne disease was believed to be spread by miasma, which is another word for "bad air." Their attempt at safety backfired, as this creepy mask became a symbol of the Black Death. Imagine how creepy it must have been for the patients!
Munsters, 1964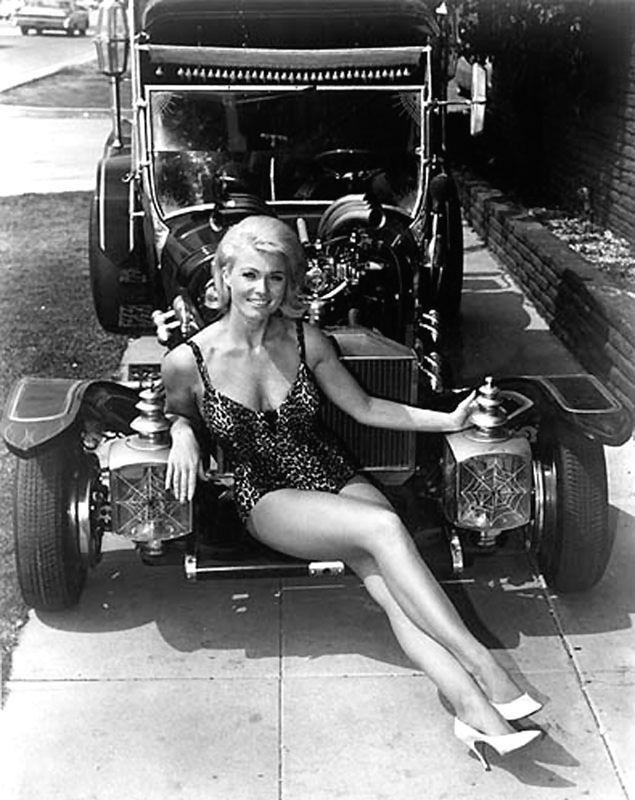 Marilyn is most people's favorite of the Munsters. Named after Marilyn Monroe, the role was played by many different actresses. The original Munster is Beverly Owen, even though she didn't believe that the show would succeed. However, she got depressed when she moved to Los Angeles from New York, and she ultimately got fired.
Boar Ride, 1930s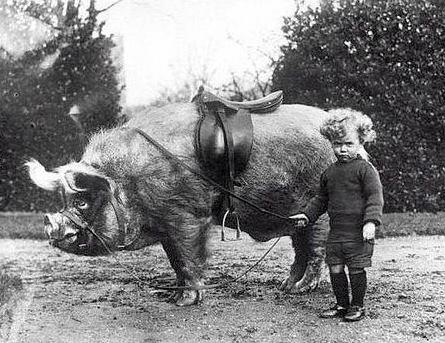 Ponies are fun and all, but who needs them when you can ride a boar? This photo was taken in 1937, and unfortunately, we don't see the kid on top of the boar, but judging by the expression on his face, he's a natural. Boars and pigs are actually smart creatures, and they surely don't like having a little kid riding on top of them like they're some sort of ... horse?
Locomotive Under The Snow In The Great Plains Blizzard, 1949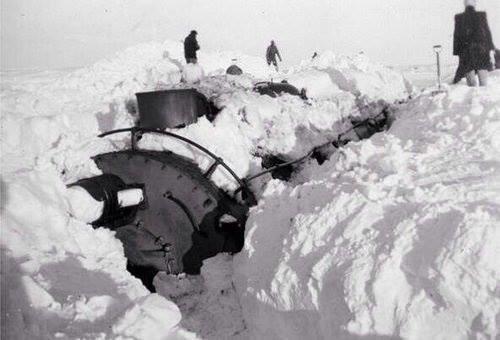 In 1949, this ravaging blizzard buried an entire train. It was one of the worst the country has ever faced, whipping through the northern plains with ferocious force. This included heavy snow and wind that reached speeds of 70 miles per hour. In isolated towns, airplanes were sent to provide them with food and medical supplies because all their roads were blocked by snow.
Marcia Marcia Marcia!, 1970s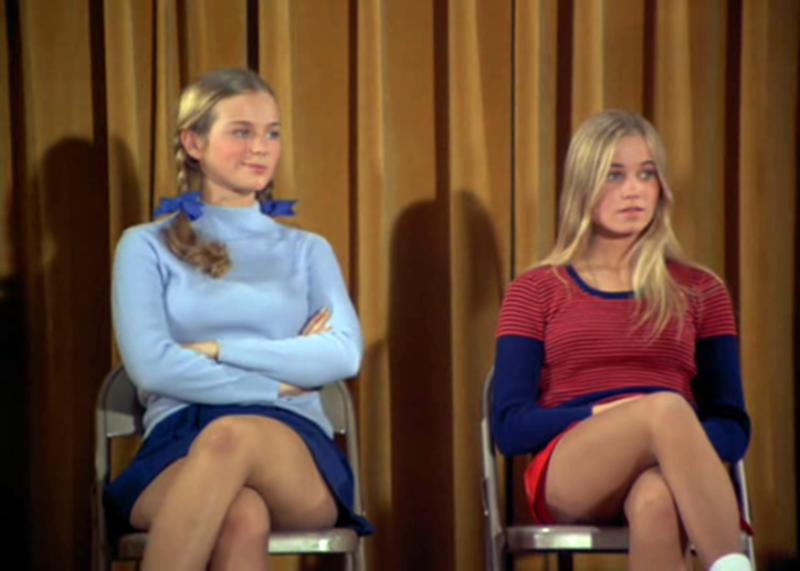 This is Marcia Brady from the Brady Bunch; a role played by Maureen McCormick. The show ran from 1969 to early 1974. She was adored by people due to her hot looks and perky personality, so people often screamed "Marcia Marcia Marcia!" However, there was a dark side to the adulation, as her older sister in the show, Jan Brady, got jealous of all this attention.
A Fisherman And His Catch In Istanbul, 1930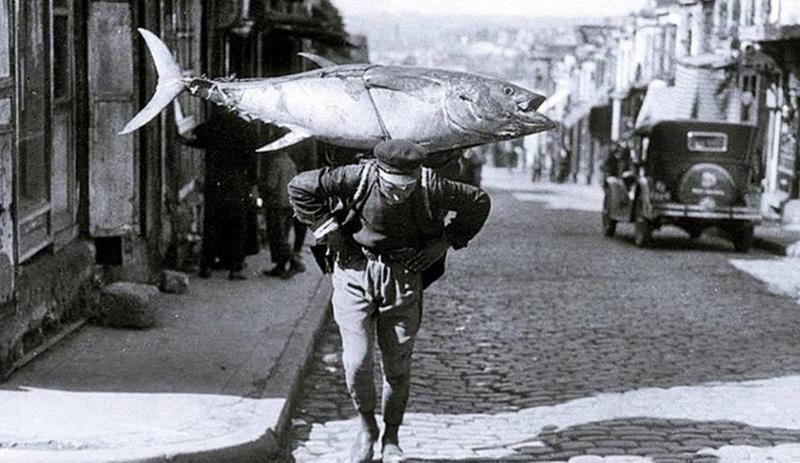 Hi Sir, is that a fish on your back, or are you just happy to see me? That's either a massive fish or a tiny man. Also, he looks like a walking Salvador Dali painting. Nowadays, almost 20,000registerd fishing boats will mark the start of the commercial fishing season, where Turkish people say: "Vira Bismillah," which means "raising the anchor in the name of God.
Bea Arthur ("Maude") In Her U.S. Marine Corps ID Photo, 1943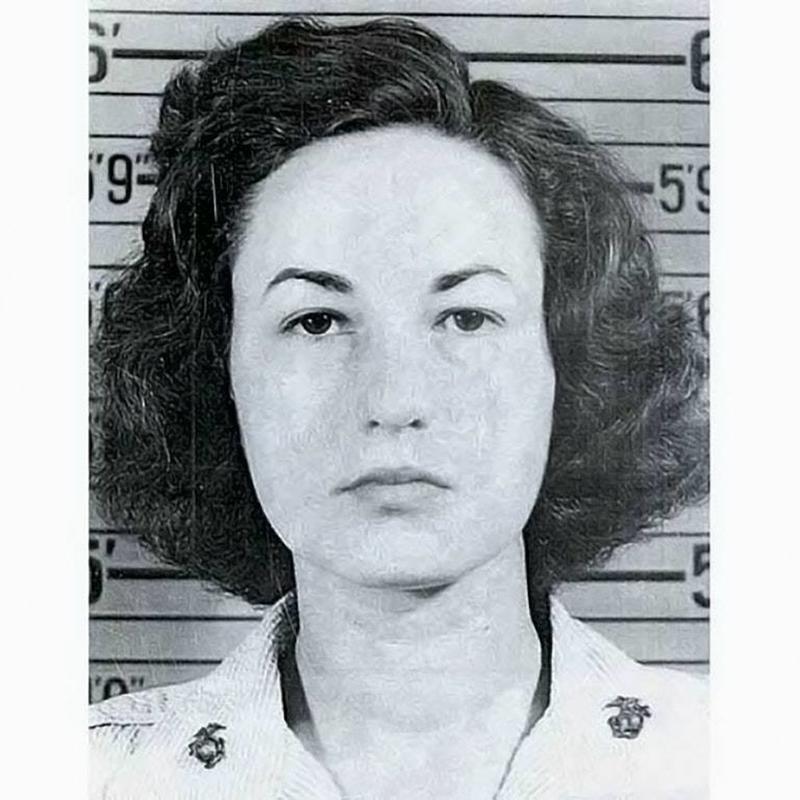 Before playing the famous Dorothy Zbornak on hit TV show Golden Girls, Bear Arthur was in the U.S. Marine Corps. Is that really surprising? Also, during the Second World War, Bea was a truck driver and typist in the United States Marine Corps Women's Reserve. In addition, after receiving an honorable discharge in 1944, she worked as a licensed medical technician before moving to New York, and the rest is history.
Michio Hoshino Mauled To Death By A Bear On A Shoot, 1996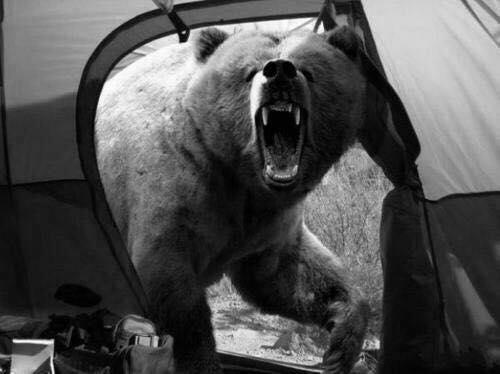 How would you react if you were faced with a grizzly bear like this? They say that when camping, to avoid bears scavenging your food, you should hide it in trees. However, what happens when the bear thinks you are the food? This was the last photo taken by wildlife photographer Michio Hoshino as he was ripped to shreds by this bear right after taking this photo in 1996. Rest in peace, Michio.
Beautiful Abandoned Place, 2010s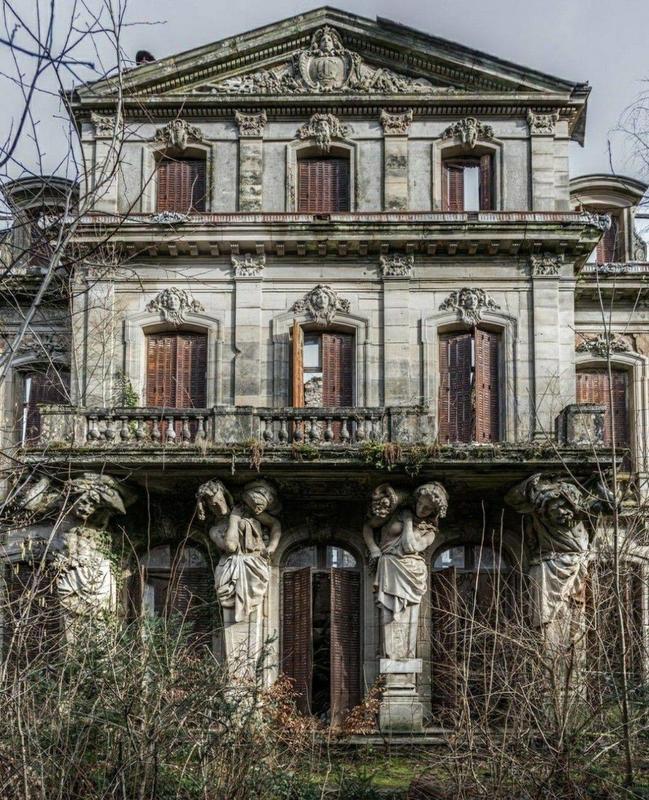 This is both creepy and cool at the same time. The abandoned house looks like it may have once been inhabited by The Munsters. We wonder how much one can buy this house for? Yes, it would need some renovations, but it would make a nice getaway place. Thankfully, we learned some lessons from the 1986 Tom Hanks flick The Money Pit.
Grace Slick, 1970s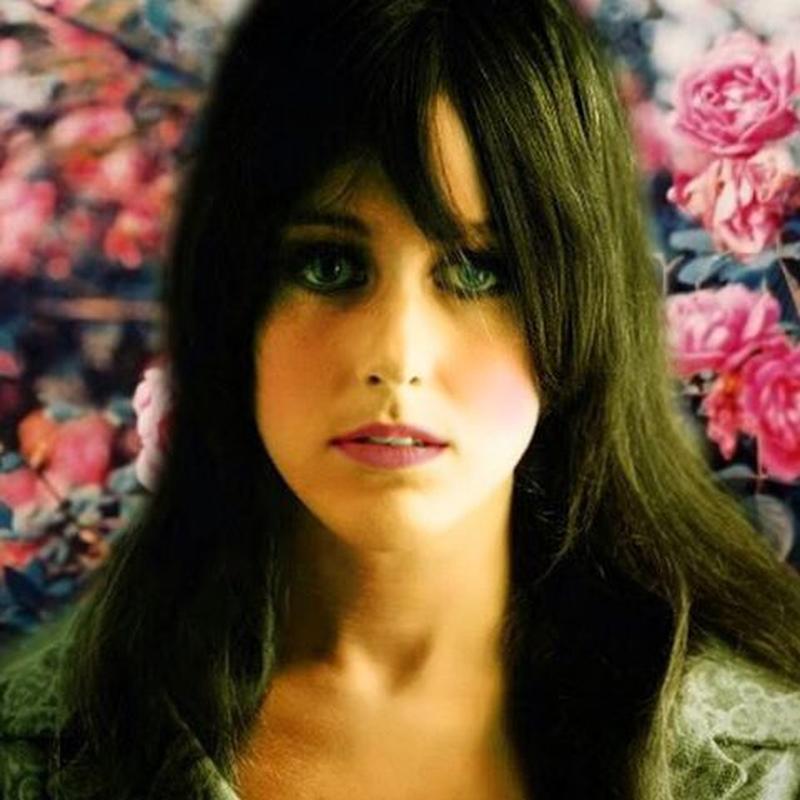 Grace slick was a very pretty woman in the 1960s. She was a model who rose to fame with the San Francisco psychedelic music scene. She is famous for performing with the Jefferson Airplane, and their most well-known song is White Rabbit. In the 70s, the band rebranded to the Jefferson Starship.
Portable Music, 1950s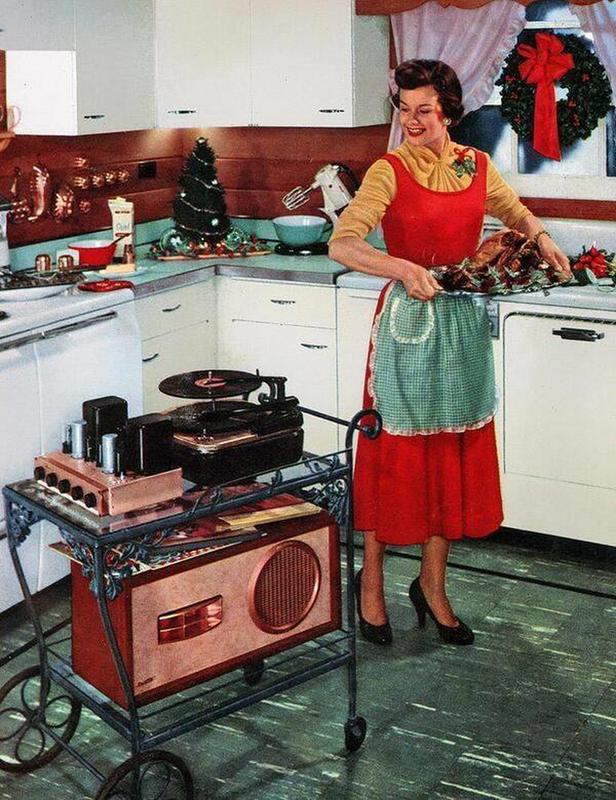 In the 1950s, this is how portable music worked. This housewife looks absolutely chuffed to be able to listen to some music while cooking Christmas dinner. She probably had no idea how we would end up listening to music. These portable battery-operated music players were available to the public, but they were quite expensive. 
A Dashing 21-Year-Old Winston Churchill,1895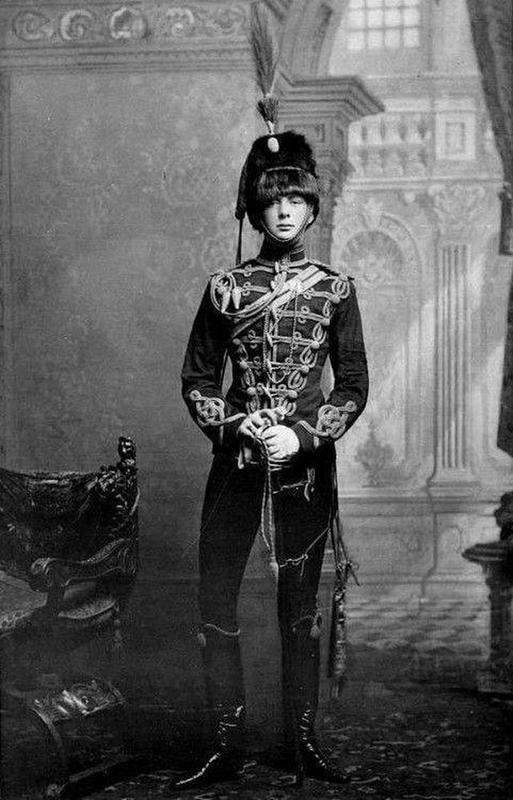 As you probably know, Winston Churchill was the Prime Minister of the United Kingdom from 1940 to 1945. He did so well that he got a second term, from 1951 to 1955. His biggest achievement was leading Britain to victory in the Second World War. He is known to look like a bulldog, but check out how he looked in 1895! How dashing!
Portrait Of A Victorian Bride, Early 1900s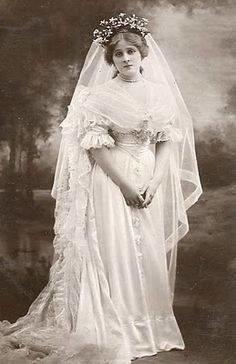 An article in the Islington Gazette on April 19, 1901, claimed that "a spinster bride of forty is becoming more and more frequent, especially in high society." At the end of the Victorian era, many women realized the advantages of getting married later in life, leading to changing norms in society, as Victorian brides usually got married between the ages of eighteen and twenty-five.
 Royal Family Christmas Photo, 1987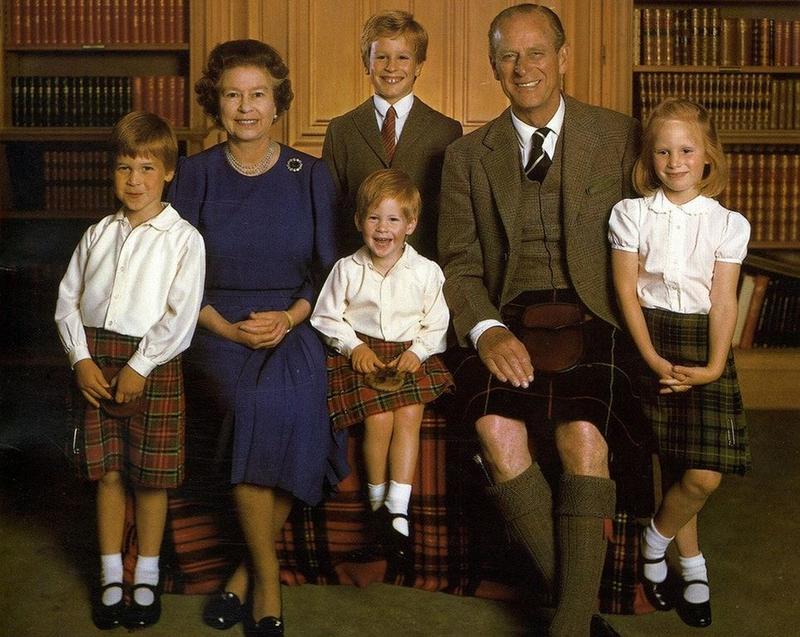 What a great use of kilts in this Royal Family photo! This one was taken in 1987, as Queen Elizabeth and Prince Philip took family photos with their grandchildren - Prince William, Prince Harry, Peter Phillips, and Zara Phillips. Its a tradition that happens every year, and the photos are sent out to loyal subjects, family, and friends.
Ann-Margaret Takes A Ride, 1971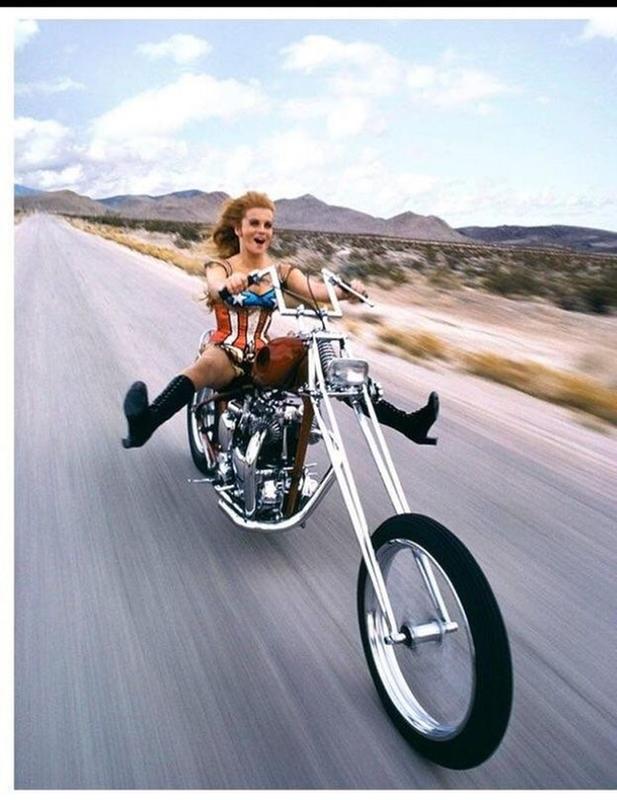 Living young, wild, and free! What's there not to like in this photo of sexy young Ann-Margaret on a motorcycle? Many people don't know that Ann Margaret's last name is Olsson, as she is half Swedish. She is known for starring in Bye Bye Birdie, Carnal Knowledge, The Cincinnati Kid, Grumpy Old Men, and Tommy. Also, she was in the movie Viva Las Vegas with Elvis Presley. 
Teenage Couple Listening To Records, 1948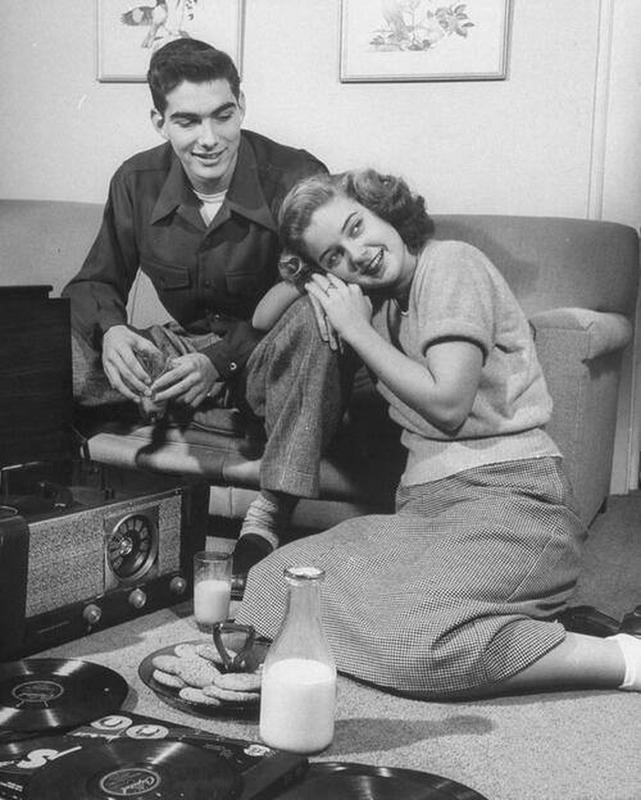 Back in 1948, this is what it meant to be a teenager. Young people would hang out, listen to records, have some milk and cookies, and that's all. They weren't checking their Instagram feed every second, hoping for a new Like. Those were much simpler times. Fun fact - the word teenager wasn't a word until the late 1940s.
The First Drive-In theatre, 1935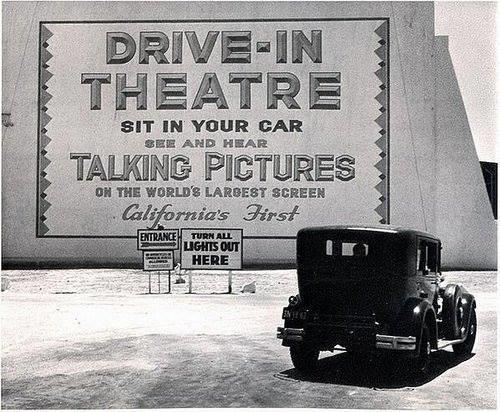 Drive-ins are great; you get to sit in your own car and watch a movie. The first one opened in 1933 on Crescent Boulevard in Camden, New Jersey. It was Richard Hollingshead's idea, a sales manager who loved movies. Before opening the drive-in theatre, he experimented in his driveway with a projector, and less than a month later, he opened the doors to his new business.
A Kenyan Woman Holding Her Dik-Dik In Mombassa, 1909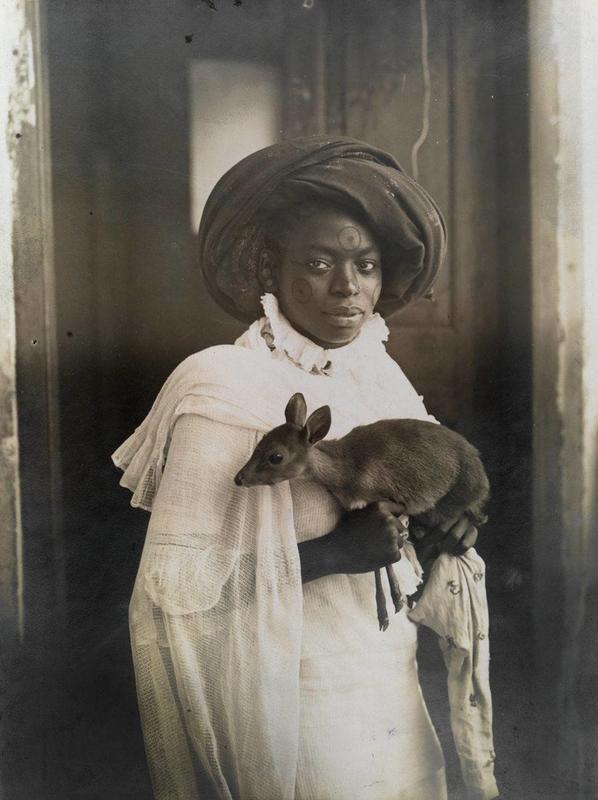 You may have mistaken this photo for one taken at New York Fashion Week. However, its actually from 1909, and this woman is holding a dik-dik. What on earth is that? A dik-dik is a little antelope that you can find in eastern and southern Africa. They're called dik-diks because that is what it sounds when a female makes an alarm call to alert other animals that predators are lurking.
A Policeman In New York City, 1925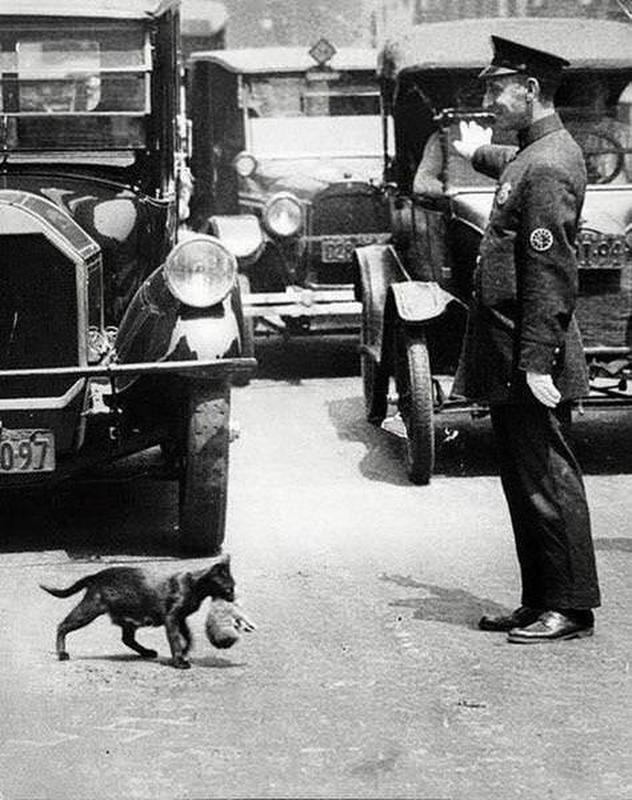 In 1925, New York City was a completely different place. Even the police force was way different. Here, a police officer is stopping multiple cars to allow a cat to cross the road with its kitten. At the time, immigrant families began to move to specific neighbors and create little communities, which is why we now have Little Italy and Hell's Kitchen.
Doris Eaton Travis,1920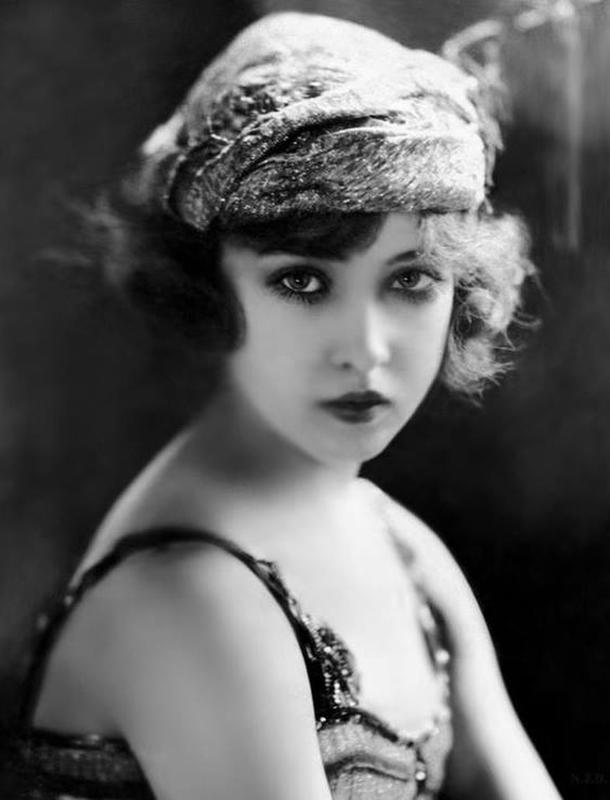 Doris Eaton Travis defines the term "old-time hottie." She was the last of the Ziegfeld girls, and she started performing on Broadway at the tender age of thirteen, becoming the youngest cast member of the group. During the 20s and 30s, she starred in silent movies. The beautiful actress ended up living all the way up to the age of 106!
Old Photo Of One Of The Famous Gargoyles At Notre Dame, 1910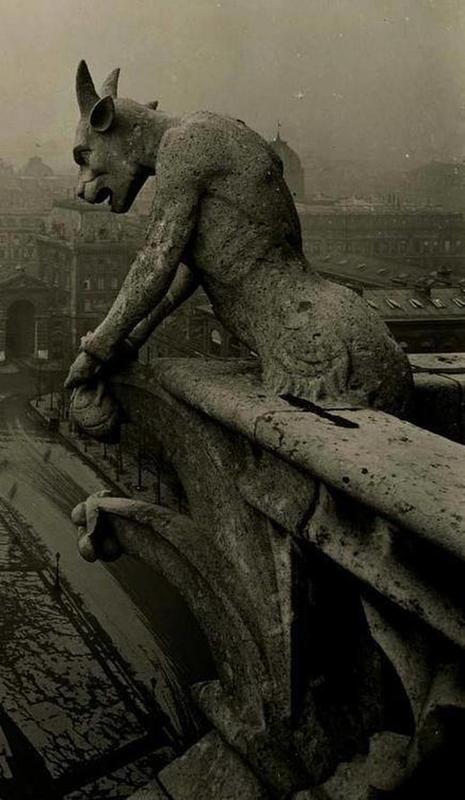 Everybody loves gargoyles! This photo reminds me of the movie The Hunchback of Notre Dame. This specific Gargoyle is chilling on top of the Notre Dame Cathedral, overseeing the city in Paris. Gargoyles have been used all throughout history; in Ancient Egypt, they took the form of a lion's head, and they were also found in Greek temples.
Very Brave New York Painters, 1930s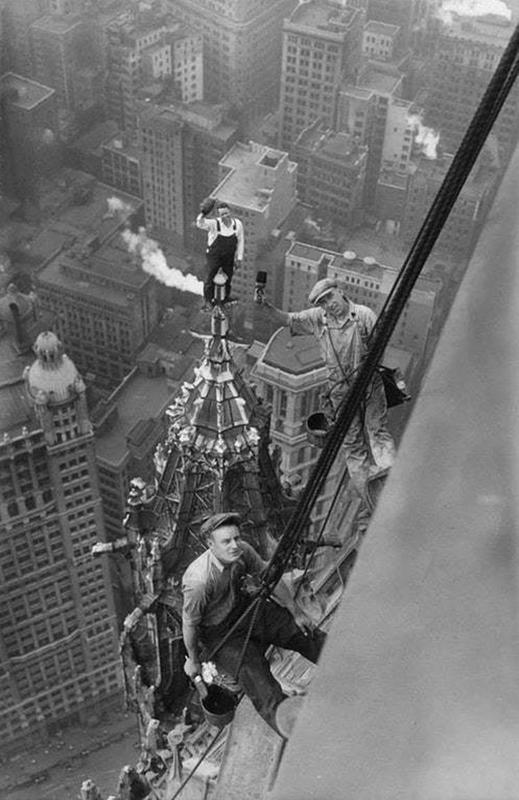 Before extreme sports, bungee jumping, and skydiving, there were men who painted skyscrapers this way. They're hanging on so casually as if nothing happened. During the 1920s, skyscrapers began to become increasingly higher thanks to new technology. So, how would these new buildings be painted? This photo is your answer.
Young Girl Posing With Komodo Dragon, 1930s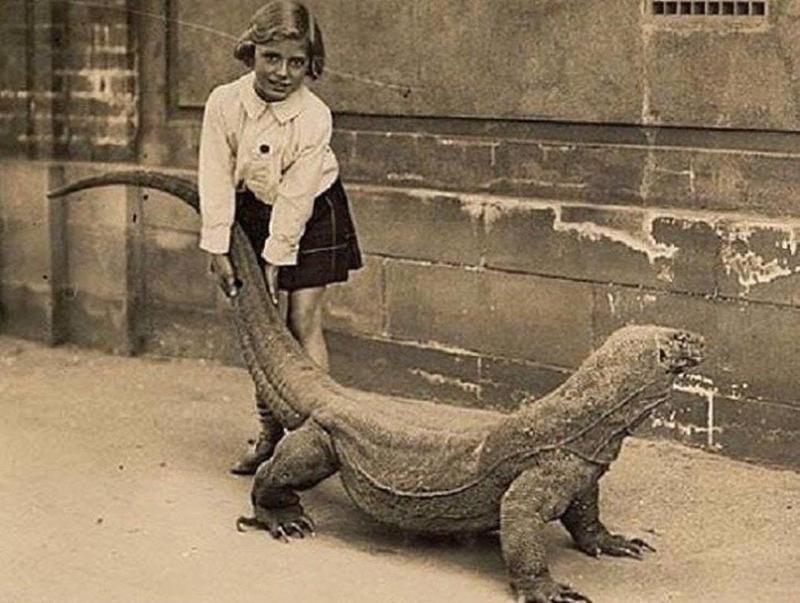 When looking at this photo, it seems like back in the 1930s, the London Zoo allowed little girls to grab Komodo dragons by the tail. The London Zoo is extremely ancient, opening its doors on April 1828, although it was originally meant to be a collection for scientific study. Perhaps this girl is conducting some sort of experiment with the dragon?
Stewardesses at Southwest Airlines, 1972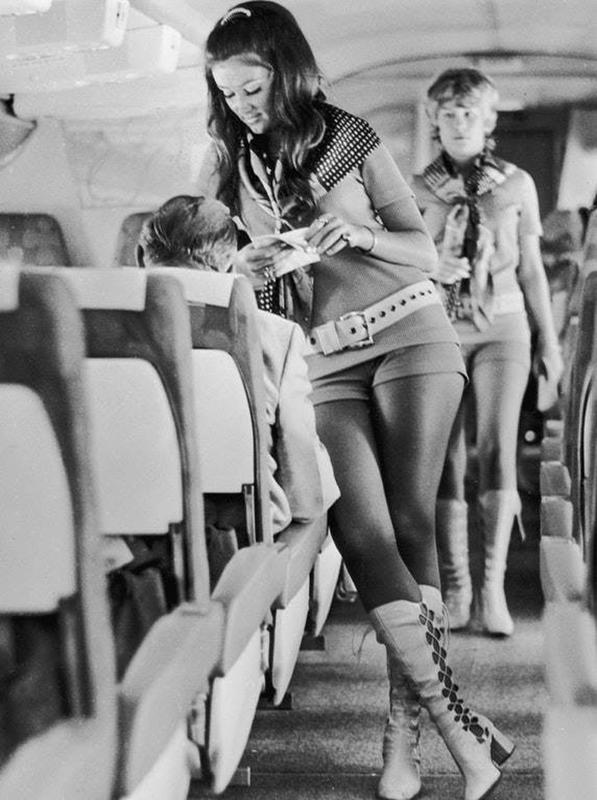 Have you ever seen a stewardess dressed in hot pants and leather boots? Would it be possible to start a petition to bring back those lovely uniforms? This photo was taken aboard Southwest Airlines, a company that was founded on March 15, 1967. At the time, hot pants and go-go boots were the mandatory uniforms. Why did it ever change?
Baseball Legend Lou Gherig Auditioning For Tarzan, 1936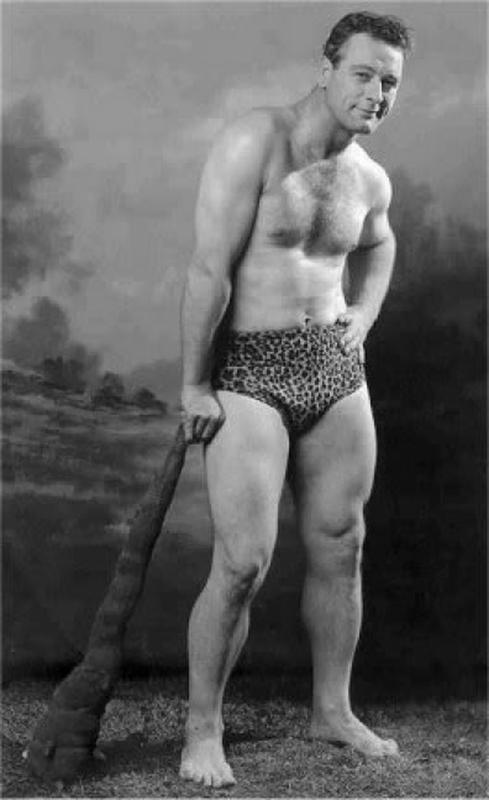 Here, baseball legend Lou Gherig looks completely out of place! He is posing in a lion cloth as he is auditioning for the role of Tarzan. Following a successful career in baseball, Lou decided to become an actor. He particularly wanted to play the role of Tarzan, but unfortunately, that never happened as Tarzan author Edgar Rice was far from impressed.
Stella Grassman Being Tattooed, Early 1900s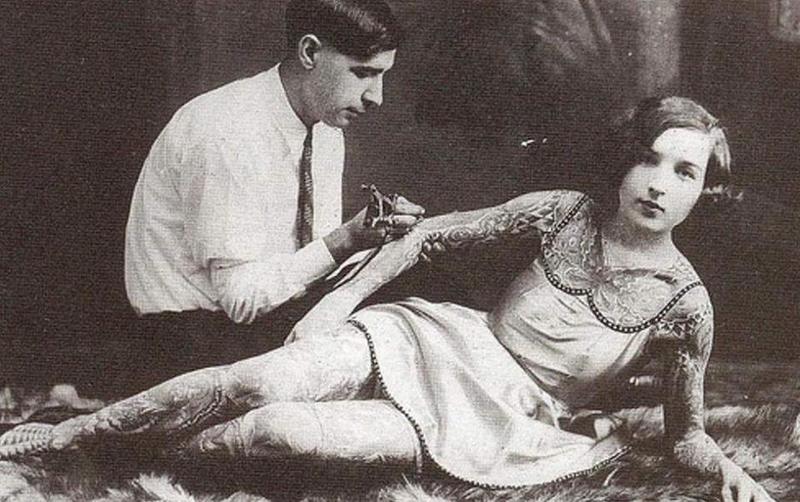 As mentioned earlier, Maud Stevens Wagner was the first female tattoo artist in America. Back in the early 1900s, a woman in tattoos was a sideshow oddity, and Stella's moniker was "Tattooed Lady." She rose to fame in the 1920s working for the Ringling Bros. Barnum & Bailey Circus.
Death-Defying Mountain Goats, 2010s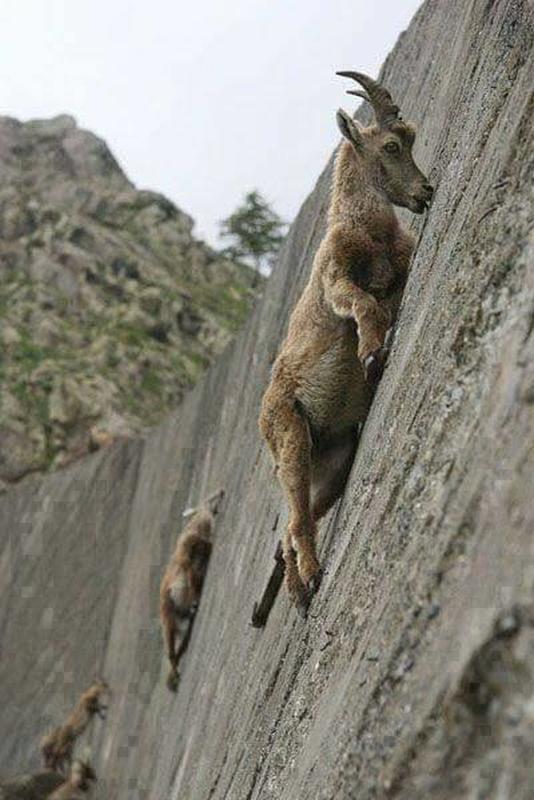 Here, it seems like these mountain goats are kissing the dam wall in Italy's Gran Paradiso National Park. Actually, they're climbing the face of the wall, but at the same time, they're licking the stones for their salts and minerals. Now we know why they're called mountain goats! These goats are some seriously brave creatures.
Benny Hill Loves The Ladies, 1990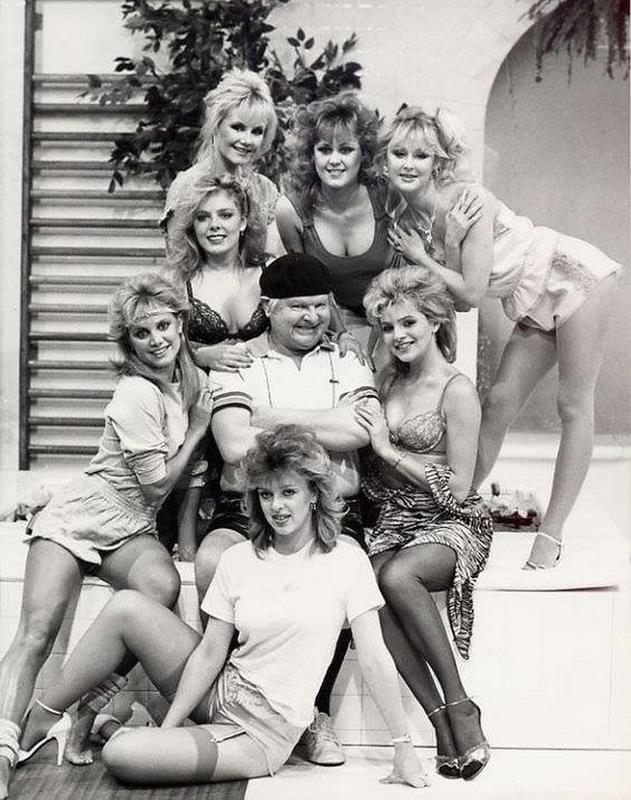 Nowadays, with the #metoo movement being a prominent issue in the media and the world, Benny Hill appears very creepy.  Benny Hill, whose real name was Alfred Hawthorne Hill, was born in Southampton, England on the 21st of January, 1924. He was inspired by his favorite comedian Jack Benny, which is why he chose the name Benny Hill.
Two Mummified Cats Found In Egypt, 1200–700 BC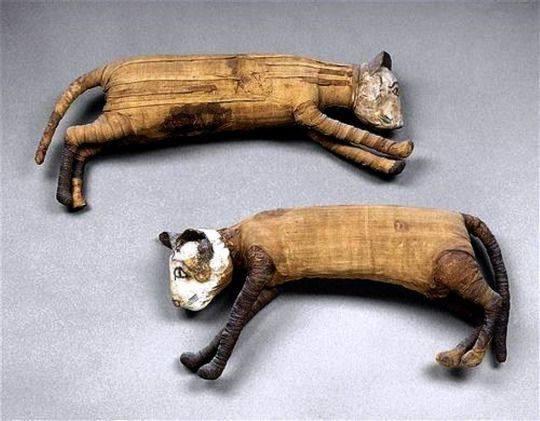 How are cats so cute, even when they're mummified? In Ancient Egypt, cats were considered sacred, and they even had a religion that worshiped these animals. The mummification of cats began in Ancient Egypt, and the reason for doing so was to allow the pets to have an afterlife, or to act as offerings to one of their gods.
Source: HistoryDaily