20+ Eye-Opening Historical Photos
Some of the best pictures of the past are truly heartbreaking, while others are totally heart-warming! Don't you agree?  images that can bring a smile to our faces. Either way, the world is lucky that these photos exist because we should never forget how humans have shaped history. Let's discover what this walk down memory lane has in store for us!
MUGSHOT OF BILL GATES
Almost everyone in the world knows about Bill Gates, the famous creator of Microsoft. He was also once the richest man in the world. However, not many people know that he was once arrested for driving without a license and that he dropped out of college. Gates was born in Seattle, Washington, and he presented Microsoft with Paul Allen in 1975. He served as chairman and CEO of the company for many years, until announcing that he would be taking a step back to focus on the Bill & Melinda Gates Foundation.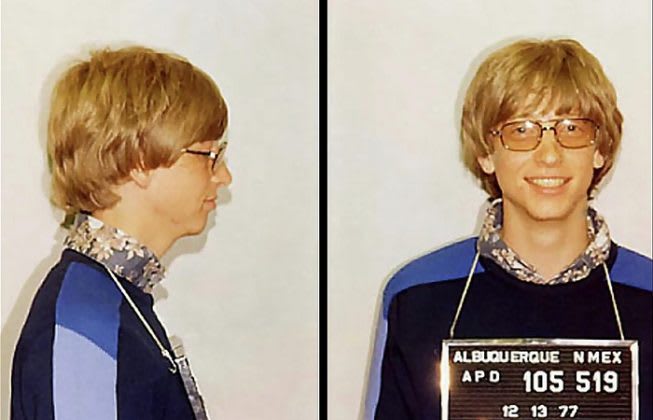 His duties were given to Ray Ozzie and Craig Mundie, and Gates officially resigned from the position of chairman of Microsoft in February 2014, becoming a technology adviser. The new CEO was Satya Nadella, but Gates will always be remembered as a revolutionary of the computer technology, although his business tactics were often criticized as they didn't allow for competition.
ELVIS PRESLEY AS A SOLDIER
The King of Rock n' Roll was in the army between March 1958 and March 1960, and he was drafted during the height of his career. Becoming a soldier helped changed his image in America as many parents, religious leaders, and other folks thought that his music was a bad influence. However, once people discovered that Presley had refused joining Special Service and living in priority housing, Americans suddenly respected him.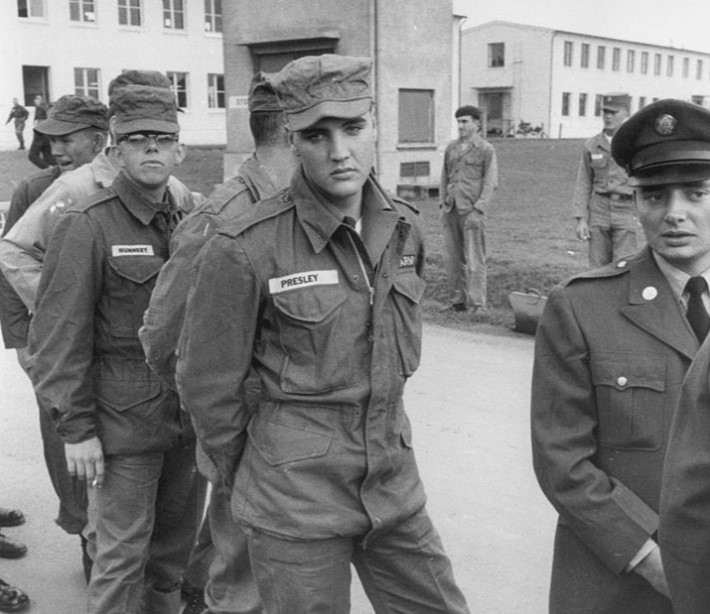 He also earned the regard of his fellow soldiers, and his image was finally in a positive light. However, his mother, Gladys, died of a heart attack during his enlistment. Furthermore, he met Priscilla Beaulieu during his time in West Germany and became addicted to certain substances. This dependency would lead to the end of his marriage to Beaulieu and his death in 1977 at the age of 42.
AUSTRIAN BOY WITH NEW SHOES
This is an image of an Austrian orphan who just received a pair of new shoes back in 1946. The pain of World War II affected everyone, but the history of National Socialism in Austria has a mysterious origin. According to Professor Andrew Gladding Whiteside, the country has its own version before the occupation as the result of the problems between the German and the Czechs. However, he said that it wasn't a predecessor of German Nazism. When the Austro-Hungarian Empire broke up at the First World War and the Habsburg monarchy ended, there were three political parties in Austria.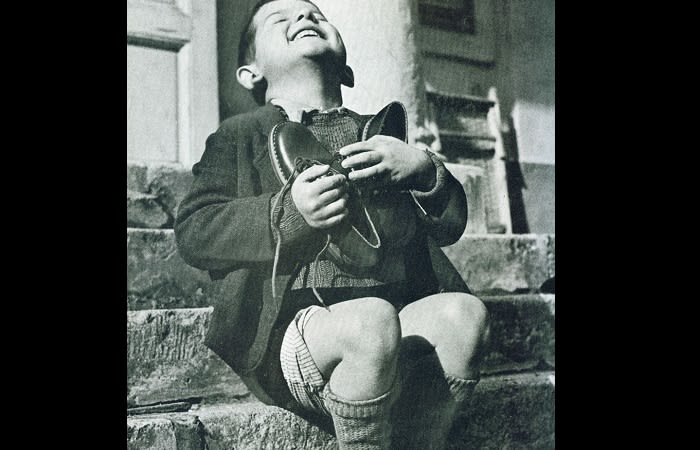 These were the Social Democratic Party of Austria (SDAP), Christian Social Party (CS), and the nationalist Great German Union (Großdeutsche Vereinigung). The communist party and the socialist parties were smaller, and they had nothing to do with the Reichsrat or the Nationalrat. However, the big ones were strongly in favor of joining German Austria with the country, but the smaller unions wouldn't hear of it including the monarchists. In 1919, they signed the Treaty of Saint-Germain, which prohibited the union with Germany, and declared Austria an independent republic. Sadly, WWII was another story.
THE MGM LION
Leo the lion is the mascot for Metro-Goldwyn-Mayer, and he was featured in their logo, which was actually shot by Paramount Studios' Lionel S. Reiss. Several different lions were used by the studio especially after the merger between Samuel Goldwyn, Marcus Leow, and Louis B. Mayer's respective companies. In fact, there have been seven lions, and all of them have been known as "Leo the lion", although only the one used since 1957 was actually named Leo.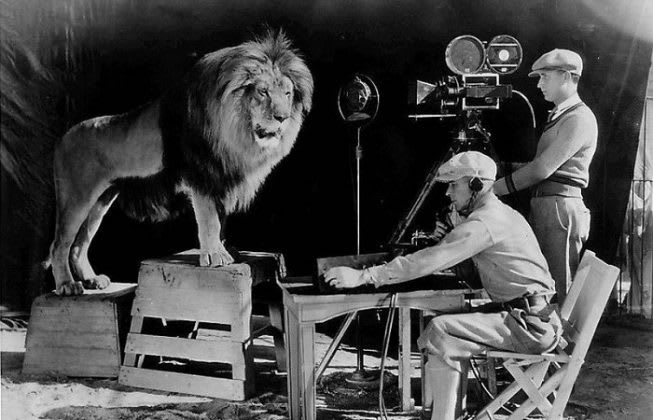 The one of this picture was actually named Jackie. Leo was bought by Henry Trefflich and trained by Ralph Helfer. Aside from the MGM logo, Leo was used in several movies such as 'King of Kings' (1961), 'Zebra in the Kitchen' (1965), 'Fluffy' (1965), and 'Napoleon and Samantha' (1972). He was also in a famous television commercial for Dreyfus Investments in 1961.
THE FIRST YEAR OF DISNEYLAND
This image was taken in 1955, when Disneyland first opened in California, drawing thousands of people to their attractions. There are more than 6 Disneyland all over the world, and it's considered the most successful theme park. Around 28,000 people attended the "International Press Preview" on July 17, 1955, and the park was opened to the public the next day. It had 20 attractions back then, and since it was summer, it was very hot that day.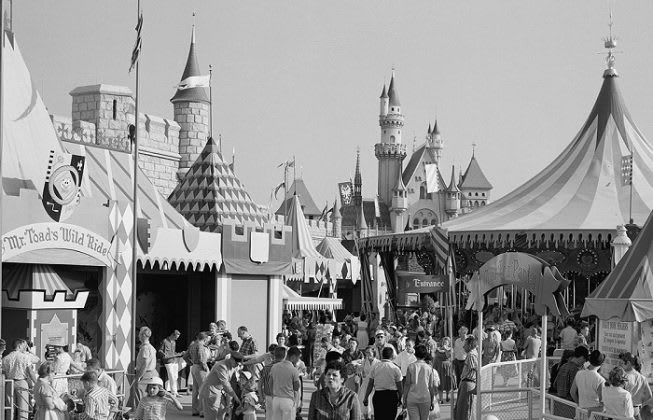 Traffic was horrible at Harbor Boulevard, and because of the local plumbers' strike, Disney had to prioritize water for toilets. Therefore, there were no working drinking fountains. This led to negative publicity for Pepsi, as they viewed it as a horrible way to sell sodas. Furthermore, the asphalt had such been laid, and some women's heels actually sank into the floor.
ALBERT EINSTEIN WITH SLIPPERS
No one can deny that Albert Einstein was a genius, but he knew how to have fun. This picture proves that he could sit back and relax. Additionally, professor Dwaine D. McCormack from Princeton University actually found something in an old shoebox in Einstein's old room. "I was thumbing through some old things in the room, when I came across an old shoebox, it was covered in a thick layer of dust, possibly from 1937. This new find is truly astounding and will revolutionize astrophysics forever," the professor said.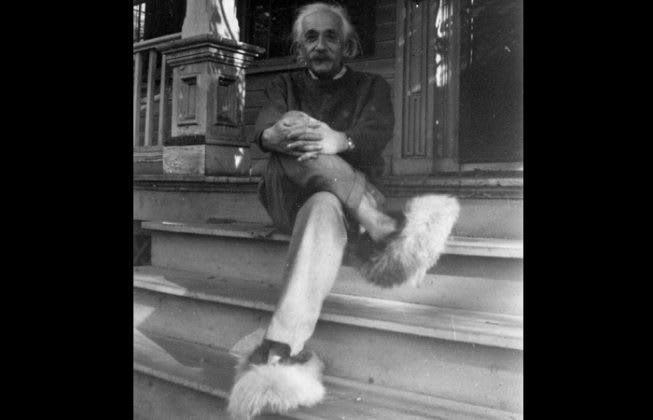 It seems that while Einstein discovered the laws of physics and the characteristics of the speed of light in a vacuum, he was also working on something else: fuzzy relativity. He spent 23 years perfecting this theory and used a pair of shoes to demonstrate it. There is a force of attraction between two objects called gravity, but fuzzy gravity is completely different. Find out more here.
BOARDING FOR THE RMS TITANIC
This image shows a valuable ticket for the RMS Titanic, and even if it hadn't sunk all those years ago, it would still be considered the most luxurious ship of the time. It cost $7.5 million to build in 1912, which is around $180 million today. They added a bunch of features, but sadly, not many safety characteristics like lifeboats. However, second and third-class were just the same as any other ship of the time, but first class was a whole different aspect.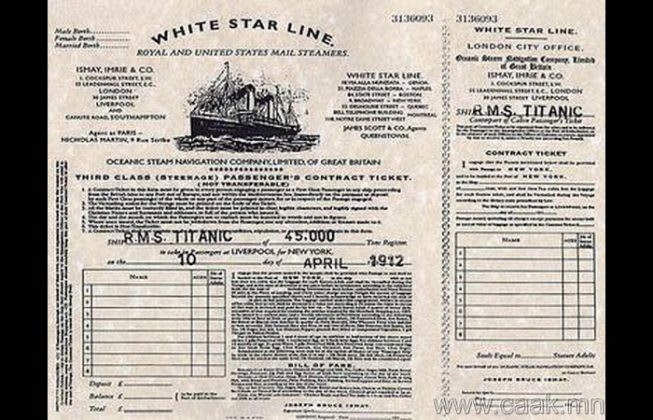 Some people might have wondered what they could buy with a first-class ticket to the Titanic. First, back in 1912, the ticket cost $2,560, which is $61,000 today, and Charlotte Drake Cardeza, from textile-mill wealth, could definitely afford it. Other millionaires included John Jacob Astor IV and Benjamin Guggenheim. The Cardezas suite had three rooms – two bedrooms and a sitting room – two wardrobe rooms, and a bath. Their servants had smaller cabins nearby. Discover more here.
BOXING EVENT IN THE 20s
A boxing ring was placed in Yankee Stadium back in 1923, and in the 20s it was one of the most popular sports in the world, even before Muhammad Ali and Smokin' Joe Frazier made it so famous later on. It would be 20 years or so before these fights were televised, and that's why it was such a popular event that drew so many people to the stadium. At the time, heavyweight champion Jack Dempsey was the star of boxing for many years.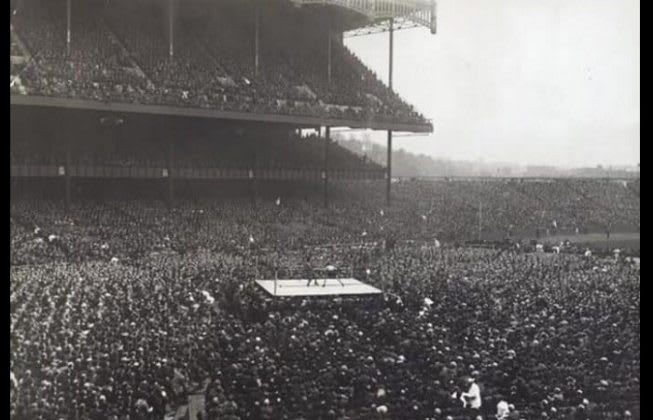 He held the title for much of that decade until 1926 when Gene Tunney beat him. However, fans still remember him as one of the best with the most legendary matches. In 1927, Dempsey fought against Tunney once again, and the match was known at "The Long County Fight". He was considered part of the Big Five of sports, which included Babe Ruth, Red Grange, Bill Tilden, and Bobby Jones.
OSAMA BIN LADEN'S JUDO BLACK BELT
Osama Bin Laden became the stuff of nightmares are the terrorist attacks of 9/11, and this picture was taken in 1980 when he was studying judo. A man from Taiwan actually claimed to have trained Bin Laden in Saudi Arabia. His name is Jimmy Wu, and he was one that took, as well as kept, this picture. Wu was in Saudi Arabia to coach the national judo team between 1981 and 1991. They apparently had sessions three times each week.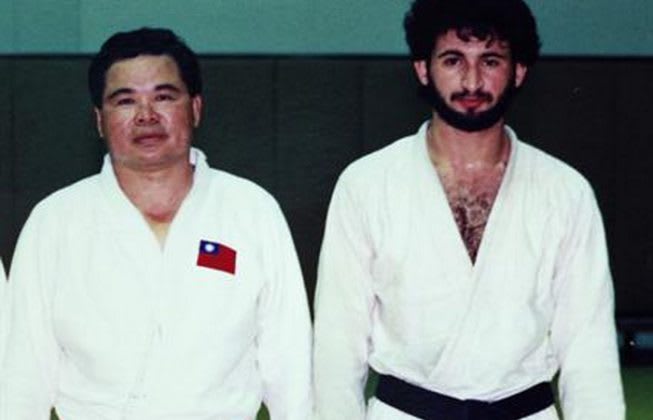 Bin Laden became a Judo black belt during his time on the team. However, Mr. Wu made it clear that he never saw an ounce of the terrorist Bin Laden would become after 1984. But, the coach also commented that he was a very reserved and conservative kid. You never know what's on people's mind or what led to some of the most terrible choices in the world.
THE FIRST WOMAN AT THE BOSTON MARATHON
This is an image of Kathrine Switzer running in the Boston Marathon from 1967. She was the first woman to complete the race with a number, but race organizer Jock Semple can be seen trying to stop and take away her numbered bib. Luckily, he was actually pushed away by Kathrine's boyfriend, Thomas Miller, who was running beside her. While training for the race, Switzer's coach told her that it was too much for a "fragile woman", but she did it carrying the number 261 with backing from the Syracuse Harriers athletic club.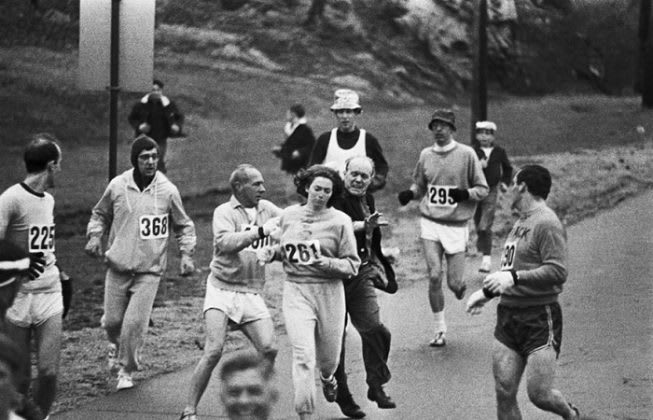 The runner was able to finish the whole circuit in 4 hours and 20 minutes, but she was behind the first woman to finish the race, Bobbi Gibb. Unfortunately, Gibb was not officially registered. The reason that she had number is that Switzer used "K.V. Switzer", although the runner cleared up that it wasn't to trick the organizers. It seems that she always used the gender-neutral abbreviation for a long time and even in college essays. 
THE MAGIC OF HEARING AIDS
This is an image of Harold Whittles, who was born deaf and given a hearing aid for the first time. Technology has managed to change the world over and over again. You might be surprised to learn that the first hearing aids were actually like tiny trumpets, and they were designed in the 17th century. Other first versions were external, and they directed sounds towards the ear, blocking other noises. Modern hearing aids started developing after the invention of the telephone.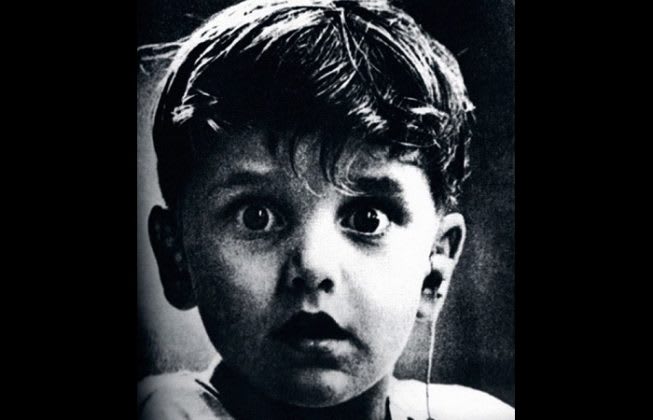 The first electric hearing aid was called "akouphone" and created by Miller Reese Hutchison in 1895. Luckily, there are all kinds of options today readily available to anyone who desires them. Meanwhile, hearing aids took another turn when carbon microphone, transmitters, and processing chips were invented. Thanks to the advancements in computer technology, current hearing aids are better than ever.
BUILDING THE GOLDEN GATE BRIDGE
Not many people remember when a structure was being built, especially if it became such an iconic part of a city like the Golden Gate Bridge. Before the inception of this bridge, the quickest way to get from San Francisco to Marin County was by boat over the bay. There was a ferry service since 1820, and the 1840s, they had one specifically for transporting water to San Francisco. The ferry business became huge in the town, as San Francisco was the largest city in the U.S. that needed them so much.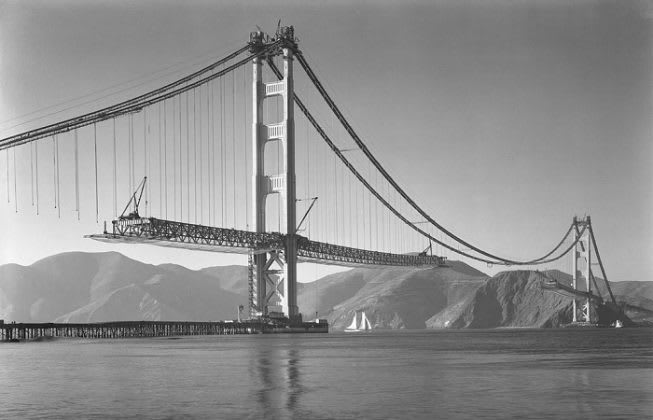 Many people wanted a bridge because San Francisco was not growing like the rest of the country because it depended so much on ferry boats. However, many experts said that a bridge couldn't be built across that body of water because of the weather and the fogs that would end up disrupting construction and passageway later on.
SHIPPING THE STATUE OF LIBERTY
The Statue of Liberty is 305.1 feet high, and it was a gift from France to America to celebrate their cooperation during the American Revolution. Currently, it's a symbol of freedom and democracy in the United States. It was presented by France sculptor Frederic Auguste Bartholdi, as well as the people of France, to the American minister of France back on July 4, 1884. The structure had to be separated into parts, and it was packed in 214 crates to ship to the United States.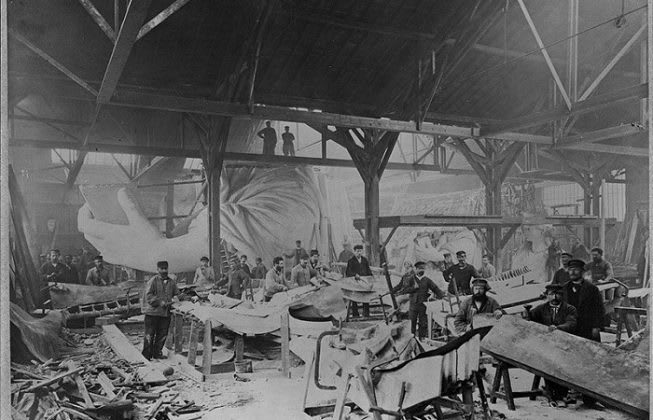 It was carried by the ship Isere over the Atlantic, and it arrived on June 17, 1885. The pedestal had to be completed before they could start to assemble the statue once again. It was completed a year later and presented on October 28, 1886, during a celebration hosted by President Grover Cleveland. It's considered one of the most touristy places in Manhattan.
THE WAY OF DRAGON
This is an image of two of the most legendary martial arts experts of all time. Chuck Norris only ever lost to Bruce Lee in 'The Way of Dragon', but they were still the closest friends. After that encounter, Norris went on a winning streak that no one could break. Chuck talked about Lee in the best way, and regarding his strengths, he said, "The truth is Lee was a formidable opponent with a chiseled physique and technique."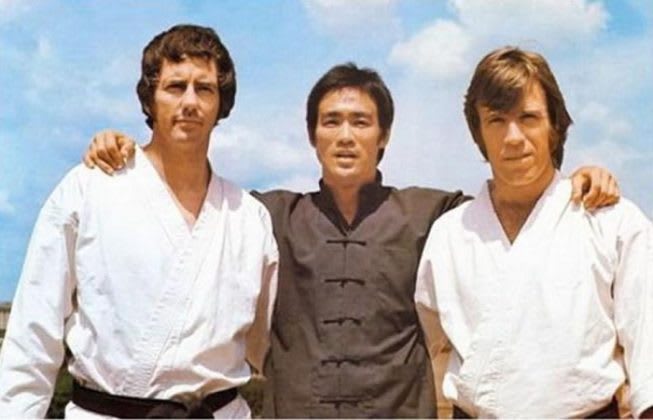 "I totally enjoyed sparring and just spending time with him. He was as charismatic and friendly in the ring and at home as he was on film. His confidence and wit were dazzling, and sometimes even debilitating to others. […] Lee was lightning fast, very agile and incredibly strong for his size." He continued, "Bruce Lee learned from everybody. He had a very open mind. He never believed in only one martial arts style or that one was superior. He believed that everything had strengths and weaknesses and that we should find the strengths in each method."
THE FIRST COMPUTER IN ENGLAND
It's still amazing how technology advances every day, and this image shows England's first computer back in 1950, and the world has Alan Turing to thank for it. During being of the greats minds of World War Two, his life still remains a huge mystery. But, he is still considered the father of computer science and artificial intelligence. He even made an electromagnetic machine, which led to unraveling Germany's Enigma codes.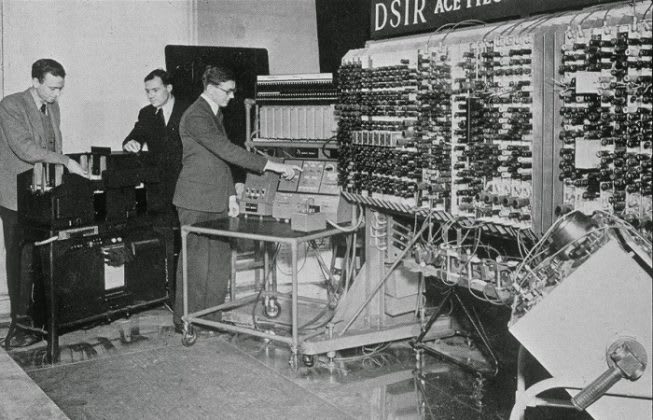 Described by his friends as an open-hearted, gentle soul, Turing was viewed as a nutty professor by others. His contribution to Bletchley Park is said to have shortened the war by two years and saved so many people, but it wasn't until 20 years after his death that he was credited. He died at the age of 41.
MAKING MOUNT RUSHMORE
Located in South Dakota, Mount Rushmore is one of the most important monuments in the United States, but it took around 15 years to build. The idea of making this landmark came from Doane Robinson from the South Dakota Historical Society, who wanted to make something that would encourage tourism to the state. In 1923, he proposed this idea be created on the cliffs of the Black Hills.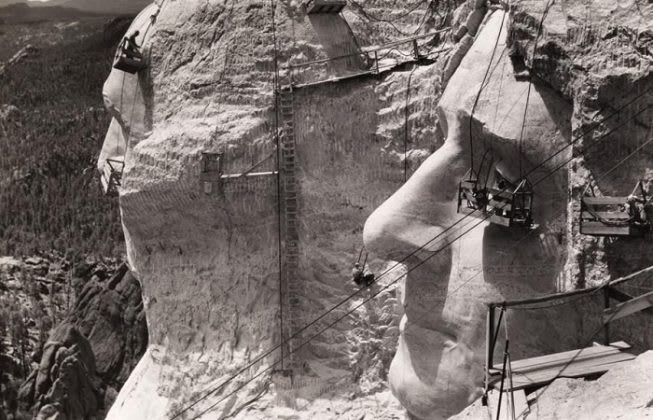 The government approved the project, and they started receiving government funding. Architect Gutzon Borglum was hired as the sculptor. He was actually the one to choose Mount Rushmore because it was the most sound and solid place. Then, Borglum had to choose the presidents and landed on George Washington and Abraham Lincoln first. He later chose Thomas Jefferson because he extended the U.S. territory through the Louisiana Purchase, which included South Dakota. Finally, he added Theodore Roosevelt.
NO JOBS DURING THE GREAT DEPRESSION
Things in the 20s were so great, that Americans didn't think that things would take a turn. They got into serious debts to invest in the stock market, but in 1929, the market crashed. A lot of people lost their businesses, and the economy only became worse. Stores couldn't sell, and so, factories had to fire employees. Unemployment was a huge issue, and the time was named "the Great Depression" due to so many hardships. It went on through the 1930s.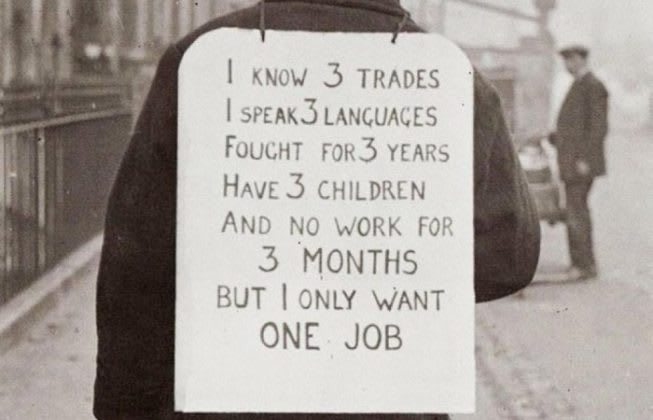 Farmers were particularly buried in debts, and people couldn't buy homes or food as they did before. Banks closed, and folks lost their savings. There were no loans to help people get out of trouble to keep their stores. By 1932, around 25% of the population had no jobs, which led to losing their houses. They ended up building shanties, which were "homes" made from cardboard, spare car parts or scraps.
MUHAMMAD ALI STOPPING A SUICIDE
A man named Joe had a nervous breakdown, thinking that he was in Vietnam, and attempted suicide. Ali came forward after hearing about it from his best friend, Howard Bingham and talked to Joe. This happened on January 19, 1981, and according to radio reports, Joe had been on the Los Angeles Miracle Mile building for several hours. A police rep said, "He seemed to think he was in Vietnam — with the Viet Cong coming at him."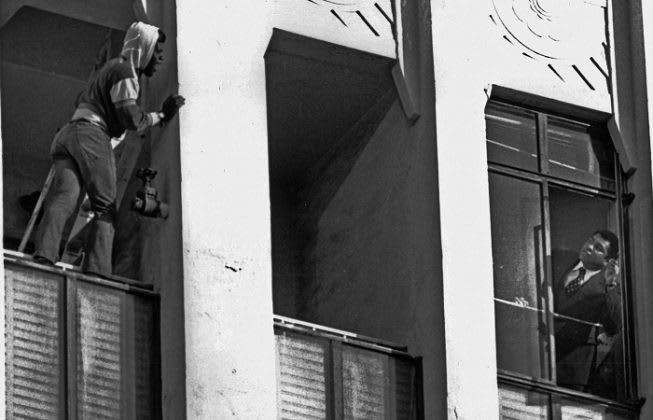 Apparently, the crowd gathered below even encouraged Joe to jump. Bingham was at the scene, and he called Ali who lived in the area. He later told reporters, "About four minutes later, Ali comes driving up the wrong side of the street in his Rolls-Royce with his lights blinking." The fighter was in a dark suit, leaning over a window, talking to Joe. According to the Los Angeles Times, Ali told Joe, "You're my brother! I love you, and I couldn't lie to you."
ALWAYS A LAKERS
This is an image of Kobe Bryant when he was traded to the Lakers after the 1996 NBA draft, and the world might not have known that he would become one of the best players in history. Bryant only played for the LA Lakers through his career, and the jerseys 8 and 24 were retired after he left the league in 2016. His father, Joe "Jelly Bean" Bryant, was also a professional basketball player for the NBA, and he also played in Italy.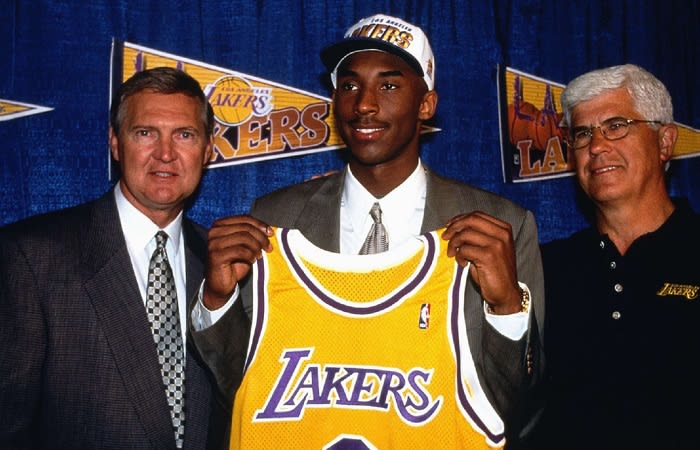 Kobe distinguished himself in basketball early on in school and decided not to go to college to enter the NBA draft after high school. The Charlotte Hornets were actually the only who drafted Kobe in 1996 and later traded him to the Los Angeles team. He was second youngest NBA player of all time when the season started. He proved himself quickly and even got selected for the NBA All-Star Game for his second season.
SWITCHING THE LANE IN SWEDEN
Also known as Dagen H (H day), Högertrafikomläggningen marks that date when Sweden changed their traffic laws from driving on the left-hand side to the right-hand side. It happened on September 3, 1967. "Högertrafik" means "right traffic" in Swedish, and it was the largest logistical situation in the country. Early that day, all non-emergency traffic was stopped from 1:000 to 6:00, and the cars driving at the time had to be careful.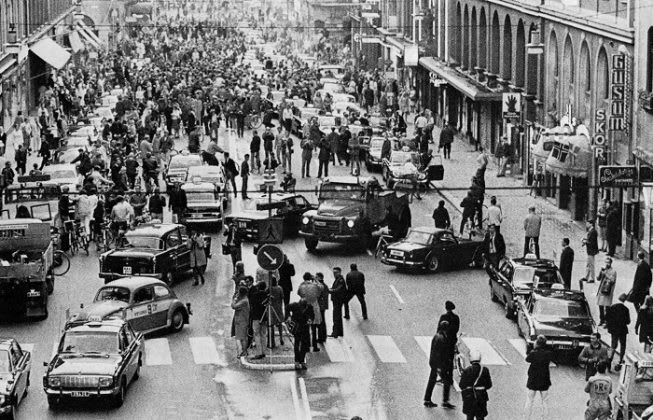 All of the vehicles had to stop at 4:50, and with extreme care, change lanes to the right-hand side and stop. They needed to give all drivers from both sides time to get in the right position and avoid accidents. They could continue at 5:00. The cities of Stockholm and Malmö had to extend the ban on driving for longer in order to rearrange intersections.
GOOGLE'S FIRST 21 EMPLOYEES
This image features the original developers, as well as the first marketing team, of Google. The company was established in 1998 and soon became even bigger than other search engines like Yahoo. Nowadays, it's one of the biggest businesses in the world. However, most of the originals left to follow their own paths. Only six remain with Google, such as the founders Larry Page and Sergey Brin. Luckily, it seems that all of these people went on to have very successful careers.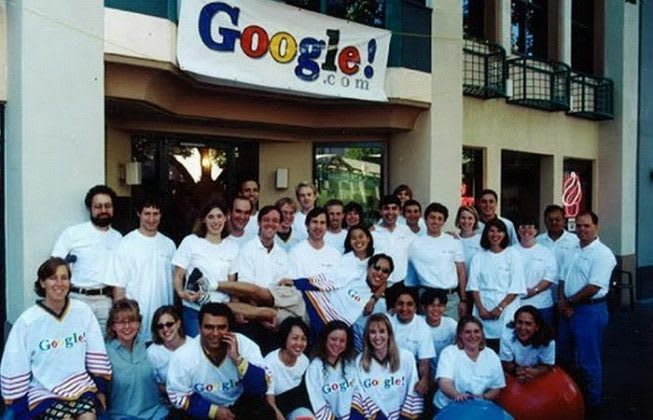 In 2015, a Quora user made a list of the original 21 and where they ended up. Marissa Mayer was a software engineer at Google, but she became the CEO of Yahoo. Kendra DiGirolamo was an ad sales coordinator, who left Google before it went public. She works at Driscoll's now. Larry Schwimmer was a software engineer, who came up with Snippets, a system that helped manage employees when the company was growing like crazy. He also worked on Google Moon. Find out more here.
A PHOTO ON THE MOON
Charles Duke was part of the 3-man crew of Apollo 16, which landed on the moon, and he left his family portrait in a plastic bag on the surface. Sadly, it's very likely that the picture was ruined because of the environment on the moon. Among other objects left on the moon were 3 golf bags, scientific equipment, a tiny statue, bags of human waste, and American flags. These were left by the lucky few who visited the satellite between 1969 and 1972.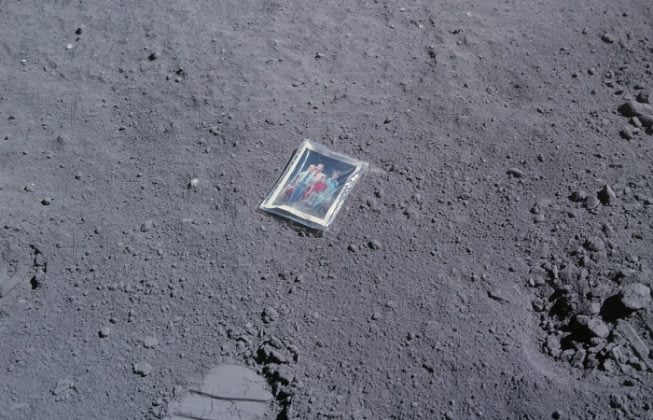 Archaeologist and anthropologist Beth O'Leary told Space.com, "There is debris, there are symbolic artifacts that didn't have to be left there, there's some just amazing scientific stuff. You would think that NASA has a complete inventory — they send up things, they come back and they count them all and everybody knows what's there and what's not there — and that's not necessarily true."
BUZZ ALDRIN'S SELFIE
This might be one of the best selfies in history, and it was taken in 1966 by the second man to walk on the moon, Buzz Aldrin. However, he was the first to take a selfie in spaceflight during the Gemini XII mission in 1966. However, Jennifer Levasseur, curator at the Smithsonian National Air and Space Museum, argues that it might not be a selfie. "For me, it needs to be digital to be a selfie. The thing that makes a selfie a selfie is sharing it," she said.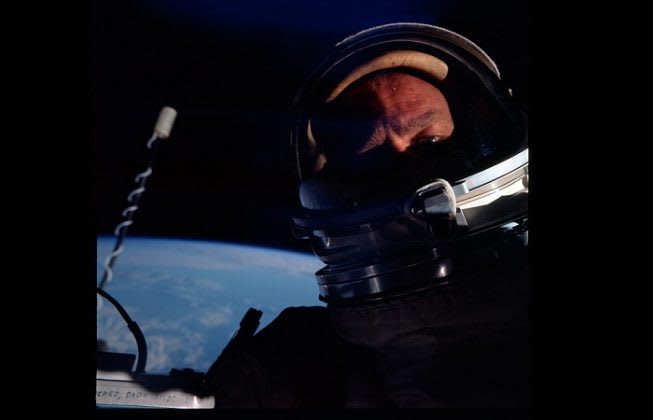 It might be the modern concept of a "selfie", but astronauts in the 60s took a bunch of pictures in space. Aldrin used a Hasselblad camera, particularly designed for space, with a large trigger that could be used in a spacesuit. Additionally, the camera was painted matte black to avoid the majority of reflections due to the windows. Furthermore, these devices need to survive extreme temperatures.
LINCOLN'S 2ND INAUGURAL ADDRESS
Abraham Lincoln was one of the most important politicians in American history, as well as the 16th president of the country. However, he was both loved and hated. This image shows his inaugural address which took place days before the civil war ended. He was welcomed by many citizens at the Capitol, although the weather was horrible. Lincoln took the oath uttered by Chief Justice Salmon Chase, and around a month later, he was killed.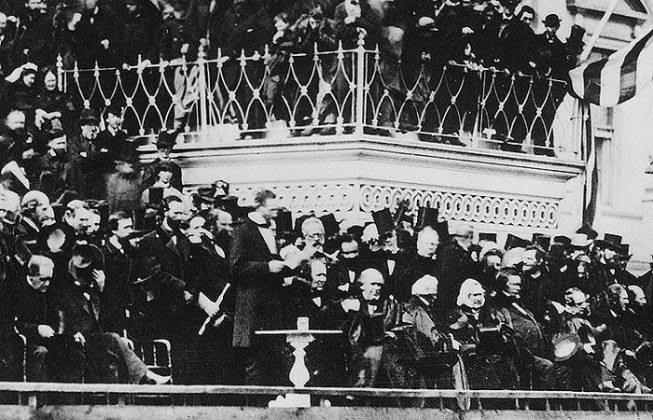 His speech started with: "Fellow-Countrymen:  AT this second appearing to take the oath of the Presidential office there is less occasion for an extended address than there was at the first. Then a statement somewhat in detail of a course to be pursued seemed fitting and proper. […]The progress of our arms, upon which all else chiefly depends, is as well known to the public as to myself, and it is, I trust, reasonably satisfactory and encouraging to all. With high hope for the future, no prediction in regard to it is ventured.[…]"
EXPENSIVE MEGABYTES
Technology was not for everyone back in the 80s and 90s. Buying a personal computer was something that few people could afford, as this ad clearly depicts. Nowadays, you could buy a pretty awesome computer for almost $6000, and it would have way more than just 10 megabytes. However, factoring inflation, if that computer was sold today it would cost $17,311.65.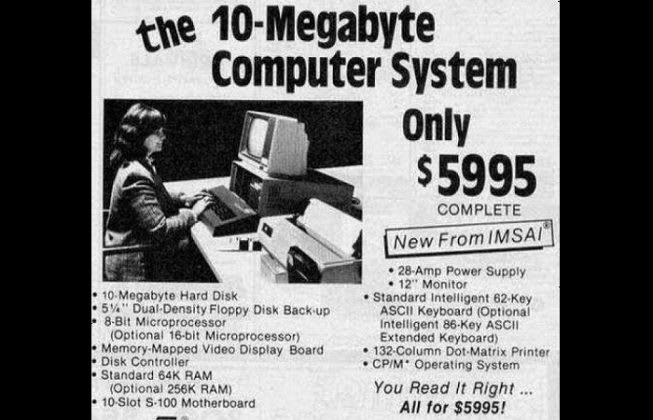 That was the IMSAI Series Two, which had the IMSAI 8080 hardware and case, and it had an LED front panel and switches. It was a developed by Howard Harte from Harte Technologies LLC and Thomas Fischer from Fischer-Freitas Company. There are still versions today that include modern features, but they have always been expensive computers.
KING TUT'S LOCK
King Tutankhamun governed over Ancient Egypt during the New Empire era, and he tried locking his tomb from potential looters. Little did he know that scientists would be the ones to enter his grave, but, at least, they took a picture of the "lock" before breaking it. It has been said that King Tut died when he was 18 or 19 and wanted no one to get his presents from foreign emissaries. Meanwhile, this image came from his 5th shrine.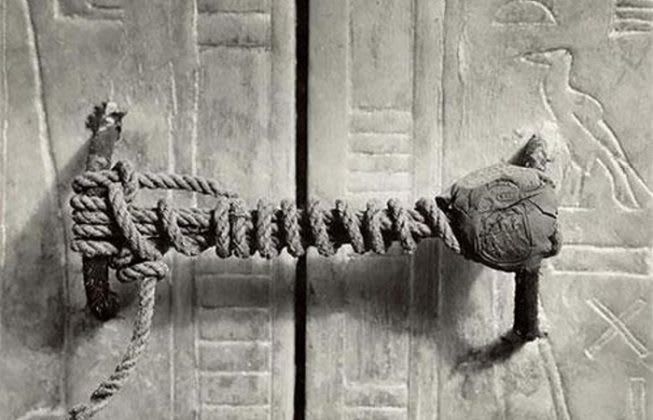 The ruler was buried in four sarcophagi, which were saved in five different shrines. They stayed locked for 3,245 years. The outer shrine had been opened several times throughout history, but the second gold shrine still had the seal of the necropolis, which meant that the pharaoh's mummy was there. The tomb was opened by archaeologist Howard Carter in the 1920s.
PROTESTING COMMUNISM IN CHINA
This is an image of the Tiananmen Square protests, which were led by students who wanted democracy, free speech, and free press in China. However, the government came down on them hard, and it led to the Tiananmen Square Massacre conducted on June 4 and June 5 of 1989. The protesters marched from Beijing to Tiananmen Square when Hu Yaobang died. He was the leader of the Communist Party and hoped to bring democracy to China.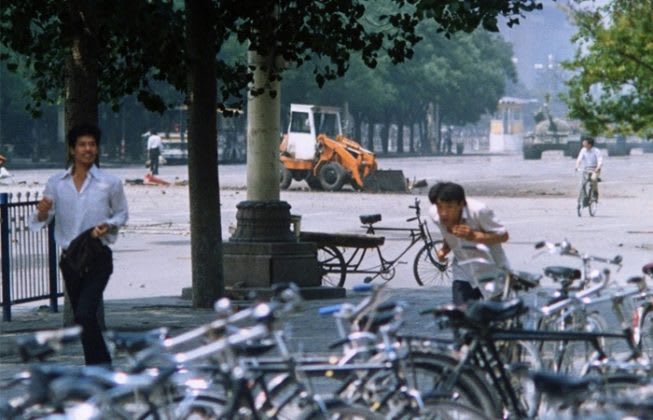 Hoping to realize that dream, young adults joined the increasing crowds at the Tiananmen Square. By May, tens of thousands would end up gathering. The Chinese government had made some capitalist reforms in the 80s, and as a result, working-class folks were without jobs and the poor became even poorer.
DISNEYLAND EMPLOYEES AT LUNCH
Although it seems pretty cool to go to lunch in costume, the truth is that their protocol states that employees have to remove their uniforms before having lunch. Some people might not like Disney World or Disneyland, and there are plenty of articles regarding the harsh working conditions at the theme parks and resorts. However, this picture seems pretty cool.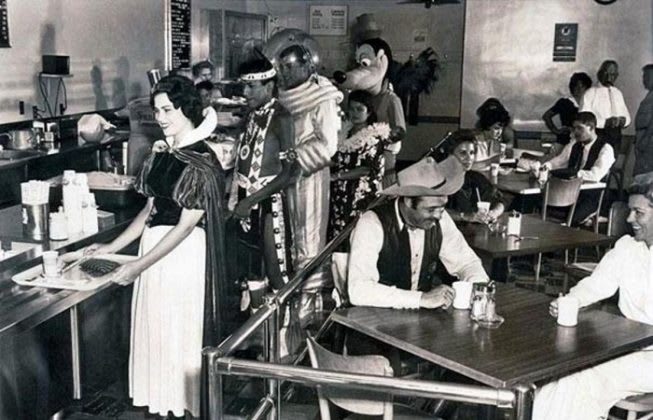 The Disney Fan Club explained this picture, "Disney's first park [was] just six years old when this truly behind-the-scenes photo was snapped in July 1961. Barely a month earlier, the Monorail track was extended to the Disneyland Hotel and the park hosted its very first Grad Nite Party, where teens dressed up and spent the night eating, dancing and enjoying many of the attractions. And speaking of dressing up and eating, you could always catch a character-in full regalia-on break in one of the Disneyland employee cafeterias."
SHOWING NAZIS WHAT THEY DID
This picture shows German soldiers after they were captured by the Americans, and they got to watch a film describing a concentration camp. Thus, they had to look at the atrocities performed during the regime they supported, and what members of the Third Reich actually did. It cannot have been easy relieving those nightmares knowing that they were on the wrong side. The caption of the picture said "Deutsche Kriegsgefangene in den Vereinigten Staaten sehen einen Bildbericht aus den deutschen Konzentrationslagern."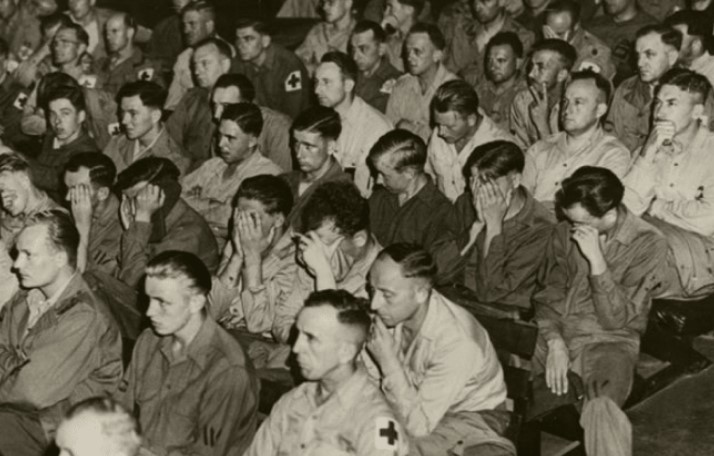 In English, that means "German prisoners of war held in an American camp watch a film about German concentration camps." This event was part of the Allied strategy of denazification, as they hoped Germans would never want Nazi ideology to return. The program also organized trips to concentrations camps and hung up posters of the dead bodies of the prisoners of war.
MUHAMMAD ALI VS. THE BEATLES
The Beatles and the Muhammad Ali were big names in their respective fields, but they didn't meet until February 18, 1964, at Miami Beach's 5th Street Gym. The British band, comprised of George Harrison, John Lennon, Paul McCartney, and Ringo Starr, was on Florida for a taping of the 'Ed Sullivan Show', when they met a rising boxer named Cassius Clay. A few weeks later the fighter changed his name to Muhammad Ali, but he was in Miami at the time to fight against Heavyweight Champion Sonny Liston.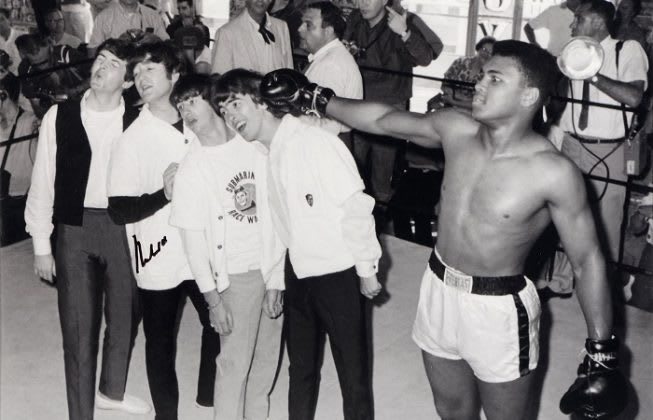 The band wanted a bit of publicity in the United States; so they talked to Liston about a photo-op before his match against Ali, but Liston refused. It has also been said that he insulted the band as well. Either way, the Beatles decided to talk to his opponent then. Photographer Harry Benson shot this epic moment, which was huge for both parties.
MARTIN LUTHER KING JR. REMOVING A BURNT CROSS
Racism is an everyday issue that might never end, but things were horrible back in the 30s and the 40s. Martin Luther King Jr. was one of the biggest African-American leaders. He inspired many people to fight against racism. This image shows MLK Jr. next to his son removing a burnt cross from the front yard of his home in Atlanta. Burnt cross were typical symbols of the Ku Klux Klan. The picture was taken in April of 1960.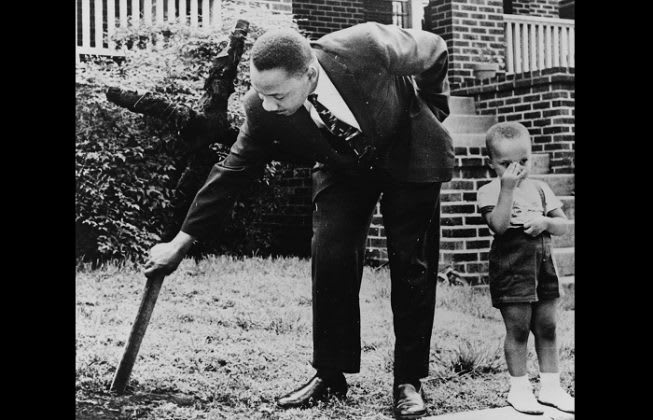 King Jr. received many other death threats during his life. His home in Alabama was bombed. The windows were destroyed and the front porch was damaged. However, he only cared that his wife and children were saved. Later on, during a speech, he said, "He who lives by the sword will perish by the sword…We must meet hate with love."
FLIGHTS WERE STOPPED DURING 9/11
After the events of 9/11 many flights were delayed, as the United States was on red alert, and no one could fly the country's sky. It was a confusing time for passengers flying in and out of the country as many had to wait on the grounded planes. The September 11 attacks were terrorist attacks committed by Al-Qaeda in 2001. 2,996 were killed, while 6,000 were injured, and around $10 billion in damage was caused.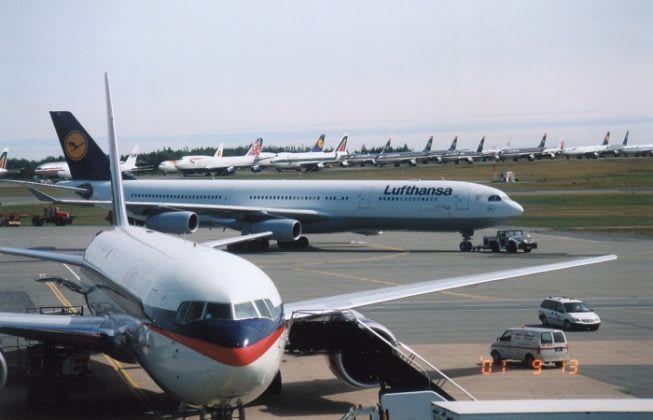 Many people even got cancer and respiratory diseases in the following years due to the smoke after the attacks. Four airplanes from United Airlines and American Airlines were taken over by 19 Al-Qaeda terrorists. Two planes crashed into the Twin Towers, the third one crashed into the Pentagon, and the fourth one crashed into a field.
ONE-WHEEL CAR
This picture shows a monowheel, a one-wheeled car that was akin to a unicycle. However, riders would sit in the middle of the vehicle instead of the top like a unicycle. Most were single-passenger cars, but there have been some multi-passenger versions. Hand-cranked and pedal monowheels were built in the 19th century, but the ones created in the 20th century were motorized. They are sometimes called monocycles as well, but that term is mostly used for motorized unicycles.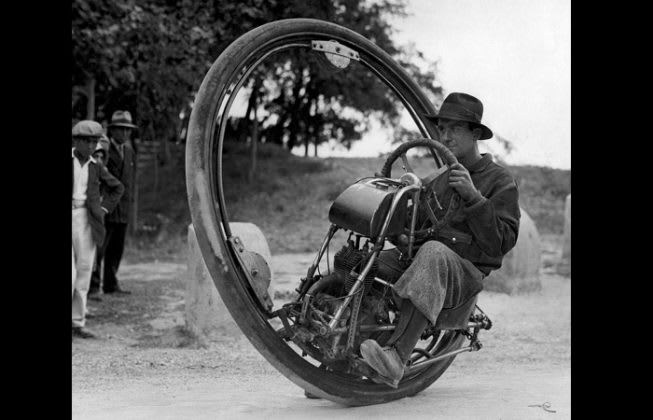 They never became a real source of transportation, and most monowheels today are just used for fun. However, between the 1860s and the 1930s, people were looking to actually make them into part of our normal traffic. The speed record for these cars was 98.464 km/h (61.18 mph). Would you have bought one instead of a normal car?
BARACK OBAMA IN HIGH SCHOOL 
Barack Obama was the 44th President of the United States, and he was born on August 4, 1961, in Honolulu, Hawaii. His parents were Barack Obama, Sr., who was born in British Kenya, and Stanley Ann Dunham, from Wichita, Kansas. He spent his childhood in Honolulu because his mother was studying at the University of Hawaii at Manoa. She remarried an Indonesian man and moved Barack there in 1967.
However, Obama returned to Honolulu in 1971 and graduated from high school in 1979. When he got older, he moved to mainland USA and went to Occidental College, Columbia University, and Harvard Law School. He also worked as a community organizer, lawyer, and lecturer at the University of Chicago Law School.
JIMI HENDRIX IN GERMANY 
Hendrix is considered one of the best guitarists in the history of music, and this is an image of his last concert ever. It was held in Fehmarn, Germany on September 6, 1970, as part of the Open Air Love and Peace Festival. He was accompanied by drummer Mitch Mitchell and bassist Billy Cox. Unfortunately, the rockstar was found dead 12 days later from an accidental overdose on barbiturates.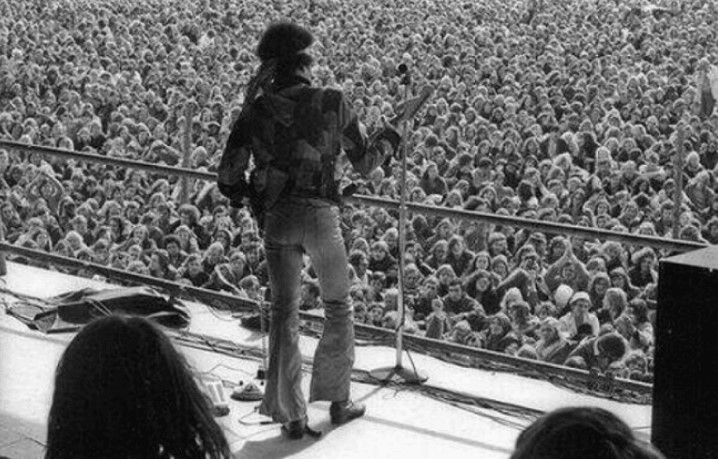 The concert was released in 2005 as 'Jimi Hendrix Experience: Live at the Isle of Fehmarn' as an awesome album, and the trio of musicians were one of the best-oiled machines in music at the time. Cox even said, "When I came along, I gave him that little boost. Because of a lot of things that we had done in the past working together, I bumped his memory, and he bumped my memory."
THE BERLIN WALL
The Berlin Wall divided the city to separate between ideologies, and in this image, a family shows their children to the grandparents who are on the other side of the wall. Historically, anyone who tried to jump the wall was shot dead. Known in German as "Berliner Mauer", this structure was demolished in November 1989, but it was originally built in 1961 by the German Democratic Republic to separate West Berlin from East Germany.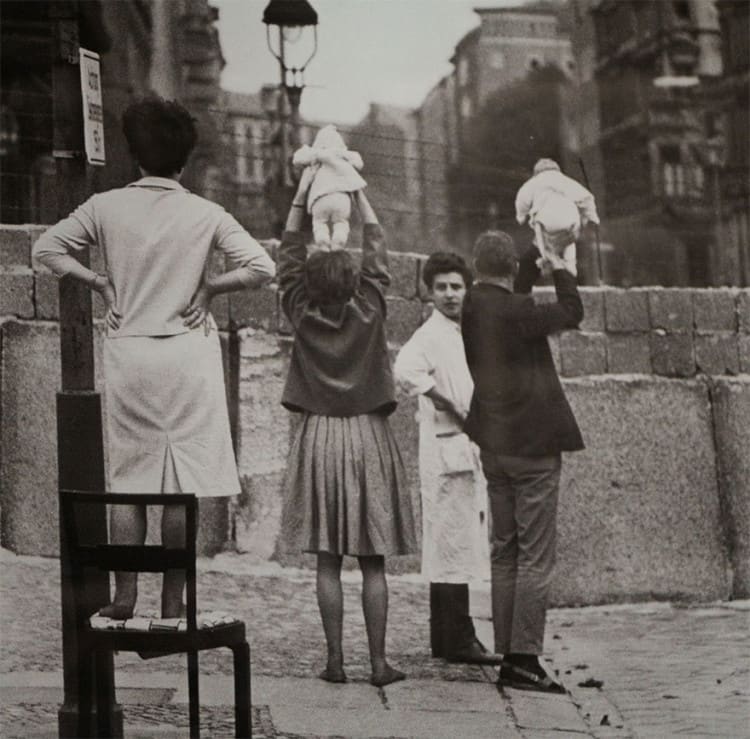 There were guard towers and other defenses. The GDR talked about the wall as the Anti-Fascist Protection Rampart. West Berlin also called it the "Wall of Shame", especially after Major Willy Brandt said when talking about the restriction of movement in the city. It was also known to many at the "Iron Curtain" which divided Western Europe and the Eastern Bloc during the Cold War.
SCOTTISH PIPER DURING WWI
Bagpipers were common on the battlefields of Scotland, as they used their music to inspire fear in their enemies. This image of a piper right in the heat of battle looks heroic. However, the original purpose of their sounds was to point out strategies to the troops, similarly to how a bugle was used with cavalry when officers need to tell soldiers something important.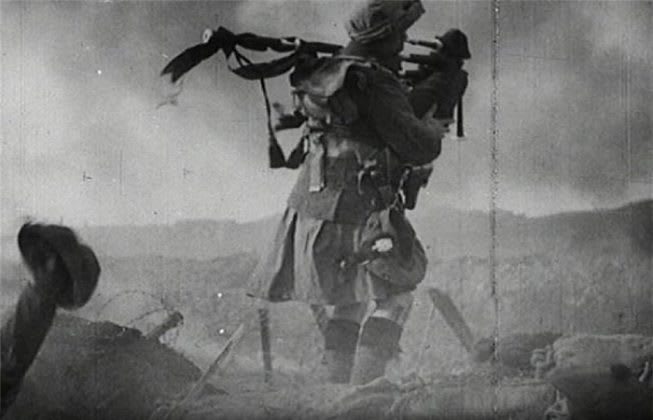 After the Jacobite Rebellions in the 18th century, many regiments grew up in the Highlands of Scotland, and years later, new armies brought the tradition of pipers in the battlefield. This practice kept going during World War I. Unfortunately, pipers were targets for enemies, especially during the great war. It has been calculated that 1,000 pipers died during the combats.
CAPPY, THE ARMY DOG IN GUAM
Guam was an American territory since 1898, but Japanese armies took it on December 10, 1941, right when the U.S. had just joined World War II. The Japanese had the island for almost three years, but U.S. Marines landed there in July 1944. They came with 2nd and 3rd War Dog Platoons, which were used for 405 patrols. They explored through cave systems, land mines, and booby traps. Furthermore, they also protected soldiers while they slept.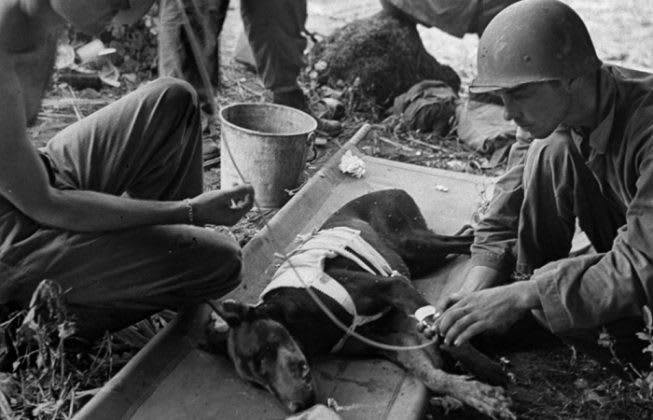 The famous Doberman Cappy saved 250 Marines when he warned about an incoming attack. Unfortunately, he was injured by mortar along with his master PFC Allen Jacobson. Jacobson allegedly refused to be treated until they got Cappy safely out of the danger zone. Sadly, Cappy was the first war dog to be killed in action in Guam.
WINSTON CHURCHILL
This is an image of a young Winston Churchill, who was born on November 30, 1874, and died on January 24, 1965. He was a renowned British politician, an officer, and a writer. He became Prime Minister of the United Kingdom in 1940 and served until 1945 for his first period. He famously led the Allied victory during World War II, and Churchill served a second period as prime minister from 1951 to 1955. He was the representative of five constituencies as part of parliament, and while he was an economic liberal and imperialist, the prime minister spent most of his career in the Conservative Party.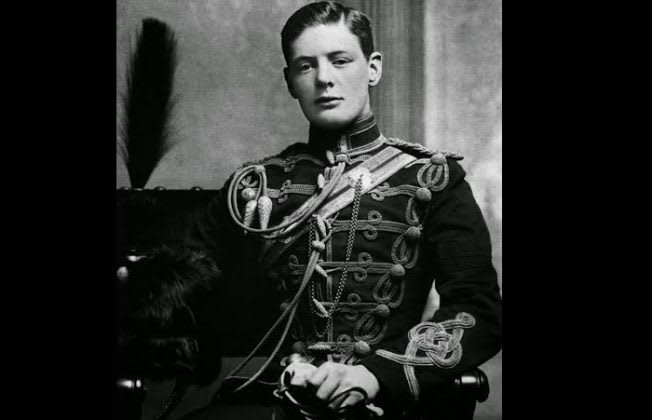 He was the leader of it from 1940 to 1955, but from 1904 to 1924, he was part of the Liberal Party. Churchill was born in Oxfordshire to an aristocratic family and joined the British Army, serving in the Anglo-Sudan War as well as the Second Boer War. The future PM started gaining recognition as a war correspondent and penned stories about his campaigns. He became a member of parliament in 1900, as a conservative at first, but changed to the Liberal Party.
PAINTING THE EIFFEL TOWER
As mentioned before, safety laws were not really that important at the beginning of the 20th century, and this picture is just another example of that. Four painters are retouching the Eiffel Tower in 1932 without any sort of protection. One worker was even smoking at the time, which should have been allowed. Meanwhile, there are plenty of things that most people don't know about this famous structure located in Paris, France.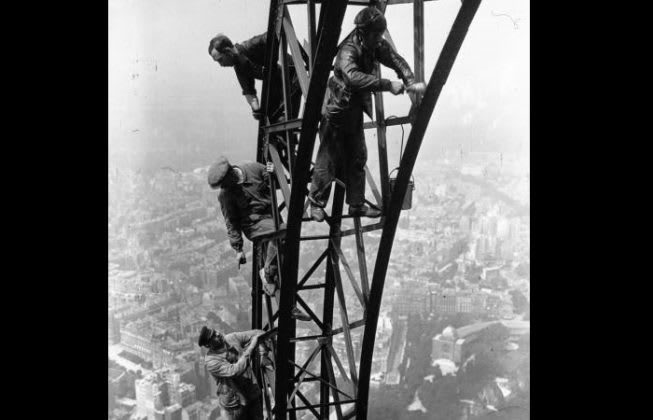 It was once yellow because Paris is the city of fashion as well as love. Therefore, the tower has changed colors during the decades to reflect it. In 1889, it had a reddish-brown color, and ten years later, it was painted yellow. It was also yellow-brown and chestnut brown before adopting the new "Eiffel Tower Brown" in 1968, which continues to be the color to this day. It's retouched every seven years.
THE FIRST BANANAS IN NORWAY
This picture shows the first batches of bananas arriving in Norway. It had 3,000 kilos of the fruit in crates and boxes. One of the people in the image is Christian Mathiessen, who founded Bama, the biggest banana importer in the country. Norway became the second country in Europe to import bananas after the United Kingdom. Global trading wasn't what it is today. So, people probably thought this fruit was very exotic.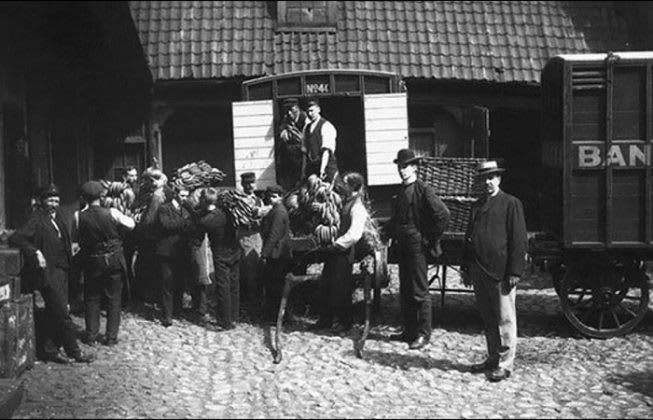 Portuguese sailors transported bananas to Europe from West Africa in the 15th century. In Guineam language, it was known as banema, which led to the English word. Meanwhile, the fruit dates back to even before humans cultivated rice, and while it grew exponentially in Africa, it apparently has origins in East Asia and Oceania.
FUTURE TEL AVIV
This is an image of 100 people, who were there to divide plots of 12 acres in the desert, and they were given land by the United Kingdom government, but the country didn't have the rights to it at all. The new neighborhood would be called Ahuzat Bayit (later renamed Tel Aviv), and the picture was taken on April 11, 1909. Unfortunately, they couldn't decide how to divide the land. So, they made it a lottery using shells.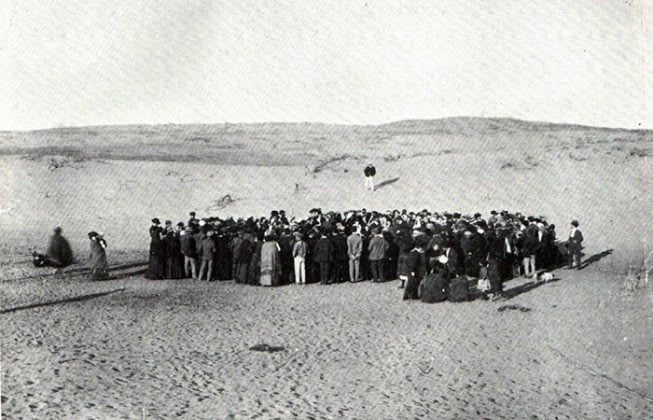 Each family was given their plot, and they began making the first Hebrew city. It was the perfect time due to Jewish immigration, also known as the Second Aliya. The city of Jaffa was becoming too populated due to the newcomers from Europe. However, most of those folks were middle-class, and they were looking to build something that would last through history.
THE LAST GUILLOTINE EXECUTION
This happened in 1939 when Eugen Weidmann and two others were convicted of kidnapping, burgling, and murder. They targeted tourists in Paris, and the trial was a huge media circus. Weidmann was sentenced to death. So, on June 17, 1939, lots of people gathered outside the Saint-Pierre Prison in Versailles to see the execution. Normally, these events would be serious and quiet, but the people cheered and screamed.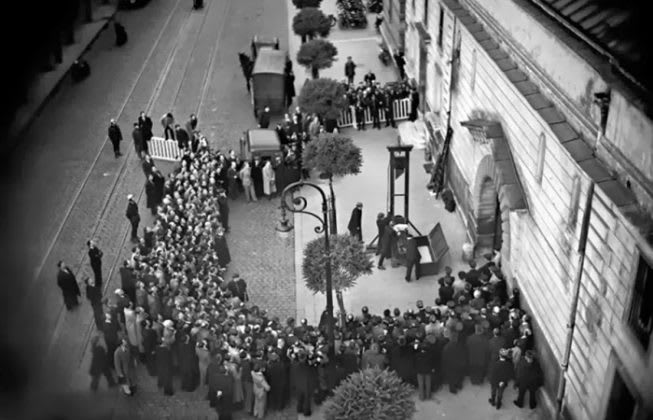 After the deed was done, some people launched themselves into the bloody mess to grab a "souvenir". Additionally, it was discovered that the event had been filmed in secret. This was not the purpose of such punishments, which were meant to showcase the consequences of breaking the law. Therefore, President Albert François Lebrun said that the execution had awakened a dark side of the people. It was the last public guillotine killing in France.
We cannot believe the history that is within all these images, and future generations will get to keep them forever. Let us know which one was the most striking in your opinion. If you liked this article, share it with your friends who always want to learn something new. See you next time! 
Source: 247 Mirror