25+ Pictures That Show Historical Events
Old photos are the best time machines in the world, and they can remind us of simpler times as well as some of the most epic moments in history. Humankind has had cameras since the late 19th century and has been able to capture incredible situations that generations to come will keep appreciating, especially thanks to the internet. Let's discover these gems that give a glimpse of old-school pop culture and more!
THE PAINTERS OF WOOLWORTH BUILDING
This building in New York City needed a fresh coat of paint in 1926, and it took this bunch of brave painters to complete as they pose for a picture from that dangerous height. Meanwhile, Woolworth still considered one of the 50 tallest buildings in the world, and the workers did their best to keep it looking nice while rocking that Bristol fashion.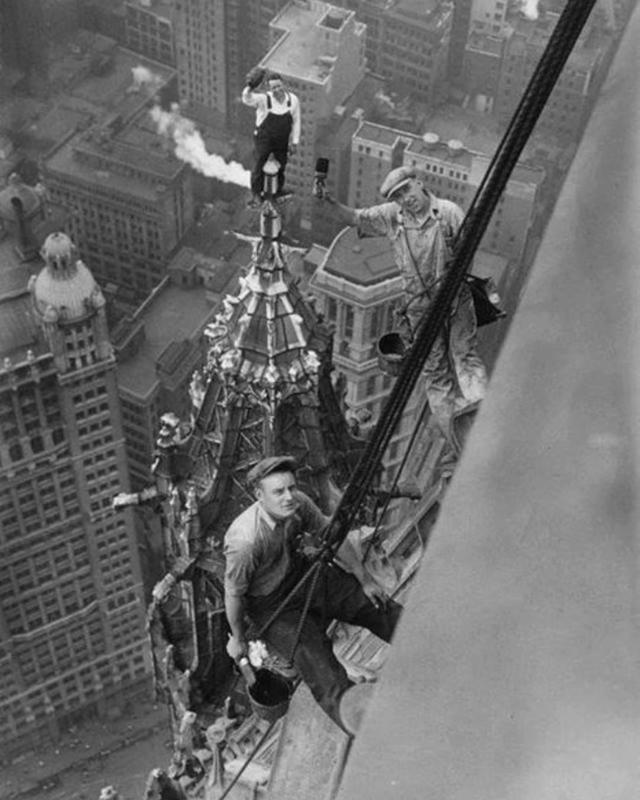 Obviously, you have to trust that the harness you're wearing on the job won't fail you, and you need to have a strong stomach to actually take this job. However, we have to wonder what they did during their lunch break. It would have been a pain to get back to the ground to eat and then up again. They did have their sandwich from that height?
WOMEN'S TRACK TEAM AT THE UNIVERSITY OF TEXAS
Texas is known for many things such as their great barbecue, beer, and football, but there is a lot that people don't know about the Lone Star State. Aside from football, Texans are obsessed with all kinds of sports, and this group of women definitely made their mark back in the 60s. The UT women's track team from 1964 was able to run like the wind, and they were also gorgeous.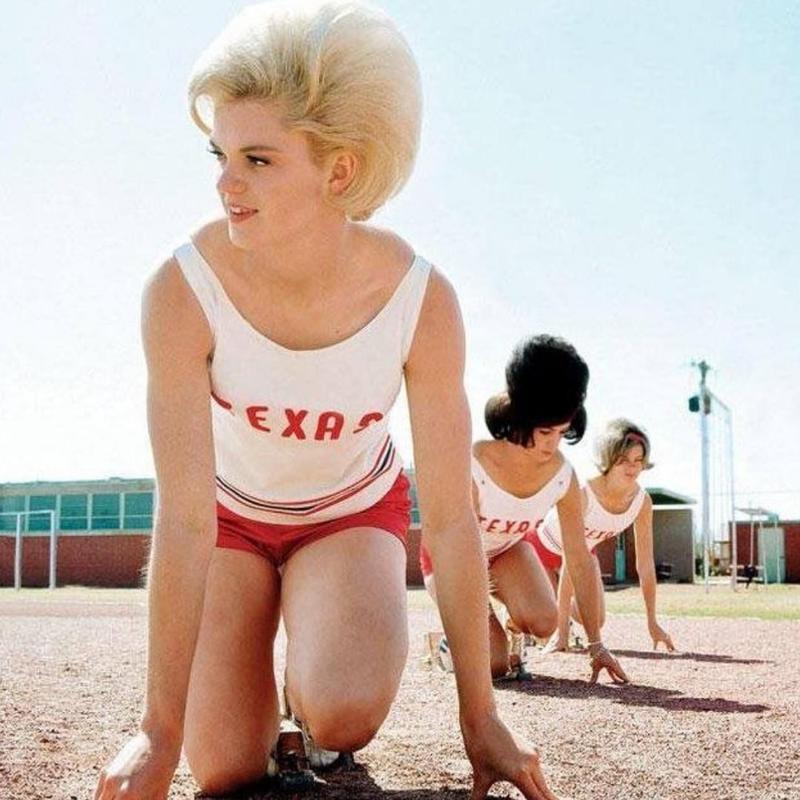 She definitely looks like a movie star, and we applaud her talent as well as her doll-up routine. They loved looking beautiful for their competitions, but we cannot imagine that it was comfortable to sweat with makeup on. Furthermore, those hairstyles probably took forever to get just right. We hope a lot of people came to cheer them on for their many efforts. 
A TREE THROUGH A PIANO
Mother Nature doesn't play any games, and nothing can get in her way. That's you have probably seen trees and their roots growing through sidewalks and beyond any manmade structure. This is what happened in this picture taken at California State University in Monterrey, California. However, the tree didn't exactly grow through the piano.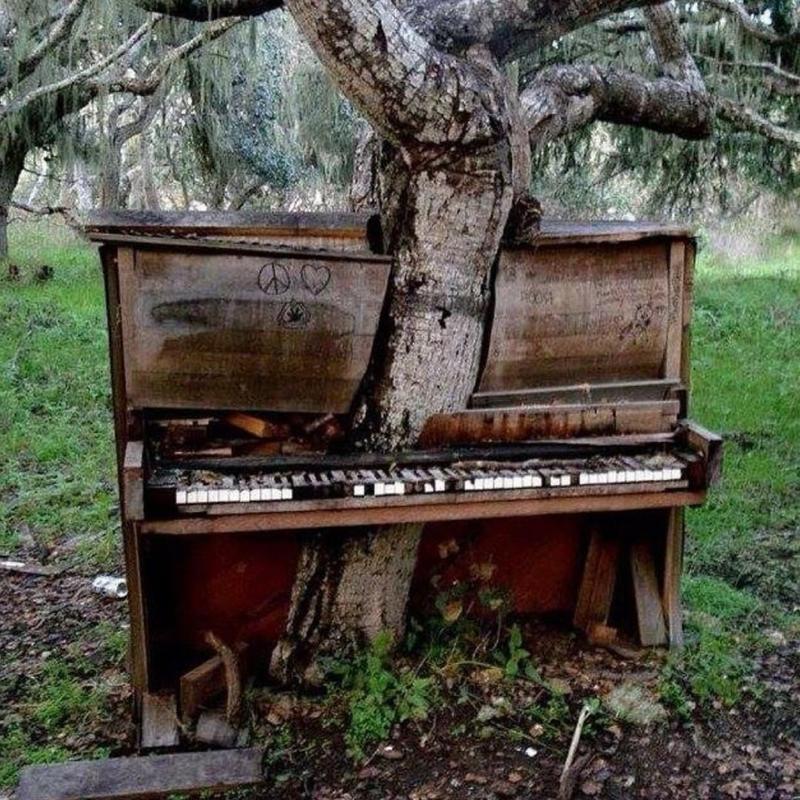 The instrument was cut in half and placed around it, but the plant kept growing even with the piano around it. It was part of the artwork by Jeff Mifflin, and he appropriately called it 'Piano Tree'. The idea behind his piece hoped that others would be able to hear the musical sounds from the wind passing through leaves.
GEORGE HARRISON AND STEVIE NICKS
This picture from 1978 shows singer Stevie Nicks and George Harrison, who were great friends back in the day. In 1979, she assisted him with the song 'Here Comes The Moon', but it wasn't intentional. According to Nicks, it's something that happened out of the blue during a time they ended in Hawaii at the same time. The book 'George Harrison: Behind The Locked Door', Stevie talked about keeping a picture of them together when she tours.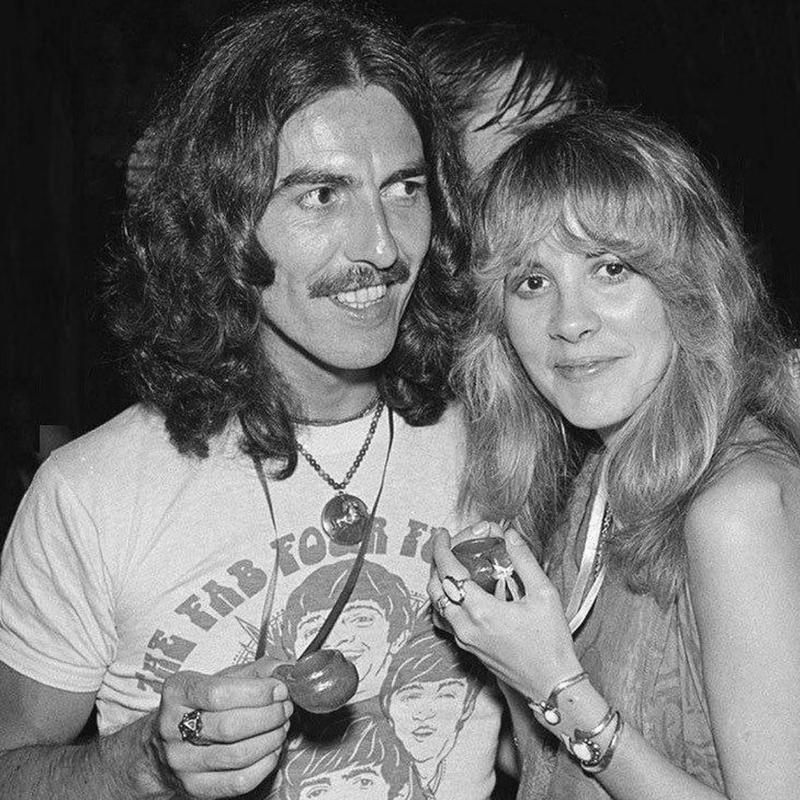 "When I go on the road it goes right on my makeup mirror, so before I go on stage, whether it's with Fleetwood Mac or me in my solo career, the three of us are looking back at me and that has been my inspiration every single night. There's lots of nights where you kind of go, I wish I didn't have to go on stage tonight, I'm tired, I don't feel like doing it, and I look at George Harrison and me and I go, well, you just have to, because it's important, it's important to make people happy, so get out of your chair, put on your boots and go out there and do your thing."
FREDDIE MERCURY AT WEMBLEY STADIUM
Younger generations were inspired to learn more about the legendary band Queen last year thanks to the release of the film 'Bohemian Rhapsody'. The band along with their frontman, Freddie Mercury, were always on point during their live performances, and one of their best concerts took place in 1986 at Wembley Stadium.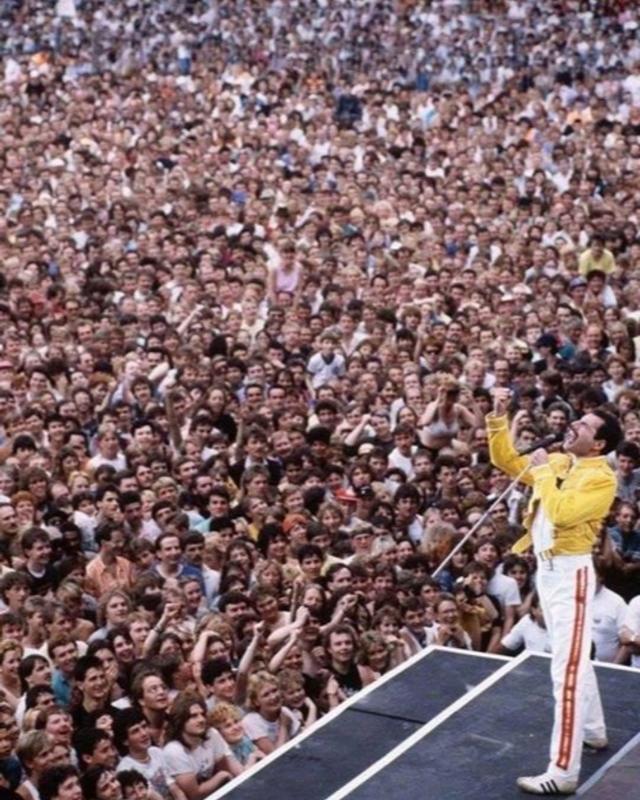 Queen played for almost two continuous hours, and they managed to sing their most popular songs as well as some intense riff-offs. There are many amazing hits in their repertoire, and you can tell that each one represents a different era for the band. But, no matter which one is your favorite, it's clear that Queen will never go out of style.
ALFRED HITCHCOCK WITH HIS GRANDKIDS
This is an amazing shot of the famous filmmaker from 1960 with his adored grandchildren, and it looks like he could really have a lot of wholesome fun despite being known as the master of terror. According to one of his granddaughters, Tere O'Connell Carrubba, Hitchcock loved spoiling the children and hanging with them.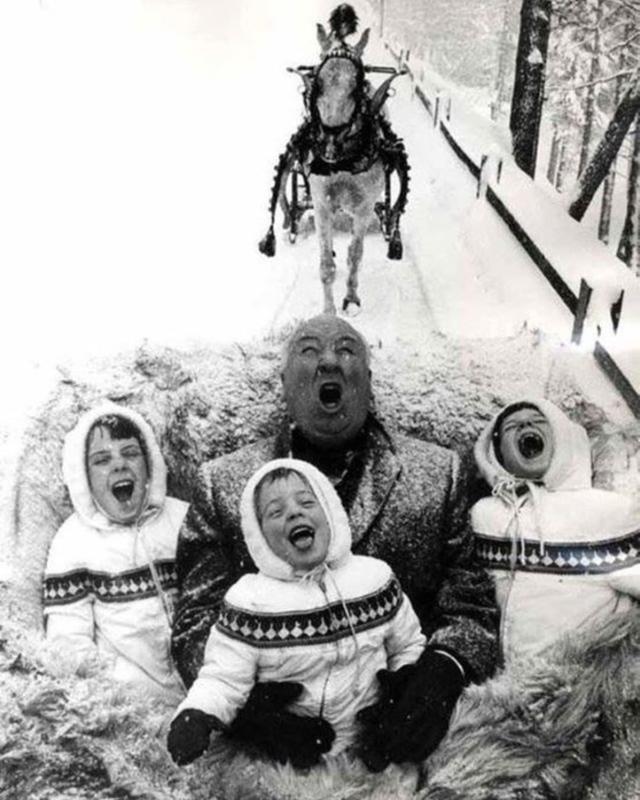 His movies might have been scary, but Carrubba revealed to Mercury News that her grandfather loving San Francisco and that he loved taking vacations to Scotts Valley (which was seven hours away). Basically, he did everything he could to have a good time and get away from reality.
GRACE KELLY ON HER WEDDING DAY
This image from April 18, 1956, shows the gorgeous actress Grace Kelly on her wedding day to Monaco's Prince Rainier. That's right, Meghan Markle wasn't the first actress to marry into royalty. The dress was given by MGM, and it took 30 seamstresses around six weeks of constant work to complete. Kelly was known for her gorgeous looks and kind heart.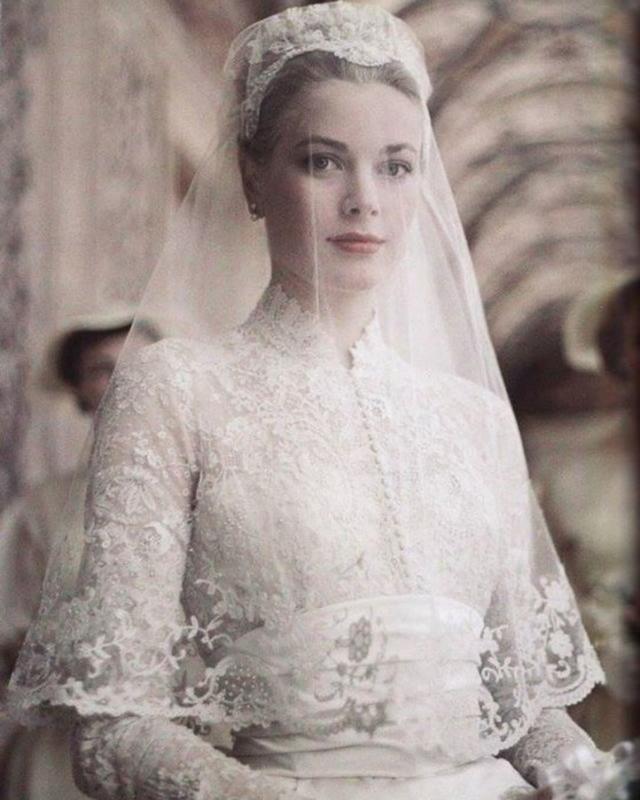 Among the many important people on the guest list were stars such as Cary Grant, Ava Gardner, and Gloria Swanson. Meanwhile, the actress said that the whole thing was incredibly "overwhelming". Later on, her son, Prince Albert would say that both his parents were struck by the craziness of that day.
THE TWINS FROM 'THE SHINING'
These girls are Lisa and Louise Burns, aka The Twins from the movie 'The Shining', and this is a behind-the-scenes shot taken in 1980. The film is still considered one of the scariest of all time, and the twins are a huge part of that fear factor. When Danny rides the tricycle through the hallways and spots the Grady girls, the audience's skin just crawls.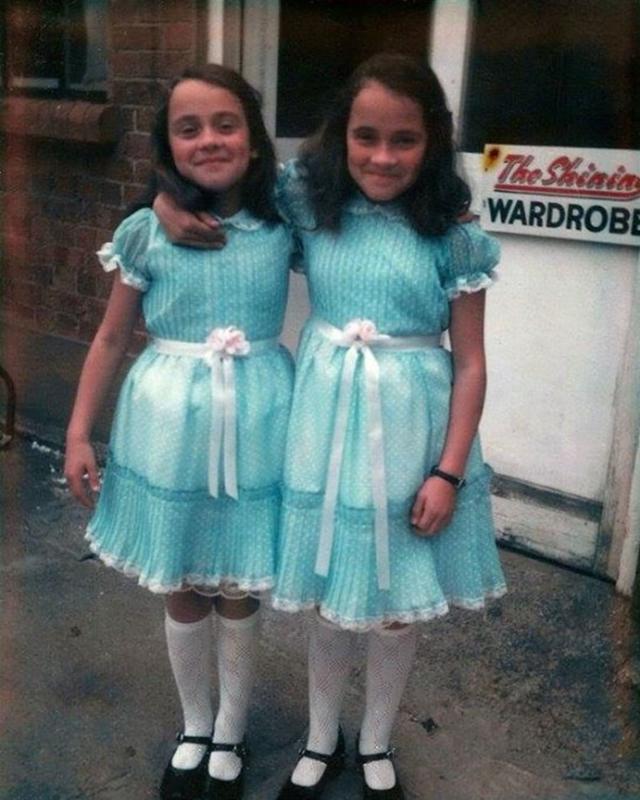 Their story said that they were killed by their father when he went crazy at the hotel in winter. Despite playing scary ghosts, the Burns said that it was a lot of fun. "Everyday felt like we'd been invited to a very exclusive party and we were the youngest, luckiest people to be there. Stanley wanted us on set every single day, so between scenes, we would play with Danny [Lloyd] and Jack [Nicholson]."
OVERHEAD CRADLE ON AIRPLANE
Flying with a baby might be the most uncomfortable thing nowadays because you have to keep him on your lap, but it wasn't once. Of course, there is clearly a reason why those overhead cradles are not available anymore. It's already hard trying to find space for carry-ons without a mother placing their child where a bag should be.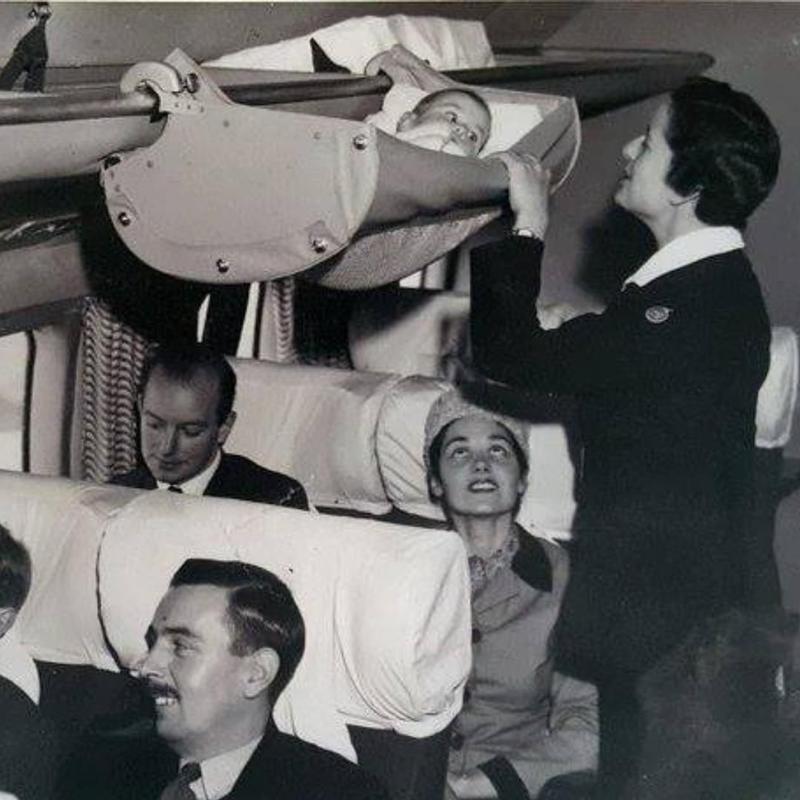 Additionally, it doesn't look comfortable or safe at all for the child. One common nickname for it was the "sky cots", and during turbulence or problems, a mother couldn't get to her child quickly enough. It might seem pretty awesome, but not for the rest of the passengers.
LION CUB IN CLASS
Every day, we are learning that our actions affect the world around us. People have built reservations to protect animals, especially dying species, and educate the world on the consequences of our carelessness. In 1956, a lion cub called Kyla made headlines during a visit to a school. Kansas local Stuart Hansen and his wife suddenly discovered this cutie in their home.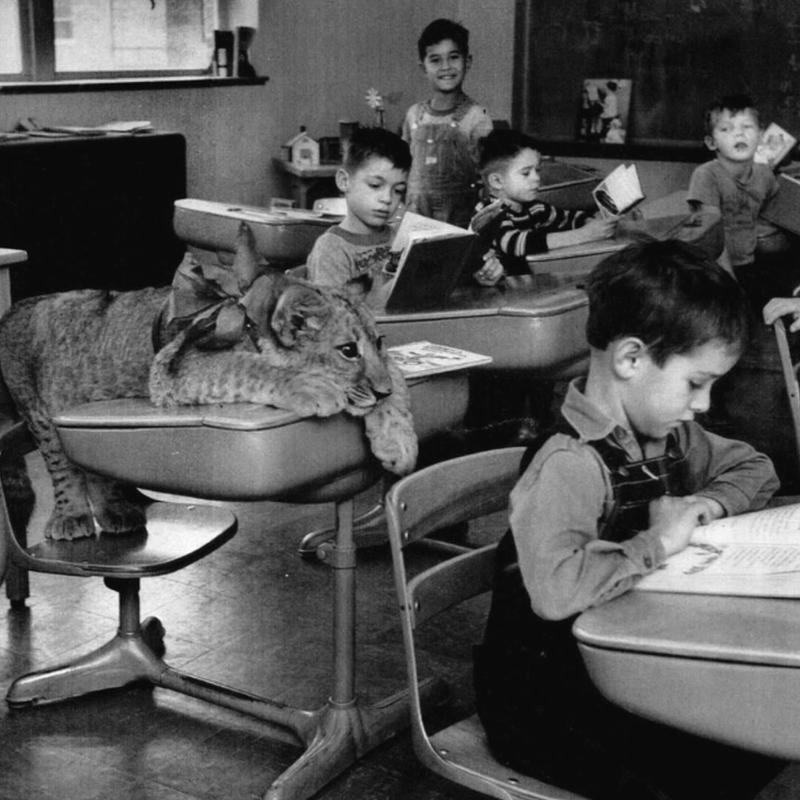 The Garden City Telegram even reported that a lot of people would visit the couple just to see the little lion. The papers also said that the whole town of Wichita was crazy over Kyla, and the Hansens decided to take her to local schools to meet the kids. However, if you end up in a similar situation, it's best to call the proper authorities so that the animal won't be harmed.
'THE OUTSIDERS' 1983
'The Outsiders' was Francis Ford Coppola's work and it featured Tom Cruise, Matt Dillon, Patrick Swayze, Ralph Macchio, Emilio Estevez, C. Thomas Howell and Rob Lowe as a group of lower-class pals. The film was able to depict the struggles of the young working class in the 50s, and it was also able to dispel the weird nostalgia for the decade that happened in the 80s.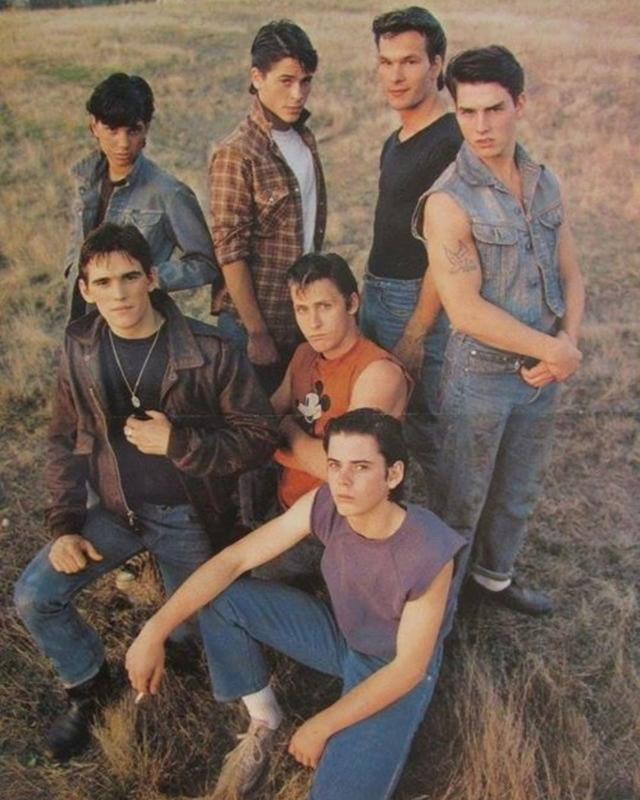 Meanwhile, newbie actors like Tom Cruise, Patrick Swayze, and Rob Lowe were first presented in this film, and they would all go on to make huge names for themselves in the following decades. It's one of those rare films that passed the test of time, and a lot of people still think it was brilliant. Do you agree that it was a great movie?
A DANCE IN PARIS 1940s
This image of the late 40s shows that people can move on from tragedies if they manage to find happiness in the simplest moments. France was torn apart after World War II, but Parisians found a way to celebrate the end of German dominion by dancing on the streets. Of course, Paris wasn't as bad as London, especially because the Germans didn't want to destroy the Eiffel Toward.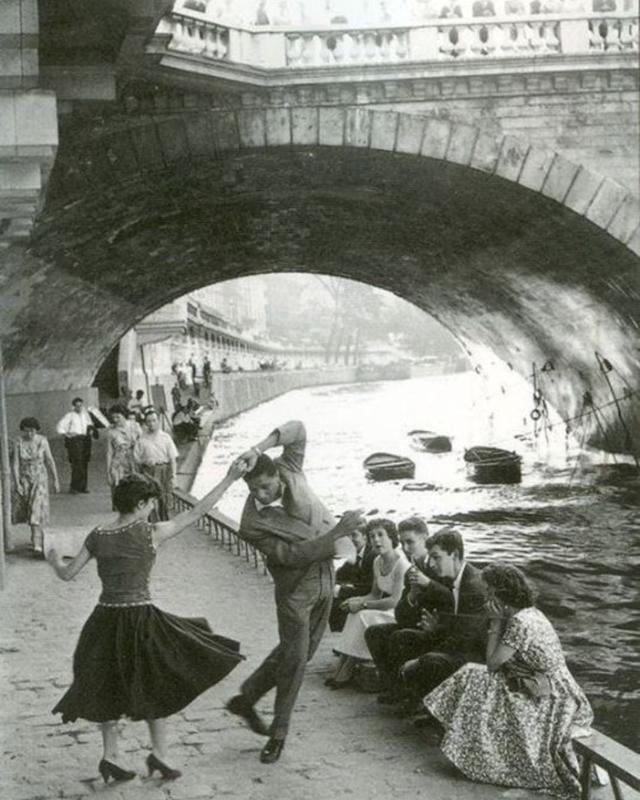 However, there were still many issues after the war. Now, the people could finally enjoy themselves and look towards a future where they would rebuild their lives. Paris became a great place for music lovers, especially because jazz musicians would frequent the city. Many clubs opened up as a result.
GEORGE HARRISON AT THE TAJ MAHAL 1966
This might be considered one of the first "selfies" in history as well as one of the coolest. It was taken after The Beatles' last tour of America. George Harrison became obsessed with Indian culture, and he started to visit the country several times, especially because he was learning to play the sitar with Ravi Shankar. He also did yoga with his wife, Pattie.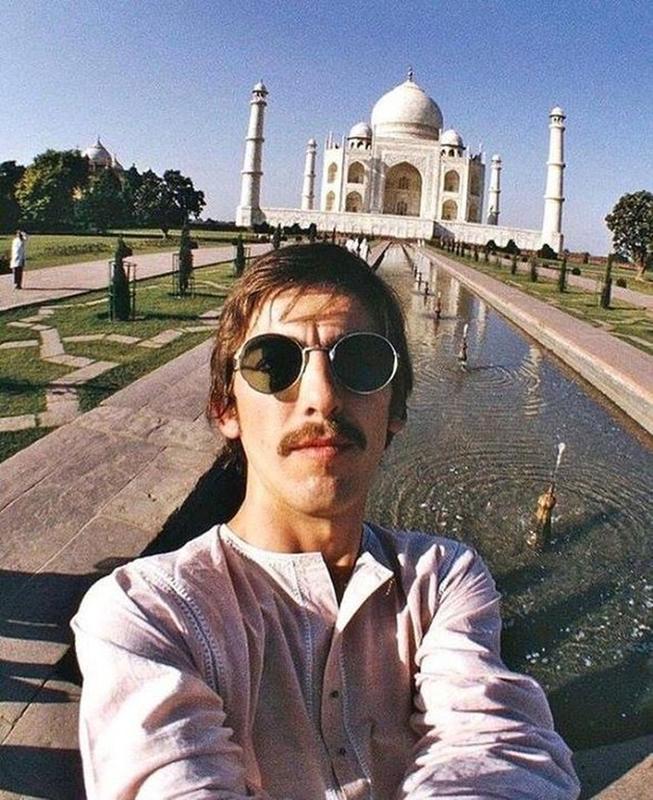 During his first visit to India, the musician said, "I went to India in September 1966. When I had first come across a record of Ravi Shankar's I had a feeling that, somewhere, I was going to meet him. It happened that I met him in London in June, at the house of Ayana Deva Angadi, founder of the Asian Music Circle. An Indian man had called me up and said that Ravi was going to be there. The press had been trying to put me and him together since I used the sitar on Norwegian Wood."
"I stayed in a Victorian hotel, the Taj Mahal, and was starting to learn the sitar. Ravi would give me lessons, and he'd also have one of his students sit with me. My hips were killing me from sitting on the floor, and so Ravi brought a yoga teacher to start showing me the physical yoga exercises."
SUSAN PETERS 1943
Actress Susan Peters might not have been the most popular star of the 40s, but she was on several beloved films like 'Dr. Gillespie's New Assistant' and 'The Big Shot'. She was even nominated for an Academy Award due to her part as Kitty in 'Random Harvest', which was about a World War One traumatized veteran.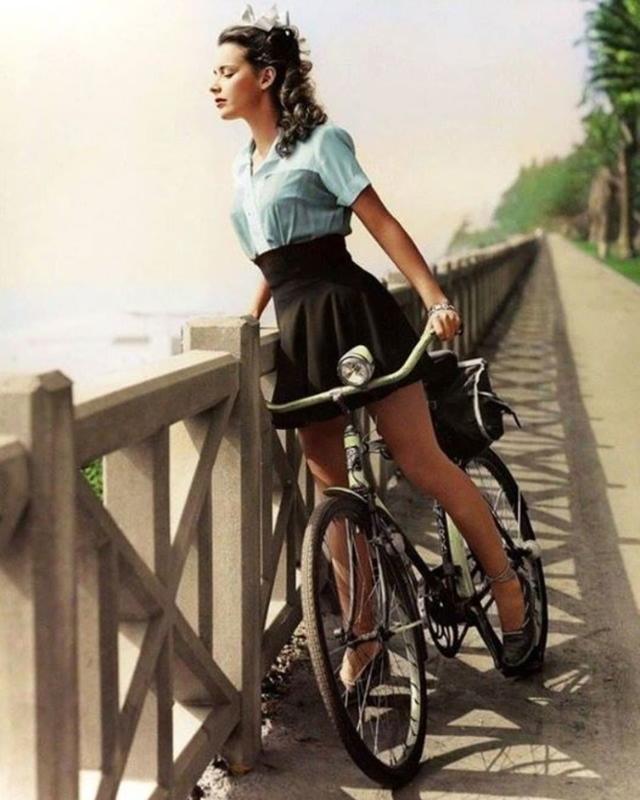 She would go on to act in eight more movies over that decade, but sadly, in 1952, she died from a chronic kidney infection. Unfortunately, the sickness became worse because Susan was constantly starving herself. Years later, Peters was awarded a star on the Hollywood Walk of Fame.
HOOVER DAM CONSTRUCTION 1934
This picture taken in 1934 depicts one of the structures that helped get the country over the Great Depression. It took five years to complete and cost $49 million in 1931. That would be a whopping $639 million nowadays. The country had been looking to build a dam at the Black Canyon since the early 1900s, but the government wouldn't give permission for the construction until much later.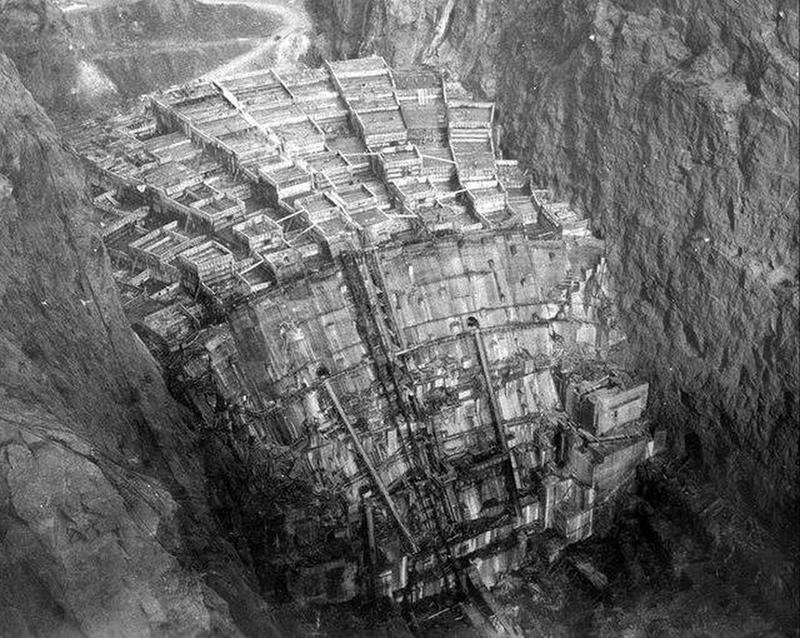 It's still holding strong today, and in 1934, there were around 5,200 workers trying to finish it. But, they barely managed to complete it by 1936 right around the time of the super structure's dedication. Can you imagine what it was like to have been part of that crew? Was it as scary as the painters from the Woolworth Building?
KMART IN THE 70s
Kmart used to be the best place to shop for everything back in the 70s. You could get anything from low-priced food to outfits. They were known for their amazing deals, but things changed drastically when they presented the "blue light special". Saving money was never simpler, and when the lights went on, you could get discounts on several selected items.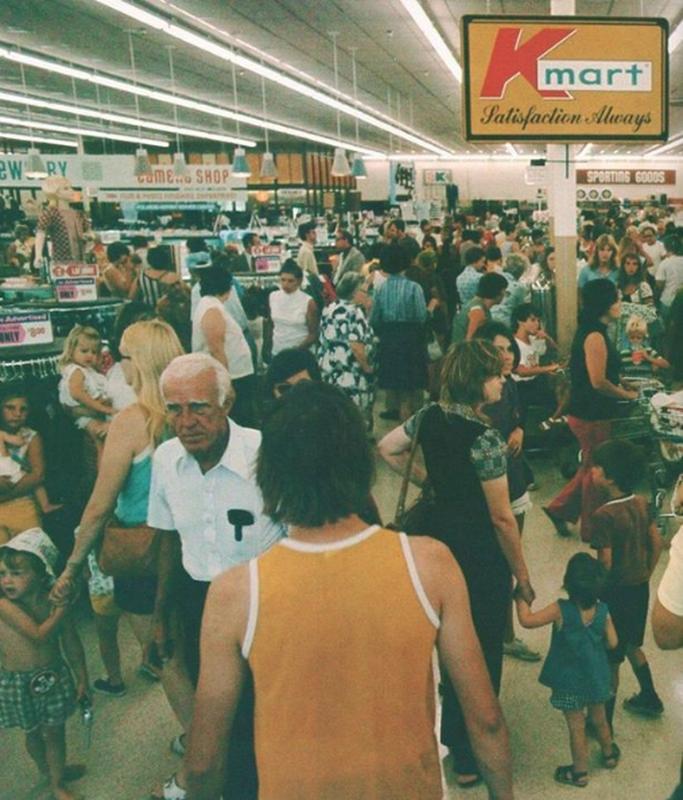 The 70s were the best for the chain store, and anyone was hard-pressed to find a shop nearby that wasn't completely bursting with customers. Everyone was hoping to be the find the best prices. While Kmart is still around today, there are a bunch of other retailers to compete with. So, it's not the same as it once was.
"RABBIT TAIL" 1895
Rabbit Tail was part of the Shoshone tribe, and he also worked in the US Army as a scout. When the Europeans started settling in the new world in the late 19th century, the Shoshone tribe was forced to move from their home, which was located somewhere around Idaho and Wyoming. They fought many times against the US Army in the 1860s but decided to join in 1878 during the Battle of Rosebud against Lakota and Cheyenne.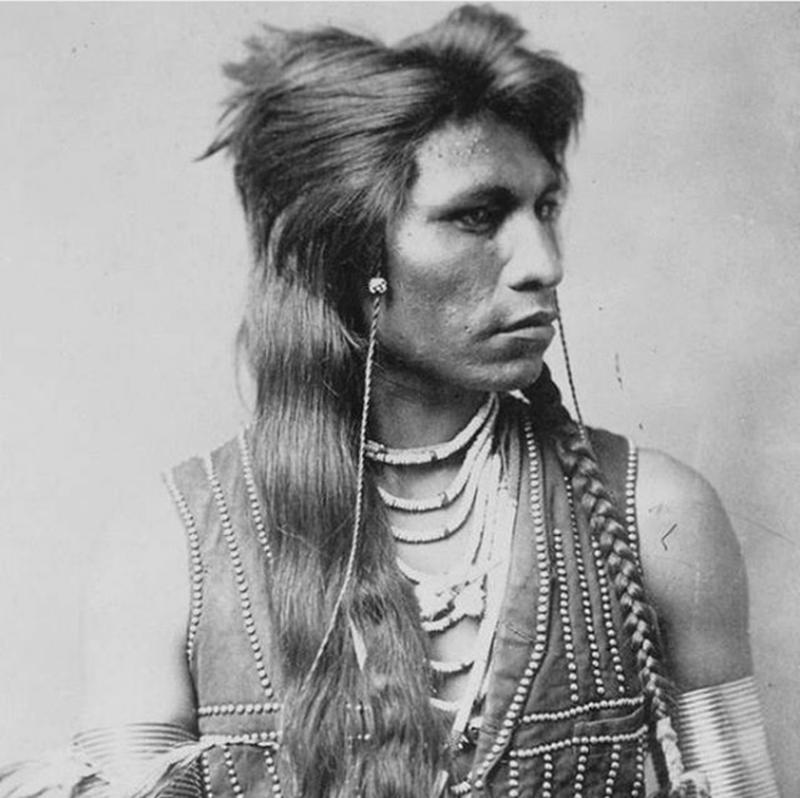 Through their teamwork with the army, many Shoshone members like Rabbit Tail became part of the Army Scouts, who were great at tracking horses and estimating how many men would be a group. The Native Americans were actually a big part of the expansion of the United States, and not many people know about their partnership.
SAN FRANCISCO 1964
This image shows California Street located in San Francisco, and how different it was in 1964. It's one of the most iconic streets in the United States, and it's striking how much things change but remain the same. The lines are a hill, but there is a peak that looks over the city. Meanwhile, California Street is one of the longest in the city, and it has a cable car that goes through Fillmore District.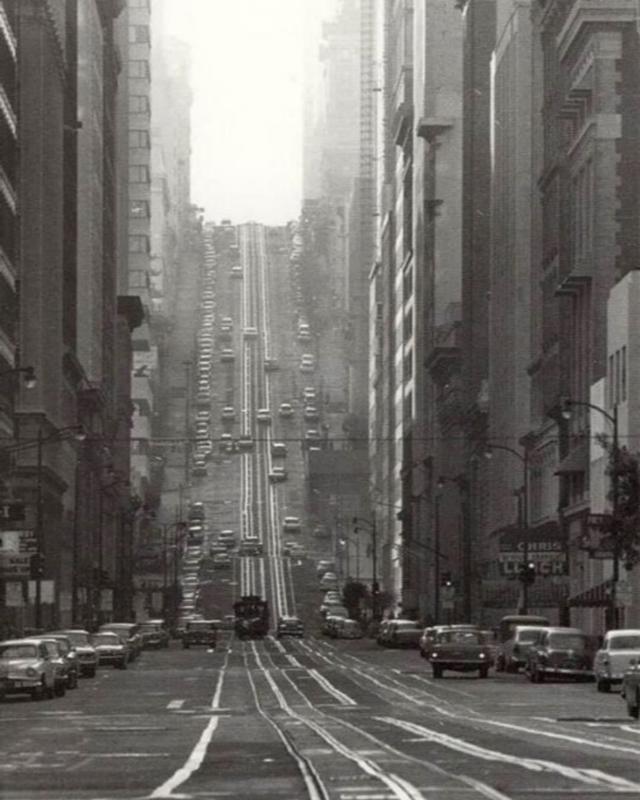 If you are ever visiting, you have to make a stop at the Grace Cathedral and the Masonic Auditorium, which are some of the most iconic parts of the area. Have you ever visited San Francisco? You might also want to take a look at the Golden Gate Bridge, ride the cable car, go to Fisherman's Wharf, hang around Union Square, and more.
FRIENDS 1924
They say that children should have a pet. They are one of the best ways to teach kids responsibility as well as friendship. There is nothing better than a bond of a boy with his dogs, and this image is the best proof of it. The puppy is just around his size, and the kid probably grew up playing with his canine buddy until he sadly passed away.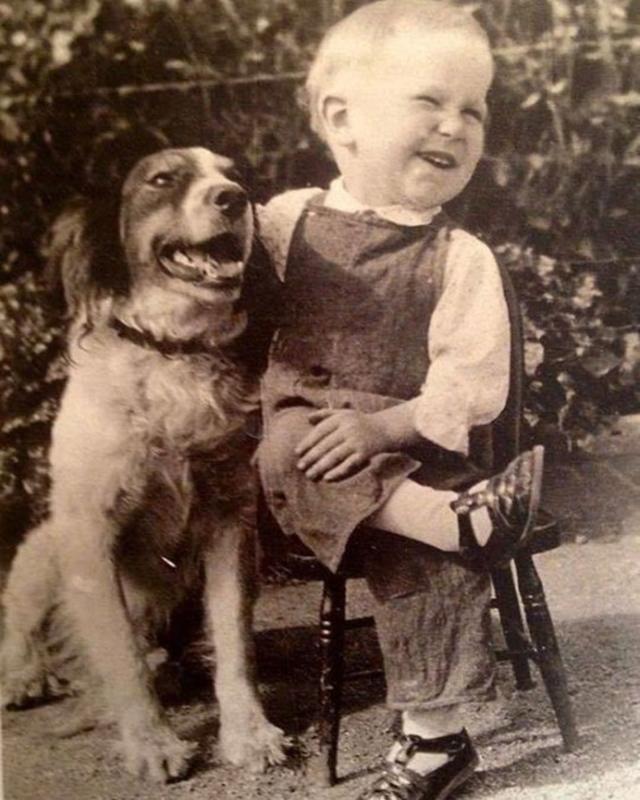 They probably got dirty together, played in the yard, ran around, and slept together. Life is definitely better when you can share it with such a special creature. As Jon Katz said, "Animals have come to mean so much in our lives. We live in a fragmented and disconnected culture. Politics are ugly, religion is struggling, technology is stressful, and the economy is unfortunate. What's one thing that we have in our lives that we can depend on? A dog or a cat loving us unconditionally, every day, very faithfully."
BEHIND-THE-SCENES 'THE WOLFMAN' 1941
This is another entry in our behind-the-scenes movie pictures, and 'The Wolfman' was one of the most popular monsters in the Universal Horror Universe. It was the tale of Larry Talbot Jr., a man who didn't get along with his father. On a trip to visit his patriarch, he is attacked by a wolf and turns into the creature of lore. Actor Lon Chaney Jr. would spend 2 and half hours on the makeup chair.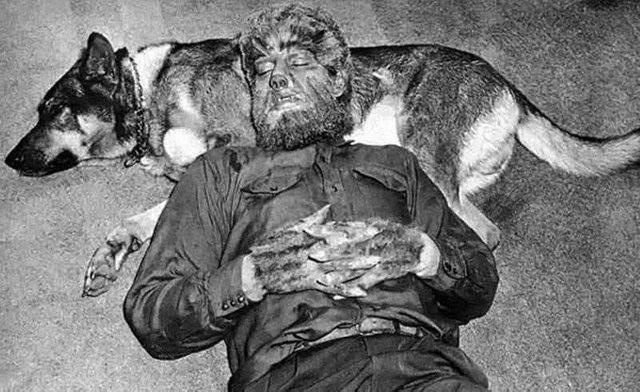 Therefore, we can understand that he needed all the rest he could get between takes. Additionally, the actor revealed that the problem wasn't putting the costume on but removing it. "What gets me is after work when I'm all hot and itchy and tired… [I've still] got to sit in that chair for forty-five minutes while Pierce just about kills me, ripping off all the stuff he put on me in the morning."
DUTCHMEN IN TRADITIONAL OUTFITS 
We have seen the traditional clothing of Dutch people, but most people remember the clogs, which are funny-looking shoes made out of wood. Meanwhile, not many people know what the original Dutch nationalist used to wear. Luckily, this picture shows two men with typical loose pants. However, no one knows if there was a purpose for their loose-fitting style.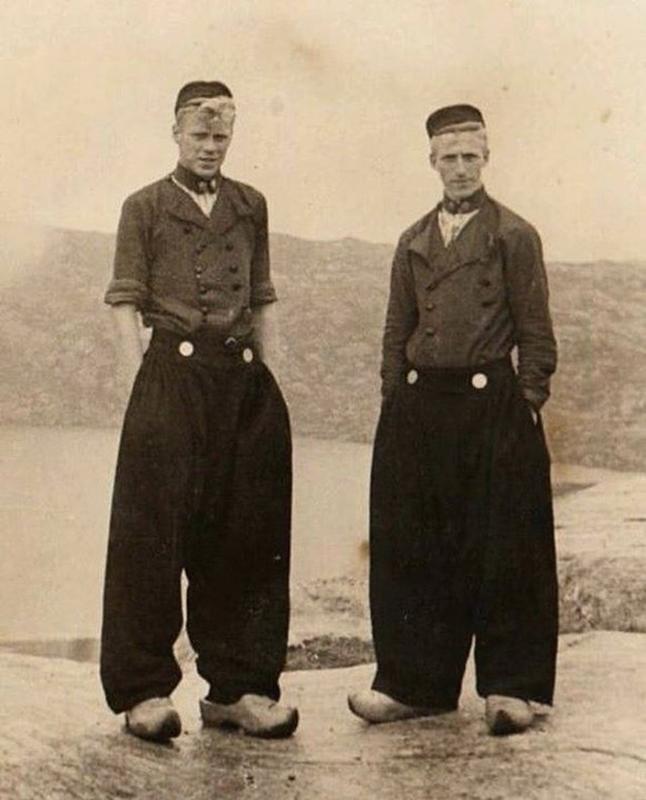 The outfit also included a double-breasted shirt, but you might never see anyone wearing this kind of look again. Anyone traveling through that country might get a kick out of seeing people dressed like this or even try it themselves.  
WATCHDOG AT MACY'S 1954
The concept of watchdogs is nothing new. Despite all our technological advances, people still rely on canines to protect their homes or stores, although it might not be as popular as it once was. In the 50s, major retailers, like Macy's, used guard dogs to keep their items safe from would-be burglars, especially because their shops have always been so big that even cameras might not catch everything.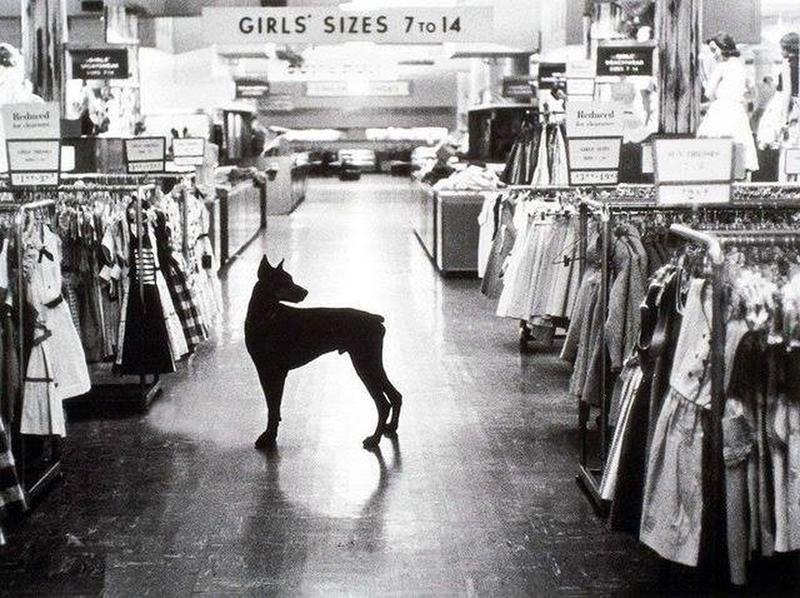 But, dogs rarely fail with their sense of smell and powerful hearing. The best breeds at the time were Doberman Pinschers and German Shepherds due to their loud barks that could scare anyone away and alert the proper people. Furthermore, everyone has always been a bit scared of these big dogs because they can be trained to attack thoroughly.
OLD PHONEBOOTHS
Sadly, all these telephone booths are now resting in their makeshift graveyard out of use. At some point, they were probably the most useful communication invention because people didn't have cellphones, and emergencies happen all the time. But nowadays, you might have seen a public phone that is mostly kept there to avoid the hassle of removing it.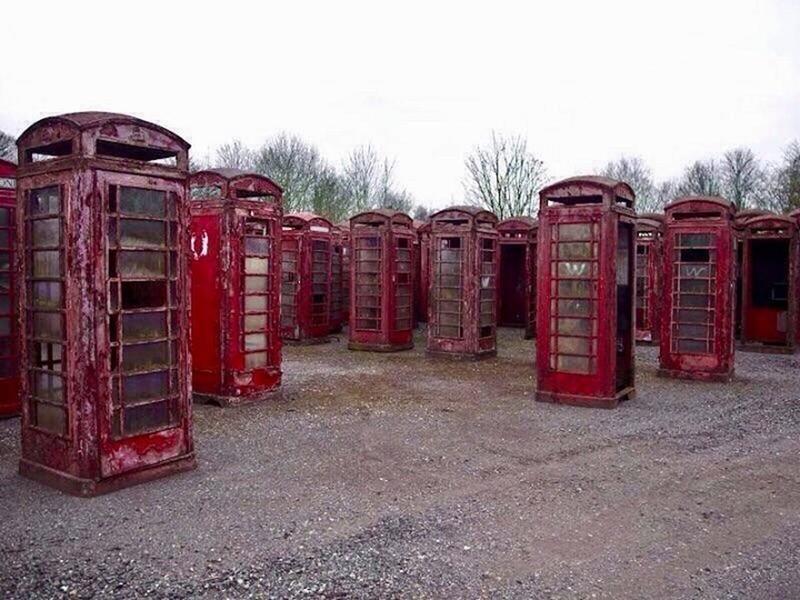 Some of the parts could be repurposed, but most of these booths go to storage facilities in England, and there is actually a famous "cemetery" in Carlton Miniott that has hundreds of them. They are all in various states of shabbiness, and anyone can pick one up to do what they want with it. Some local artists have taken some booths for their work.
ROBERT DE NIRO AND MARTIN SCORSESE'S MOTHER
This image was taken on the set of 'Goodfellas' in 1989, and it seems that Scorsese's mother cooked a lot for the cast and crew. Martin Scorsese is considered one of the most amazing filmmakers in the world, and his roster of movies are some of the best ever released, but 'Goodfellas' is definitely his masterpiece. You might remember that there is a lot of food featured in the film.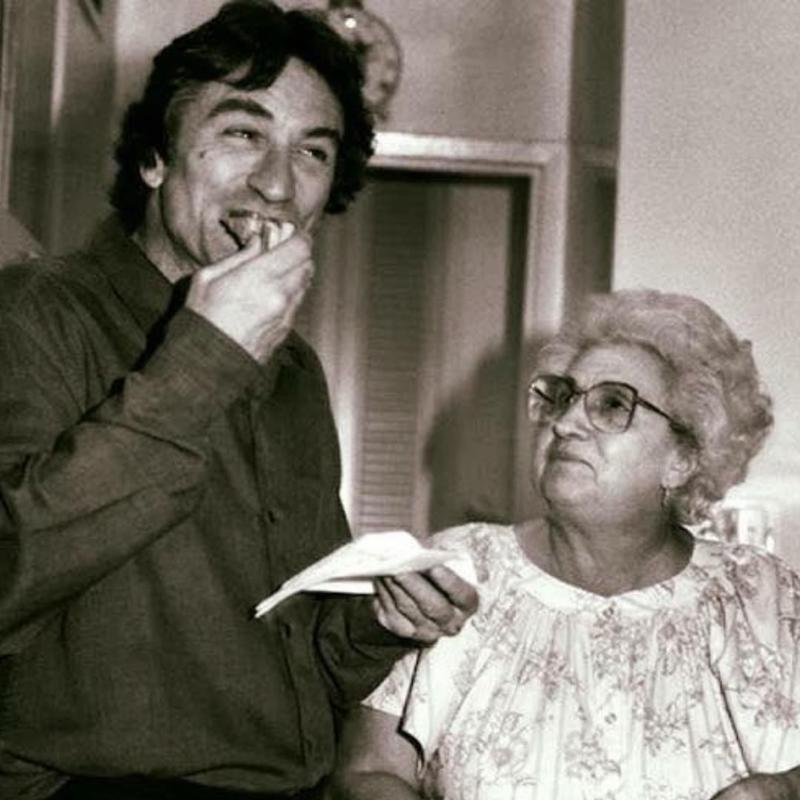 The most famous food scene was Joe Pesci, who played Tommy DeVito, doing a hit, and DeVito's mother was actually played by Mrs. Scorsese. Furthermore, the scene where Paul Sorvino shaves a clove of garlic comes from one of her recipes. During an interview with Jimmy Kimmel, the director said, "My mother made a dish called chicken with lemon and garlic and if you go to Francis Coppola's restaurant he has it on the menu... It's pretty good, pretty close... The garlic was cut so thin and she would put it on the chicken and the chicken would be roasted... and the garlic would blacken and then disappear into the lemon juice. It was delicious."
MINERS' AERIAL TRAM 1885
This image shows miners going down a tram to the Kimberly Diamond Mine located in South Africa. It was taken in 1885, and we know that they were probably mining for diamonds. We all know the phrase "diamonds are a girl's best friend", but after years of information, we know that diamond mining can be a tough and brutal business.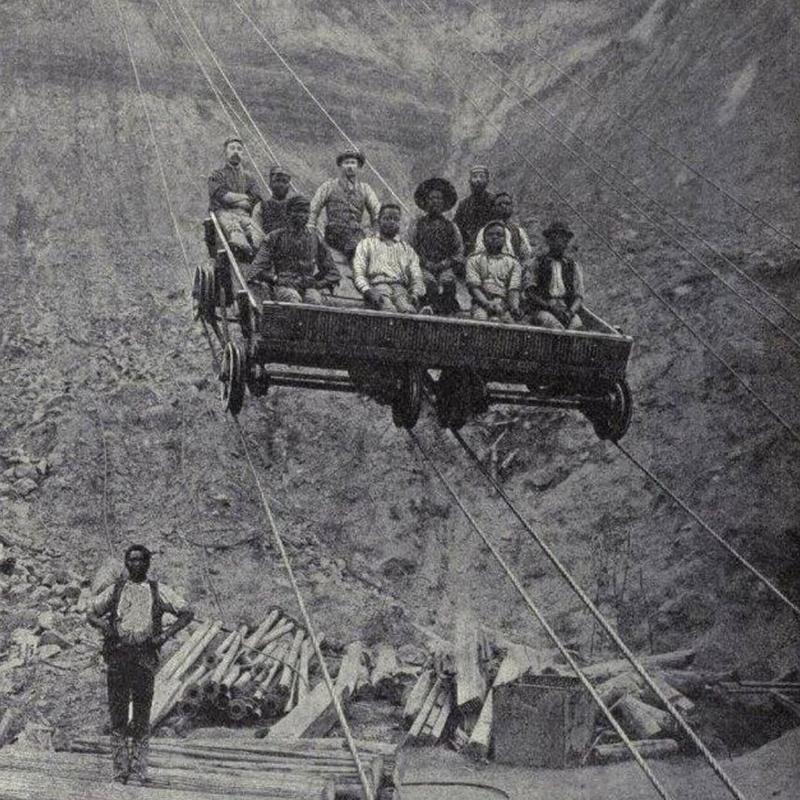 The precious rocks were in demand in Kimberley, which is near the Northern Cape of South Africa. The mine initially opened in 1869, and a whole town was built around it to house the miners and their families. They even made some interesting railways to get people on the site. The excavation was spear-headed by the De Beers Consolidated Mines Ltd., who are still the biggest diamond makers in the world. Unfortunately, Kimberley was closed in 1914.
BEHIND-THE-SCENES OF 'SPLASH' 1984
'Splash' is an adored movie about a mermaid released in the 80s, and it might sound silly, but some of the best actors in the business had a role on it. This image shows John Candy, Tom Hanks, and Eugene Levy with Daryl Hannah while she was getting her tail on for the film. According to the actress, it apparently took eight hours to put on her tail because a lot of it was hand-painted.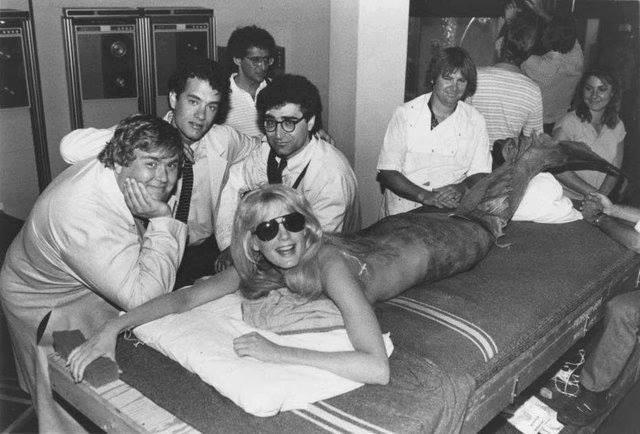 Furthermore, Hannah also talked about how hard it was for her to walk after shooting the film all day. "My circulation would be gone in my extremities, so it took a while before I could walk again. It made me very sympathetic to fish! I remember when I was filming the scene in the lab tank I was very upset about a big fish that was being kept in a smaller tank."
THE ANGEL OAK TREE
This might look like the site of a fairytale film, but it is a real site. It's the oldest living plant east of the Mississippi River and known as the Angele Oak Tree. The tree is located in Johns Island in Charleston, South Carolina, and according to researchers, it's between 400 to 500 years old. It's 65 feet tall and 28 feet around.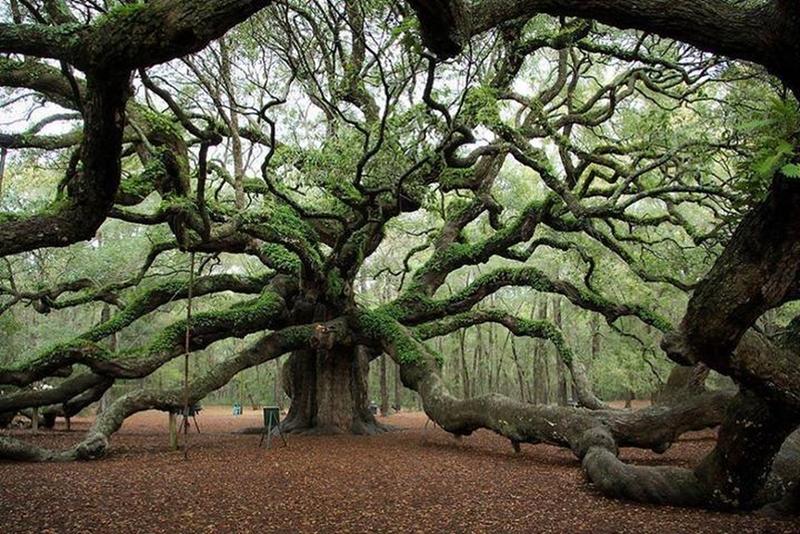 As you can see, the branches expand like octopus arms and the longest one has a distance of 187 feet. It has survived storms and other natural disasters, and it's owned by the city of Charleston. Be sure to see it if you are ever in the area.
GOTHIC HOUSE BUILT IN THE 1840s
Gothic architecture is still admired today as one of the best of the craft. But, people obsessed with spooky stories also love it because of its dangerous and old-timey feel. Gothic Revival became popular in the late 19th century when churches and houses were built in the style. Therefore, a lot of homes have pointed windows, several chimneys, and asymmetrical layouts.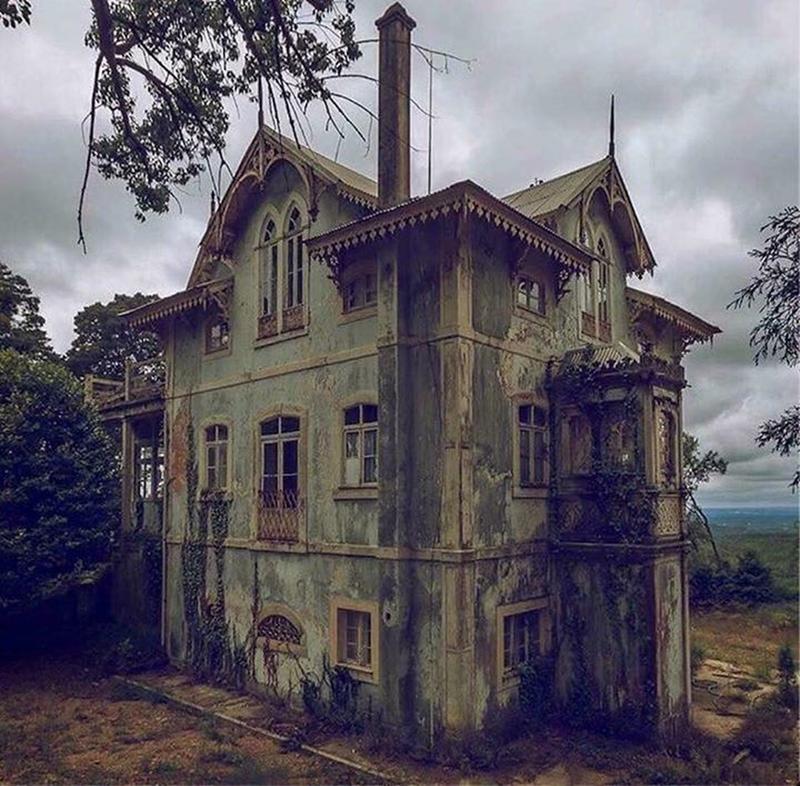 The style continued its rise for around 40 years. It was most admired in Europe and America, which means that there are still many structures like this still standing. You might also be able to purchase these homes if you have the money. But, they might need some restoring because old houses need some R&R every once in a while.
MAKING THE CHAIN FOR THE TITANIC'S ANCHOR
The keel of the RMS Titanic was created on March 31, 1909, but to build the 10-deck ship that would end up weighing 46,328 tons, the industrial company Harland and Wolff, the business in charge of its construction, brought in 15,000 employees. It took 26 months of round-the-clock work to complete, and one of the last pieces they added were the anchors.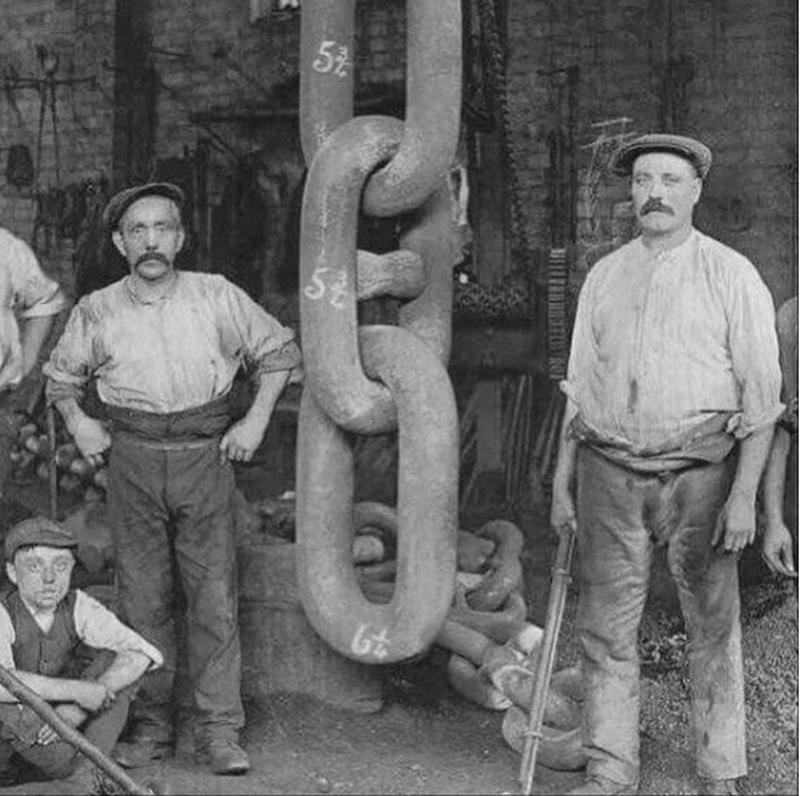 The center anchor was allegedly as heavy as 16 tons, making it the largest ever made up until then. There were a total of three anchors on the ship which many called "unsinkable". Perhaps, technology will allow researchers to finally unearth the Titanic from the sea, and people will get to see all the treasures that went down with it.  
NEW YORK CITY 1909
New York City has always been known for having horrible traffic. That's why people like to take the subway instead of a car. You might think that it's all do to modern lifestyles, but the truth is that in 1909, there was horrible rush-hour traffic as well. The streets were packed with all kinds of cars, from normal vehicles to trucks and even horse-drawn carriage.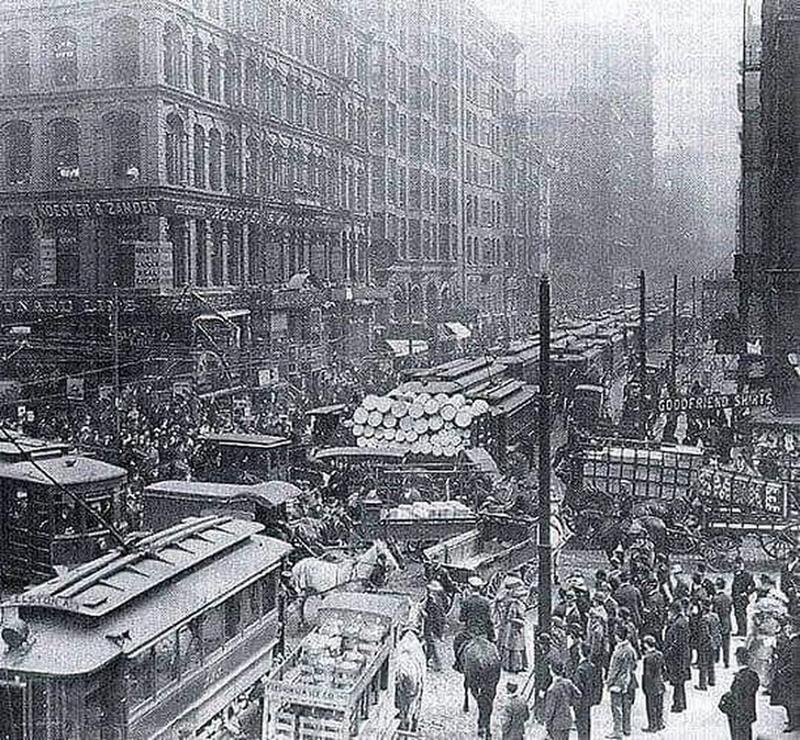 The government even added some more room to accommodate the demand by shaving 15 feet off the sidewalk. However, even that didn't do much, and the streets were still horrible during the busiest times.
NEWLY DIVORCED 1934
Years ago, getting divorced was actually a source of shame, especially for women. They had to go looking for another husband to provide for them. However, nowadays, almost everyone gets divorced once, according to statistics. There is no reason for anyone to remain in a relationship that is simply not working anymore, and it looks like this guy was definitely happy to be over that failed marriage.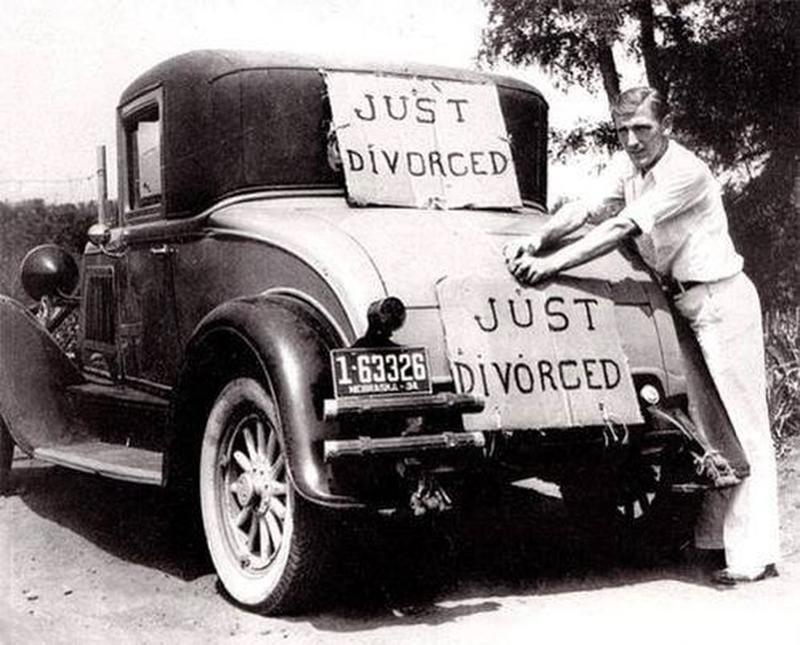 You might have heard of people throwing divorce parties once the papers are signed, but it wasn't a cause for celebration years ago. People that saw this sign were probably surprised by his smiling face and gleeful attitude. Hopefully, this man went on to meet a great lady that made him happy for the rest of his life.
DOG WALKING EARLY 1900S
This is another adorable picture of a young child with her dog, but this time, she is walking him on a stroller as if the dog was the baby. You might have seen kids putting their toys on the pram and pushing it around it themselves, but this is cuter because the stroller is so vintage and pretty. It's from the Victorian era, and it's doesn't look particularly safe for a child.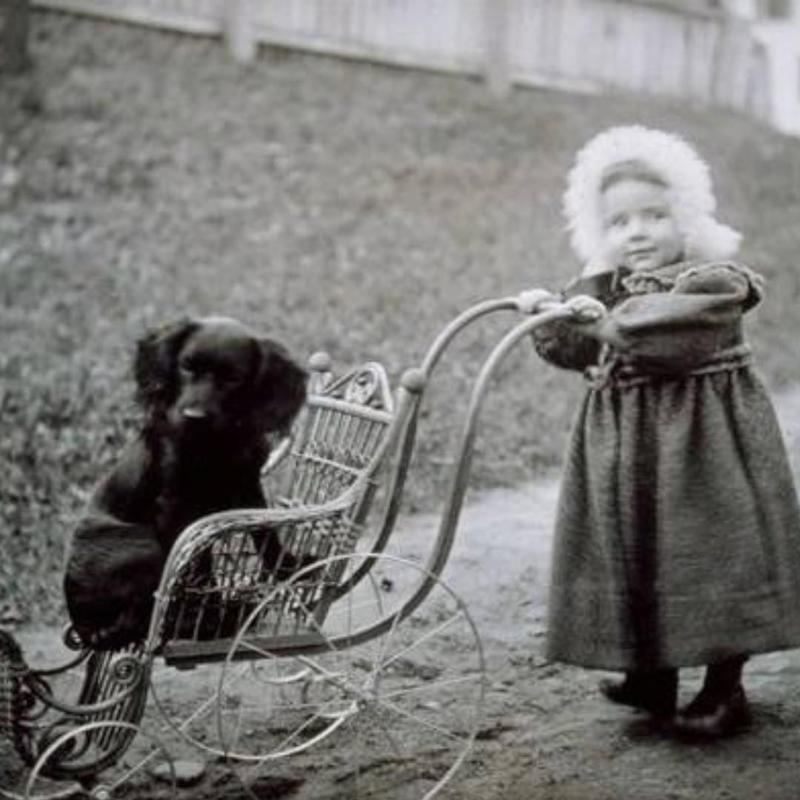 But, it looks like the dog is quite alright to have a ride. Furthermore, their bond is just as fantastic as the previous image. As Samuel Butler said, "The great pleasure of a dog is that you may make a fool of yourself with him and not only will he not scold you, but he will make a fool of himself too."
PICTURE BY ERNEST R. ASHTON 1897
This picture is titled 'Evening near the Pyramids', and it was taken by Ashton in 1897. It depicts that amazing view of the sun setting over the pyramids in Egypt. But, it also shows how the artist was always able to capture light and shadow in the best way. Nowadays, photographers have Photoshop and other digital software that can enhance their shots.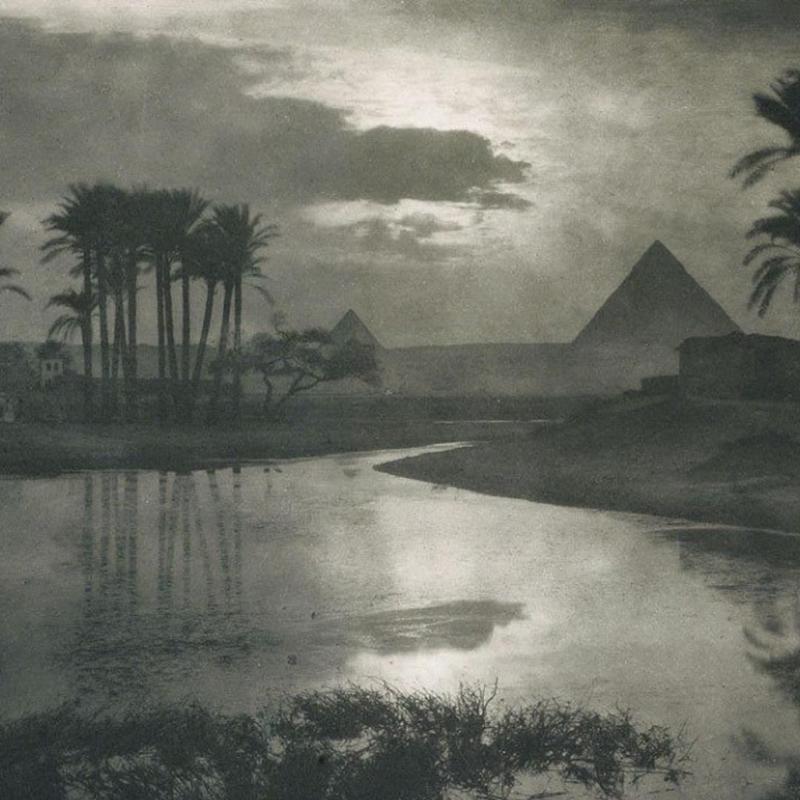 But Ernest R. Ashton had no such thing. He had to take the best shot possible with the light provided by the sun at just the perfect moment and angle. The artist had to wait for the sun to hide a bit behind the clouds so that the lens would not be blinded completely by the light. It might be majestic, but the actual photograph is just 5x7 inches.
MOONSHINER'S SHOES
This picture from 1924 shows exactly what bootleggers had to do during the age of Prohibition. These foot accessories were called "cow shoes", and were used to disguise their footprints to avoid getting caught by the police. Moonshiners just wanted to sell their liquor, and they came up with this ingenious idea.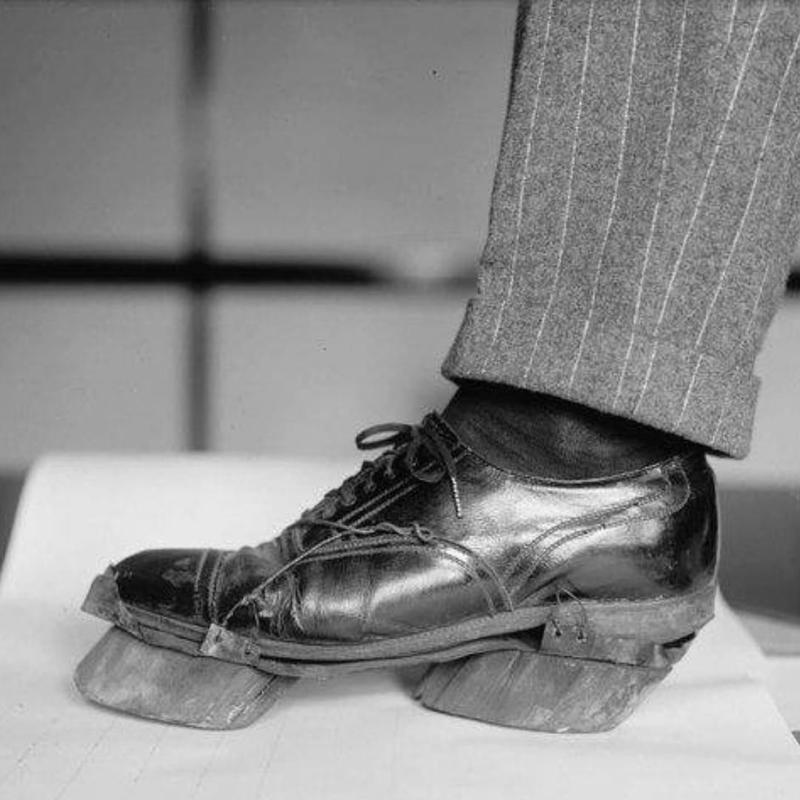 They were made from simple pieces of wood that the rum runners added to the bottom of their normal footwear, and that way, the cops would think that it was just hoof prints. There was no reason for the police to go after a set of cows around the area, and it was a great way to through them off the scent. All that just to sell liquor?
DR. SEUSS IN 1914
His real name was Theodor Seuss Geisel, and this image shows him at the age of ten with his dog, Rex, in 1914. He might not have been a doctor, but he was a Seuss, which was his mother's maiden name. He grew up in Springfield, Massachusetts and worked with his father at the family brewery. Unfortunately, the business was closed during Prohibition.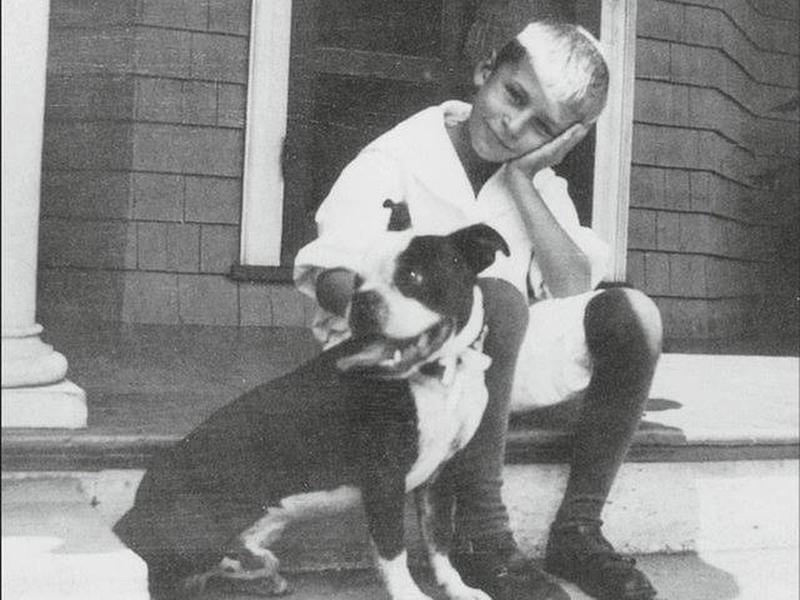 In his downtime from the brewery, Seuss loved going to the zoo in town, and he would draw all the animals while spending time with his mother and sister. Thanks to that, we got the cute characters that inspired some of the best childhood stories in the history of literature. Could it be that his mother also made something with green eggs and ham?
GUNNAR KAASEN AND BALTO
Gunnar Kaasen was born to be a hero. He was born in Norway but moved to America during the gold rush of the early 20th century, and one of his many talents was musher, which is also known as dog sledder. He built a home in Nome, Alaska while searching for gold. Unfortunately, there was a horrible diphtheria epidemic in Nome later on.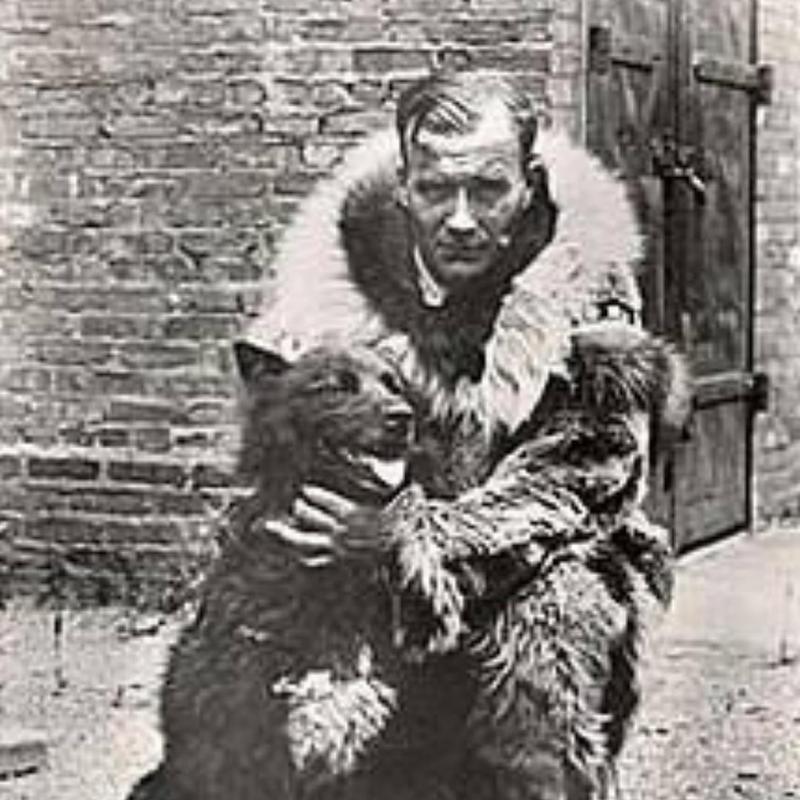 So, a team of 20 mushers would go on 674-miles rides, several times a day, to get the medicine to the town. This image shows Kaasen with his dog, Balto, who inspired even an animated movie. However, Kaasen had a team of 13 dogs, who managed to complete a final mission in 1925 to get to the antitoxins to Nome.
1970s HARLEM
The people left in Harlem in the 1970s were those that couldn't leave when other people from neighborhoods like Queens and the Bronx started moving to find better lives for themselves and their families. They were looking for safe streets. Those that stayed in Harlem at the time loved it so much or didn't have the money to go somewhere else.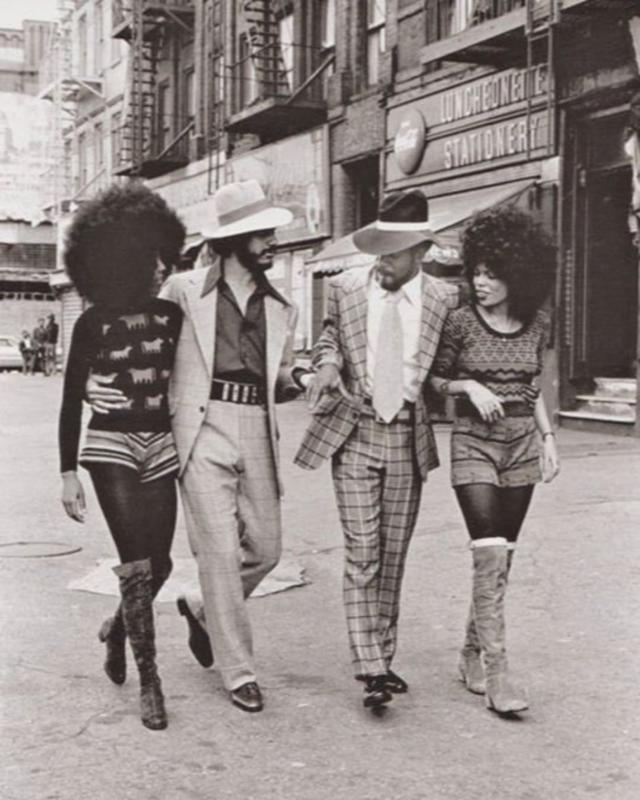 It might sound harsh, but either way, you can tell that Harlem folks had an amazing fashion sense in the 70s. The area might not have been the most popular in that decade, but there was something about it that inspired the remaining folks to keep the spark and happiness alive. Everyone has to do their part to make a neighborhood safe and a great place to live in.
MARRIAGE ADVICE 1918
This picture might inspire some feminist readers, as the pamphlet was written by a suffragette in 1918. You can even go see it for yourself at the Pontypridd Museum in Wales. The Suffragette movement started in 1848 with the women's rights convention held in Seneca Falls, New York. They would go on to inspire many groups of ladies all over the country, and their initial goal was the right to vote.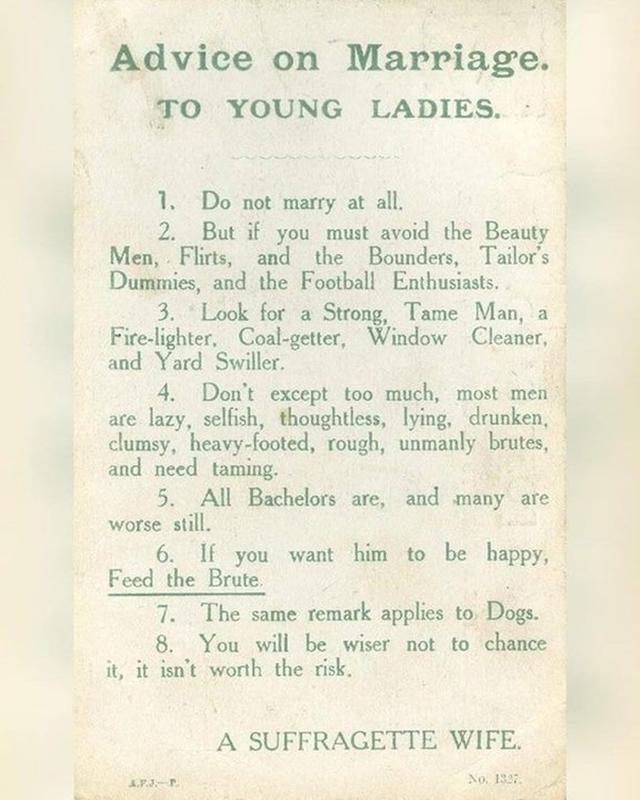 However, there were some women who took farther and weren't that happy with men. Even today, we have some intense ladies in the feminist movement. Meanwhile, this pamphlet might have been serious at the time, but it's also pretty funny when you think about it. Years ago, girls were considered worthless without a husband, and here is a brochure telling them not to get married. As 'Sister Suffragette' says, "While we adore men individually, we agree that as a group, they're rather stupid."
MARILYN MONROE 1949
Marilyn Monroe has been viewed as the standard of female beauty throughout many decades, but most people think of her image from the late 1950s. Her work in 'The Seven Year Itch' and 'Some Like It Hot' were some of her most popular. So, most people don't remember what she did in the late 40s. But, she was definitely going to become a star.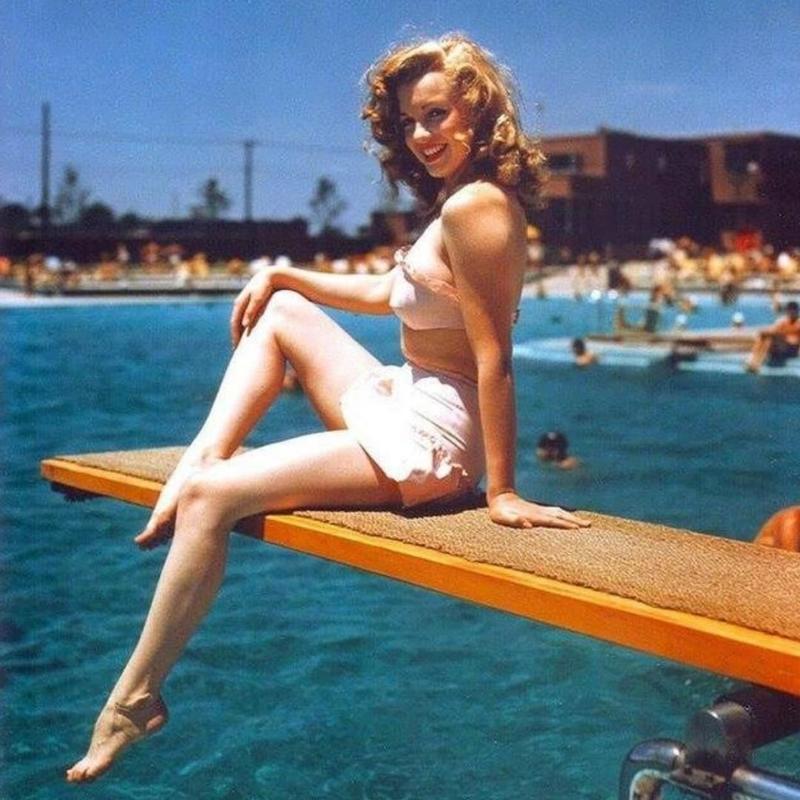 The actress made a spread in a 1949 issue of LIFE Magazine, where she was photographed during dancing lessons and stretching. Most people might not recognize her by her early photos, but she was still gorgeous in a way other women couldn't compare. It's clear that her beauty would get her far.
FASHION 1969
Fashion changes every year, but it also comes back in different ways because it's all part of a cycle. The 1960s were a great time for several trends that are still going around these days such as the mini-skirt. It was one of the most transcending pieces of clothing ever created, even though it was also a bit scandalous.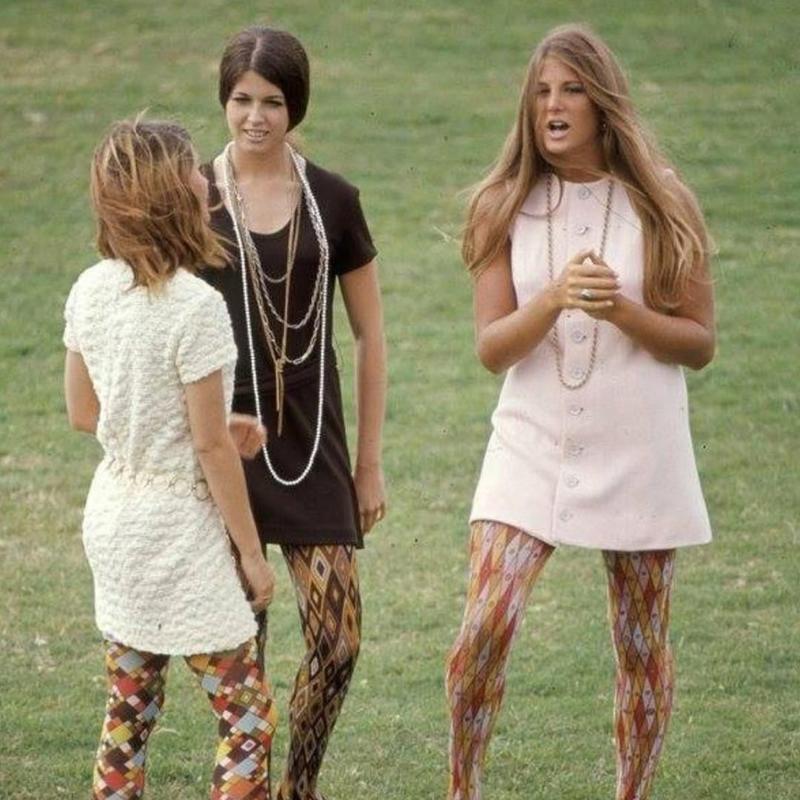 In fact, after they became popular in the 60s, many people protested against the indecency of the trend, but they didn't succeed. Girls are still rocking short skirts, especially in the summer. However, skirts were prohibited in the Netherlands for some time, but women refused to follow the norm and protested until they could don the outfits they wanted.
SNOW KING CHAIRLIFT 1965
This image might give vertigo to some of our readers, and it's the Snow King Chairlift located in Jackson, Wyoming in 1965. It's one of the most scenic rides in the country, and it takes 12 minutes to get to the top, allowing riders to see 1,571 feet of the Snow King Mountain. There are views of the Grand Tetons, the Elk Refuge, and the city of Jackson.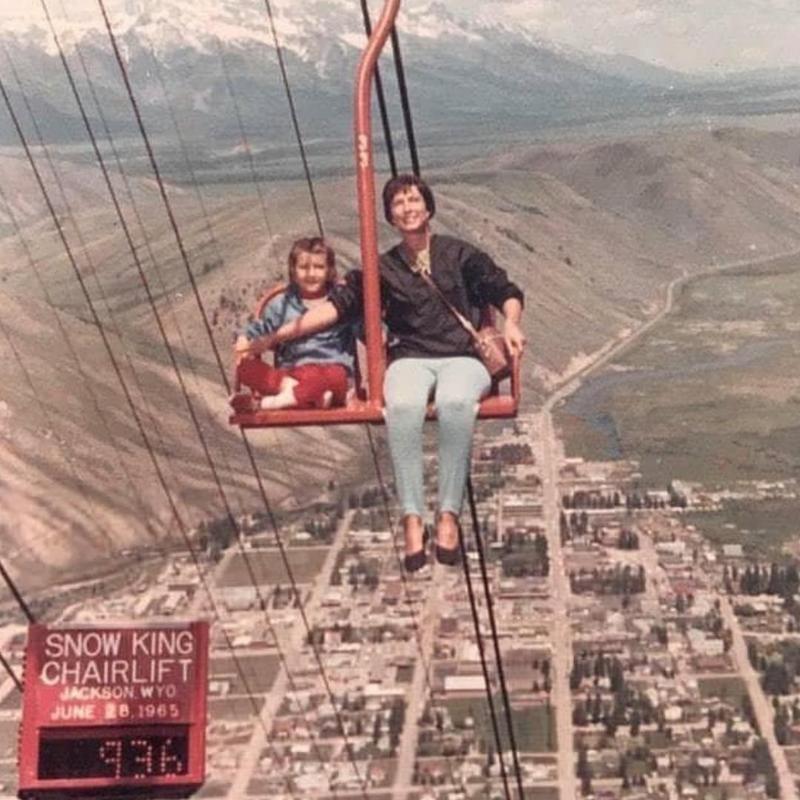 Furthermore, you might be able to see Yellowstone if the sky is clear. This image makes it look a bit scary, but don't worry, because the lifts have been upgraded for more safety measures. Although, it's still just as open so you can feel the air on your face.
MATA HARI 1906
This is an image of Margaretha Geertruida "Margreet" MacLeod, who was better known as Mata Hari, one of the best spies in the 20th century. There are many stories about her seducing soldiers while dancing and acquiring secrets. However, her real-life wasn't that fantastical. She starting spying for France in 1916, but she was caught up in a web and landed in trouble for allegedly spying for Germany the next year.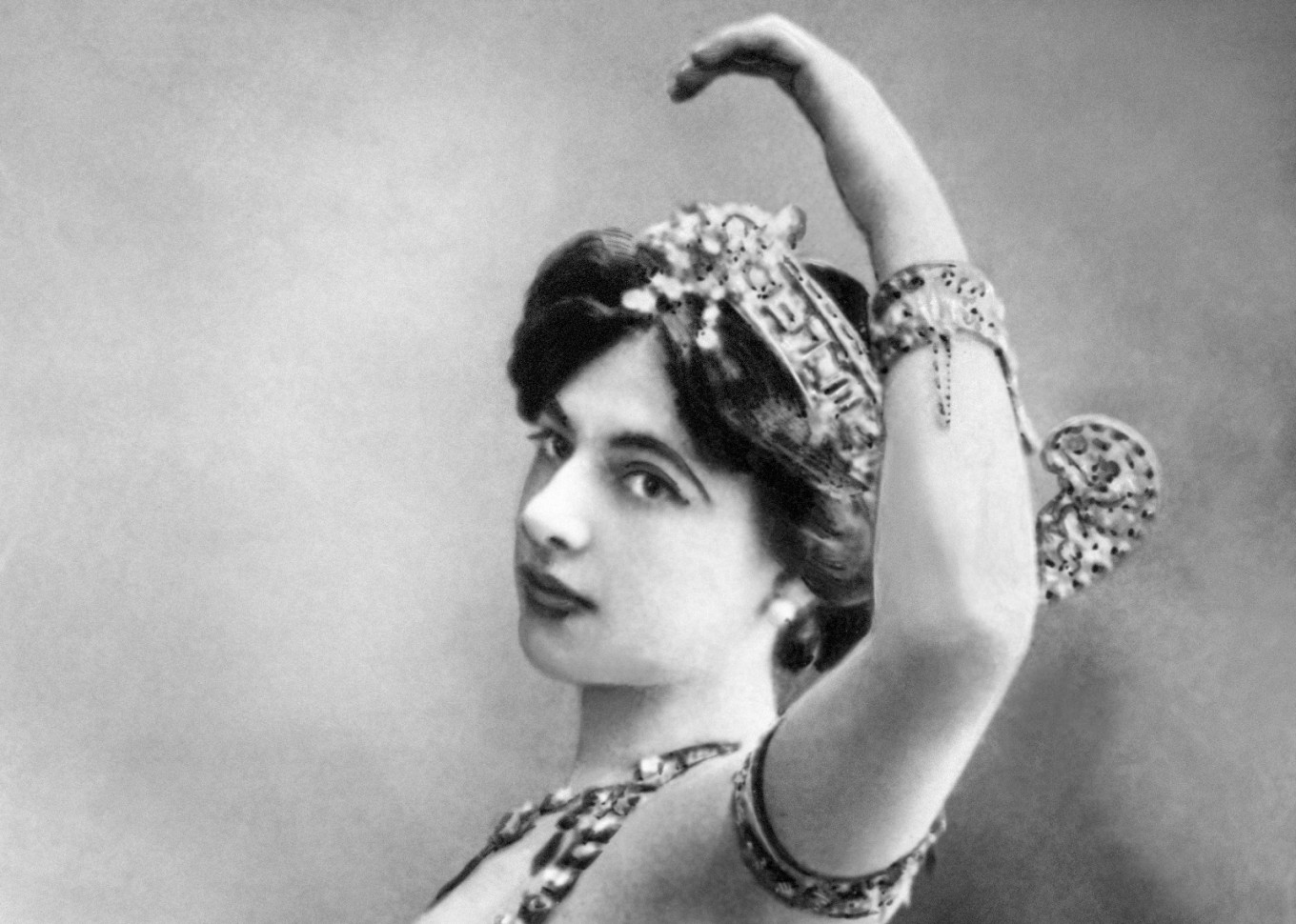 She defended herself, claiming that she was seducing the Germans to get more information from them, but the French army still accused her of espionage. She executed on October 15, 1917, after receiving a guilty verdict.  
FAMILY RV 1924
Many people in our times can rent an RV and take off with their families on a road trip through the country. But, it wasn't so easily done in the early 20th century. There were simply no real RVs for sale, and families had to redesign their own cars in order to take a coveted vacation. This is one example of such a camper.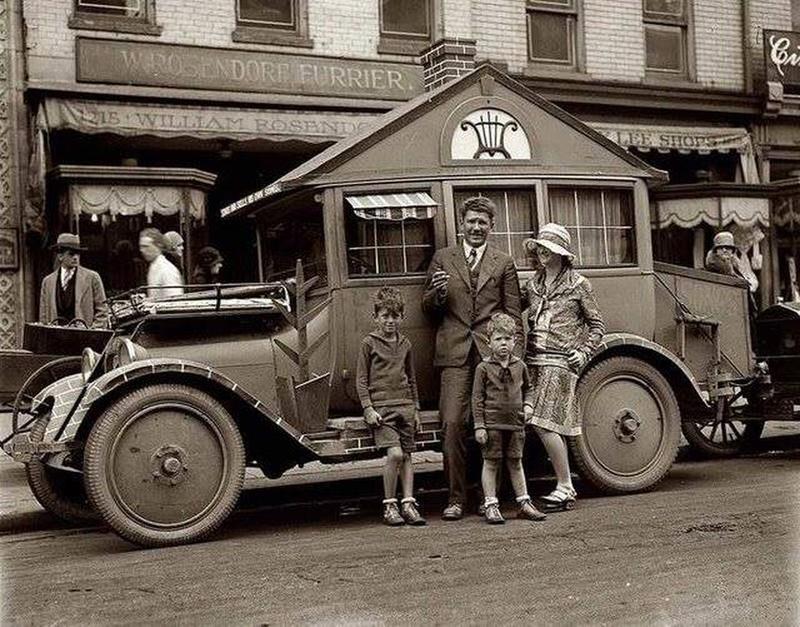 The first RVs were cars that had lockers and bunkers built over the original bodies of the vehicles, like the shown in this picture. The design makes it look like a vintage carriage from the 19th century than a modern car from the 1920s. Luckily, after World War II, the modern concept of RVs started appearing.
TRIPLE-DECKER BUS 1926
There are many countries that could benefit from such an idea. Sometimes, you have to get a bunch of people moving in one go, and renting several buses might not be the best option because it means paying several drivers. Furthermore, if a double-decker doesn't work, then a triple-decker is the solution.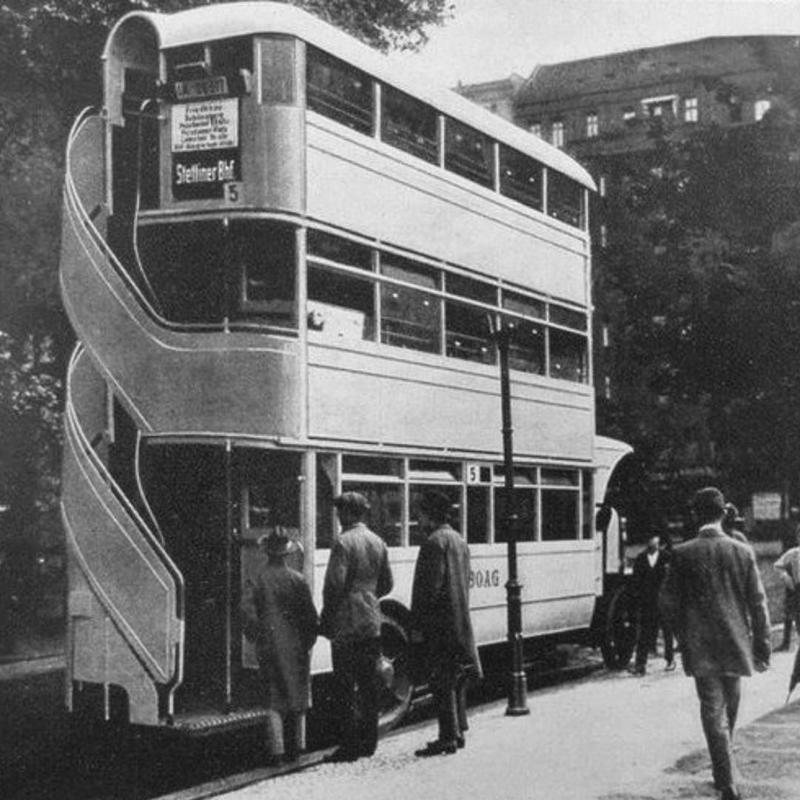 Unfortunately, there aren't many such vehicles available, and only a couple of countries throughout history had them for transporting people. There was a triple-decker in Rome in 1932, but any other triple-decker is actually a trick for the camera or from a movie. You can imagine that these huge buses were too dangerous.
MULTNOMAH FALLS, OREGON 1918
There is an amazing waterfall around the bend of the Columbia River close to Dogson, Oregon. It's known as Multnomah Falls, and it's considered the tallest in the state. Furthermore, it has a wonderful pathway as well as a viewing bridge that is perfect for taking pictures and relaxing with the wind on your face.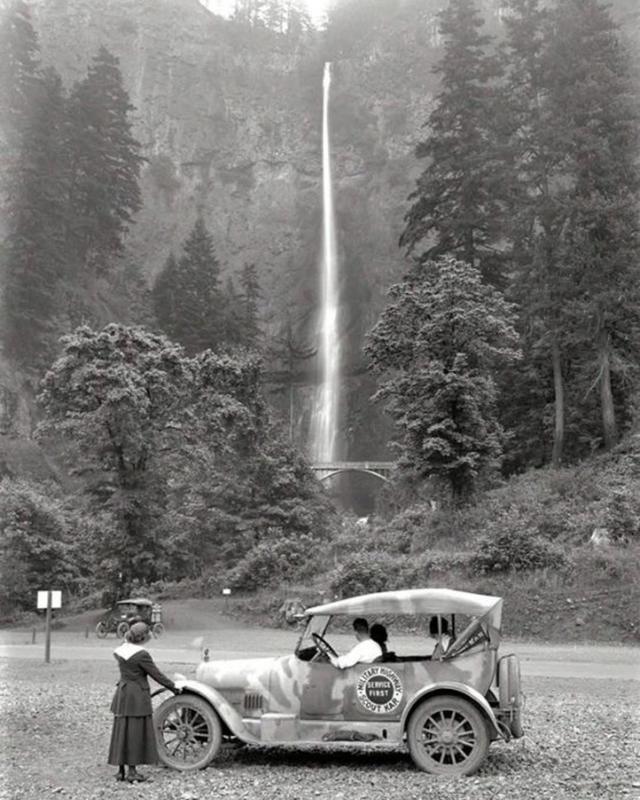 The landscape has been around for more than 15,000 years, but it wasn't until the 19th century, when a railway line placed a stop nearby, that the falls became approachable. Later on, in 1915, they built a trail directly to the falls, and it soon became a popular tourist spot.
WONDER WOMAN AND BIONIC WOMAN
Lindsay Wagner and Lynda Carter are some of the most beautiful actresses in television history, and they are also ladies you don't want to anger. They were the superheroes of the 1970s, although the Bionic Woman wasn't really considered a superhero. She was still one of the coolest women on TV, and that's awesome.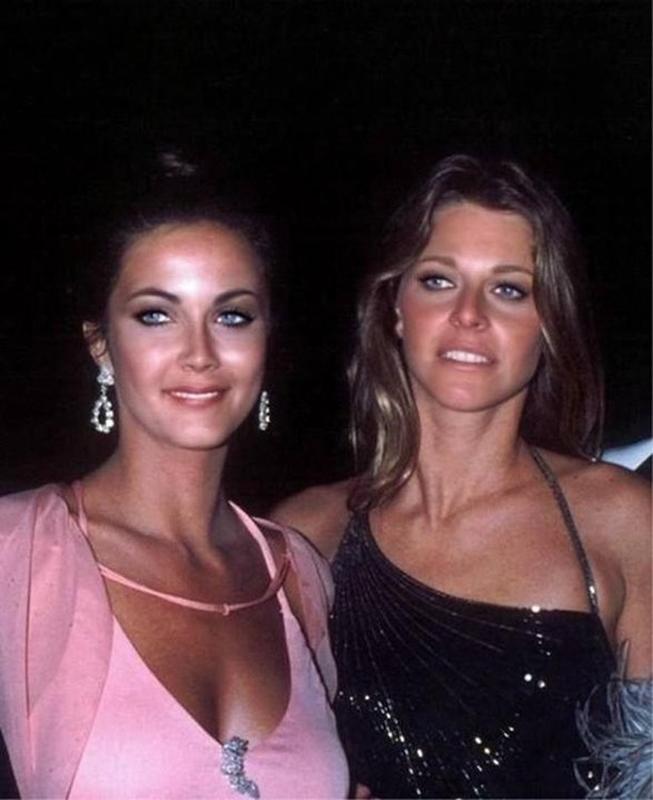 The programs aired in the late 70s, and they were both on ABC for some time. Unfortunately, they didn't make it past a couple of seasons, but they were groundbreaking in the genre, especially because women were in the main role. Yes, they were also the object of every man's eyes, but back then, it was a huge leap for women in show business.
YOUNG GIRL AND CAT 1910
This is another example of young people bonding with their pets, and how important these animals become to a household. Clearly, the family wanted to preserve a great memory of their daughter and the cat. So, they had them together in a picture. We might take tons of selfies nowadays with our pets, but it was more difficult in the early 20th century.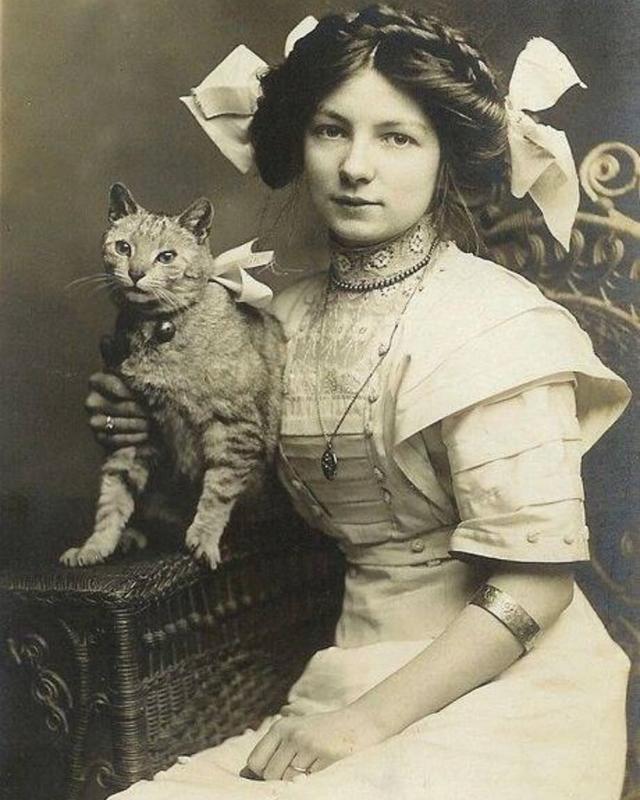 People still love adorning their cats with cool collars, especially some with a little bell that make noise when they move. It looks like the trend has been followed for many years. But, we have to wonder how they managed to keep the animal so still for the picture. As Cleveland Amory said, "As anyone who has ever been around a cat for any length of time well knows, cats have enormous patience with the limitations of the humankind."
LIBRARY IN WALDSASSEN ABBEY IN BAVARIA
This amazing library is inside the Waldsassen Abbey in Bavaria, and it has thousands of books bound with white pigskin. It's near the border of Bavaria, Germany, and the Czech Republic. The Catholic abbey was first built in the 12th century, and in 1724, they added a library designed in the late Baroque/early Rococo style, which was known for its extravagance.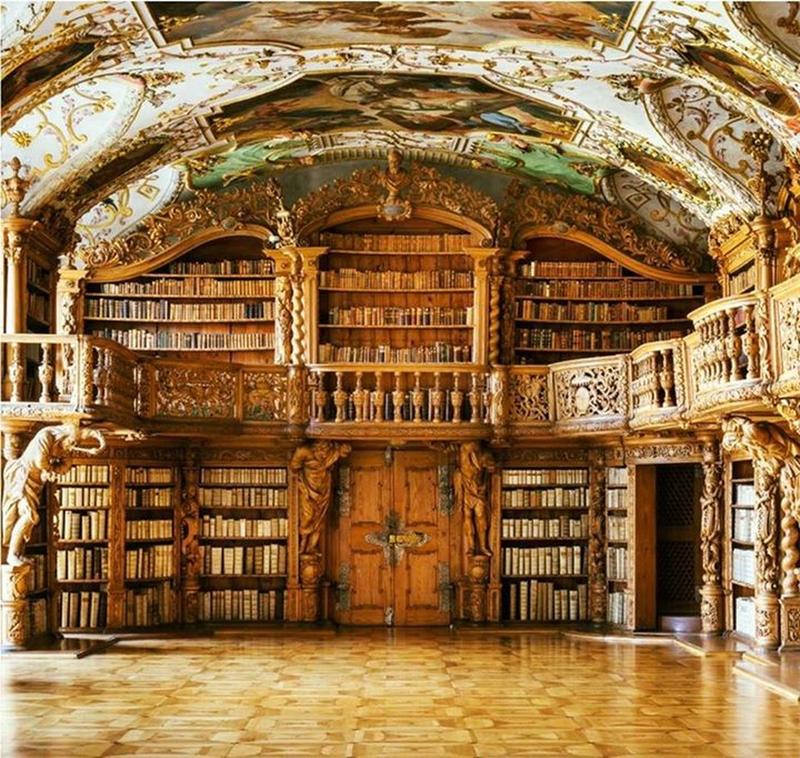 It's still standing today, and they even added the International Ceramics Museum to part of the library. The room is maintained by the nuns of the Cistercian Sisterhood. During the Holy Roman Empire, the church was an Imperial Abbey.
DRACULA'S CASTLE 1929
This is an image that might excite horror-novel fans everywhere. This is Dracula's castle located in Romania, and the picture was taken in 1929. You might also refer to it as Bran Castle, and it's considered to be the site where Bram Stoker got his inspiration for the novel 'Dracula'. However, it's said that the author never saw the castle in person.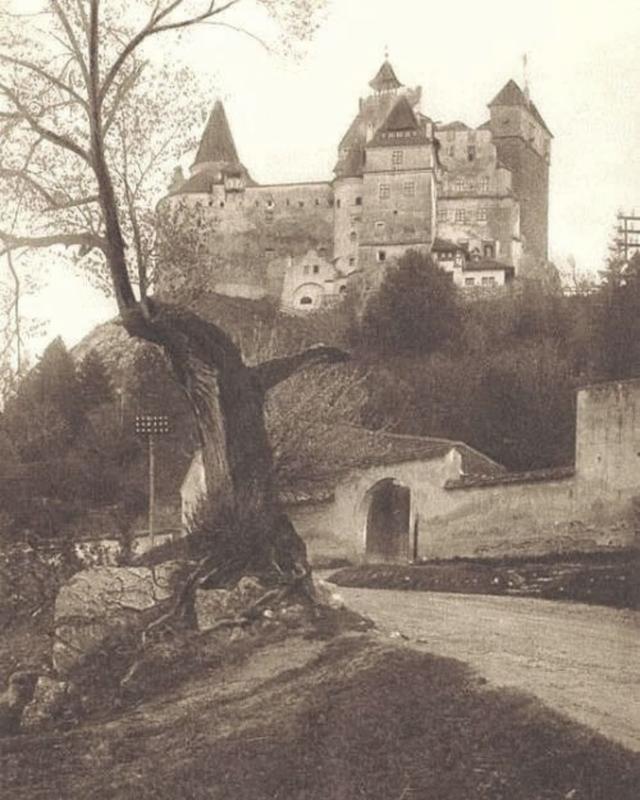 He described it in his story just like they did in a book called 'Transylvania: Its Product and Its People' from 1865. It looks utterly fitting for housing a vampire, but it's also beautiful. It was built in 1211, but the stone façade was completed in 1388. In 1459, Vlad the Impaler used the castle as his home during the fight with the Saxons.
FLOOD IN PARIS 1924
It's common knowledge that Paris has flooded every once in a while, and it has happened more often since the Great Flood of Paris from 1910. The big issue is that the Seine, the famous river that flows through the whole city, rises to dangerous levels and floods the streets. It's absolutely dangerous for the people.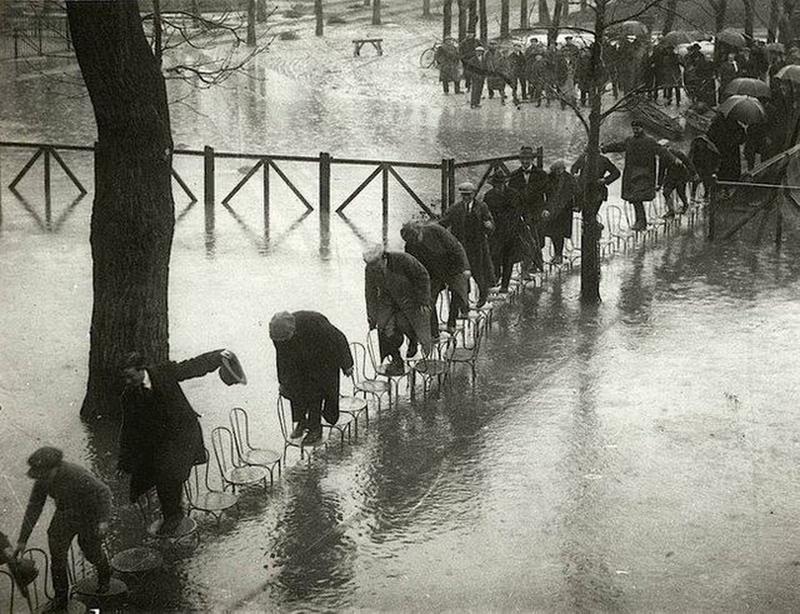 Luckily, Parisians were extremely intelligent, and they have been able to survive some deadly situation while continuing to live their lives. To get around the city, they improvised pathways with wooden planks, but they weren't available everywhere. So, they used chairs instead.
LAUREL AND HARDY IN DUN LAOGHAIRE 1953
Only the die-hard fans remember the comedy duo, Laurel and Hardy, and this picture was taken during their tour from 1953 in Dun Laoghaire, Ireland. The comedians rose to fame in the 1920s, and they made more than 100 movies together. They also had a live show with their best jokes as well as things that audiences hadn't seen before.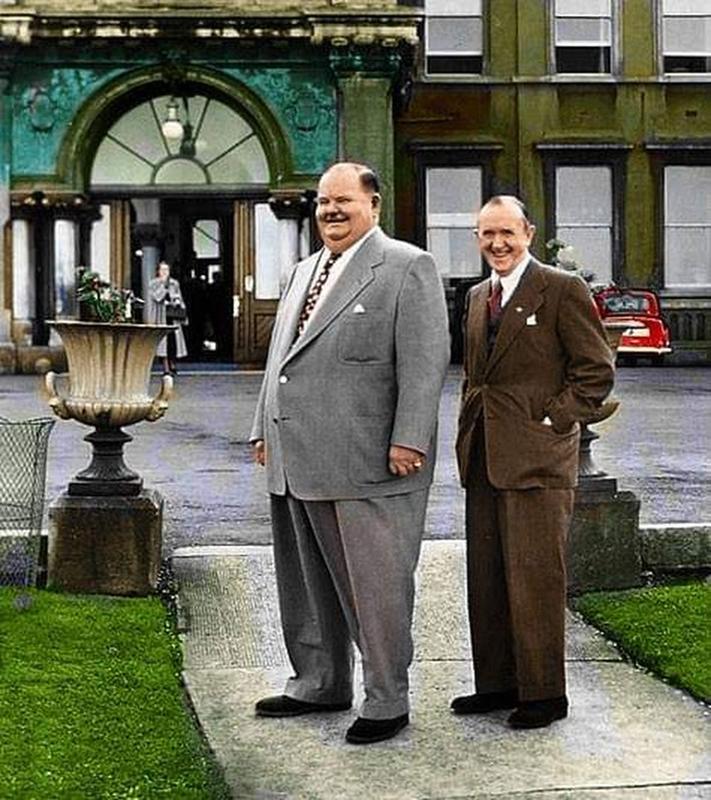 Their European tour happened during the final years of their career. The people in Ireland said that the tour was important because the country was coming out of an economic depression. Meanwhile, Laurel talked about the visit, "The love and affection we found th